Today we have plenty of job portals where recruiters and companies post their vacancies using recruitment software and candidates browse through the requirements, applying for the ones that meet their qualifications and suitability.
The biggest benefit of this system is that the job openings are accessible to a vast pool of talents instead of being confined to only a handful of candidates. Anyone anywhere can apply for jobs irrespective of their physical location.
If you're looking for jobs in India or want to recruit candidates for your organization, here are the best online job portals in India that you should know about.
Let's take a peek.
15 Best Online Job Portals in India for Recruiters, HR Professions and Job Seeker
1. Naukri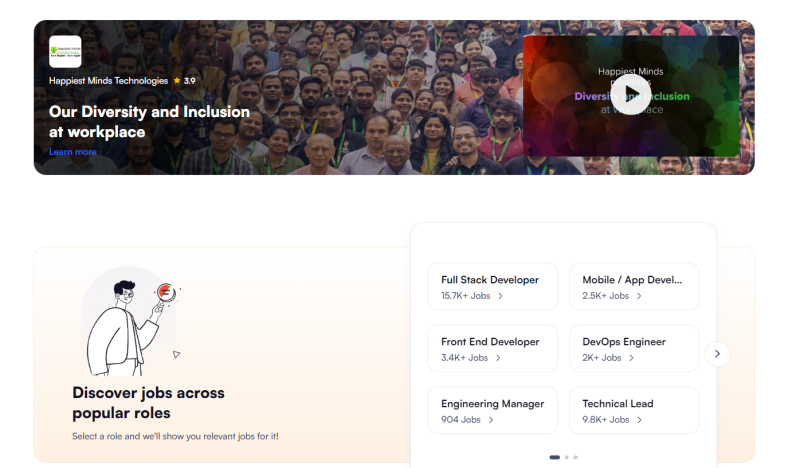 One of the oldest and the most popular job portals in India is Naukri.
The portal was launched in 1997 and is accessed by thousands of job seekers daily.
The site gets updated by daily job postings from recruiters. and is free to job seekers.
However, certain services that come under Naukri FastForward Services are paid.
These include resume writing where you can get help from experts to creatively write your resume highlighting your skills and strengths.
A well-written resume stands a better chance to grab the attention of recruiters who usually scan through resumes for initial screening.
The service can also help you create visual resumes so that you can impress the recruiter in minutes with an attention-grabbing resume.
Other services include recruiter connection, gain more visibility and priority application among others.
2. Monster India
Another popular and one of the oldest job search portals in India is Monster.
Apart from job posting, they also have an elaborate blog section where you can find useful tips regarding interviews and job searches.
It has a search filter feature that helps a job seeker to narrow down his job search.
The site works both on the web and has a mobile app for those who like to apply for jobs on the go.
Apart from the regular features, Monster India offers different resume services.
For example, if you are looking for a job in a particular geography, you may benefit from the Xtreme Resume.
They also have a Right Resume service that offers specific tips based on which level you are in.
The third service is a Career Booster that offers a combined service of Xtreme Resume and Right Resume.
3. LinkedIn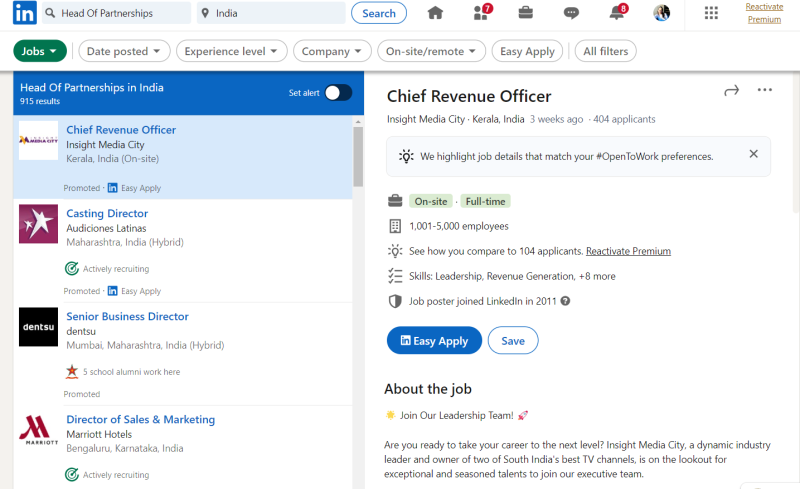 LinkedIn is a popular professional networking site and is not a typical job portal, hence it works a bit differently than the traditional job portals.
If you are looking for a job, you should be present on LinkedIn because there you get a chance to display your work and share your opinions.
Since, most of the decision-makers and recruiters are on LinkedIn, reaching out to them directly gets easier when you have a presence on this platform.
However, you need to spend time on this platform and grow your network organically before you can reap the benefits.
4. Shine
Shine is a job portal managed by the popular newspaper brand – HT Media Limited. It is known to be one of the creative job sites that offer professional tips to job seekers.
Some of the standard features of the job portal include phone, email, and live chat support, easy-to-navigate, and have an app too.
Apart from these, some key features for job seekers include an advanced job search feature, job alert, hide resume feature, resume builder, company review, etc.
5. TimesJobs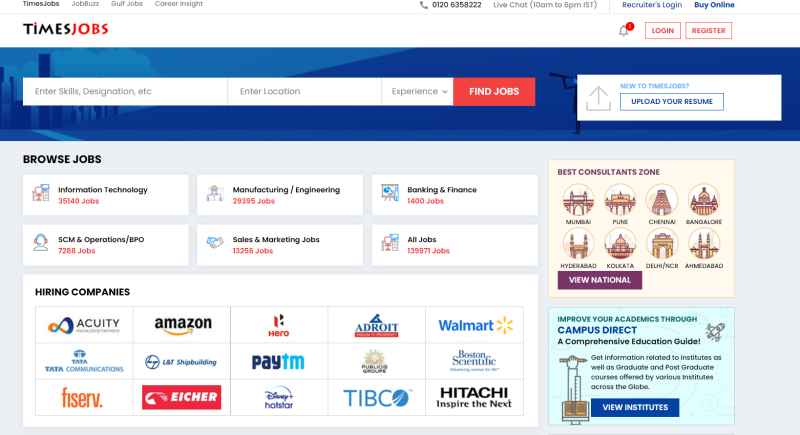 The next in the list is TimesJobs. This portal is managed by the Times Group and has over 25 million registered job seekers.
The key feature of this job portal is it recommends jobs and companies based on a candidate's profile.
It has a dedicated section for government jobs too. It also has a dedicated TechGIG.com site that is meant only for IT jobs.
Apart from this, you may also find jobs in other industries.
6. Indeed
Indeed, is a US-based job portal that has now gone around the world, including India.
Apart from job posts, the site also features company reviews and ratings, so that job seekers have an idea about the company they are applying to.
The search filters are useful and easy to use, so one can easily narrow down their job searches.
7. Glassdoor
Glassdoor may appear to be a portal where reviews and ratings are given to an organization by its current and ex-employees.
This is a useful feature for job seekers as they get an unbiased and firsthand experience of how it is to work in a company where they intend to apply.
The portal lets you see the work culture, how responsive is management to employee grievances, employee rating about the management, etc.
Apart from this prominent feature, Glassdoor is also a popular job portal and it is free!
8. Freshersworld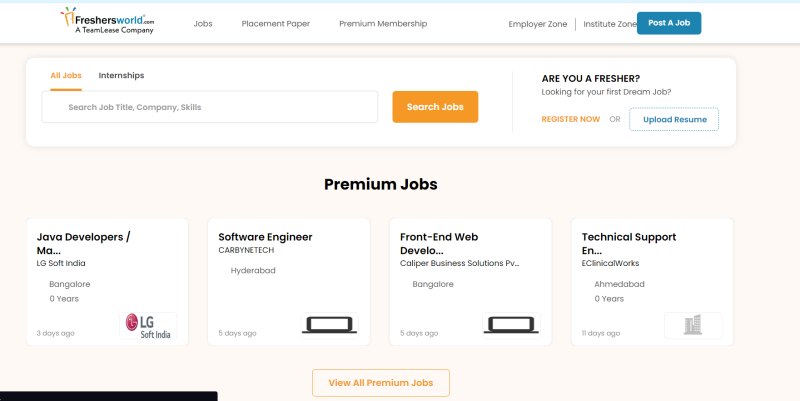 Freshersworld, as the name of this portal suggests, this site is for freshers and recent grads who do not have much work experience and are just beginning to look out for the job.
Apart from entry-level jobs, the site also offers different upskilling courses for the newbies.
MNC Owned Job Sites
There are many MNCs that have their dedicated career pages where they keep updating job posts regularly.
If you have a targeted organization or job role you want to work in, do consider checking these job sites. Some of them include IBM, BCG, KPMG, etc.
9. Upwork
Upwork is a great place to look for part-time jobs and remote gigs. If you're looking to start a freelance career in writing, designing, coding, VA, etc., then check out this portal.
Upwork is a global platform where candidates need to bid for a gig.
There are many job sites available in India where you can register and search for your desired job.
The good news is all these sites are free to use. Build a killer resume and start applying today!
10. JobsforHer
JobsforHer is a popular job portal in India that caters to women job seekers looking for career opportunities across different sectors.
With its user-friendly interface, women job seekers can easily search and apply for jobs that match their skills and interests.
The portal also offers resources such as career guidance, job readiness workshops, and networking opportunities for women to enhance their career growth
11. CutShort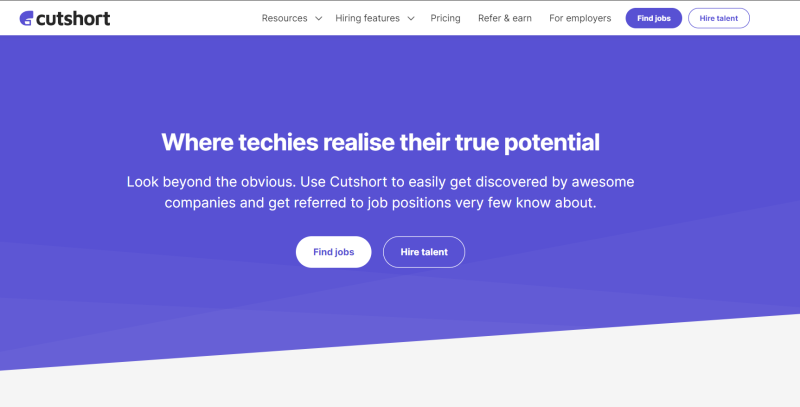 This portal is not a job board but a networking platform for finding qualified professionals through Artificial Intelligence.
Cutshort ensures job seekers can find the best job search portal in India that matches their skills and qualifications.
12. Jobsora
Jobsora provides job seekers access to thousands of job openings from various industries.
Job seekers can quickly find jobs that match their skills, experience, and qualifications with an easy-to-use interface and a user-friendly search engine. 
Everything from full-time and part-time jobs to WFH or freelancing can be found and hired instantly globally and domestically. Jobsora is a resource for job seekers and employers, bridging the gap.
13. Quikr jobs
QuikrJobs is one of the job portals allowing users to quickly discover jobs in their city or locality. It is focused on blue-collar, grey collar and entry-level jobs for everyone. Now job seekers can access thousands of jobs by uploading their resume and creating alerts for free too.
14. Hirist
Hirist job portal in India is for tech geeks interested in Java, Python, Ruby, and emerging technologies such as Blockchain, Augmented Reality, Virtual Reality, IoT, and cryptocurrency.
15. Snaphunt 
Snaphunt is a job board that provides a hiring tool to help businesses hire people worldwide. Employers can quickly post jobs for free on Snaphunt and gain quick access to targeted talent from a large talent pool. This job portal is an efficient and cost-effective solution for businesses to streamline their hiring process and quickly find suitable candidates.
---
FAQ:
Q1)  Which is the best job portal in India? 
Naukri.com is one of the most widely acclaimed and oldest job portals of India. It has a market share of almost 60%. It records 7 million searches by recruiters on a daily basis. This site is one of the most safe and reliable job sites of India. 
Q2)  How to use job portals for recruitment? 
Most recruiters use job portals to simplify hiring process. Although few job portals have additional features, most of them have similar functions. The following are the steps to guide you in using job portals: 
Register your account in multiple sites.

 

Create your first job posting.

 

Frame an effective job description.

 

Wait for the applications to arrive.

 
Q3)  How do job portals work? 
Job seekers upload their resumes that include their skills, experience, location etc., these later apply in the search option of recruiters who are looking for candidates according to their needs. Now, most sites are coming up with tools to make curated profiles of databases to simplify the resume filtering process. 
Q4)  How do job portals earn money? 
Most job portals make money by selling candidate database to recruiters. Other modes also include pay-per-click advertising, email marketing and many others. 
Q5)  Which job portal is best for freshers? 
Naukri is the best job site for freshers and fresh graduates hunting for jobs. This site offers additional services that simplifies a fresher's hunt for their dream jobs.