HR Analytics Software
The star employee you didn't know you had - your data
From simplifying complex data trends to setting up powerful benchmarks, Keka's HR Analytics provides you insights into various aspects of your workforce and generate instant reports, helping you to make smarter and data-driven decisions.
Get Started
Get Started
Rich Visual Analytics of Your Workforce
Get real-time, holistic insights of each department and drive results with an evidence-based approach.
Compensation analytics
Insights to plan your compensation
Analyze and generate compensation reports that enable you to have an extensive view over employee salaries. Create reports that help you set up compensation benchmarking and plan your budget based on department, experience, etc with just a few clicks.
I had worked with different HRMS tools to date and never had such an astonishing experience with any other product until Keka.
Bhanu Teja
Head HR | Way2Online
I had worked with different HRMS tools to date and never had such an astonishing experience with any other product until Keka.
Bhanu Teja
Head HR | Way2Online
Time analytics
Trendline reports on leave, attendance, and others
Whether you want to keep a track of your employee productivity or just review the attendance of your team, Keka's trend line reports give you a comprehensive insight into your workforce trends. Right from employee shift details to attendance tracking policies, you can generate any report you need.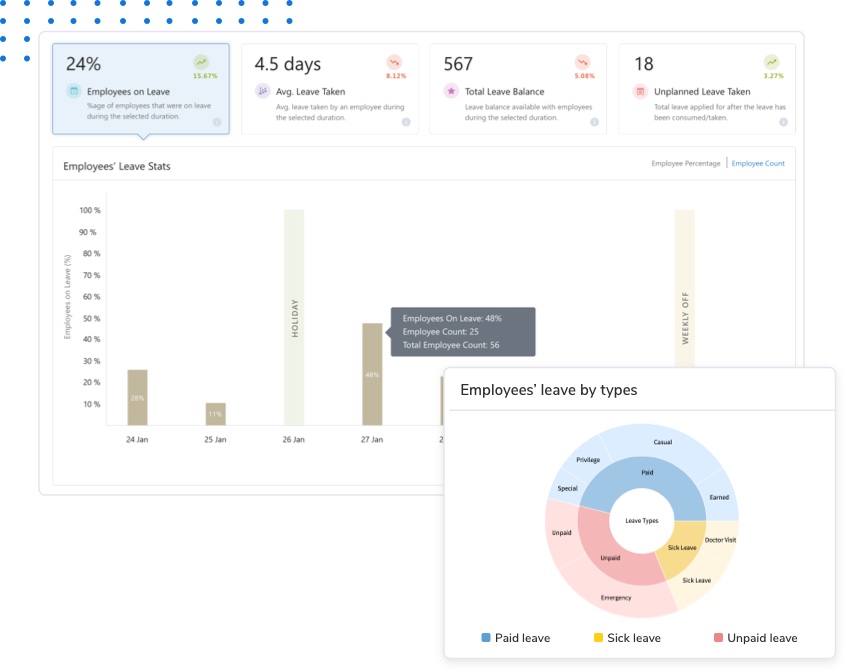 Report builder
Adhoc report builder
Another surprise meeting coming up? Generate instant reports with your desired metrics and quickly share insights with the team. Curate and customize reports the way you need for your stakeholders.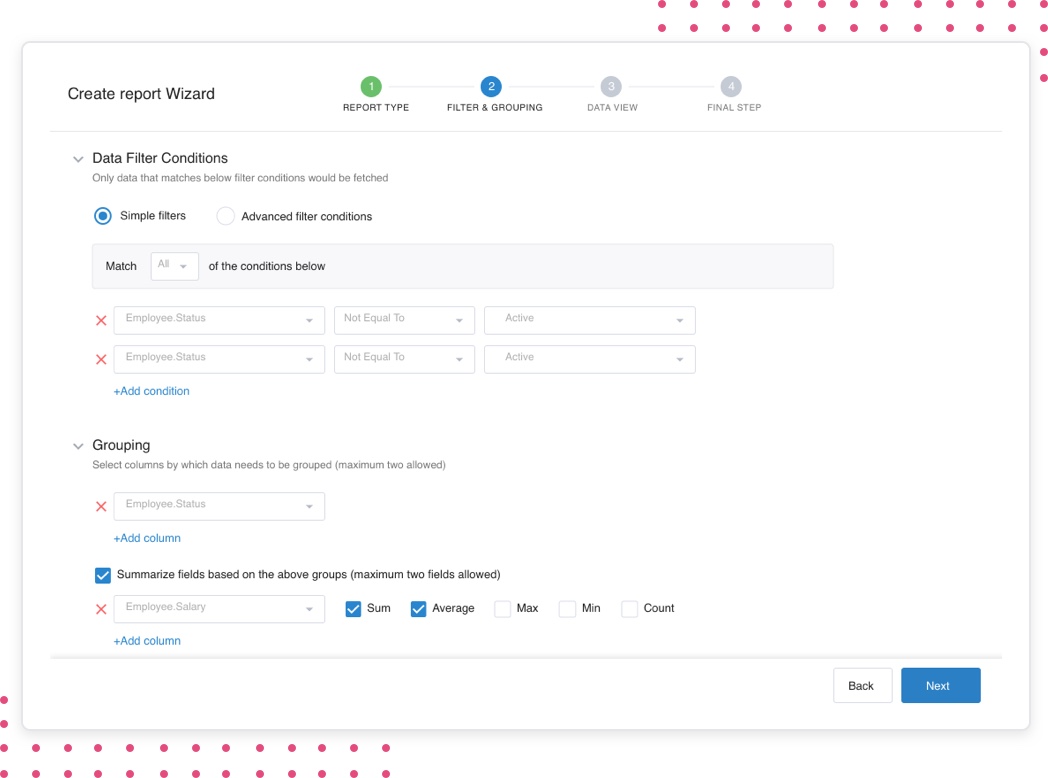 Frequently asked questions
What is HR analytics?
HR analytics is a data-driven approach to analyzing people-related problems using data to find answers to critical questions about the organization. It aims to improve workforce performance and support intelligent business decisions.
What are the 7 pillars of HR analytics?
The 7 pillars of HR analytics are:
Pillar 1: Workforce planning analytics
Pillar 2: Talent sourcing analytics
Pillar 3: Talent acquisition analytics
Pillar 4: Employee engagement analytics
Pillar 5: Employee value and performance management analytics
Pillar 6: Talent attrition and retention
Pillar 7: Employee wellness, health, and safety
What is HR Analytics Software?
HR analytics software is a system that collects and analyzes people data to monitor employee performance. It enables HR professionals to take data-driven decisions to improve workforce outcomes by various methods.
How can HR Analytics Software help in identifying talent gaps and supporting strategic workforce planning?
HR analytics software helps bridge the talent gap by redefining the recruitment strategy, improving the onboarding experience, and enhancing learning and development. It also helps with supporting strategic workforce planning by helping understand the business strategies, by tracking employee performance, health, satisfaction, and by increasing communication within the organization.
What key HR metrics and insights can be derived from HR Analytics Software?
The key HR metrics and insights derived from HR analytics software are:
Time-to-hire
Training expense per employee
Employee engagement levels
Training and development costs
Skill gaps