360 Degree Feedback Software
360 degree reviews that don't require a PHD degree
Keka's 360 degree performance management software helps you set up reviews across roles, bands, and departments with simplicity. Enable collaboration in a much-easy process and receive better insights on your people so no roadblocks can impact your employees' performance.
Get Started
Get Started
Manage thousands of reviews
Keka's review workflow is fully scalable to manage thousands of employees. Now at the click of a button, you can administer the entire process of nominations, assessment, and calibration in a matter of minutes.
Easy Review Process
Your employees will love you for easing the review process
There is enough anxiety already for working people in a review cycle. The best you can do is reduce the complexity of this process and save them from the hassle. So at the touch of a button, your employees will receive a review form with an intuitive design to aid flexibility.
1:1 Meetings Dashboard
Managers can focus on people. Not on Process
Your managers can view all the evaluation forms on a bird's eye view dashboard to rate the different team members. They will also have access to the entire feedback history. Now there is no need to remember information from the last year or more.
Learn about 1:1 Meetings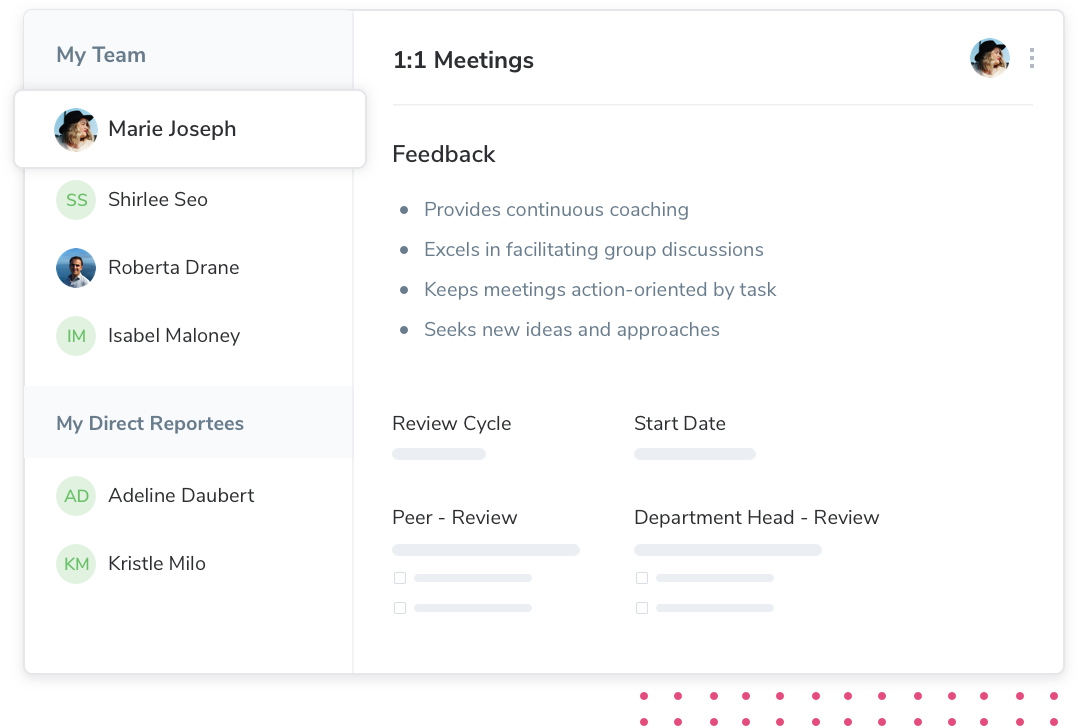 Feedback Nomination
Employees can nominate their peers or managers for feedback
For review, give your employees a chance to choose people with whom they've worked. It allows for a complete 360 degree feedback system, so nobody must miss out on giving or receiving feedback. Your managers always have a say in approving the stakeholders to maintain transparency and mutual trust in the organization.
User friendly with few unique features like task assignment and calibration helped us track performance of employees quickly and efficiently.
User friendly with few unique features like task assignment and calibration helped us track performance of employees quickly and efficiently.
Multi-Dimensional Review
Review Goals, Competencies, or create your own questionnaire
Keka's 360 degree feedback software helps you to perform a multi-dimensional review of your employees' skills, behavioral competencies, and performance. Track real-time progress and use available templates or create your own (questionnaires, multiple-choice questions, etc) to include your objectives and key results as part of the analysis.
Learn about OKR Software
Employee Evaluation Process
Review for performance, potential or promotion
Whether you are reviewing for one outcome or more, different purposes don't need separate procedures. Use the evaluation process to meet the criteria for a promotion or a salary hike.
Learn about Performance Management
Employee Rating Scales
Assign band of performance based on ratings
Ratings alone are no longer enough. The performance bands will help the managers to provide the opportunities for growth and development people are searching for depending on their current state in the assessment cycle. Create a comprehensive plan for every person, even top performers, so they stay at the top.
360 Degree Review Analytics
Rich Analytics
Receive detailed reports on the dashboard with clear and actionable data. Our
analytics mechanism
will provide your managers with the data, knowledge, and tools they need to assess their team in a more constructive way.
Frequently asked questions
What Is 360 Degree Feedback Software?
A 360-degree feedback software enables organizations to manage/gather employee performance from various stakeholders related to their business such as managers, peers, leaders and clients. It plays a vital role in helping the organization create employee goals based on feedback and monitor performance efficiently.
Why Is 360-degree Feedback Important?
360-degree feedback, also known as multi-rater feedback, is a tool for evaluating an employee's efficiency through various roles such as manager, peer, reportee, and so on. Moreover, 360-degree feedback provides a discreet and thorough means for leaders to acquire crucial information and various perspectives that they would not otherwise receive.
How 360 Degree Feedback Tool Adds Value to Your Business?
360-degree feedback provides us with a multifaceted view of individual abilities, performance, behaviors, goodness, and some less-than-ideal attitudes. It assists organizations in removing the threat of a single perception. When organizations desire to evaluate individuals for leadership roles or promotions, one person's view may be prejudiced or insufficient to evaluate them in all aspects.
What Are the Features of Keka 360 Degree Feedback Software?
Keka's 360-degree software has an intuitive list of features that allows employees as well as the organization to seamlessly manage performance. Features like One-on-one meetings and Continuous Feedback help organizations to keep their employees engaged and motivated towards their Goals set up accurately through Keka's PMS
How does Keka 360 Degree Feedback Software work?
Keka's 360-degree feedback software is a perfect fit for growth-minded organizations that are looking for the holistic advancement of their workforce. All you need to do is set the proper goals and OKRs for the team, Keka will be your companion throughout, assisting you in attaining those goals.