Compensation management: A complete guide
Compensation management: A complete guide
Compensation Management in an organization is the foundation of managing resources effectively and efficiently. In elementary form, it's the process in HRM (Human Resource Management) where employees are compensated for their work through various HR procedures. 
Compensation Management
It is a segment of human resources focusing on planning, organizing, and controlling the direct and indirect payments employees receive for the work they perform.  
The major objectives of compensation management are: 
Managing the resources efficiently to maintain productivity.

 

Equitable rewards and compensation

 

Staying compliant with federal, state, and local regulations and laws.

 
Compensation is a matter of cost and employee incentive from the employer's standpoint. Some businesses feel that salary has an impact on employee work ethic and conduct, and hence tie monetary rewards. 
Before delving into the meaning, aims, and other aspects of compensation management, it's vital to understand the compensation system's history and evolution.  
History
Edward N. Hay is credited with providing a foundation for 20th-century compensation management. He created reference charts that methodically rated and ranked occupations based on a variety of factors. 
The reference charts would go on to become the most extensively utilized method of job appraisal worldwide. Organizations throughout the United States recognized the necessity for a standard salary-administration system by 1943. Hay: Compendium of nonunion descriptions of jobs in the 1930s became the "bible" of the compensation profession. 
By encouraging internal job classifications and subsequently external comparisons, the groundwork for systematic compensation schemes was laid. Both directly and indirectly, World War II enhanced the compensation discipline. 
Hay and other human resource specialists joined the federal government in compensation investigations in the 1950s. Computers have simplified and advanced the data collection, quantification, and storage processes. Equal pay for equal labour and sunshine legislation ushered in a new era for the compensation industry. 
For the decade, pay administration evolved into a thoroughly scientific and bureaucratic method. The fundamentals of the discipline remained the same, but they are tailored to each company's culture. Compensation administrators have been described as "engineers" who used tried-and-true tactics when the circumstance calls for it, according to one observer.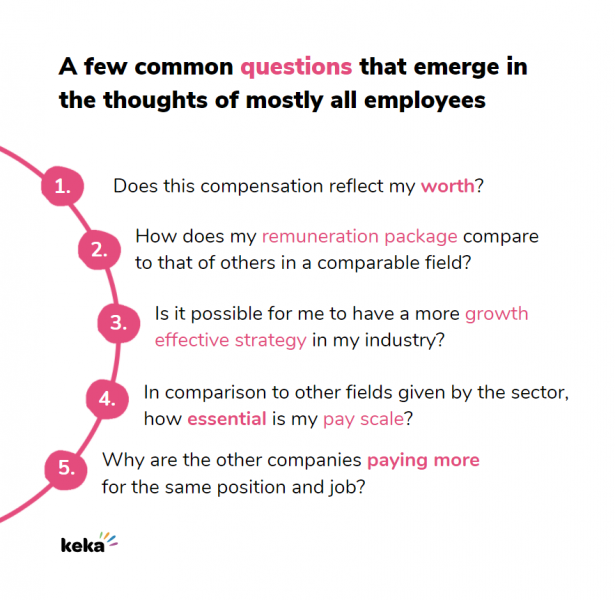 What are the types of compensation management?
These are the most common questions that emerge in the thoughts of all employees, whether they are executives or managers. Even if the top and middle management realize the organizations' constraints, they believe that some equal and reasonable interactions should exist. Similarly, wage raises are criticized as unequal remuneration at various levels. 
There might be various more problems surrounding salary perceptions since industries are evolving at fast pace appealing packages to recruit personnel in this competitive era. 
However, their compensation packages vary depending on the desired level of performance and the employee's willingness to continue to enhance their personality while also contributing to organizational growth. What matters most is whether the employer and the employee have similar or opposing viewpoints. 
With today's competitive wages, it's natural for employers to search for employees who have qualities other than knowledge and competence, qualities that may enhance their work experience.  
They may assess an employee's potential and give possibilities for development and advancement. As a result, remuneration plans and programs are being devised in such a way as to entice the winning horses. 
As wages and salaries are the most important components in socio-economic analysis, the study of compensation is critical from both an academic and practical standpoint. Compensation is a term used in economics to describe payments provided in exchange for an individual's work. 
Compensation is an occupational category in society that indicates an individual's standing, whereas compensation psychologically refers to the fulfilment of an individual's wants and goals. 
It is a form of compensation that immediately impacts one's level of living, provides for the necessities of one's family, allows one to save for future responsibilities, and justifies one's value for work. Wages, on the other hand, increase the cost of production and are a susceptible portion of a company's overhead, affecting the profit margin. 
What is compensation management and how does it work?
When we talk about compensation, we typically refer to the money an employee receives from his or her company in the form of a salary, wages, benefits, or variable pay.  
Compensation can also refer to money provided to someone for anything that has been lost or destroyed, such as "workers' compensation" for jobless or wounded employees.  
It can also refer to a monetary settlement received as a result of legal action. Compensation, in a broader meaning, can refer to anything of value offered in exchange for a loss, such as a paid supper to "compensate you for your time and effort."  
The word compensation is derived from the Latin verb 'compensate', which means "to balance." Compensation serves as a balancing in this context. The most common kind of compensation is a monetary payment in return for the time, work, or experience. 
In addition, it can also be described as the process of ensuring that an organization's pay and incentives remain competitive, appropriate, and equitable. 
It also entails overseeing business benefit programs to ensure that they are up to date and satisfy the demands of the current workforce. Compensation managers are in charge of dealing with labour data and adhering to complicated benefits administration laws and regulations. 
Compensation management is a crucial element in HR (Human Resource) because it has a direct influence on employee retention, hiring, corporate success, and team engagement. Compensation managers are important for the success of an organization. 
Employees may seek out far better compensation packages elsewhere if pay, bonuses, and perks aren't managed effectively, performance and job satisfaction may suffer, and a variety of other variables may have a detrimental influence on the organization. 
What is the mechanism behind it?
Employees receive paid vacations, sick leaves, holiday and medical insurance, maternity leave, free travel, retirement perks, and other benefits in addition to their basic financial wage. 
Compensation is an important aspect of human resource management decision-making since it motivates individuals and increases organizational effectiveness. 
HRM is concerned with determining suitable and equitable pay for the organization's employees. For deciding pay, HRM employs methodologies such as job evaluation and performance review. 
Basic needs, job requirements, legal provisions regarding minimum wages, the capacity of the organization to pay, wage level afforded by competitors, nature of the job, skills required, the risk involved nature of working conditions, bargaining power of the trade union, and other factors are all taken into account when determining personnel remuneration. 
In most organizations, wages and salaries account for a significant portion of overall expenditures. As a result, while defining wage and compensation structures, a systematic method must be used to guarantee that employees are paid in a rational, equitable, and fair manner. 
It is a tool used by management for several objectives to ensure the company's continued survival. It may be tweaked to fit the demands, goals, and resources of the company. 
Individual value –

While the value of a job is tied to comparable tasks inside the firm or among rivals, the value of an individual to do that job varies depending on his or her skill/knowledge, expertise, and, more importantly, his or her behaviour during the job and with coworkers. The sum of these characteristics determines an individual's worth. Employees' perceptions are reflected in this definition.

 
The Business's Cost

– Human resources are viewed as a valuable asset to the company. The company's investment in this asset in terms of ability, competence, or experience is a cost, and the employer's goal is to make workers aware that they must assure a return on this investment through constant and ongoing performance.

 
Flexible Compensation Package

– Employees are provided with a compensation structure with a variety of advantages to arrange their tax plan and obtain the benefits.

 
Compensation Management: 4 main components
Salary/Wages
Dearness and other allowances
Incentives
Fringe benefits
Salary

:

Salary is the remuneration paid to employees by an employer for the services they offer. The amount varies depending upon job position, KRA (Key Responsibility Areas), the experience of the candidate, financial planning of the company, minimum wage, etc.

Dearness allowance (DA) and other allowances

: DA or Dearness Allowance is one of the main components in Indian Payroll. As per section 3 of the Minimum Wages Act, it is provided by the government to its employees to balance the impact of inflation

Incentives

: Incentive is an amount paid to the employees by the employer in addition to salary as a reward for good performance or any target achieved. Incentives in many organizations can be monetary or non-monetary depending on the policies and play a very vital role in motivating employees

Fringe benefits

: Fringe benefits as the name clarifies, are the benefits offered by an employer to its employees in addition to wages/salary and are above and beyond any financial compensation such as; additional perks, various insurances, reimbursements, etc. 
What are the types of compensation management?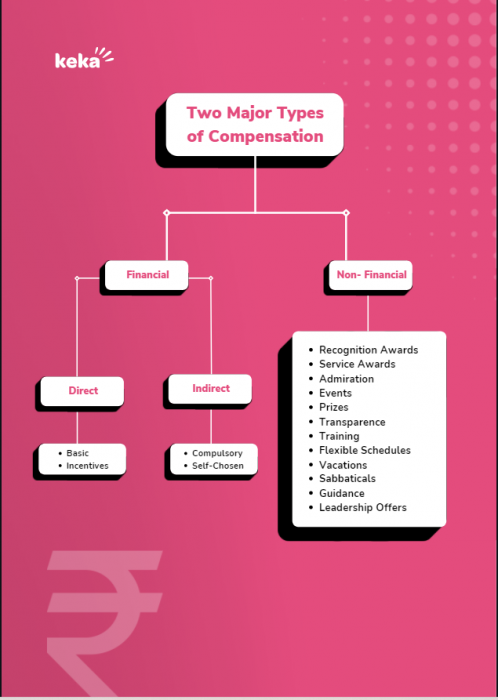 If you're a compensation professional, HR leader, payroll specialist, business owner, or manager, you need to know about all sorts of compensation. Of course, businesses are legally obligated to compensate people for their efforts, but you must also explain remuneration to prospects and employees.  
During the hiring process, performance evaluations, compensation reviews, and stay interviews, this is very important. However, the terminology used in a business to classify and discuss remuneration may be perplexing at times. 
Workers must understand how they are compensated, the numerous types of compensation that apply to them, and the entire worth of their compensation package because compensation can take many forms.  
Although this may appear to be an overly difficult method of explaining salaries, it makes sense once you realize that pay is nuanced when broken down into basic salary, commission, gratuities, bonuses, stock options, perks, and other sorts of rewards. 
Let's take a closer look at the various sorts of compensation. 
The following are the two main forms of compensation:
Financial Compensation
Non-Financial Compensation.
# Financial Compensation
A monetary payment provided to an employee in exchange for his services is referred to as financial compensation. Basic salary, bonuses, incentives, overtime pay, commissions, and variable compensation are all included. 
Direct Financial Compensation

 
The most well-known and acknowledged kind of remuneration is direct monetary compensation.  
Direct compensation is the money that is provided directly to employees in exchange for their job, and it is the most sought after by workers. This covers hourly earnings, fixed salaries, bonuses, gratuities, and commissions, among other things. 
Pay Basics

– It is the monetary reward an employee receives for the hours done. It takes the form of a salary or compensation.

 
Providing incentives –

It's a system that ties compensation to output or profitability. It might be tied to an individual's, a team's, or even the entire organization's performance. Incentive schemes include bonuses, profit-sharing plans, variable compensation, and stock options.

 
   2. Indirect Financial Compensation 
All money handed out to an employee that is not included in direct compensation is referred to as indirect financial compensation. The section of an employee's contract that includes topics like temporary leaves of absence, benefits, and retirement plans is sometimes referred to as this type of pay. 
Financial Compensation through Indirect Means: 
Pensions, insurance, and paid vacations are all part of it. All employees have access to these benefits. 
Benefits: Except for wages, salaries, and incentives, they are given by the employer. They are a component of a financial compensation scheme that is not directly compensated. These perks are not dependent on performance and are granted to all employees just for being a member of a company. 
There are two sorts of them: 
Compulsory:
Provident fund, gratuity scheme, health plan, maternity leave, medical leave, and so on are examples of these benefits that a business is legally required to offer to its employees. 
Self-chosen:
These are optional and offered by the employer voluntarily include pay for time not worked, such as paid holidays, family-friendly parks, among others.  
Sabbaticals, childcare centres, work-from-home options, job search assistance for spouses, health or accident insurance, and company-sponsored education are just a few of the advantages that organizations now provide to their employees.  
Employees receive free transportation, subsidized meals, and free concierge services in which their phone, electricity, and other bills are paid on their behalf.
# Non-Financial Compensation
These are psychological incentives given to employees who believe their abilities are valued. Employees at the senior and medium levels who wish to work with high-tech equipment want to be empowered.  
Other notable non-financial compensations offered to employees by modern firms are recognition awards and service awards. 
They are as follows:
Recognition awards

— Employee of the month and employee of the year awards presented at a festive occasion can push employees to improve their performance. Individuals that contribute to society, go above and above the call of duty or have business-related ideas are recognized.

 

Service awards

— Employees who have worked for the company for a particular amount of time are eligible for a loyalty reward.

 

Admiration

— When an employee completes a task to the satisfaction of superiors, manager appreciation in the presence of coworkers is a sure-fire reward.

 

Setting a difficult assignment for promising workers

– Setting a difficult job for prospective employees can release dormant brilliance in such people.

 

Guidance and mentorship in the workplace Infrastructure

– The provision of career counselling and guidance coaching can motivate current employees to realize their full potential.

 

Holding events

– Holding events such as founders' day, Independence Day, festivals, New Year's Day, sports events, literary events, carnival day, and so on ensures that employees feel united.

 

Prizes

– Prizes include cash, gift certificates, movie tickets, family parties, and meal vouchers, and travel discounts to famous places, among other things.

 

Transparency in dealings

– A transparent performance rating system, award system, transfer system, promotion on career development practice, and so on, all contribute to a good attitude toward the employer.

 

Well-developed communication system

– Hold frequent town hall meetings, ensure a barrier-free flow of communication, set deadlines, establish clear rules, well-defined policies, processes, and strategies, provide in-house news enlightening the dynamics in the company and industry, prevent the spread of rumours, foster a positive and healthy work environment, and assist employees in remaining positive in the facility.

 

Deputation for a foreign assignment

– Choosing the finest performers for training and major abroad assignments will undoubtedly increase their motivation, as well as their worth and reputation among their peers.

 

Seeking advice

– Consulting important personnel on strategic problems and soliciting their candid feedback has a huge impact on their morale and positive energy.

 

Participatory opportunity

– Employee participation in decision-making, such as joint decision-making autonomous workgroups, consultative committees, kaizen management, collective bargaining, quality circles, suggestion committees, and so on, will undoubtedly motivate their interest and encourage them to contribute positively to the organization's goal.

 

Decentralization of power and authority

– Decentralization of power, fixation of accountability, and delegation of authority can empower employees to unlock their otherwise latent potentials.

 

Refresher training

— Providing periodic training to refresh employees' knowledge, skills, and competencies has the potential to empower businesses and re-energize them.

 

Flexible work schedules

— Flexible work schedules, such as part-time employment, job sharing, flexi-time, annulled work hours, work from home, day shift options, and so on, go a long way toward retaining employee's loyalty.

 

Provide possibilities for leadership development and career advancement

– These opportunities are guaranteed to attract and keep personnel who enjoy a challenge.

 

Provide a variety of vacations and sabbaticals

– Providing a variety of vacations and sabbaticals is one of the most potent motivators for employees.

 
What are the principles of compensation management?
Core compensation principles must find a balance between paying in an outwardly competitive and internally equitable manner. 
However, there are several perspectives on what constitutes fairness. Subsequently, accomplishing lucidity and understanding among key partners on how the firm ought to repay its workers is urgent. Your reward mindset will be influenced by this. 
Recruiting and retaining top employees 
Individuals with an entrepreneurial approach and a focus on long-term value generation will find the remuneration scheme appealing. 
Exceptional Compliance
Complying with any regulatory requirements should also be a top focus for your company's compensation strategy. Be proactive in ensuring that your pay practices comply with the Fair Labor Standards Act, the Civil Rights Act, and any other applicable employment rules. 
Even though the insights are based on wage patterns from almost a thousand businesses. 
Establish a line of sight
The company should communicate with employees in a regular, open, and honest manner about the reasons for wage increases, bonuses, and other forms of compensation.  
The context for these decisions, as well as other aspects of compensation such as perks, should be considered. 
Appreciation
Individual contributions, as well as team deliverables, are recognized in compensation plans for employees below the IEC (Information Education and Communication) level. 
Come up with a compensation plan

.
A compensation plan is required by every organization to influence employee pay choices. It should be in line with your company's strategy and backed up by the top executives.  
While it must be wide enough to be enforceable for everybody, it must also explicitly outline how performance and competitive compensation will be employed, as well as salary management utilizing levels, grades, or bands. Finally, ensure the pay changes' timing and methodology. 
Performance-Based Pay
 Performance-based compensation plans reward achievements and manifest employees' capabilities.  
Make use of the correct tools
Finally, invest in technologies that you and your managers can utilize to assist and handle the intricacies of the compensation planning process.  
Automated workflows, easier award distribution based on predefined goals, and real-time insight into fair pay practices are all elements of professional compensation management software. 
Managers should be trained.
While you can send payment notifications to your workers regularly, your managers must also participate in compensation management discussions. They must be properly taught to manage the salary growth and professional development of employees. 
The following points are provided with Asia-relevant thoughts and takeaways: 
Compensation policies and programs should be evaluated and altered regularly with changing demands.

 

To achieve a uniform and consistent application, the pay policy or salary policy should be explicitly specified.

 

The compensation plan should be in line with the company's overall goals.

 

Compensation planning should be a component of your overall financial strategy.

 

All pay and salary-related decisions should be double-checked against the wage/salary policy's requirement.

 

Wage/salary policies should be communicated to employees by management.

 

Employers, employees, customers, and the community's perspectives should all be considered while developing a compensation policy.

 

Appropriate information/data should be created and preserved to handle compensation-related concerns for future planning and execution.

 

Wage policy should include workers in the formulation and execution.

 
What are the functions of Compensation management?
No wonder compensation management is one of the most sensitive aspects of an organization as it is directly meant to satisfy employees and is the major factor that defines their loyalty.  
Around 95% of office disputes in Indian organizations are because of salary issues, payment terms and methods. 
As per https://www.economicsdiscussion.net/ 
The following are some of the specific functions and services: 
Payroll management
Choosing a reasonable wage for new hires and current employees depending on their qualifications

 
Experience, education/skills, performance, pay history and fairness, and budgets are all important factors to consider.

 
Creating pay rules and procedures.

 
Knowledge about the competition
Gathering information on competitors' pay practices.

 
Competitive pay analysis
Managers must use this tool to verify that remuneration is fair and competitive.

 
Employee development, enhanced contribution, and added value to the university are all factors to consider.

 
Compliance with the law and regulations
Evaluating the organization's influence on applicable laws and regulations.

 
Making recommendations for modifications to documentation, processes, and analyses, among other things.

 
Examining and suggesting remedies for compensation-related discrimination.

 
Providing legal advice on current and new human resource policies, practices, and processes.

 
Studies on pay equity
Conducting pay equality analyses and studies to guarantee that employee salaries are established without regard to race, colour, religion, sex, country origin, age, or handicap.

 
Recognition
Creating alternate pay schemes

 
Creating incentive and recognition programs

 
Guidelines for pay increases and market benchmarking

 
Conducting market research to estimate market pay levels for certain positions including which staff positions will necessitate a pay raise.

 
Creating yearly pay increase criteria and adjusting the salary range structure

 
Design, analysis, and assessment of organizational structure and job roles
Conducting a thorough evaluation and collaborating with leadership and HR to enhance or improve redesign their organizational structure, including suitable job categories work successfully and efficiently, a certain number of positions are necessary.

 
Determining work definitions and job hierarchies for various job families

 
Assisting managers in the creation of useful job descriptions

 
Managing the organization's staff job categorization system, which includes the process of reclassifying employees.

 
Assisting with the review and approval of job requisitions for all roles on staff.

 
Performance appraisal and development strategy
Establishing performance benchmarks and metrics

 
Creating development plans that identify and track an employee's professional advancement in their present position.

 
What are the main objectives of compensation management?
It aims to recruit, engage, and retain employees by creating competitive compensation plans that are consistent with the company's budget, employment market, and regulatory regulations. 
Good compensation management must include the following:
Attract and hire the best people.

 

Encourage staff to work harder.

 

Maintain a positive attitude.

 

Follow federal requirements and the company's compensation policy.

 

Take into account the existing work market.

 
Compensation provided to employees is a factor taken into account by the consulting agencies. Each party to the agency strives to sway this factor in its favor.  
To keep their costs low, companies prefer to pay as little as feasible. Employees strive to reach the top of the corporate ladder as quickly as feasible. With particular objectives in mind, compensation management aims to create a balance between the two. 
Compensation management has two basic objectives:
Primary Objectives
Secondary Objectives
# Primary Objectives:
The primary goals of compensation or earnings may be divided into four groups: 
Stability in the macroeconomic environment

Fairness

 

Optimal labour allocation

 

Effectiveness

 
Stability in the macroeconomic environment:
Companies strive to ensure macroeconomic stability by employing a large number of people. Low inflation contributes to macroeconomic stability. For example, an excessive minimum wage would have a negative influence on employment levels, at what level this effect would occur is debatable. Although compensation and compensation policies are just two of the numerous elements that determine macroeconomic stability, they do help in maintaining balanced and long-term economic growth.
Fairness:
The first category is equity, which may come in a variety of forms. Income distribution by decreasing inequities, raising the earnings of the lowest-paid workers, safeguarding real wages, and the principle of equal pay for equal labour are all examples of equity.  Internal and external equality are the goals of compensation management. Internal equity dictates that compensation be linked to a job's relative value, ensuring that equivalent pay is guaranteed for similar occupations. Making similar payments, or paying workers what other companies in the labour market pay comparable workers, is referred to as external equity.  Compensation differentials based on skill or contribution disparities are all linked to the idea of equality. Internal equity refers to how individuals and their contributions are compensated equally in comparison to other occupations in the firm. 
Optimal labour allocation:
The net gain is something that employees think about. The notion of efficient labour allocation refers to workers/employees migrating from one scenario to another for a net gain. This can be from one geographical area to another, from one position to another, and inside or outside of an organization. Such mobility is triggered by the offeror availability of monetary incentives. Workers are likely to relocate from a labour surplus or a low-wage region to a high-wage area, for example, they may be enticed to move to professions with greater pay once they have acquired new abilities. When an employer's pay is below market, employee churn is higher.  When an employer's pay is above market rates, job candidates flock to him. Because of structural shifts, when people migrate from decreasing to growing industries, there is an efficient allocation of labour. 
Effectiveness:
Efficiency and equality are frequently linked. These two ideas are not mutually exclusive. Efficiency goals can be seen in efforts to relate a portion of salaries to production or profit, group or individual performance, skill acquisition and application, and so on.  Preparations to improve efficiency are likewise considered fair, as long as performance is suitably rewarded. If the prize is deemed unjust, the preparations are deemed inequitable.
# Secondary Objectives
From the perspective of human resource management, a well-designed compensation package aids an organization in achieving secondary compensation objectives.  
Obtaining qualified workers, adhering to rules, managing expenses, improving administrative efficiency, facilitating understanding, keeping employees, and rewarding desired behaviour are among the secondary aims. 
The secondary aims of compensation management are: – 
Attracting qualified personnel:
A competitive salary can help an organization attract qualified candidates. Given that everyone is aware of their market value, it is only prudent for management to give appropriate remuneration packages to employees. 
Complying with rules 
A good pay and salary system takes into account the government's legal issues and ensures that companies follow them. 
Cost control 
A logical compensation structure aids the firm in attracting and retaining employees at a fair cost. Workers may be overpaid (when product costs rise) or underpaid (when product costs fall) if remuneration is not properly managed. 
Improving administrative efficiency 
Every firm strives to make the most use of its human resource information systems (HRIS). A well-designed good pay and salary scheme aids ineffective management. 
Improving comprehension 
The compensation management system should be extremely clear. Employees, in addition to human resource professionals and operational managers, should have a simple understanding of the compensation management system. 
Retaining personnel
When salary levels fall short of employee expectations, attrition may rise. They left because they didn't think the pay was competitive. 
Rewarding desirable behaviour
Companies expect workers to behave in specific ways. Pay is likely to reinforce desired behaviours and function as an incentive for modifying behaviour and repeating the same in the future 
Attracting Talent
It is commonly understood that an organization's people resources provide it with an advantage over its competitors. An organization may attract the greatest personnel available in the employment market by giving a well-designed pay package. 
Retaining Talent
The workforce has become increasingly mobile as a result of deregulation, globalization, and privatization. The practise of lifetime employment and commitment between the employer and the employee (William Ouchi's Theory Z) is rapidly fading in several economies throughout the world. 
Employees no longer hesitate to leave one company and join another if a higher salary package is offered. As a result, each organization should devise a remuneration scheme that not only attracts but also retains talent. 
Employee Motivation
Talented individuals may not be motivated to apply their skills unless they believe they will be adequately compensated for their contributions to the organization's success. 
What are the most influential factors affecting compensation?
Compensation is one of the most prominent reasons for disputes between employers and employees. Employees contribute to the success of the company by donating their time, energy, talent, and expertise. Employees are compensated by the employer in exchange for their loyalty. 
The amount of pay given to an employee is determined by the amount of labour put in, the type of the job, and his abilities.  
Several additional internal and external elements influence yet remuneration is influenced by a variety of elements, which may be classified as follows: 
External factors and

 

Internal factors.
Determinants of external compensation factors:
Government Oversight

: Different legal enactments such as:

 

The Minimum Wages Act of 1948,

 

The Payment of Wage Act of 1936, 

 

The Equal Remuneration Act of 1976, 

 

The Payment of Bonus Act of 1965, 

Dealing with Provident Funds, Gratuity, and the Companies Act, among others, have an impact on compensation packages. As a result, businesses must base their salary and compensation decisions on the applicable Acts.

 

The Economic Situation:

Organizations with cutting-edge technology, superior production records, improved operational efficiency, and a pool of competent labour, among other things, can be better paymasters. A paymaster is determined by the amount of competition in a certain business. 

 

Liberalization:

In several sectors of the economy, it has ushered in a new age of increased remuneration. The arrival of multinational firms and large enterprises has resulted in a huge shift in remuneration structures across industries.

Salaries are rising in businesses such as information technology, hotels, biotechnology, electronics, financial services, and so on.

 
Mobility Across Borders

: Due to the movement of talent between industries, it is difficult for modern businesses to compare their employees' pay to those of others in the industry. Airlines, healthcare businesses, and telecom corporations, for example, hire people from the hotel industry

 
Job Market Situations

: The factors of human resource demand and supply, without a doubt, influence compensation decisions. 

Employees with uncommon skill sets and experience-based knowledge earn greater wages and salaries than those with common capabilities that are widely available in the market.  However, due to the government's prescription of minimum pay levels and employee union negotiating strength, a bigger supply of human resources for particular jobs may not result in wage reductions beyond a floor level.  Similarly, if the great majority of available resources are unemployable owing to low ability and talent, this aspect alone does not result in reduced remuneration.  As a result, it is evident that the rule of supply and demand only applies to the labour market to a limited extent.

 
 

The Union's Power:

Pay rates are also impacted by labour unions' collective negotiating strength. Trade unions have an edge in certain industries, such as banking, insurance, transportation, and other public utilities.

As a result, pay and wage structures in such industries and such Union-active regions must be determined and changed in conjunction with unions to ensure a harmonious industrial relationship.

 
Living Costs:

The cost of goods and services grows in tandem with the cost of living. It varies from nation to country and from region to region within a country. 

Compensation adjustments are based on the consumer price index, which monitors the average rise in the price of essential needs such as food, clothes, gasoline, medical services, and so on. Compensatory allowances are provided in cities to keep up with rising living costs and to ensure equity among employees stationed in various parts of the country.

 
Level of Prevailing Wage

: The majority of businesses set their remuneration in line with that of similar employment in the industry. They regularly perform salary surveys and strive to maintain their compensation levels for various positions. 

If a company's compensation remains greater than that of competitors in the sector, its personnel costs rise, potentially raising the final cost of the product. The firm's competitiveness will suffer as a result of this. On the other hand, if a company's remuneration is below market, it may find it difficult to recruit talented and competent staff.
Determinants of Internal Compensation:
Organizational Compensation Policy:

The pay structure of a company is determined by its pay policy, such as its ambition to be an industry leader and intend to pay the market rate. The former can recruit greater talent and attain a lower cost per unit of labour than the latter.

 

The Value of a Job

: Organizations set compensation levels based on the value of a job. Wages and incomes for occupations that require the use of one's intellect, jobs with a lot of responsibility, jobs that need creativity, and technical skills tend to be higher.

An organization would like to compensate its employees based on the value of the job that they will perform for the company.  The value of a job may be determined by doing a complete job appraisal and comparing it to other occupations within the company as well as those in competing companies.

 
Employee Value

: Time rates are given to all workers in some firms, regardless of performance. Employees are paid for just being there at work rather than doing well in these scenarios.

On the other hand, many private-sector organizations adopt a performance-based remuneration scheme. They frequently conduct performance appraisals, which give information for deciding compensation levels. It differentiates between high-performers, low-performers, and non-performers.

 
Employee Skills Supply and Demand

: The formation of the "going wage rate policy" is the principal practical result of the operation of this rule of supply and demand.

Even while it is nearly impossible to draw demand and supply curves for each position in an organization, there is a general trend to raise compensation if the supply of labour is reduced, such as by restricting certain labour unions. There will be a trend to boost remuneration if anything works to enhance employers' demand for labour. In the event of a scenario reversal, employee remuneration is likely to fall.

 

Productivity

: An employee's pay is sometimes directly proportional to his or her degree of productivity. Every excellent manager would strive to achieve parity between an employee's achievements and rewards. 

Employee productivity leads to more turnover for the company, which leads to increased revenues and, eventually, an increase in employee pays.

 
Affordability of the Employer:

Large corporate conglomerates and multinational corporations, which produce a big profit and have a greater market share, may afford to pay more salary than others. Furthermore, a sector-specific economic crisis and intense rivalry limit a company's capacity to provide greater wages.

 

The Business Strategy of the Company

: The compensation technique used by a company is largely determined by the company's business plan; for example, a company that pursues an aggressive growth strategy would maintain greater compensation levels than its competitors.

In contrast, businesses that pursue a defensive strategy will maintain compensation levels that are ordinary or below average compared to those in the market.

 
Capacity to Pay:

The amount of remuneration provided to employees is largely determined by the organization's ability to pay. 

Employees demand a higher level of income and greater benefits and amenities from management if the company is large and successful. Employees in such organizations are often compensated at greater levels than their competitors, but employees in marginal firms who cannot afford to offer competitive rates would always incliner better-paying.

 
Internal compensation is supplied in the following format:
Wages

: The term 'wage,' according to the definition, refers to the remuneration of craftsmen or labourers who are paid a certain amount per hour, day, week, or month, or for a specific quantity of work. In a strict sense, 'wage' refers to the payment given to blue-collar employees for their services, which is generally calculated on an hourly or daily basis.

 
As a result, we discover that – 
A wage is a form of payment.

 
It is given to employees, particularly those who work in maintenance and manufacturing.

 
It is a monetary transaction labour service

 
It is usually compensated at an hourly or daily rate.

 
Wages can be stated in terms of money (nominal wages) or in terms of buying power. 
Wage, in its broadest meaning, refers to the monetary remuneration provided by an employer to his employees in exchange for the labourer service under the terms of a contract.  
So, a wage comprises a base salary as well as benefits such as overtime pay, holiday pay, and so on. 
2. Salary: Salary is a set payment made regularly for services, particularly for official or professional services. It mainly refers to clerical, technical, supervisory, and management staff who are paid weekly or monthly. 
It may be deduced from the foregoing that A salary is a form of monetary remuneration.

 
It is a set payment that is more regularly paid to white-collar workers such as office workers, technical workers, managers, and professionals.

 
It is paid by the employer in consideration of e-services provided by the above-mentioned workers.

 
Thus, 'salary' is defined as monetary compensation provided by an employer to his monthly or weekly rated white-collar employees in exchange for their services, regardless of contract or agreement.
What is the mechanism for managing compensation? 
Compensation management refers to the systematic process of paying and benefiting employees. 
It includes processes such as job appraisal, market rate analysis, job analysis, establishing and maintaining pay structures, paying for performance, skill, competence, and performance management, as well as the procedures required to manage these activities. 
Let's have a look at the procedure now. Once a business is structured and ready to hire personnel, it must devise a system for rewarding those workers. The measures that management may take to finish this procedure are listed below. 
The Company's approach
Though not a phase of compensation management, the overall strategy of the organization is the beginning point for the complete human resource management process, which includes compensation management.  
Companies that operate in various sorts of markets with differing levels of maturity use a variety of tactics and compensation plans, as well as a combination of different payment systems.  
As can be observed, different tactics are used by organizations in different market scenarios, and their compensation plan is aligned with these strategies.  
In a booming market, a company can grow through expanding internally, taking over, and merging with other companies in the same line of business, or a mix of both.  
In such a rapidly expanding market, inputs, particularly human resources, do not expand at the same rate as the firm. As a result of the expansion strategy's success, the company must spend a lot of money to acquire top people. 
In a matured market, the organization stabilizes and grows by improving the effectiveness of existing investments, a process known as learning curve growth. 

 
In a falling market, the company must generate profit through cash creation and cost-reducing and if this cannot be sustained over time, the company may be forced to retrench and invest elsewhere.

 
In this situation, the compensation approach is cost containment through cash and incentive payouts that are below average. 
Job Evaluation
After the occupations have been analyzed using work description statements, the second part of compensation management entails determining the job's worth from a financial standpoint.  
To ensure internal fairness in setting the remuneration structure for various positions, an appropriate job evaluation approach is used. 
Job evaluation is, indeed, a method of determining the value of a job based on not just its context and content, but also the essential skills and duties.  
For evaluating the worth of a job organization may use the listed methods: – 
Job Analysis
 The most important stage in the compensation management process is to do a job analysis. It is meant to define the content and context of each job, as well as the obligations, responsibilities, and accountability associated with it.  
As part of the pay development process, job descriptions, which are a textual form of job analysis, are used to identify and examine the qualities of a position. 
Pay Revision and Control 
An adequate method for properly monitoring labour costs must be developed. For measuring the efficiency of compensation programs in organizations can utilize approaches like budgeting, performance review, and other applicable ratios like the ratio.  
Budgeting is a useful tool for keeping track of a company's financial spending. It also aids in the organization's labour cost monitoring, management, and coordination.  
Budgets are the guidelines by which an organization rates its financial expenditure about employee remuneration. 
Establishing the wage structure 
An individual's pay is determined by the pay structure. The organization decides the pay structure and pay grades for occupations of equal significance and difficulty after determining the internal link among the positions based on their relative worth.  
For compensation administration, the organization has two structures:  
A broad-graded pay structure.

 
Wage and salary survey 
An organization forms a wage and pay survey in the labour market at this stage to learn about the remuneration offered by similar companies in the industry for similar occupations.  
The major purpose of a compensation survey is to assure external parity when defining an employee's pay scale.  
An organization has two alternatives.  
It can either conduct a survey to learn about labour market's trends or  
Purchase the findings of professional agencies' surveys. 
Evaluation
A compensation plan is dynamic rather than rigid and fixed since it is influenced by a range of dynamic circumstances.  
As a result, compensation management should have a mechanism in place to evaluate and assess the compensation plan.  
After the strategy is implemented, it will provide outcomes in terms of intervening factors such as employee happiness and morale, as well as end-result variables such as increased production.  
This latter variable, however, is more significant. In this view, the compensation plan must be evaluated.  
Job Pricing 
Job pricing is the process of determining compensation rates for positions inside an organization, a job appraisal and a salary survey.  
The internal worth of the task is matched with the exterior worth as part of this procedure to calculate the job's pricing.  
When it comes to determining employment remuneration, the guiding concept should be to "pay the job and reward the person." Paying the work entails paying the appropriate compensation for the job based on its value, whereas rewarding the person entails rewarding an individual for his or her efficiency as measured by performance assessment. 
What are some of the benefits and drawbacks of compensation management?
Effective compensation disadvantages are the result of businesses choosing the wrong types of employee remuneration, which is an essential element for businesses to thoroughly evaluate in sequence to choose the finest potential compensation plans and policies for their employees that will allow them to conduct their business successfully.  
Let's take a look at the benefits and drawbacks of compensation management more closely.
Benefits:
Employee Advantages

: Employee benefits should be offered to motivate devoted, loyal employees to enthusiastically support the goals of their companies. 

 
A wise employer will make certain that their employees are satisfied and pleased since this goes a long way toward securing their loyalty. The company's success will be ensured if it can get the most out of its employees.  
Health Advantages:

Health benefits is a crucial element in a company since it has a direct impact on the organization's work and productivity. 

 
If a business provides a range of health benefits to its workers, for example, when an employee's health is bad, there will be systems in place to care for and restore the afflicted person's health. This benefits the company since happy employees are always loyal and productive. As a result, health benefits provide a win-win situation for both businesses and employees. 
Plans for Insurance Coverage:

Employees can take care of their own and their families health by selecting health plans, which allows them to spend less time thinking about health issues and more time focusing on their employment. 

 
Regular medical checks are covered by a variety of health insurance policies. Such examinations are critical for the early diagnosis and treatment of illnesses.  
Health screenings and illness prevention promote fewer sick days and a more active, productive workforce. 
Drawbacks:
Performance assessment is often subjective

: Employees' performance can be easily evaluated and assessed. A salesman, for example, may be required to fulfil specified sales targets for the year. Many professionals, especially those in administrative positions, undertake important tasks, yet their job isn't defined by reaching specified objectives. A pay-for-performance scheme might be difficult for these individuals, in part because their evaluations are more subjective. In rare situations, a personality clash with a supervisor might result in decreased pay.

 
Scorecards are far less trendy

: The remuneration plan for many employees is based on the outcomes of their yearly performance review. Many businesses, on the other hand, are finding such reviews useless and are instead encouraging managers to offer feedback to staff all year.

 

Unable to stay compliant with legal policies

: Failing to uphold certain policies and neglecting to pay retentions result in legal fees, which must be paid to avoid legal difficulties. However, for some firms and their employees, this is an issue in and of itself.

 

Unbalanced salary/wages system

: Reward systems have the propensity to be counterproductive since they might foster employee rivalry rather than collaboration. Individuals will be less willing to share work with their colleagues if a company pays incentives based on hourly labour for the year. This might lead to inefficiencies since some employees will desire to take on more work than they can qualitatively do, while others will be left with too little work to complete.

 
Unexplained health benefits plans

: Employees may think health benefit plans are excessively expensive since their company may deduct more money than they are paid as a health benefit at the end.

 

Rise in cost

: When a business has to create extra divisions to guarantee effective administration, it will also need to hire more people, which will result in a rise in employee-benefit-related costs.

 
What role does compensation management have in a company's overall strategy?
Employee compensation is important to organizations since it affects both employees and employers.  
In other words, it refers to the compensation provided by the company in exchange for the employee's contributions to the company.  
Compensation is important in Human Resource management because it raises employee happiness, which improves organizational effectiveness.  
The organization's pay is not usually in the form of money. Compensation can take many forms, including a housing allowance, vehicles, bonuses, profit sharing, overtime pay, recognition prizes, compensation rewards, and so on. 
Compensation packages encourage employees to contribute more to the company's productivity. 
Firstly, let's have a look at some of the important points to think about while creating compensation strategies. 
When developing an organization's overall compensation plan, which includes compensation design, rules, and actions professionals must comprehend and include what's also crucial to the company and its objectives. 
When establishing a strategy that is also well-matched to the personnel demographic and financial bridles, a lot of things must be well-considered. 
When creating a compensation strategy, the following points should be kept in mind:
Several principles will demonstrate the entire remuneration supplied to employees.

 
Equal and competitive compensation within the industry.

 
A common occurrence that leads to an increase in remuneration.

 
An acceptable approach for determining if the establishment's pay plan has been successful is by determining whether the remuneration has resulted in good retention statistics, staff productivity, and motivation. 

 
Compensation management's role in a company's overall strategy is as follows:
Increase in productivity and profitability
A happy employee is always productive. Employees that feel valued are more motivated and loyal, resulting in greater output in proportion to pay. 
Employees are not only more driven to perform a good job, but they also learn more and become more efficient the longer they work for the organization. All of this contributes to higher productivity. 
Boost job Satisfaction
When the right payment system is in place, job satisfaction rises. The ideal compensation plan includes benefits as well as any additional perks. 
Employees sometimes brag about their holiday bonuses, or they keep a close eye on the business stock because they have stock options.  
The correct pay scheme invests people in their job, resulting in a greater sense of pleasure when the firm succeeds. They understand that their efforts will be appreciated; everyone appreciates being acknowledged. 
Employee Engagement is Up
Compensating employees fairly demonstrates that you regard them as your own people. People are more likely to show up at work when they feel valued. People are more motivated to come to work and perform a good job as a result of improved business morale.  
Employees are also more driven to achieve better outcomes when they know there are incentives or commissions on the table. Compensation programs such as bonuses and commissions become a focus for achievement. 
Employee Loyalty should be increased.
Employees are more inclined to stay with a firm if they are appropriately rewarded and happy. 
Appropriate remuneration is one of the reasons why employees stick with their employment. Reliability implies that business owners don't have to waste time, money, or energy on recruiting new employees.  
Employees are more inclined to stay with a firm if they are paid well and are satisfied. One of the reasons why employees stay with companies is because of fair remuneration.  
Loyalty eliminates the need for business owners to invest time, money, and effort in finding new employees. Employers who create a workforce that knows what to do benefit from high employee retention and low turnover.  
Every team is equally eager about being a part of a team, and they do a wonderful job. 
Recruiting and retaining top talent
People are always trying to place themselves in the greatest possible financial situation. Those who are worth a certain amount of money are often aware of their worth and will seek employment that compensates them appropriately.  
Examine your rivals' remuneration and benefits schemes. To attract the top prospects for your organization, make sure you give a comparable package to potential workers.  
Hiring the correct resource for the first time saves time and money, allowing company owners to focus on other activities. 
Motivate employees
Employees who are fairly rewarded believe that they contribute value to the organization. When employees are rewarded, they like going to work.  
Furthermore, staff will be extremely driven to give higher performance if they know they will receive a bonus or incentives. Bonus and incentive compensation schemes have become critical to the success of a company. 
Compensation is closely linked to employee morale and work satisfaction. Often, a balance (equity) must be struck between the monetary value that the employer is willing to pay and the employee's sense of value and appreciation.  
Employers may choose to freeze or reduce compensation to save money, even if it means sacrificing employee satisfaction and morale. An employer seeking to reduce employee turnover, on the other hand, may aim to raise pay and compensation levels. 
Compensation can also be utilized as a motivator for high-performing employees. Bonuses, incentives, equity, share-sharing, and gain-sharing are examples of such programs. 
What are the challenges of Compensation Management? 
Regardless of the size of the organization, managing pay is one of the most difficult components of being an HR professional.  
HR compensation experts have challenges in selecting the appropriate salary and benefits to recognize and reward workers for their contributions to the firm. 
It's possible that the operations and processing will take a long period. It's particularly noticeable in firms with a workforce spread across many locations. Smaller firms face various issues; most are constrained by money, so the amount to which they can go to recruit fresh talent in a competitive environment while remaining fiscally responsible to themselves is restricted. 
Some of the most frequent compensation management challenges are: –
Inadequate digitization:

Managing compensation and presenting the results takes a lot of effort. When not done digitally, it can take months to get from concept to implementation to communication, and it necessitates a lot of data crunching, algorithms, and Excel sheets. This isn't the best use of your time or abilities

 

Encouragement:

In a small or close-knit firm, job satisfaction and a healthy workplace culture typically drive employees to perform at their best. Compensation is also important for employee motivation; hence compensation management is an important aspect of operations. 

Employees who believe they are fairly compensated for their contributions and efforts are more likely to work effectively, have lower absenteeism, and stay with the company longer than those who feel underpaid or underappreciated.

 
Equity inside the company:

Take a look at your wages and you'll be astonished by the findings. Despite the government's and businesses' best efforts, the wage disparity continues. Indeed, the World Economic Forum projects that closing the pay gap will take at least 202 years.

You should evaluate your efforts to close the wage gap regularly and raise awareness among top management to address the problem. 

 
Getting the right balance

: Many small-business entrepreneurs, according to the US Small Business Administration, overcome the difficulty of pay management by using their small-business status and flexibility. Small organizations, for example, frequently provide creative scheduling choices like flex time, job sharing, telecommuting, and work-from-home as incentives to recruit skilled employees. 

Observing professional growth and a strategy of promoting from inside can also assist to alleviate pay issues by incentivizing employees to rise internally.  A workplace wellness program and complimentary memberships, like a gym membership, are other benefits that might assist a small firm manage compensation.

 
Outside rivalry:

Businesses are eager to pay top cash for the crème of crop talent in today's society. Your firm must create a payment plan that is competitive with other companies in the same sector and area to recruit and retain talent.

Several market studies have been conducted to determine the appropriate wage for various positions. If you're on a tight budget, consider giving appealing vacation time off, child care, and other incentives that won't break the bank.

 
Compensation for CEOs

: When determining the wages of top executives, several complexities of compensation management come into play. This is especially essential for public firms that must disclose the pay of their top five employees, which may be unpopular with shareholders and the broader public. 

Even if this isn't the case, pay packages must find a balance between recruiting top personnel and being affordable.

 
The expectation among employees:

There will always be a conflict between what a person deserves and what the corporation needs to charge. And HR is caught in the middle. 

Furthermore, the majority of employees do not consider their complete salary package. You may close the gap by delivering total compensation statements, which clearly express the overall amount of their pay.

 
How to overcome the challenges?
To acquire a thorough view of the compensation strategy's efficacy, it should be linked to company goals and financial data.  
It can lead to a rift between employees and managers if managed poorly. Though these obstacles may appear formidable, with careful planning and hard work, you can overcome them.  
The correct tools will enable you to focus on what matters most–motivating your staff and creating a positive culture–rather than on mundane tasks and transactions. 
Employees in today's world, particularly those in major businesses, are expected to be exceedingly mobile. 
Even if the task was done in numerous nations with multiple problems, they would still need to be compensated for it. We've also shown that, despite their benefits, most of the techniques described to alleviate the compensation scenario in an expatriate context are laden with risks and drawbacks.  
An organization's best course of action is to assess the situation and implement the most appropriate strategy at the time. Smaller companies can be more flexible in terms of policies and processes, but as an organization grows larger and more bureaucratic, the flexibility is gone, and they must think in terms of procedures and policies that are best suited to them.  
This circumstance is being used by certain organizations. The organization is the greatest judge of its circumstances, and it should use the finest compensation structure for its foreign personnel to keep them motivated enough to perform at their best. 
How do you develop an effective compensation strategy?
An excellent pay strategy can aid in the efficiency of a company's hiring process. To acquire the best individuals, these tactics often combine a company's hiring budget with a remuneration plan.  
Understanding the components of a compensation plan and how to put one together will assist you in putting together a package that meets the needs of both the company and its employees. 
An organization's aspect of managing overall employee compensation is guided by a strategic compensation strategy. Previously, compensation was restricted to a wage, but it is now far more. 
Employees look for businesses that not only provide a competitive income but also offer perks and programs that help them cover additional expenses like healthcare and retirement plans. 
A strategic compensation strategy should be used not just to manage employee pay and benefits, but also to recruit and retain top people. 
Companies must proactively communicate overall compensation to their staff to the benefits of a strategic pay plan. Strategic pay, when done correctly, becomes a means of fostering workplace trust. 
Now, we'll define a compensation plan, explain why it's important, look at some key components, and show you how to make them. 
Why is a compensation strategy necessary?
Compensation techniques are frequently used by human resources departments to find and onboard workers who may provide value to the organization.  
A compensation strategy's objective is to:
Hire qualified people:

A pay plan determines how much money is needed to attract competent individuals who can help the company achieve its goals and objectives.

 
Reward employees for good work:

The approach lays out the benefits that an employee will receive if he or she meets particular goals.

 
Outline how a company's values are defined

: It also shows how a firm views compensation, which may help with compensation package creation uniformity.

 
Improve corporate spirit:

Offering a clear compensation with incentive possibilities can assist and boost company morale, lowering attrition.

 
Crucial Elements of a Successful Compensation Plan
Create a salary range

: Create salary ranges to ensure that employee pay is competitive with that of competitors. It is critical to compare similar positions within the same sector and build a wage structure to stay competitive.

Salary ranges can be created in-house by performing research or using websites such as salary.com or payscale.com to discover typical wages in a certain geographic region. Well, how to create a compensation plan?

Smaller businesses frequently hire a vendor to assist them to build compensation ranges, but bigger businesses may have the human resources capabilities to perform the study themselves.

Regardless, it is critical to examine all positions and decide what work is performed, how the job is classified, and compensation ranges that correspond to all job descriptions.

 
Legal Obligations:

Legal requirements will be included in a well-defined compensation strategy to guarantee that the firm complies with all federal and state regulations.

The purpose is to reduce inherent biases in hiring choices and guarantee requirements including minimum wage, overtime pay, and Fair Pay are followed.

 
Audits of wages:

As markets change, it's important to perform frequent pay audits to ensure that salary ranges correspond to actual compensation practices in a particular industry. 

An auditor's goal is to determine how competitive those specific jobs are, as well as what the external market is looking for.

 
A well-organized administration:

The foundation is crucial, just like any other organizational process.

Create an annual review procedure, a pay audit, and a timeframe for the increase process, and make sure someone is in charge of all aspects of compensation. A thorough pay plan may serve as the basis for developing an environment that acknowledges and rewards employee achievement while also fostering a strong employee engagement culture. Organizational success is determined by how successfully they hire the appropriate people, set clear goals, manage performance, and recognize and reward employees for a sense of accomplishment.

 
System for managing performance:

It's critical to have a well-structured performance management strategy in place to guarantee that staff are fulfilling business goals and are regularly evaluated.

The formulation of yearly goals, annual performance reviews, and a systematic method for coaching and mentoring staff should all be part of this process. Compensation schemes may have a favourable impact on employee engagement and productivity.

 
Allocation of funds:

The organization's approach to distributing compensation dollars into pay and benefits should be included in the strategy.

This budgetary allocation specifies how much of the total compensation budget is allocated to salary and how much of that is allocated to perks and other attractions. For example, if you have a $700 compensation budget and 90% of it is pay and 10% is perks, you must decide how to spend the other 10% — one scenario maybe 7% on health benefits, 2% on retirement savings, and 1% on tuition reimbursement. Allocating particular budget resources to pay and benefits can aid in the control of labour, health care, and other non-essential benefit expenditures.

 
Compensation Package:

Benefits packages, in addition to compensation, are used by many companies to attract and retain employees.

They aim to be competitive in the future of health, retirement, flexible spending accounts, and other perks since they know that it may make or break a job candidate's or employee's choice to join or leave an organization.

 
Make sure you comprehend the importance of performance

: Performance-based remuneration is widespread, especially in sales and quota-driven positions. When HR teams and managers aren't clear about what it takes to get a promotion or raise, employees might become frustrated and top performers may leave. If you're going to use a pay-for-performance approach, be sure to explain why.

 
According to Brian Haney, Vice President of The Haney Company, a benefits and compensation firm, "clearly defined employee performance should always play a part." 
 "Buy-in, growth, and development demand that you create a carved-out framework of expectation so you can support employees and course-correct when necessary." "If you do this badly or not at all, employees will leave since they don't have clear expectations." 
Consider restricting merit raises to specified quarters — preferably, ones that do not conflict with your performance evaluations. 
Either approach, the discussion won't be diverted. Employees and supervisors will have more opportunities to reflect on how they performed versus job skills if the two are separated. 
At an all-hands meeting, have a senior member of the HR team explain the company's approach to merit raises. Because remuneration is such a sensitive matter, welcome anonymous questions before and after the meeting and provide a follow-up email with clarifications. 
What can be done to make compensation management better?
Excellent compensation management is defined as a situation in which both the firm and the individual benefit from compensation management that ensures their financial success and well-being. 
Employers who provide their employees market-rate pay, well-deserved bonuses, and incentives to improve their lifestyle indicate their value to them.  
Employees will be more motivated and engaged as a consequence and will return the favour by increasing production and quality work.  
This symbiotic relationship between employer and employee is essential for fostering a business culture of happy and engaged workers. 
Since remuneration remains one of the top reasons employees quit their existing workplace, forward-thinking companies are searching for new methods to keep their best employees and decrease the costs associated with high replacement.  
Smart firms can recruit new and better talent by giving current employees more reasons to stay longer by upgrading their pay design programs  
As a result, managers must adjust their approach to effectively control compensation. 
Here have been four considered trying methods for enhancing a compensation system:
Adaptable and flexible work opportunities:

Since employees are seeking methods to enhance their work-life balance, the opportunity to work on a flexible schedule or from a collaborative home setting can be considered a significant benefit. This may greatly aid your recruiting and retention rates when offered as part of a compensation plan.

 
Performance-based promotions:

Employees are often more motivated when they realize that the only way to earn more is to perform at greater levels. A quarterly performance meeting combined with generous pay for performance is more effective than a once-a-year appraisal and plays a significant part in attempts to enhance your compensation plan.

 
Healthy strategies in the worksite:

In a productive work environment, employees are provided with the resources they need to stay healthy, they are more likely to pay attention to their health. Corporate wellness initiatives have been found in several studies to improve compensation plans and, as a result, lower various health-related expenditures
Competitive Remuneration package

: Giving staff a competitive remuneration package can help your company prosper in the long run. Maintaining a committed workforce helps to boost productivity and profitability, thus a good remuneration scheme helps to support this goal.