India is listed amongst the top countries having the most vacation-deprived employees. 
Do your employees account for these stats?  
What does this say about your company's leave management policy?  
Where are you going wrong with it? 
For most companies, employee leave is an afterthought, considered to be "the lesser, the better". But leave is crucial- To help employees rejuvenate, tackle burnout, attend to their personal issues, keep their health in check, or simply relax. Everyone needs a break.  
A good leave management policy ensures workers get the time off they deserve. But this doesn't seem like an "employer problem". After all, less absenteeism means more work done, right? Wrong.
Businesses cannot risk being unbothered. Why? Employees who don't take time to recharge are more prone to depression, sickness, chronic sleep deprivation, leading to increased levels of low productivity- directly affecting business growth and revenue. 
But maintaining records of these leave is tougher than you think. As the size of a company increases, so do the complexities in handling employee leave. 
How? 
Because in the world of technology, mundane and tedious manual methods are no one's cup of tea. It becomes difficult to: 
Keep tabs on every employee's leave pattern manually 

 

Update and maintain dozens of paperwork on par with the actual situation

 

Make sure employees follow guidelines and company policies while taking leave

 
More on the tech adoption part later.  
What is Leave Management?
Leave management is the process involved in requisitioning, granting or denying staff time off from work, taking into consideration the effects on the organization and also ensuring the maintenance of the records.
This includes managing leave related to annual leave, personal or family member sickness, childbirth, floaters and any other event that could give rise to the absence of the employee.
Leave entitlements are usually in accordance with one's rank or seniority, job classification (company and department), or directed by the labour regulations of the particular country. Some employers may offer paid leave to staff as a way of gaining personal leave days. 
Why is Leave Management Important?
An efficient Leave management (LM) process could easily predict the levels of employee engagement and satisfaction in the workplace.
The leave managing administration should take into consideration an effective leave roster and as much as possible, eliminate unscheduled leave. Inconsistencies in the same aren't uncommon.
However, such discrepancies could prevent the organization from operating at its optimal level, requiring its elimination. Poorly managed leave processes could have financial and legal ramifications for the company- A rare but potentially lethal situation. 
What are the major leave types?
While many of these are state and country specific, others depend on the policy crafted by different organizations for employee benefit.  
Annual leave- National Holidays/Religious Festivals

 

Sick/Casual leave

 

Compassionate/Bereavement leave

 

Privilege leave

 

Floater leave

 

Marriage leave

 

Comp-offs

 

Unpaid leave

 
Every employee is assigned a designated number of leave per category post their probation period. Most companies require an email or note mentioned in the HR portal before applying for leave, mentioning the reason they need those days off.
And every type of leave has different thresholds, requirements and quotas. Make well-informed and calculated policies by learning the nitty grittyies of all in this article.  
What are the challenges of traditional Leave Management?
No transparency in leave policies

 

Employees unsure of leave balances

 

Unnecessary time spent resolving concerns

 

Undocumented transactions making payroll errors

 

Failure to retrieve real-time insights on employee availability

 

Disengaged employees

 
…therefore, if not created and executed properly, leave management soon becomes chaos.  
How to design an effective leave management policy for your organization?
Leave is a mandatory corporate benefit backed by labour laws. Hence, the policies have to be designed so as to guarantee that employees don't lose their leave entitlements, and employers don't lose their financial strength.
Leave are cyclic processes, requiring satisfactory control and active monitoring to realize their effectiveness and efficiency. 
What do we mean by "cyclic processes"? 
Some tasks cannot wait. Even as an employee goes on leave, certain duties have to be performed- Bringing in the importance of staff leave balancing. This ensures uninterrupted workflow through well planned, approved and thoroughly documented leave. Poorly managed leave processes could have financial and legal ramifications for organizations. 
Things to consider while creating a leave policy
Categories: Several factors play a role in categorizing leave and making different types available for employees. These are primarily based on the organization's decisions and the labour laws of the state/country. This include sick, privilege, casual, compassionate, and other kinds of leave. 
Leave Balance: Apart from the mandatory leave underlined by the government for corporate offices, additional leave offered by companies to their employees add up to form the leave balance. These can depend on the seniority of the employee, department, years of service, new joinee and more.  
Frequency of Availing leave: Employers can put a cap on the number of leave that can be used in a given month, irrespective of their total leave balance. These restrictions are aimed at reducing the chances of employees abusing the benefits. 
Leave Entitlement: While the number of leave can depend on the time an employee has spent at the particular company, the types of leave can also vary for the same. For example, privilege leave can be offered only to employees who have completed their probation period or at least one year of service.  
Sandwich Policy: Take this scenario. An employee takes a leave between two holidays, for example Wednesday and Friday (offered by the company due to a festival/national holiday). In such a situation, all the three days will be considered as leave, not just Thursday.  
Encashment Method: Depending on the organization, the employees may be given the opportunity to either get their leave encashed or carried forward into the next financial year.  
Leave Management Best Practices
Leave management practices share a linear relationship with staff performance. Hence, it is vital for employers to pay more attention to the bottlenecks associated with the administration of leave.
And the best way to enhance leave management practices is to invest in automation. This reduces bureaucracies and errors while speeding up the processing of staff leave.
Again, a well-structured leave roster that evenly distributes staff leave over the year is of primary importance- Not just to ensure that the work of the institution runs smoothly but also to avoid work overload on the rest of the staff. 
But how do organizations create that fool-proof process? 
Maintain All Records
While remaining mindful of confidentiality requirements and any applicable privacy laws, ensure you document leave requests, communications, and decision-making thoroughly. This includes the amount of leave used and applicable dates.
Your documentation should remain secure and private, out of reach of unauthorized persons. However, the matters that concern the employees and managers should be accessible to both parties.
The best way to remain secure yet transparent is to centralize your HR, time and attendance, and compliance management in a single system with access controls. 
Stick to Your Policies
Once you create a clear leave policy, feed this into your HRMS system. An automated leave management system will let you input the organization's policy rules and regulations, effectively enforcing compliance simply through the portal.
Consider including the answers to the following questions while designing a policy:
How paid time is accrued

Who is eligible for leave

How the sick days work

What holidays are observed

What happens to unused time

How employees can submit requests

Other types of leave available
Apart from this, your policy should also mention the conditions and rules before employees apply for leave. Here are a few of them:
Notification requirements (any prior notice date or intimation required. For ex- Privilege leave needs to be applied with at least 5 days' notice)

Request official or certified documentation. If the employee doesn't provide certified documentation (from a doctor or medical provider) within a certain window, the request can be denied. Ask for second and third opinions to settle disputes.

Careful tracking of intermittent leave days, reasons, and call-outs

Centralization. While supervisors and managers should be involved in the process, have a single source of truth for all decisions and one centralized group who advises on leave-related matters.

 
Train Managers and Supervisors
Supervisors, managers, and others who monitor employee absenteeism are your first line of defense against lawsuits, complaints, and potential enforcement action.
However, this can turn into the greatest weakness, if they aren't trained well.
Appropriate managers need to be up-to-date on all absence management programs and prepared to answer employee questions about leave. 
Use Technology to Your Advantage
Using a technology solution increases transparency in your leave administration, for you and for your employees.
Features like dashboards and reports offered by Keka can reduce the headache of tracking leave – you can see at a glance how many leave an employee has taken and has available. This fosters a culture of self-accountability and transparency.
It also frees up the HR team's time spent doing mundane documentation tasks to help focus on creating HR strategies for employee benefit and business growth.
What's more?
77% of employees expect easier ways to complete routine tasks. Hence, you should automate as much of the leave management process as you can.  
Communicate to the Employees Effectively
If your employees aren't aware of the benefits your company's leave policy gives them, it is of absolutely no use. Educate them whenever needed. Help them understand the details of the policy and how and when they can use it.
Have regular training sessions, round table discussions and informal conversations about accessing leave with the goal of destigmatizing the use and minimizing the abuse of leave.
Always communicate any changes made to the policy to help employees remain updated. And offer a centralized source for the answers to all their questions. 
Benefits of Using a Leave Management System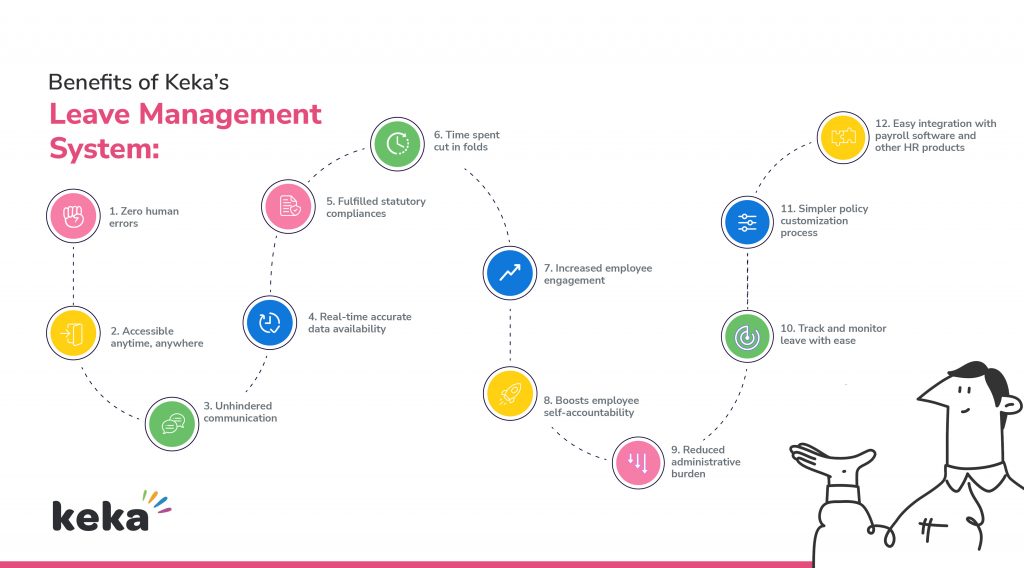 Zero human errors

 

Accessible anytime, anywhere

 

Unhindered communication

 

Real-time accurate data availability

 

Fulfilled statutory compliances

 

Time spent cut in folds

 

Increased employee engagement

 

Boosts employee self-accountability

 

Reduced administrative burden

 

Track and monitor leave with ease

 

Simpler policy customization process

 

Easy integration with payroll software and other HR products

 
Conclusion
Organizations sometimes underrate the effect employee absence from work can have on productivity. The average cost of staff absenteeism is estimated at 36% of employees' salary, while absenteeism may give rise to a 19% daily net loss in productivity.  
The indirect cost of employee absenteeism may eventually become too huge to bear. Viewed today as a strategic driver that has financial value, Employee Leave, or Leave Management for that matter, should be every company's priority.  
It is important to keep track of accurate reports on leave. But most organizations do not have the tools to maintain records. Embracing technology by adopting an efficient leave management system like
Keka might just be the answer to your woes. Ensure you make informed data-backed decisions, and your employees remain happy and productive.  
It is time to help your employees unplug.