Do you want to know what recruitment really is? 
But first, let me ask you a question. What does recruitment sound like for you?  
For me, it's like a trip.   
Recruitment requires planning, just like the preparation for the trip days ahead. All the trips do not necessarily go as planned, and you've to make spontaneous decisions and route choices to make the journey an easy one. The same applies to recruitment, where you run into unpredictable challenges for which you have to compensate with counter-strategies.   
In a nutshell, recruitment isn't a simple A to B, but A *insert ECG graph* B.   
Now we're going to explore the whole path. So, board the bus and tighten your seat belts as we start our journey.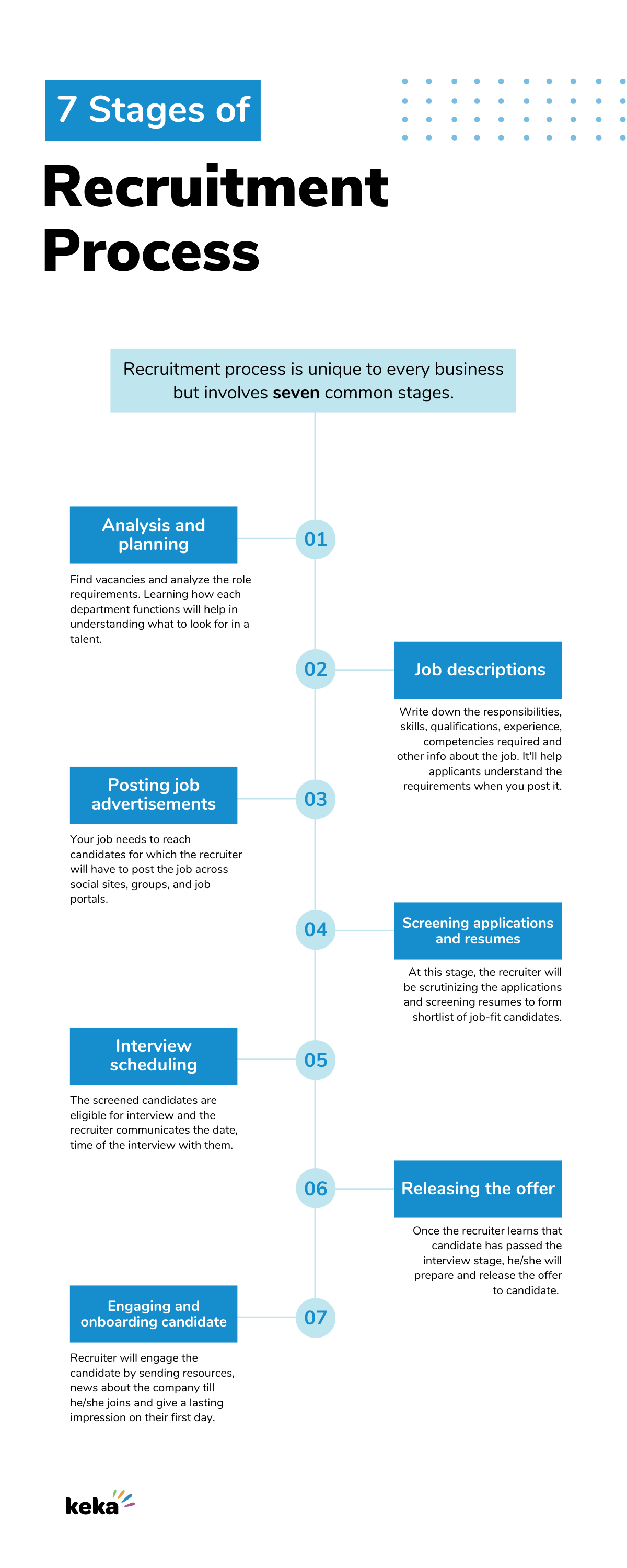 Brainstorm with your team 
First and foremost, 'analysis'.   
It is paramount to everything that comes next to it. Otherwise, what's the whole point if you don't know where to head? That's why it is crucial to spend time with respective managers to learn how the department functions and utilizes talent. It'll make you a better person in determining what to look for in a talent. 
It's okay if you aren't aware of each department because your team's there for the rescue. Get your team on to the meeting and discuss the job and talent needs. Unique perspectives give you missing puzzles in the picture that helps you develop a plan.  
Few questions to help you and your team,  
Where are the vacancies in the company? 

 

What kind of opening is it? 

What are the qualifications and experience requirements? 

What skills does the job require? 

 
Pen right job descriptions 
You now have the full knowledge of vacant positions, so what's next?  
Prepare a document with the relevant job details so that the applicant knows if it is for them when you post it. A standard job description entails title, department, roles and responsibilities, qualifications, skill requirements, salary and benefits.   
Post jobs on the right sites 
Here's where you've to be careful.  
Job advertising should be nothing less than perfection. After all those efforts in creating one, failing to advertise it at the right places is such a loss of gains and might overwhelm your team with irrelevant applications. When done right, you will be able to cut through the noise and be on top talent's radar. You can also search for candidates across social media platforms, especially LinkedIn and share the job opening with them. 
Even in 2021, many recruiters resort to orthodox practices of sharing openings to noisy and unrelated groups, which is an imperfect way of promoting the job opening. Of course, you might get candidates, but it should not be at the cost of potential top talent.   
How do you go about this?  
Search and compile all suitable sites and groups across available platforms.  

 
Analyze content and engagement of each group or site. While you analyze, keep in mind that you're looking for sites where people interact with your content, which is a job opening.  

 
Avoid the sites which breed irrelevant content and drive unnecessary conversations around it. For example, the promotion of a clothing brand in a job portal is such a bummer. 

 
A good site or a channel is where people share information specific to job postings. Candidates start to engage with posts. It will further motivate them to share it with their friends or others. 

 
The best way you can do this is to seek help from your marketing team and set objectives to sieve the suitable sites for job advertisement.   
Organize and screen effectively 
Organization and screening need your attention but not for hours.  
While you sit back and relax, applications start pouring in. Shortlisting starts at this stage as you review multiple job applications and decide who to promote to the next level. It is imperative to stay organized with job applications as piling e-mails can later produce a daunting task of segregation.   
As you're filtering out unqualified candidates in the process of organization, there's another task that's ready to eat your time.   
Screening.  
Going through hundreds of resumes is an experience next to hell. How to do the same qualitative work within less time?  
Easy solution? ATS.  
Businesses prefer Applicant Tracking System to sort applications and resumes as it helps them avoid time wastage caused in searching applications for a particular opening. ATS software enables you to stay away from scrutinizing resumes and yields accurate screening results with its resume parser. While cutting down workload on recruitment teams, a good ATS fosters collaboration between team members for an effective recruitment process. 
Read our guide to know how ATS transforms your recruitment.  
Schedule interviews 
After you make your selection of candidates, interview scheduling is awaiting on your checklist. 
Interviews require preparedness both on candidate's and recruiter's front. Based on the role, there will be multiple interview sessions and interviewers involved. Candidates would want to be notified with this kind of information, not just the date and time. It will allow them to prepare mentally to face the panel and questions confidently.  
On the other hand, recruiters also need to prepare themselves with questions and tests to throw at candidates. To keep the interview engaging and productive, you may involve another interviewer who would be the future manager of the candidate or your other peers.  
Considering Covid protocols, you can conduct video/telephonic interviews with candidates. Prepare a handbook containing guidelines for the same and share it with them.   
Send the offer letter 
This is the stage where you make it official.  
Congratulations, you and your qualified candidates have made it this far. It's time to work your mind and craft some beautiful offer letters.   
What does it involve?  
A typical offer letter consists of,  
Job title 

 

Joining date 

 

Employment type (Full or part-time) 

 

Roles and responsibilities 

 

Work hours 

Salary and benefits 

 
Creating an offer for different roles from scratch is time-consuming, and especially the salary breakup has to be done with precision. Any error made is a red flag for the candidate and can motivate them to turn your offer down.   
Comprising of editable offer letter templates for various roles, ATS can also provide a detailed breakup of salary and benefits in a second. Just select, edit, and send—experience smooth offer management process.  
Add a celebratory message at the start of your mail to keep candidate's morale up and carry it till the end.  
Engage and onboard 
The period between sending the offer letter and candidate onboarding is anxious for recruiters. 
Candidates might get flattered with other companies' offerings and reiterate their original decision to join your company. So, it is crucial to engage them during this period by sending your organization's news and set up conversations with his/her future teammates or manager. It is also the time to get the documentation formalities done so other vital things can fill in on their first day. In other words, a great onboarding experience.  
ATS also acts as employee onboarding software which will help in realizing your candidate engagement goals. 
Recruitment process can change according to markets and business but the end goal is to acquire best talent. Achieve your goal with Keka Hire that ensures smooth and effective end-to-end recruitment operations. Enhance your employer branding, judge better with score cards, automate offer release process and forge awesome candidate journey all along. Start your ATS journey with us today!