Hiring the best talent is at the heart of every business. Your recruitment and hiring teams are already doing a great job, but they need a slight push to do things even better.
That slight push is called an ATS, which expands to Applicant Tracking System.
But do you need one? If yes, what are the key features you have to look for? How do you evaluate keeping your requirements in mind?
This guide will take you through the nitty-gritty of an ATS so that you get smart with choosing one for yourself.
An ATS is…
ATS is a software used by recruiters during the candidate's entire hiring process, i.e., sourcing to offer letter roll out. Applicant Tracking System can perform the most advanced actions such as resume parsing, virtual interviews, and analytics generation to empower the recruitment teams. An ATS assists in creating great candidate experiences, thanks to its candidate-centric features, which positively impact every candidate's touchpoint with the hiring team.
You might need one, if…
A hiring strategy supports your talent hunt. As you start to execute your plan, challenges start to surface over your process and undermine it. For example, a minor miscommunication from your hiring team member can land the candidate and the whole team in confusion. With a system that shows each hiring stage's timeline and progress, all the team members can stay on the same page. It is just one of many bottlenecks that hiring teams face frequently.
Whatever the mistake, it accounts for lousy candidate experience, and those with such experiences are most likely to drop amid the hiring process. You could be an MNC that hires hundreds of candidates on a recurring basis or a mid-sized business that looks for quality candidates. If your goal is to curb your pain points, you should consider getting an ATS for your business.
Pain points and How can ATS help you?
Here are some significant ATS features that automate boring things for you and deliver the best experience to your candidates.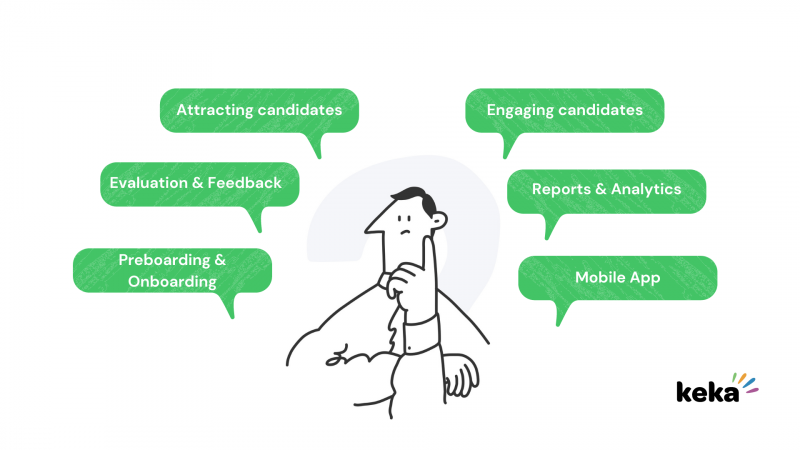 Attracting candidates
With hundreds or perhaps thousands of job postings every day, how do you stand your ground and differentiate from others? Reaching out to your prospective employees isn't only about posting the jobs but involves clear job descriptions, maximizing reach through the right social networks, and a beautifully crafted careers page.
Through ATS, you can post the openings directly to social networks and top job board sites and track the candidates' clicks and other actions. They provide the flexibility to design career pages as per your need and feel, which up the candidate experience.
Engaging candidates
Lack of communication is the impetus that drives candidates away from you. They are vexed with companies ghosting them without specifying why, and candidates will ghost you too if they are being mistreated. It is necessary to engage the candidates with continuous interaction regarding the hiring status, performance feedback, doubts, and concerns that deliver an astounding candidate experience.
Automated messages and updates are sent to the candidate immediately after the completion of a particular phase through ATS. It allows you to personalize the message or notes that you think would be the best. You can excite the candidate by sharing your company's news or insights into your workplace that directly reach the candidate's inbox.
Evaluation and feedback
Written or online tests for candidates is one of many critical stages to filter off the incompetent profiles. Online examinations are feasible as they are quick to evaluate and share the results. When results are communicated quickly with a note of status, then qualified candidates are hooked and unqualified ones make a move without the necessity of contacting you.
Boasting several assessment tools, you can conduct specific tests for any role with ATS's help. Detailed scorecards can be instantly produced upon completion of tests so that you and your candidates don't have to wait to make a decision. The breakdown of results helps you build comprehensive feedback for the candidate on improvements and lagging areas.
Reports and Analytics
All your progress has to be labeled with digits because numbers don't lie! Having to manage several aspects of hiring can trip you unless you're a superhuman. Most importantly, we all can agree that we have to be answerable to the top management as they believe us and invest in our ideas to improve the hiring process. Showcasing these results can help them understand where the progress has to be made and create room for productive and healthy conversations.
Applicant Tracking Systems can track the progress and visualize it for the understanding of rises and dips. Metrics guide you in shifting the focus where it's necessary and assist you in developing immunity to the flaws made earlier.
If you strongly resonate with these gaps in your hiring and want to reduce it to a great extent, you should consider opting for an ATS.
Choosing the right ATS
Modern technology evolves and adds new features to its arsenal, and it's up to you whether to try all of them or ooze them out. Although there is a wide range of ATSs available in the market, weighing their features against your actual needs makes the cut faster.
If you have just started your search for dream ATS, then there are some questions you've to ask and some considerations you've to make for yourself. Here they go!
Is the ATS all-rounder when it comes to enhancing candidate experience? It should fulfill the criteria for candidate experience that include automated mail and messaging communications. Customizable career pages that are aesthetic, informative, and intriguing enough for the candidate to interact.
Is it an ATS without team collaboration? Your team members collaborate and make decisions together. An ATS should give you great visibility over the processes to know what's happening at each stage and lets you and your teammates know in the event of involvement.
Your hiring workflow should be consistent and flexible. Considering the mix of candidates, you deal with, the ATS should allow easy setup of workflows. The hiring process for diverse roles demands flexibility, and tweaking the process shouldn't be a hassle for you.
Pre-boarding is as essential as onboarding of the candidate. Leveraging the pre-boarding time to engage the candidate is a win, and it's a must when you look for an ATS. ATS allows you to communicate the documentation processes and other formalities with candidates so that you are all set for their day one.
A dedicated mobile application in which candidates can view all the essential updates and news that you share on the go. It becomes crucial as the smartphone becomes a reliable and most comfortable medium to establish two-way communication.
How can Keka Hire help you?
The talent landscape has been evolving and is moving at a faster pace with their decisions. Best candidates have plenty of opportunities in their hands, thus attracting and hiring them becomes a competitive challenge for businesses. Communication, faster responses, compassion, and all other elements constitute a dream hiring experience.
Here's the thing about Keka! It is carefully crafted by people who understood the HR space's challenges and devised products to relieve the pain of mundane day-to-day activities. With Keka, you can be assured that all your hiring proceedings are taken care of so that you spend time building incredible experiences for your candidates. Transform your hiring today!