FINDING TOP TALENT IS DIFFICULT
According to a survey done by The Novo group, finding Top Talent is getting Tougher day by day.
According to their survey, 78% of all the HR Leaders said that finding top talent is their number one challenge.

On an average, 44% of resumes for managerial vacancies are submitted by an unqualified candidate.
On an average, for fulfilling a required post, recruiters spend around.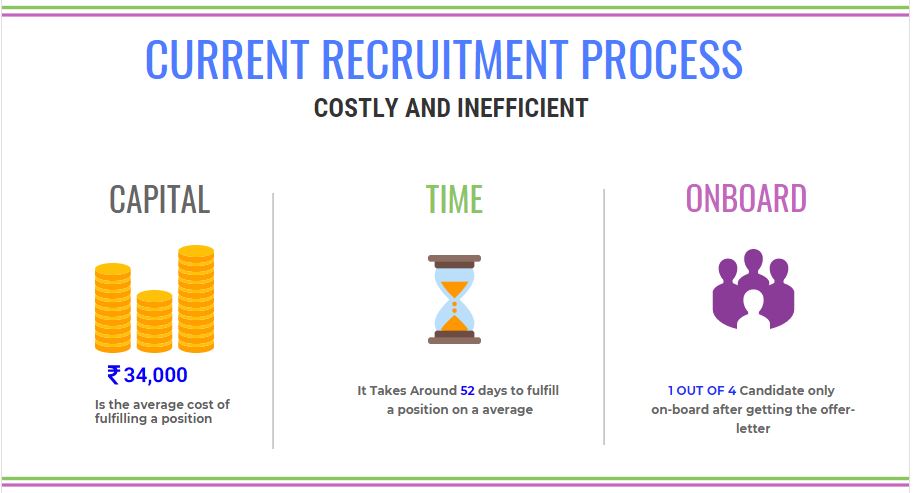 Now here's a question: Is there a way to digitally optimize the recruitment process in order to get a cost-effective management?
let's first understand:
Your digital recruiting strategy needs to be unique. 'Cause your employees are different! You simply can't just duplicate the strategy and apply to other company. You must step back and ask questions to yourself before investing money for hiring.
You should understand the business along with specific market and understand the expectation of the desired candidate.
Some Checks You Must Do
1. Conducting A Recruitment Audit
You need to understand current stats of recruiting affairs your organization is using. Tools and process your organization is using for finding a suitable candidate. Pull out the report to find out the source of hire and total cost per source.
Jot down the data in an excel format to find out which of the methods are working best.
2. Micro-Level Monitoring Of Your Recruitment Team
Sit down and talk to your recruiting team. Understand what their day to day looks like. How are they leveraging current tools? Are they recording their activities? What tools are providing them the most successful and why? This is my favorite thing to do.
Check there Databook how they are filing the candidate data, This is the most overlooked part of a system you will get more information while talking to your recruiting team like which platform is doing best for which post.
3. Conduct A Social Media Survey
A simple survey can do wonders it can tell you the niche of audience who are attracted to a particular job post and then you can strategize your plan for your upcoming job listing
4. Analytical Aspect Search Of Job Portals
Now its one of the imp part as an online search for finding a job is increasing so are the job portal websites where hr can post their job.
Different job portal have different range of traffic for a particular job post
You may be wondering why?
As we all know website which comes in top 5 on a google search for a particular keyword have most visit because people tend to click them
Now for a single job post, you may be having more than 10 job portal where you can register but here you have to play smart to increase the ROI.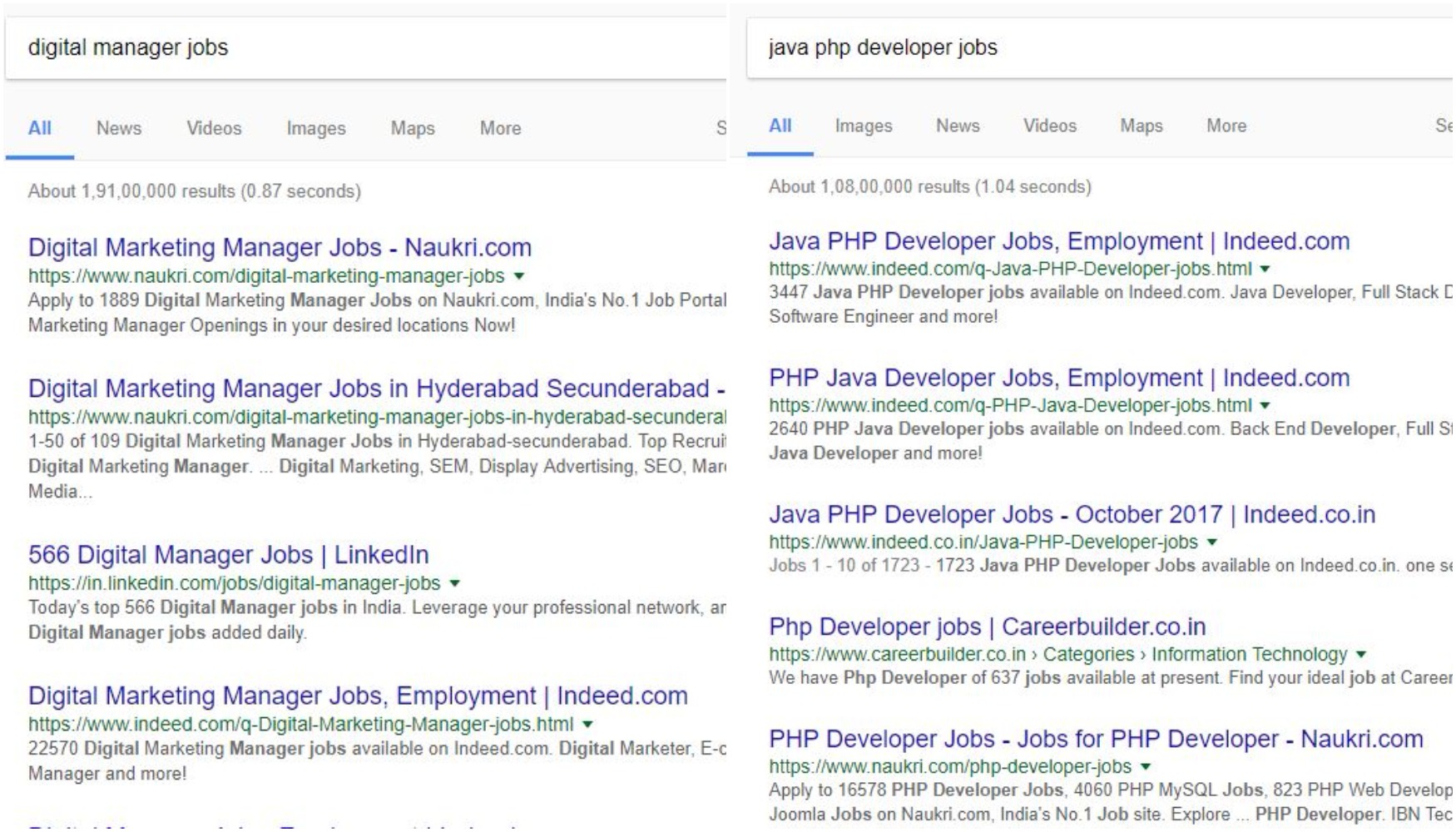 The solution is to check the website traffic for a particular keyword in this case (keyword = job profile) or it's always better to have your job posted in top 5 website which comes for that keyword search.
5. Put Yourself In Candidate Shoe
Apply one of your competitor's jobs. Honestly, evaluate and compare the process of recruitment and learn from the roadblocks of your competitors recruiting process.
6. Talk To Your Peer And Connect
A good talent acquisition manager needs to have strong connections with the peers in and out of the organization to get the best out of his team. Create your own roundtable and build a community of recruiters because that will help for finding best talent as per your need.
7. Prepare A Good Onboarding Experience
A lengthy form to slow loading career page of your organization
this is some of the roadblocks which may end up a potential candidate go away before filling the form.
Now I am also sharing a technique that can help you snatch the talent
GOOGLE CHROMA RAY TECHNIQUE
One of the most effective technique to source your talent online is using Boolean Search that means combining your phrases with AND OR NOT to limit broaden and define your specific search.
What Is A Search Engine Ray?
A search engine X-ray whether Google or Bing effectively allows you to search web pages for a specific keyword by combining boolean with your search term.
In simple terms, you can narrow down your search to find a candidate with specific skill attribute without combing out 1000 of web pages.
Step 1: Select a Search Engine You Wish to X-Ray
You can use google or bing anyone from your search engine apps List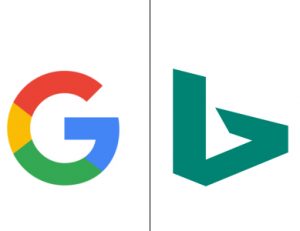 Step 2: Setting Up Your Basic Boolean String
Basic Boolean string looks like
Site: Company Name ( Basic + Advanced Filter" With Operators"
Step 3:  Add Keywords and/or Location
site: Freshdesk(Product manager and LinkedIn and Experience 10 + and ISB "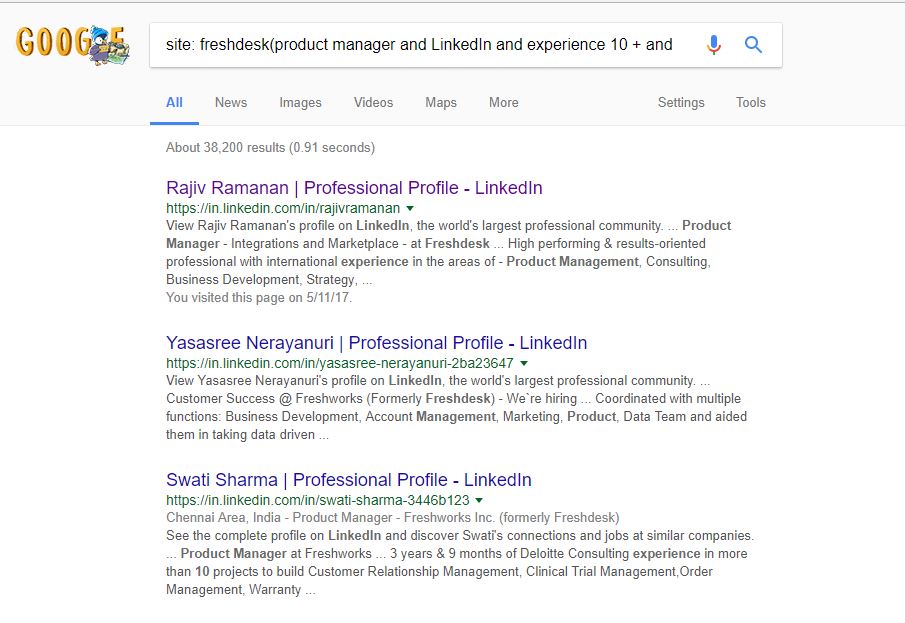 Step 4: Further Narrow Your Results
Site: Freshdesk(Product Manager and LinkedIn and Tepper School of Business"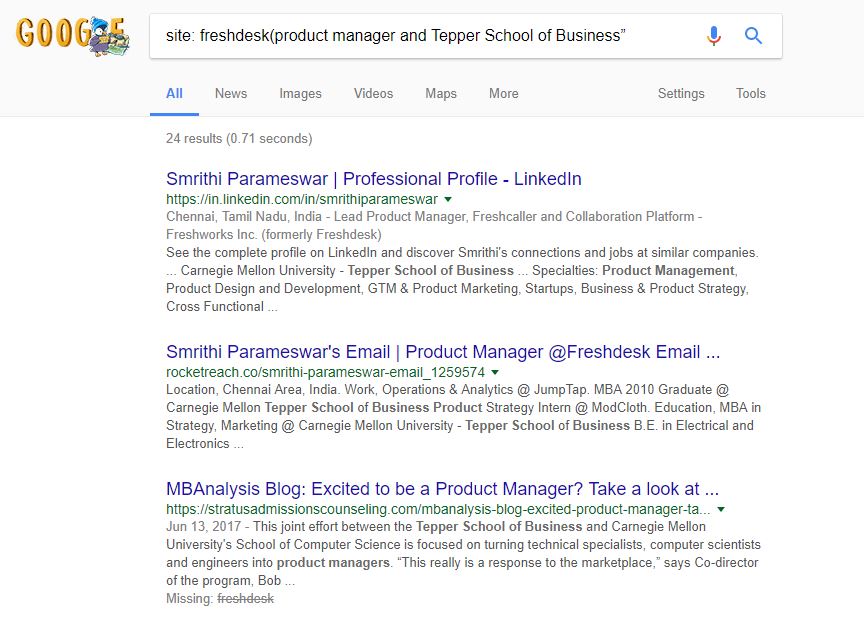 It is best to have old school and new school Hr methods together to get maximum output.
"we need to know where we've been and understood where we need to go".