Shift Management Software
All your complex shift management covered
Whether you have employees working round the clock in multiple shifts or regular employees, we have got it all covered with Keka's most flexible shift scheduling and management system.
Get Started
Get Started
Shift board for dynamic shift scheduling
Keka being a shift management expert gives your HR professionals a shift board. Loved by millions around the globe, Keka shift management software makes the scheduling effortless.
Attendance Policies
Automatic shift rotation for 24*7 coverage
Keka employee shift management is a powerful tool to manage multiple shift patterns in your company. Whether you have rotational or fixed shifts, Keka manages it all. The dynamic system manages round the clock 24*7 shifts which can be assigned to employees. You can even rotate employees in multiple shifts such as weekly, monthly, etc.
Biometric attendance
Shift scheduling integrated with bio-metric devices and mobile GPS
The best employee scheduling software of 2020 which is perfectly aware of the HR challenges. Keka employee shift scheduling is integrated with bio-metric and mobile GPS and gives you the fastest real-time update. Shift automation, GPS tracking, leave and attendance management, integrated payroll system, and many more… Keka has everything you need for your HR.
Learn about Attendance Management
Time tracking API
Encourage employees with shift allowances for working at odd hours
Keka has a sensible approach towards employees and understands that money is the biggest motivation. You can give your employees a profitable solution by paying shift allowances based on hourly pay rate or your companies policy. Keka gives you a flexible and easy approach to manage the process.
The time saved in streamlining our HR processes allowed me the luxury of using my time in different places for making better decisions.
Khushru Doctor
CEO | Taasha
The time saved in streamlining our HR processes allowed me the luxury of using my time in different places for making better decisions.
Khushru Doctor
CEO | Taasha
Leave approvals
Shift swapping among employees
Keka has a perfect resource planning solution for your company. You can provide your employees' facility to exchange or swap their shifts just by turning on the swap feature/option.
Leave Policies
Let employees pick their shift and time-offs that works best for them
When you give your employees liberty to pick their own shifts, they feel trusted and give productive results in their job KRA. Your employees can choose their own shift at the start of a week/month and send requests from their portal as per their convenience. The managers can approve the request in a single click.
Learn about Leave Management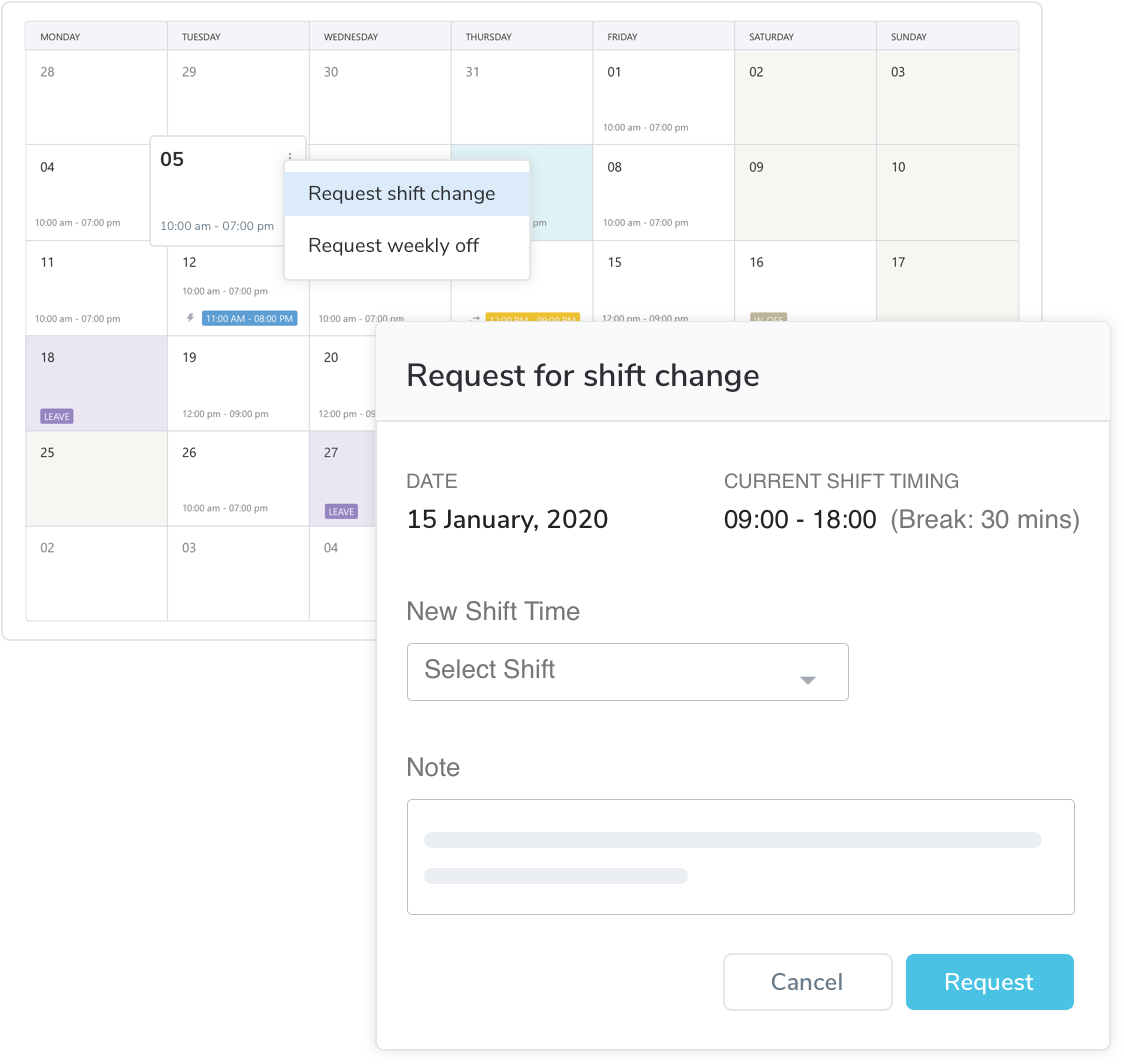 Frequently asked questions
What is shift management software?
A shift management software is a tool that organizations use to plan, manage, and schedule multiple employee shifts. It helps streamline the process of assessing the availability of employees, assigning shifts, and ensuring efficient workforce scheduling.
What are the benefits of staff scheduling software?
Staff scheduling software automates the entire process of planning work schedules, resulting in increased productivity and efficiency. This system identifies gaps in shift coverage and eliminates any understaffing or overstaffing issues. As a result, employee satisfaction is increased, labor costs are reduced, and customer service is enhanced.
What's the difference between shift scheduling software and shift management?
Shift scheduling primarily focuses on planning work schedules in multiple shifts or rotations to meet a business' operational needs. On the other hand, shift management covers a broader range of activities related to attendance, scheduling, communication, adherence to law, and many more.
What are the key features of Keka shift scheduling Software?
Keka's shift scheduling provides a shift board feature that makes the entire scheduling process easier. Multiple shift patterns can be managed, and shift scheduling is integrated with biometric devices, mobile GPS, payroll, etc. Apart from these, Keka provides other essential features such as setting shift allowances, swapping/exchanging shifts, and letting employees pick their shifts so that they can be more productive