'Top talent', an eargasm to recruiters who are always on a continuous hunt for them. The first-rate talent is a high-hanging fruit, and recruiters put in all they got to win seasoned candidates' attention.  
Just like any other industry, recruitment is prone to change. With the abundance of information made available to access, candidates are more mindful of companies. It has led to a change in dynamics, shifting the power from companies to candidates. 
A significant wave of change was also led by pandemic, and everything starting from hiring to exit took a breath of fresh air by going digital. New trends evolved post–pandemic that shaped the recruitment strategies for the companies to attract the best candidates.  
5 best recruitment strategies in 2021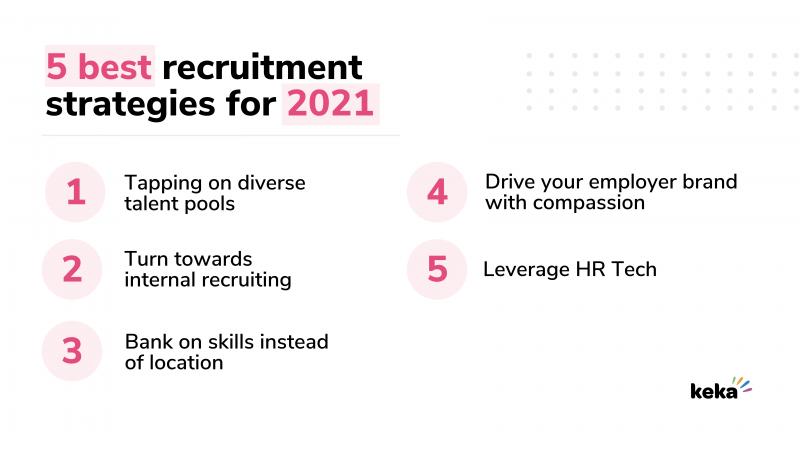 Tapping on diverse talent pools
According to a LinkedIn report, 77% of talent professionals say diversity will be very important to the future of recruiting.   
Recruiters tend to be boxed when it comes to sourcing talent and blame it on inadequacy. Going back to the same talent pool over and over again will only exhaust the talent resources and compromise quality.  
There's a ton of underrepresented talent out there that recruiters can tap on. Such untouched talent has the potential to become leaders and innovators who navigate businesses towards change and success. Sourcing strategies are to be adjusted to gain access to diverse talent pools.  
Posting job ads on sites and job boards that focus on diversity and inclusion can be a starting step to the goal of becoming a rich workplace both culturally and inclusively. While posting the openings, pay more attention to the language, wordings, and content to use in job descriptions. Ensure that you don't include unnecessary skill and competency requirements that may put off the talent from applying for the roles.  
Turn towards internal recruiting 
The internal talent pool of organizations for most of the time remains underutilized as recruiters often look outside to fill the openings.   
In-house recruiting,  
bolsters employee engagement and retention  

 

improves new hire productivity 

 

is 

a 

relatively faster process

 

 
Collaboration between Talent Acquisition and L&D (Learning and Development) of the company can help in identifying skill gaps and provide learning opportunities that can keep the workforce skill-ready for future roles. Managers can be overprotective of their high performers and don't let them go that easy, which eventually will lead to employee dissatisfaction. Make your managers understand the significance of internal recruiting and give them a big picture of welfare at organizational level.  
Bank on skills instead of location 
Earlier, the location and proximity of candidates to the workplace used to be one of the primary de facto filters in recruitment. After the onset of the pandemic, remote work took over, putting skills at the center stage of recruitment overthrowing location as a precedent. This freedom has opened up more expansive talent pools for organizations where the recruiters can source for skills across countries and worldwide, for that matter. Since virtual recruitment and remote work are here to stay, skill-based recruitment (with no location restrictions) will be much sleek and evolve as a standard for companies (essential sectors excluded).  
Drive your employer brand with compassion
Candidates have seen the worst in 2020 and are more aware of actions made by a company. Many lost trust in brands that laid them off deliberately and showed their back when their employees needed support. Such candidates would never resort to going back to same company and moreover, share their unpleasant experiences on social media and review websites CC-ing, the whole organization.   
Recruiters should take initiatives and actions to support their employees during hard times. When employees feel they are being cared for and valued, they become the brand ambassadors and spread the word about the organization. Likewise, teaming up with your marketing team will help in maximizing the outreach of your company's benevolence across social media and other channels.  
Leverage HR Tech
Technology undisputedly evolved as a desideratum for business survival during Covid and will continue to be. Applicant tracking systems help in checking off recruitment proceedings quicker by moving them over to the cloud. Data and analytics help in catching up with the performance of sourcing channels and effectiveness of strategies. Reports in ATS foster productive discussions involving leadership and management where rich inputs can be extracted to fine-tune the recruitment process.   
ATS rounds off all recruiters' efforts and enables them to focus on strategic and bold decisions that benefit the company.    
As said before, recruitment is prone to change, and these strategies might get outdated over the years, but with a lot of uncertainty around, the span would be even lesser. The fact of the matter is that companies need to groom these strategies to suit their recruitment workflow and stay up to date on industry trends.