Every year, a large number of companies hire new staff. Not only do the organizations devote time and money in training new employees, but they also have internal training programs for their current personnel. The goal of these programs is to make their workforce more productive and engaged.  
But the most talked-about topic in any office – who may quit and when!  
Regardless of the nature of our jobs, the industries for which we work, or the levels at which we work, we all tend to participate in this discussion with a limited understanding of the issue. So, what causes employees to leave a company? These reasons may differ from one organization to the next and from one employee to another.  
The question now is whether or not attrition can be prevented. How can you tell if a top performer is on the verge of quitting before they hunt for a new job? Is there a pattern, or any signs or symptoms? The answer is a resounding YES. Also, it has been identified on multiple occasions that the employee-organization gap is not a one-time occurrence. It begins long before an employee makes the decision to leave. A thorough examination of the data will undoubtedly reveal previously unknown elements, allowing you to forecast attrition. 
Wondering where to find this all this information with facts and figures? Well, that's where Keka comes into the picture and paves the way for you to identify and analyze data trends that will help reduce the churn rate. Here are some of the key features that will accompany you on this journey:  
Analytical Trends Full of Insights
HR analytics does not just deal with gathering data on employee efficiency. Instead, it aims to provide insight into each process by gathering data and then using it to make relevant decisions about how to improve these processes. 
As shown below, Keka's attrition analytics provides you a deeper view into the employee trends and behavior. You can view the overall employee attrition trend segregated either by time function or by demographics, such as age, gender, reason of exit, exit type, or compensation range.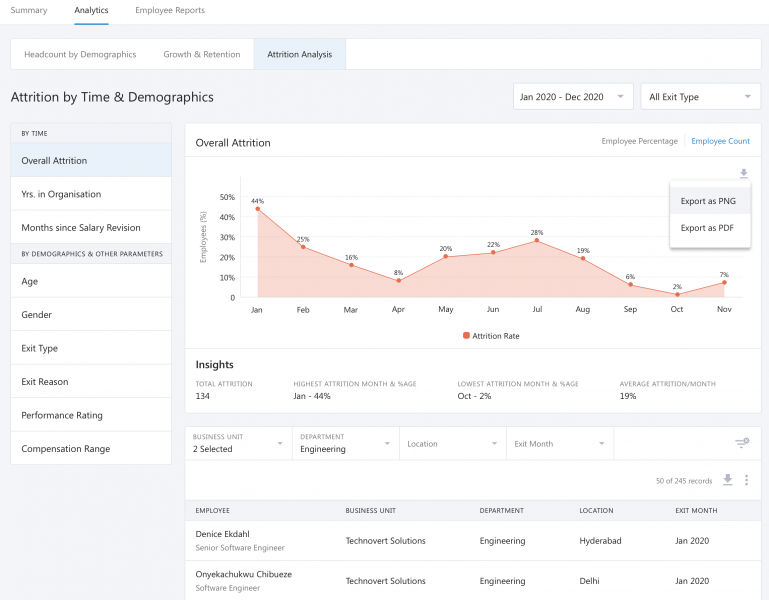 Although this trend and analytics give you enough information to investigate and form an action plan, there's much more to expect from this awesome software! Keka also provides you with a detailed report of who these employees were, and which Business Unit, Department, or Location they belonged to. You can always download these reports for your reference. 
In addition to this, you always have the option to generate employee attrition reports based on the parameters you require to compare, analyze and anticipate the future attrition.  
Performance Management: The Early Signs Monitor!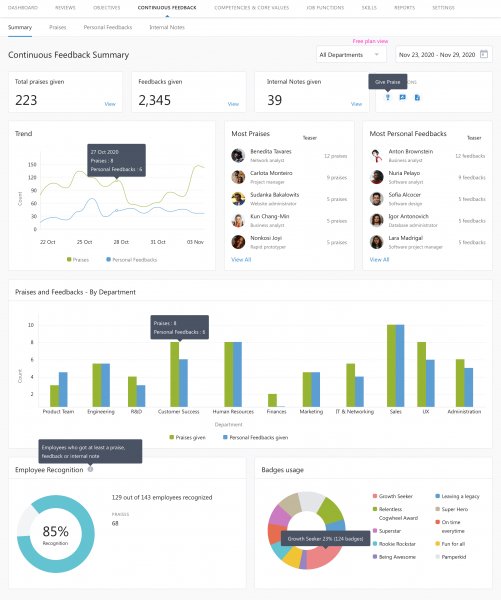 The right performance management system not just gives you all the employee performance data but also enables you to identify the early signs of attrition among the workforce. Keka's performance management system comes with a wide range of features such as a 360-degree feedback model, one-on-one reviews, continuous feedback, goals reviews, and so on. These features ensure that the managers can quickly identify any signs of disengagement which may further result into employee attrition.  
Pulse Surveys: A Stitch in Time Saves Nine
"How do you feel when you come to work?" 
"Are you happy with your Reporting Manager?" 
"Would you recommend XYZ as a great company to work with?" 
 Don't you wish you knew what your employees have to say about your organization, their managers, or even how they feel about coming to work at your organization every day? I bet; you do. Through Keka's Employee Pulse Surveys you can get all the information you need to know the pulse of your workforce.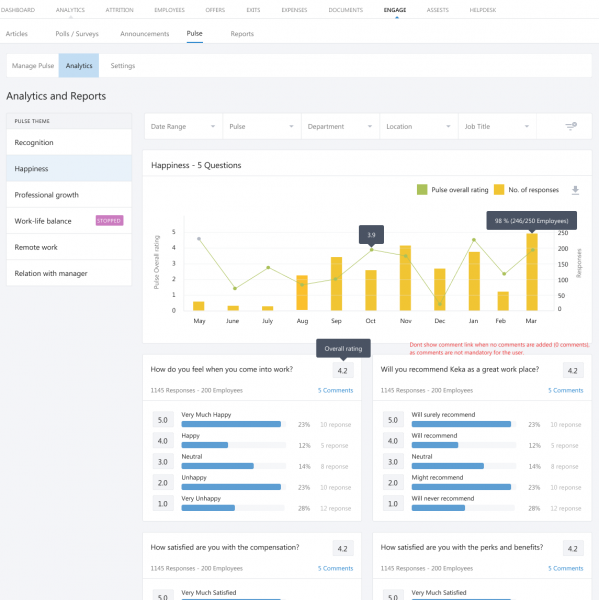 The surveys are designed in a way to get potential data that will help your organization to gain richer insights on employee behavior. In addition to this, the Analytics dashboard enables you to compare and analyze the responses which in turn can play a vital role in identifying future attrition.  
Empowering Managers with Negligence Reports
 We are well aware of the early signs of attrition and one of them is change in the attendance and leave patterns. That's where Negligence reports come into the picture! Keka offers a wide range of reports through which your managers can clearly gauge any changes in attendance trends. 
The Intuitive Compensation Analytics to the Rescue!
Keka being the one-stop platform for all the employee information you can seamlessly compare the employee competitiveness for the ones who you think may be planning to leave the organization. All you need to do is select the desired employee and you should see their profile along with the list of similar roles of employees.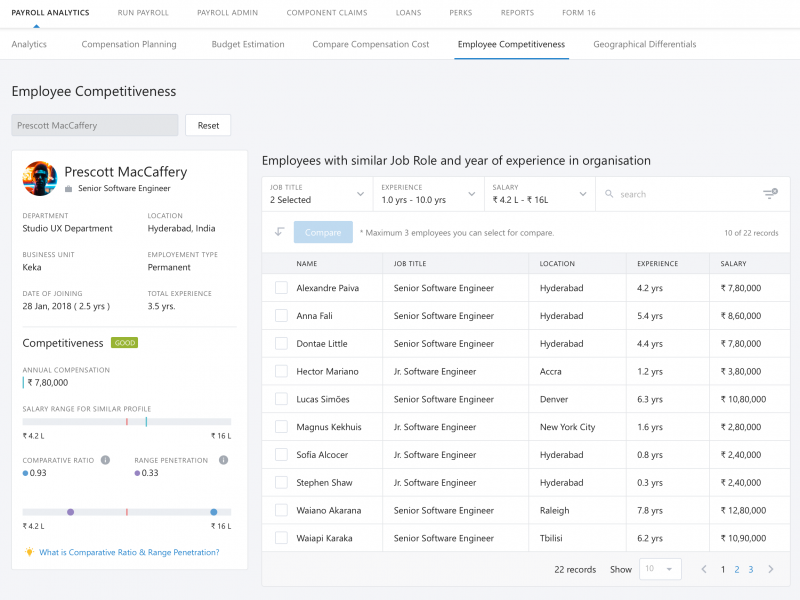 As you see in the picture above, all the details with respect to employee compensation will be displayed on your screen. This will allow you to measure your employee competitiveness and offer him/her fair compensation as per the market competitiveness, motivating them to stay with your organization. And remember you can do all this, even before they take the action or resign!  
Bottom Line:
The capacity to predict which employees would leave a company will aid companies in establishing and strengthening retention strategies. And Keka always ensures to keep you one step ahead of the problem.