Recruitment Coordinator Job Description Template
Recruitment Coordinator Job Description Template
We are looking for a dynamic, energetic, and organized recruitment coordinator who can address our recruitment needs. For this role, we are seeking highly talented candidates who will help in streamlining our recruitment process and also be pivotal in creating strong relationships with prospective candidates. Our recruitment coordinators also act as our brand representatives while seeking admissions from various colleges and universities.
As a Recruitment Coordinator, you will be reporting to the Recruitment Manager and will need to understand our hiring requirements by working closely with key business partners within the organization. You will be required to drive the hiring process i.e evaluating resumes, scheduling and conducting interviews, making informed decisions, and giving quality feedback. All this, with strict adherence to timelines.
You should be able to create a reputable experience for our candidates. You will be managing the paperwork required for the hiring process.
Responsibilities
Stage One:
Set the hiring strategy along with your teammates, ensuring we hire the best candidates.
Discover the talent gaps we have and talk to the responsible hiring manager for requirements.
Ensure our social media is updated with job posts when we are actively hiring.
Master our ATS and keep candidate records up to date.
Stage Two:
 Write job descriptions that are accurate, yet dynamic.
Ensure our presence on the job portals of all identified colleges and universities.
Shortlist candidates and liaise with hiring managers to check candidacy quality.
Stage Three:
Deploy Boolean search techniques to actively source candidates in the market.
Screen and conduct calls with potential hires on skype/over the phone.
Prepare paperwork in line with legislation requirements.
Requirements
Bachelor's Degree in BA/BS with 1+ years of relevant experience in supporting the hiring (talent acquisition) team in various recruitment and administrative tasks.
In-depth understanding of HR and Talent acquisition practices including the ATS.
Exceptional written and oral communication skills.
A great time manager, calendars should be your friend.
Ability to multitask, take initiative and work independently.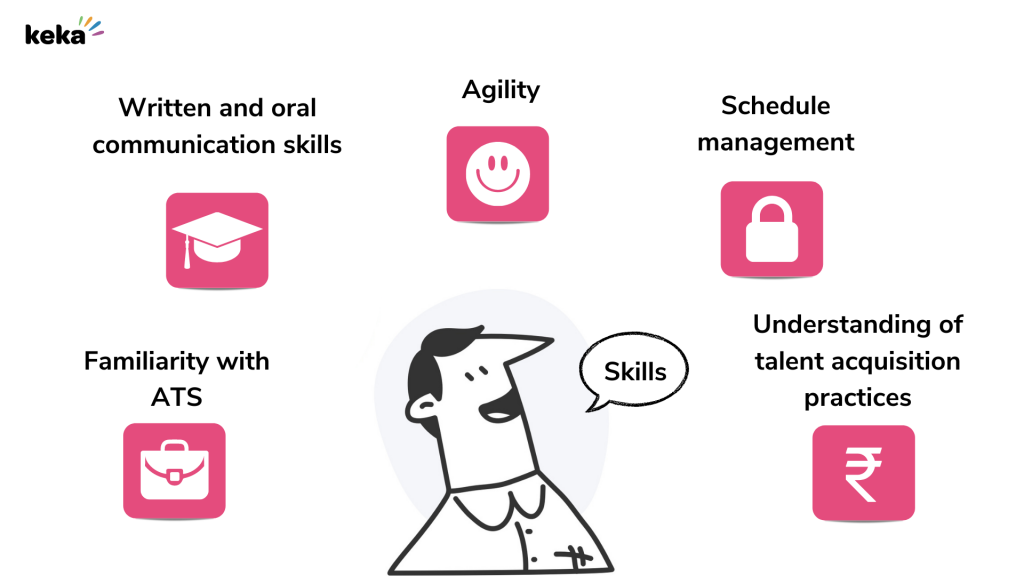 Sample Job Descriptions from Different Companies:
#1 Futureforce Recruiting Coordinator
Role Description: 
As the Futureforce Recruiting Coordinator, you will work closely with both recruiters and interviewers to provide a reputable high-touch candidate experience. You will be an expert at finding solutions that accommodate the diverse hiring needs and responsible for driving accuracy and efficiency. This is a high-impact, high-potential role with incredible exposure to all aspects of the business. Join us!
What You'll Achieve: 
6 months
Take the lead on all scheduling logistics for your talent team's needs including the coordination of phone, virtual, and onsite interviews
Master our applicant tracking system, scheduling tools, and organizational products including Workday, Quip, and Google Suite
Build strong partnerships with recruiters, the business they support, and their candidates to drive an efficient process for providing the best candidate experience
Develop an understanding of recruiting compliance regulations by passing audits, drafting offer letters, and initiating background investigations
12 months
Identify challenges and implement change to improve our workflow and manage partnership expectations
Track and analyze data to deliver to stakeholders and reduce interview rescheduling
Gain a strong understanding of the Salesforce recruiting function through exposure to our Global Talent and Hiring teams
Pitch, lead, and support team projects, often working interdepartmentally
What You'll Need to be Successful:
Strong ability to manage and prioritize multiple tasks in a high-demand environment while demonstrating professionalism and good judgment
Impeccable attention to detail and organizational skills (Please add "#SALESFORCEOHANA" to the top right corner of your resume)
Fantastic interpersonal communication skills and experience interfacing with all levels of an organization
Passion for teamwork and positively contributing to the success and reputation of Salesforce
Requirements: 
Within 1 year of completion from BS/BA Degree
Experience working in customer service, working with clients, and/or working in an administrative support role
Strong track record of growth and achievement
Ability to demonstrate a long-term interest in Human Resources, Recruiting or similar
Source: Indeed.com
#2 WeWork Recruiting Coordinator
Duties and Responsibilities:
Organize interview schedules for internal and external applicants and hiring managers. This work may include composite domestic and international travel arrangements.
Work closely in a team environment with the capability to partner with diverse teams across multiple locations.
Liaise with key business partners within the organization to drive and uphold hiring processes while adhering to tight deadlines and service level agreements.
Work with a variety of software applications with the skill to learn new tools quickly.
Greet prospective employees, guide a tour of our office space, and exemplify the values of WeWork.
Education + Experience:
1+ years of experience supporting a recruiting team, coordinating projects, or administrative experience in a dynamic customer-focused environment.
Strong proficiency with the G-Suite platform and ATS systems; Workday preferred.
Familiarity with scheduling across multiple time zones.
Comfortable communicating with all levels of the organization.
Strong organizational skills with attention to detail.
Ability to prioritize work and keep specific, accurate, and confidential information and records.
Bachelor's degree strongly preferred.
Source: Indeed.com
#3 Amazon Recruiter
Summary of Responsibilities 
Develop and execute recruiting plans to meet the hiring requirements
Manage all aspects of candidate administration such as maintaining and updating applicant and offer activity, job description creation, ensuring current positions are accurately posted in all recruiting systems and job boards
Build and maintain an active pool of candidates to meet future hiring targets in an effective manner
Effectively manage relationships with agencies
Design and drive employee referral programs
Responsible for planning and coordinating events, assessment, and interviews for hiring candidates
Review applications to evaluate if they meet the requirements of the position
Serves as liaison with candidates and communicate logistics associated with assessment and interviews
Coordinate with background check agency to complete background checks for shortlisted candidates
Collate documents of shortlisted candidates and share them with onboarding team
Conduct regular follow-up meetings with hiring managers to determine the effectiveness of recruiting plans and implementation
Provides advice and assistance to all levels of personnel on various recruiting/talent acquisition-related matters
Utilize metrics to identify and implement process improvements
Conduct analysis and report on key recruitment metrics to appropriate business leaders
Perform other special projects as assigned.
Basic Qualifications
Prior experience in managing high volume as well as niche hiring.
Must be able to interface with all levels of senior management; Competency based interview experience an advantage
Excellent business judgment and time management skills
Ability to Influence leaders in taking decisions for the organization.
Ability to partner effectively with global recruiting teams and HR business partners.
Possess strong analytical skills with ability to create and develop measures for operational efficiency
Should be able to independently work on critical open positions
Good spoken and written communication skills along with the ability to articulate effectively.
Preferred Qualifications 
Strong Microsoft proficiency, including Word, Excel, PowerPoint, and Outlook
BA/BS highly preferred.Ideal Candidate Qualifications:
Account management focus, skilled at partnering with hiring teams to build effective sourcing, assessment, and closing approaches with an ability to manage customer expectations
Must have experience with a building and utilizing a variety of sourcing plans and tools, including proactive phone and internet research.
Recognized as a top producing recruiter, the "star" at their firm, recognized for use of innovation, process improvement, and bottom-line results
This individual will be heavily networked and will be knowledgeable of leading search practices.
Strong client focus and commitment to continuous improvement; ability to proactively network and establish effective working relationships, must pursue conscious cost-containment efforts in recruiting, continually seek new sourcing options, and develop creative approaches to delivering candidates to the customer.
Superior written and verbal communication skills, organizational and negotiation skills are required.
Effectively manage and prioritize multiple searches, projects and client relationships.
Demonstrated ability to execute recruiting strategy, including employer promotion in the marketplace, candidate management, diversity sourcing, and interview process management.
Self-sufficient and able to work with little direct supervision; proven ability to act at both the strategic and tactical levels in a fast-paced; must be extremely organized, detail-oriented, and able to multitask.
Demonstrated credibility with business leaders; strong consulting skills, a positive attitude, and demonstrated ability to work in a team environment, as a team leader and member.
Possess strong analytical skills with the ability to create, measure, and scale the right workflow between candidates, hiring managers, and the recruiting team
CTS/ATS experience is preferred to source, track and manage candidates
Source: Glassdoor
Related Interview Questions