Changing Tides in the Business World  
Times have changed. And in ways that we could never have imagined.  
No one could have thought that the world would witness a total and complete lockdown.  
Neither could anyone have guessed that the USA would officially recognize the existence of UFOs (yes, they did. Check this out).  
The pandemic started a domino effect that upended most of the things that we thought were set in stone. It shook the world and exposed fault lines across all domains. As companies started mass layoffs across and WFH became a reality for those who survived the purge, employees became more aware of how their employers perceived them.  
After the fury of the pandemic abated and the world slowly limped back to normalcy, the business world was in for a surprise. Droves of employees started to resign in the USA, a trend that was repeated in other countries as well.  
The Avalanche Triggered by the Great Resignation
The 'Great Resignation' as it came to be called, triggered an avalanche of employee frustration who had seen how disposable they were for their employers. As debates raged on, trying to fathom the actual causes behind this phenomenon, recruiters began to face its immediate brunt.  
Recruiters are now facing employees who have stark clarity about their preferences. They have no qualms in refusing to entertain them if they do not represent an organization that they consider worthy enough.  
In simple words: recruiters are in a fix. They cannot change the perception of their organization overnight but they still have positions to fill. This has resulted in a full-blown talent war, with companies tripping over themselves to attract and hire experienced workers. 
Recruitment Redefined
In this scenario, recruitment is no longer what it used to be a few years ago. Generally, it is defined as a process through which HR professionals called 'recruiters' seek out, identify and hire people for specific jobs and positions at an organization. 
Today, recruitment is a two-way process. Just like the spotlight is on candidates to measure their capabilities, there is also strong scrutiny over the employer from the candidates. Candidates are more vocal about their preferences, have well-defined goals, and are more careful while signing up as an employee for a company.  
Therefore, recruitment today is not limited to its general description. While its purpose remains the same, its methods have changed and it has become more integrated with other functions of the organization.  
The Increased Importance of Recruiter-Manager Collaboration 
As mentioned above, recruitment has transformed into a process with a wider scope. It is no longer a single-player game where the recruiter acts alone. Today, line managers are needed to be part of all stages of the recruitment journey. They are required to ensure the candidate's goals align with the company's values so that the right fit can be identified early on.  
Recruiters would have to engage more with line managers and brief them about how to effectively communicate the organization's core values to the candidates. This means that recruiters can no longer work in silos and will be required to increase their collaboration with line managers and the leadership.  
The 2023 Talent Landscape – Some Major Trends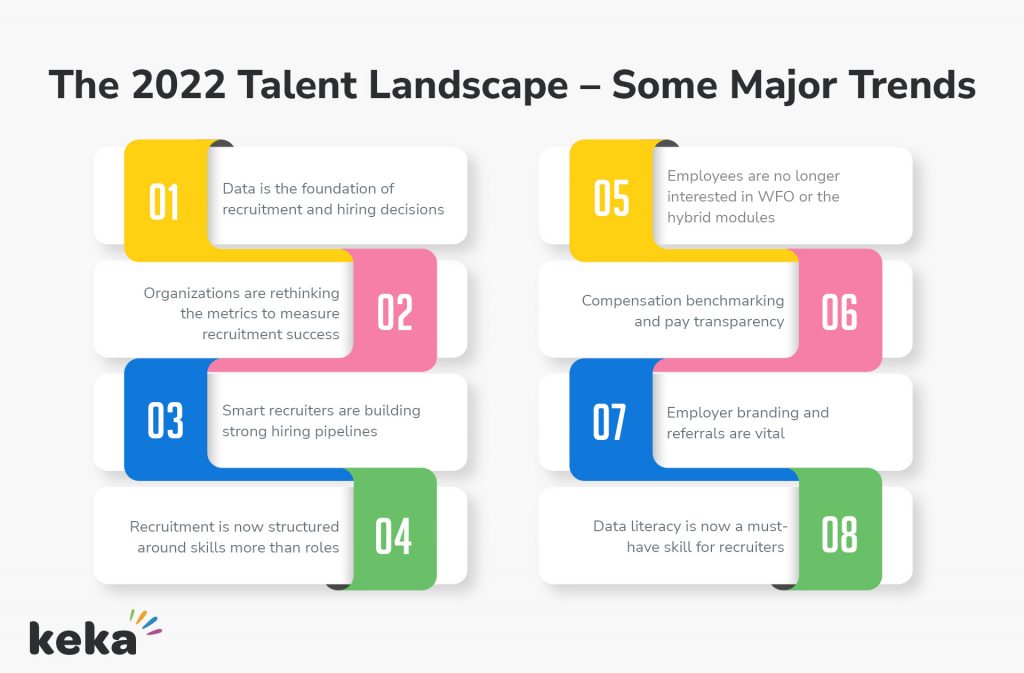 1.
Data as the foundation of recruitment and hiring decisions
While data is already being leveraged for recruitment for years, it was not the basis of decision-making. In 2022, data has become the foundation based on which recruiters and organizations are making hiring decisions. With an ever-increasing talent pool and thousands of incoming resumes, recruiters are relying more and more on analytical tools to screen profiles and find the best-fit candidates. It has also helped in reducing the workload of recruiters, enabling them to focus more on building relationships with prospective employees and streamlining the process.
Tomas Chamorro-Premuzic is a well-known organizational psychologist. Underlining the importance of data in recruitment, he has titled his book as, 'The Talent Delusion – Why Data, Not Intuition is the Key to Unlocking Human Potential'.
In this book, Tomas has written extensively about how the majority of the companies disregard data to make talent-related decisions. He mentions how ironic it is that despite the fact that data has proven to be a more reliable basis for decisions, organizations still do not take it into consideration and make decisions 'based on their gut'.
Discussing the technological options available for recruiters and company leadership these days, Tomas has presented the following table to differentiate between the traditional and new tools used to assess candidate attributes.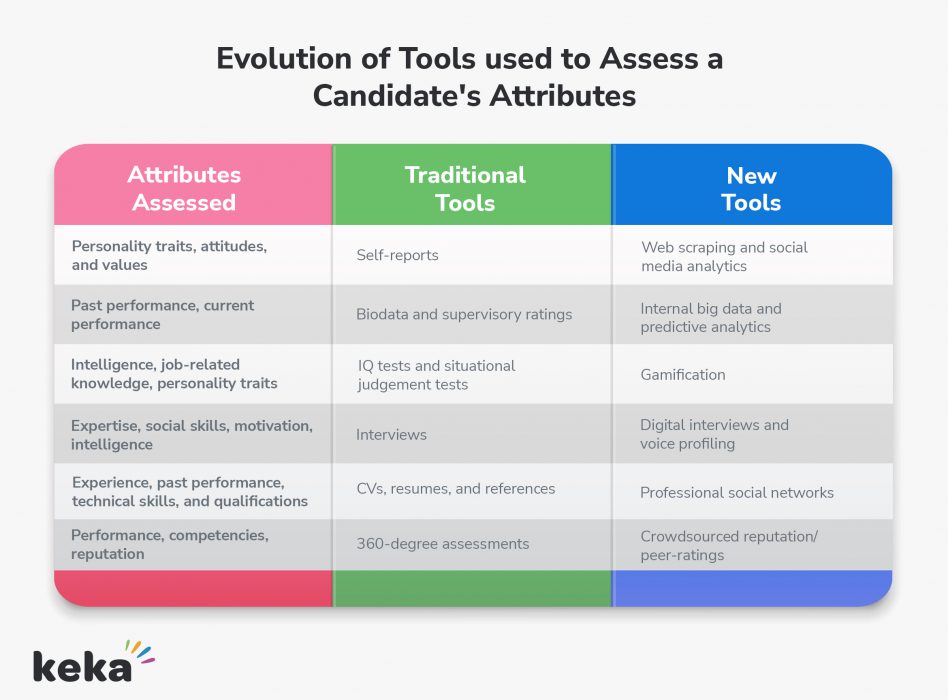 2. Organizations are Rethinking the Metrics to Measure Recruitment Success
One of the impacts of the pandemic and Great Resignation is how organizations are seeing their recruitment processes. The past metrics to measure recruitment success require a serious overhaul.
For example, an important metric is the candidate's experience throughout the entire recruitment journey. There is no set of defined units to help us understand this metric. However, they do include important elements such as the time taken by recruiter's response time to candidate queries, application abandonment, the length of period from application to offer, offer acceptance rate, candidate acceptance rate, referrals, and the NPS (Net Promoter Score).
An equally important element of customer experience is communication. Details that may seem minute carry a huge weight, such as pre-meeting etiquette, post-meeting feedback and so on. Candidates are more likely to judge their experience based on the communication from their POC. Clarity of communication and ease of the interview process is bound to positively impact the candidate's experience
3. Smart Recruiters are Building Strong Hiring Pipelines
Today's recruiters are working towards building a reliable hiring pipeline. A hiring pipeline helps recruiters in tapping into the talent pool of both active and passive candidates. The major reason behind this is it significantly reduces time-to-hire. Post-pandemic, not only the frequency of hiring requisitions has increased but has also become less predictive
4. Recruitment is now structured around skills more than roles
Role-based hiring is becoming a thing of the past. While roles still hold weight, more important is how adaptable a candidate is in learning new skills and adapting to new work processes.
A major reason behind this shift is that recruiters and business leaders have realized that the competitive advantage of their organizations is fueled by skill-based workflows.
In the words of Gartner's Mark Whittle (vice president of advisory in the Gartner HR practice), "Forward-thinking HR functions are closing development gaps and creating a more adaptable workforce by adopting a skills-centric approach to talent management.
5. Employees are no longer interested in WFO or the hybrid modules
During the pandemic, employees around the world realized that it is not only possible to work from home, but also to excel and be more productive. Several reports support this. Considering the fact that employees used to lose several hours daily in their commute, it's no-brainer that they would love to stay at home, with their family, and refrain from returning to the office. While the hybrid model attempts to strike a good balance between WFO and WFH, it doesn't work for those who have shifted out of the cities where their offices are located. It doesn't make any sense for them to take the trouble to return just to be able to visit the office for a couple of days in the week
6. Compensation benchmarking and pay transparency
On June 8, 2022, Microsoft announced that the company will take its pay transparency a step further and make the data publicly available. It is one of the several decisions the tech giant has taken to retain and attract talent. Transparency in pay is one of the most important hooks that attract applicants to an organization. Many companies are undertaking compensation benchmarking to match internal jobs with market pay data to identify the market rate for each position and increase it accordingly.
 
7. Employer branding and referrals are vital
The only word that employees are bound to trust is that of their peers and other employees. This is why company review websites are usually the first stop for anyone looking to apply for a job. In this context, the importance of employee branding has increased multifold. When employees themselves talk about their positive experiences at their company, it will attract a talent pool with higher intent of joining. Referral bonuses also go a long way in encouraging employees to help their organization recruit better talent from their network.  
8. Data literacy is now a must-have skill for recruiters
Data literacy is the ability to read, make sense and understand data. In today's world, this is nothing short of a superpower. Recruiters who can make effective use of data can derive actionable insights and make the right decisions at the right time.
The Raging Talent War
A major talent war has broken out since the Great Resignation. Companies are using every weapon in their arsenal to attract and retain talent. Recruiters are faced with some complex challenges and problems that are limiting their options and forcing them to go back to the drawing board to chalk new strategies. Some of the new-age talent challenges are:  
1. Lack of a Defined Talent Strategy
Many organizations are yet to define their talent strategies to align with current realities. Either their strategies are outdated are not suitable for the current hiring environment. The involvement of the leadership is crucial to develop a strategy that goes hand in hand with the organization's values. Many recruiters struggle in hiring due to the absence of a talent strategy or the low interest shown by the leadership.  
2. Smaller Talent Pool and Labor Shortages
The talent pool has shrunk and there is a clearly visible shortage in the labor supply. This has been witnessed across IT and non-IT industries. Trained professionals are hard to come by, and amid a talent war, they are the center of attraction for all big firms. Recruiters are finding it increasingly challenging to tap into the existing pool of talent and find candidates that best suit their requirements.  
3. Inability in the Early Detection and Avoidance of Unfit Candidates
Recruiters are having a tough time detecting unfit candidates early during the screening process. This is taking a serious toll on them, increasing their workload and eating up huge chunks of their time. Often times, this is a result of relying solely on manual processes and not making effective use of data through analytical tools and automated resume screening.  
4. Fast-track Talent Requisitions
With many positions lying vacant, businesses are seeking to fill them in a record time. Though recruiters are doing their best to improve time-to-hire in order to close the gap, certain roles require thorough scrutiny and their hiring could not be rushed. Add this to the challenge of a limited talent pool and we have a recipe for disastrous hiring decisions.  
The Telltale Signs that your Recruitment Process is Crumbling
You can tell your recruitment process is spiraling down if you notice any of the following points. Identifying the health of your recruitment process will help you take corrective measures in a timely manner.  
Your hiring is entirely based on interviews and you rely on them too much instead of making use of candidate data. 

 
Your processes are manual and outdated. Candidates are required to feed a lot of data instead of you putting in place a system that automatically captures data with minimal manual efforts from candidates. 

 
You have not defined and aligned outcomes with business objectives and you have no way to measure them. 

 
Your follow-up process is slow with a low frequency or is not engaging enough

 
You do not reach out to passive candidates and don't have a nurtured talent pool you can tap into. 

 
Your conversation rate of on-probation employees into approved employees is low.

 
The rate of application abandonment from candidates is very high.

 
You focus more on salaries and the tactical elements of the job instead of organizational fit, team compatibility and skills. 

 
Your team (recruitment) operates in isolation from the onboarding team due to which you are unable to obtain meaningful feedback from recently onboarded employees.  

 
You are losing good hires because of prolonged time-to-offer. 

 
Your recruitment costs do not complement or justify the outcomes. 

 
Candidates are clearly stating that your recruitment process is not ideal or express their dissatisfaction and you do not take corrective measures. 

 
The 13 Touchpoints for an Effective Recruitment Process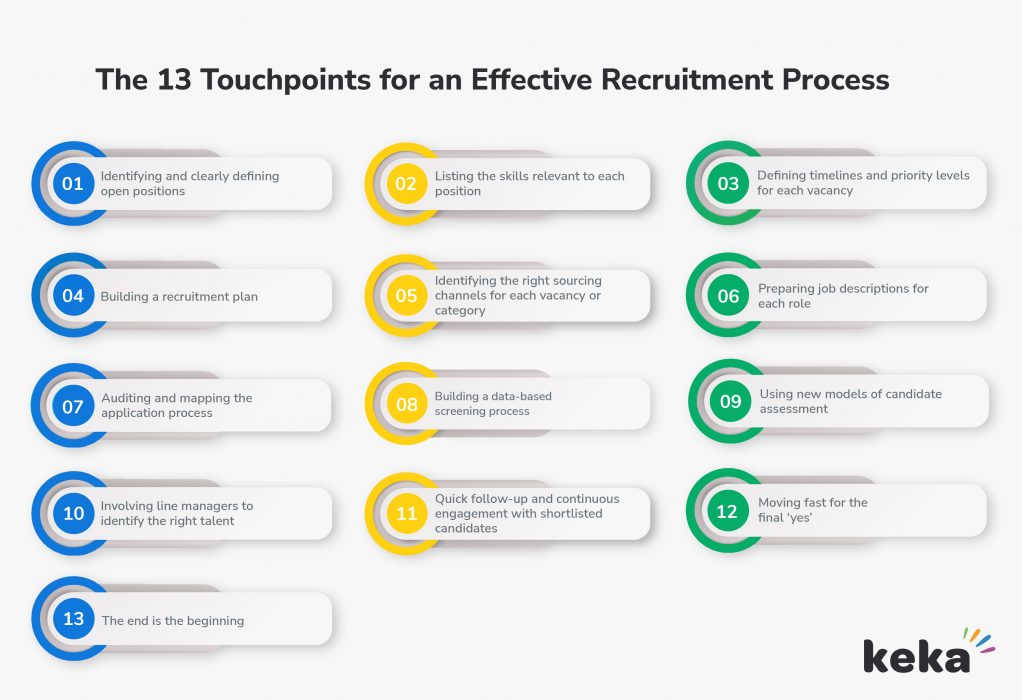 1. Identifying and clearly defining open positions
Involve line managers and obtain complete clarity to build a robust job description
The first step is a no-brainer. Identifying open positions is where you will start. However, it's very important that you obtain complete clarity regarding each position from its respective line manager. Smart recruiters ensure they have an in-depth understanding of their organization and its workings. This proves crucial in helping them understand each role and align the requirements correctly.
Recruiters can also classify roles into different categories to help them club similar roles and concentrate efforts for better outcomes.  
2. Listing the skills relevant to each position
Skill-based hiring is more likely to get you better candidates instead of role-based hiring
Gone are the days when hiring was done strictly on a role basis. A Gartner report cites recruiters stating that currently, only 16% of their new hires possess the skills needed to prepare for their current and future roles. Among the large-scale shifts we are currently witnessing, the need for evolving skills has taken center stage.
Let's have a look at some major data points cited in Gartner's Hiring Manager Panel Survey report (2019). According to the report
40% of hiring managers stated that their most recent hire did not add any significant value in terms of skills to meet future challenges.

 

Only 29% of new hires have high current-skills preparedness.

Only 16% of new hires are prepared with new skills needed in their jobs today and in the future.

 

Only 23% of new hires have high preparedness for future requirements.

These numbers make it clear that skill-based hiring is the smarter way to hire new talent.

As a recruiter, you should list out the skills needed for each role and tap into talent from that particular skill set. Not only will you find better candidates, but you can also add more weight to the role if you find candidates with complementing skills. 

 
3. Defining timelines and priority levels for each vacancy
Different positions require different levels of screening
Since different roles and positions have different sets of responsibilities, it's important that each category or role has its own defined timeline. Positions that are more critical could be put on a fast track and more resources could be allocated to fill them. The assessment and screening of the role may be different; hence, timelines could be defined according to the same.  
4. Building a recruitment plan
Align hiring resources with different recruitment activities and set priorities
Now that you have all the core elements in place, it's time to build a robust recruitment plan. The main part of a plan is how you allocate members of your recruiting team for different roles, and deciding which channels to source your candidates from. You would also have to determine how to propagate your job openings and divide the responsibilities of screening applicants, scheduling interviews, and so on.  
5. Identifying the right sourcing channels for each vacancy or category
Each channel has its own distinct user base
Not all candidates could be found on the same sourcing channel. Also, certain platforms are known to attract a specific segment of candidates. As a recruiter, it's important that you know which job portal is populated by which types of candidates and match the suitability of roles accordingly.  
6. Preparing job descriptions for each role
Ensure each JD carries your organization's distinct voice and messaging theme
A job description is a primary element that not only lists the job requirements and other details but also provides a glimpse of your company's culture to the applicants. The more clarity you provide in your job description, the lesser the chances of attracting applicants who may not fit your requirements. The job description also sets clear expectations for the candidate about the role as well as the recruitment process. 
7. Auditing and mapping the application process
Simplify the process by cutting down unwanted steps
One of the major causes behind application abandonment is the complex or prolonged application process that requires a candidate to fill in too much information manually. Many candidates have been found complaining about the fact that despite having the option to upload their resumes, the process requires them to feed in information manually.
Therefore, a thorough audit and mapping of the application process are important to weed out steps that could be avoided or automated.  
8. Building a data-based screening process
Screen resumes at a lightning speed
Using an automated tool to parse through resumes will not only save you time but would also help you screen more profiles. Depending on their sophistication, such tools also help you gain insights regarding the applicants, the sources they came from, and more. This data can be used to optimize the overall recruitment process and target the right set of candidates.
It is important to remember that regardless of which tools you use and which skills you are looking for, all competencies fall under three buckets which Tomas Chamorro-Premuzic has termed as the 'RAW model'. The three buckets are:
Rewarding – how likeable and rewarding candidates are to work with
Able – their ability to do the job for which they are hired
Willing – their willingness to work hard and their motivation
It is important that you don't lose sight of these three buckets while sifting through huge volumes of data, because in the end, it all boils down to this.  
9. Using new models of candidate assessment
Replace traditional assessment practices with new models
There cannot be a surer way of turning off a candidate than making them go through a grueling, time-consuming assessment process. Yes, they may need to complete assignments to establish their expertise in specific domains, however, the completion of assignments is not a guarantee of their efficiency.
Identifying the right-fit candidate has become trickier due to many reasons. Recruiters should not merely rely on tasks and assignments (which could be assessed through models to identify talent gaps) to evaluate a candidate, rather, they should drive the assessment based on conversations and try to know how self-driven and goal-oriented they are. Because, in a world where WFH and hybrid work has become a norm, the old (and infamous) methods of monitoring work that bordered on policing employees would no longer work. 
If you are hiring for a leadership position, a consultative approach works better. Again, an in-depth understanding of the said role will help you identify the right candidate and pitch them the position. Remember, a successful process to hire for a leadership process does not look like a process. To the candidate, it appears like a series of consultative decisions that leads to finalization.
The rise of social media has equipped recruiters with a potent tool through which they could analyze and weight the profiles of candidates. There are tools that analyze publicly available information of candidates and create profiles with vital information about what drives them and how could they be approached. For example, the 'likes' of a person (that are generally available on their social media profiles) are used by profiling portals to measure even IQ! Therefore, using web scraping, social media monitoring could also help, as long as it is within the legal framework and does not violate privacy. 
Using technology-backed and data-based models will enable you to tap into a larger pool of talent in a lesser time, increasing the chances of finding the candidate that is the perfect fit for your organization. However, these tools are to be used to assist you in decision-making, rather than making them the sole basis of decision-making.  
10. Involving line managers to identify the right talent
Ensure you and the line managers are on the same page regarding talent fit
Unless you are recruiting for a leadership position, line managers are the ones who would oversee the daily operations involving the new hire. Therefore, their early involvement will give you a sense of support and their feedback will push you in the right direction regarding candidate selection.  
11. Quick follow-up and continuous engagement with shortlisted candidates
Don't lose out to your competitors in talent battles
With the talent war that has ensued after the pandemic and Great Resignation, your competitors are very likely wooing the same talent pool that you are attempting to tap into. Unless you keep the shortlisted candidates engaged, it is quite possible that they will be snatched away through better offers. Very often, it is experience that sways the candidates. Constant communication and positive engagement are great pulls for job seekers.  
12. Moving fast for the final 'yes'
Don't keep the candidate waiting
If you have found a great fit that you and your leadership approve of, don't wait to say 'yes' to the candidate. Some recruiters make the mistake of waiting even when there are no other candidates in the pipeline.
Another important aspect of this is, very few recruiters are empathic enough to understand the anxiety the candidate might be going through while waiting for a response. Therefore, if everything seems good, there is no point in waiting.
13. The end is the beginning
Initiate smooth transition from recruitment to onboarding
After a candidate is selected, offer rolled out and accepted by him/her, it usually marks the end of the recruitment process. However, for the candidate, the journey has just begun. It's important to ensure the transition is not only smooth but is memorable. As a recruiter, you were the main point of contact for candidates. For sure, you would have established a good rapport with them and they would be comfortable speaking with you. Therefore, it is important that you help them transition into the role of an employee from the role of a candidate.
Working with the onboarding team will also help in improving the onboarding process and prevent you from working in silos. It will also open up better opportunities to obtain feedback using which you could further optimize the recruitment process.  
Conclusion
The importance of a modernized recruitment process cannot be overstated in today's business landscape. The traditional, one-sided approach is no longer viable because selection happens from both sides. The employee selects the best place and people to work for, and the employer tries to find talent that is the best fit for the organization and its culture. Involving line managers in the process, communicating values and taking a consultative approach, these are some of the strategies that appear to be working to attract great talent.  
The pandemic and the ensuing Great Resignation has accelerated the need for digitalization and automation for all businesses, across all industries. Businesses that do not tap into the powers of automation are likely to lose out on good hires.  
Keka HR has been at the forefront of empowering employers as well as employees by providing a fully automated and digitalized recruitment system. It's equipped with comprehensive features for hiring, applicant tracking, offer management, and employee onboarding.  
Would you like to discuss your recruitment challenges with us? Our experts would love to connect with you!