Social media's power and influence are unimaginable and have aided in taking recruitment to the next level.
Virtual recruitment across social media has been booming since the advent of the pandemic. LinkedIn has been prominent among the social networks and the top priority for recruiters to attract and recruit talent.
So, what's the deal with LinkedIn recruitment, and how can you leverage it to improve your talent quality.
Why recruit through LinkedIn?
LinkedIn is the largest professional network on the internet. Out of the total userbase of 750 million on LinkedIn, India takes a piece of 76 million which is next to US's 178 million.
These numbers mean that you have access to reach and tap into diverse talent pools across geographies. LinkedIn is made for all professionals looking for jobs, connecting, engaging with people, and making a sound about their business. Most companies and recruiters have already included LinkedIn as part of their recruitment and employer branding purposes.
2020 was the year of mass layoffs and also the year that brought the professional community even closer. Can you believe that a simple comment 'commenting for better reach' has helped map thousands of laid-off professionals with opportunities? We witnessed it.
It's not easy to put aside the far-reaching benefits of LinkedIn recruitment. If you still haven't used LinkedIn to attract and engage with talent, you must start it today.
Posting the job on LinkedIn (Whole process)
LinkedIn provides tools and technology for recruiters to attract and engage candidates. Recruiting professionals can post jobs on the platform either for free or shell some money for extended benefits.
Note: You must have a company page before accessing LinkedIn talent solutions.
Step 1: Go to the Jobs icon on your LinkedIn navigation bar.
Step 2: Now click on Post a free job.

Step 3: Sign in with your account credentials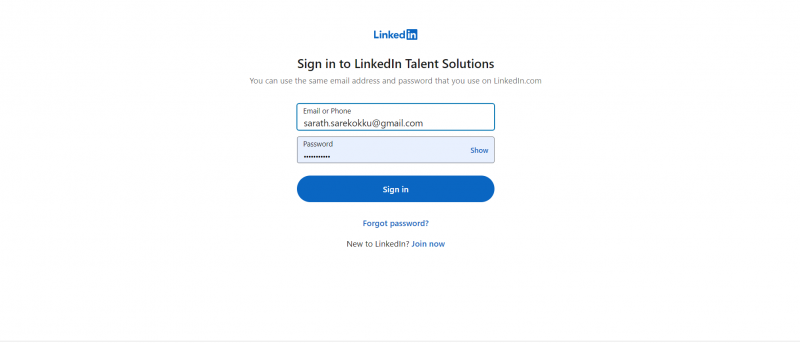 Now you're presented with a Sign-in page of LinkedIn Talent Solutions where you need to enter your account credentials to get started with posting the job.
Step 4: Fill the form with the necessary details.
LinkedIn has also added a feature to disclose if the job is remote work compatible.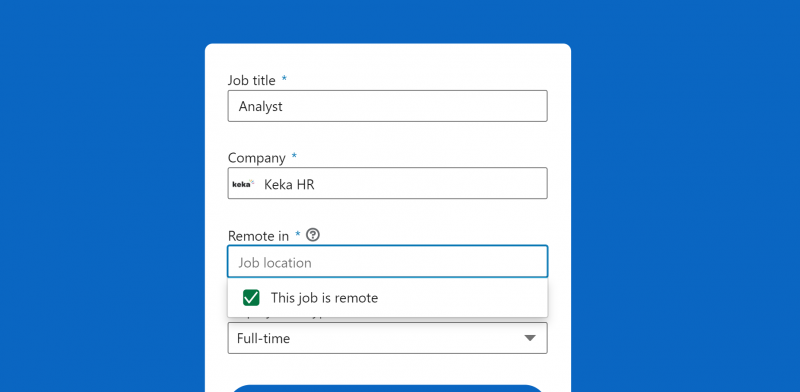 Step 5: After you proceed, the next step is writing a good job description.
LinkedIn detects the jobs and applies a default job description for that job. However, if you wish to edit or start from scratch, click on Clear this template and start afresh.
After you finish the writing part, click on Add skill choose the skills you want from a candidate. It helps LinkedIn to target and display the job post to your ideal candidates.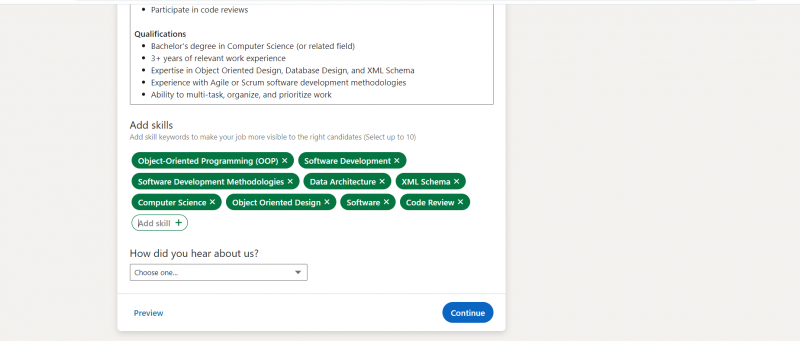 Before going ahead, see how your job post will be displayed by clicking on Preview. Do a double-check to make sure there aren't any mistakes and the language used is compelling.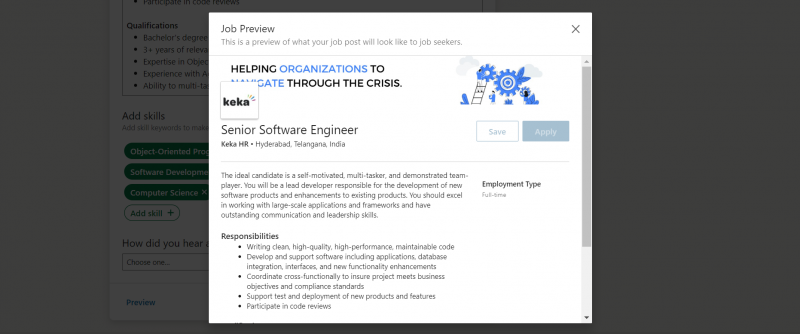 Once you acknowledge everything is perfect, go back and hit Continue.
Step 6: Select how you want to receive your applicants and fix your screening questions.
You can dictate the way you receive applicants by choosing between your Email or External website. If you choose Email, LinkedIn will send the information of total number of applicants that have engaged with your job post. If you would like to redirect candidates to an external landing page to submit their information, you can opt for an External website and enter the link.

Pick up Screening questions from LinkedIn's suggestions or create your customized question by clicking on Custom question. Screening questions help in sieving your applicants when applying so that the suitable candidates fall into your recruitment funnel.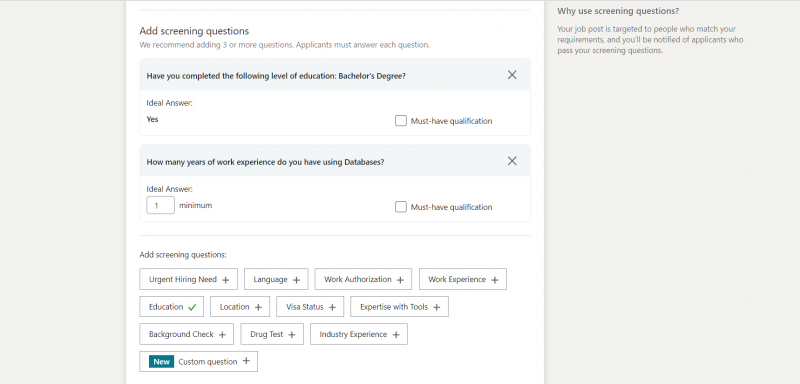 After setting up questions, move along by clicking Continue.
Step 7: On the following page, you can learn what you get from choosing free or paid promotion on LinkedIn.
Sticking with the free plan doesn't mean you get lesser applicants. You can still get a good number of applicants given that you do employer branding and social media strategy right. Skip this and go to the free tips section to learn how you can receive more applicants.
If you desire to spend money for effective results, you can go with paid promotion.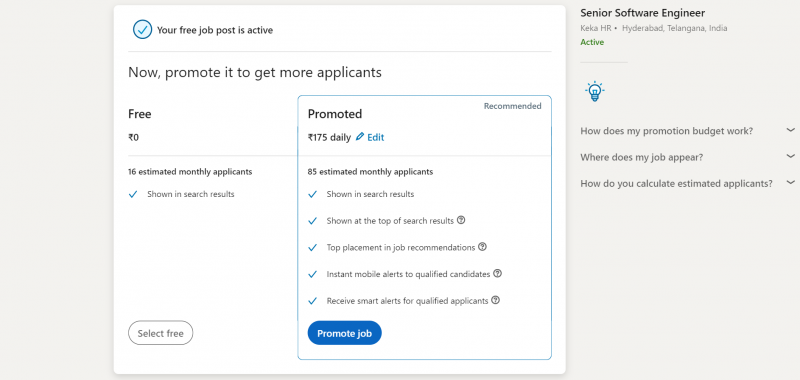 You can edit your daily budget or enter the total amount you will spend. After defining your budget, click Promote job.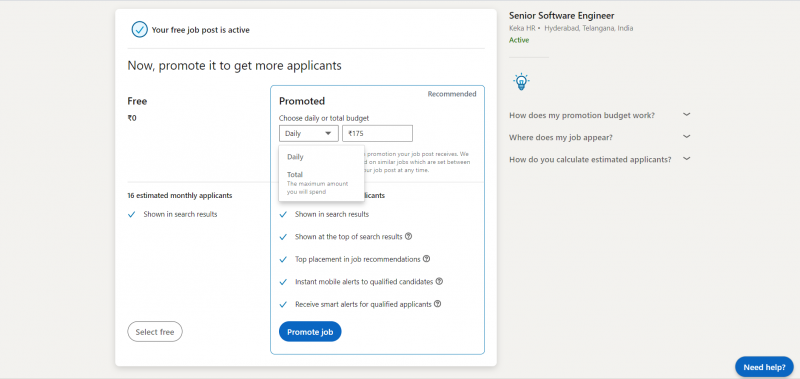 Step 8: Check the offerings, enter payment details, and review your order before checking out.


You'll only be charged when the applicant clicks on your ad, and also you can stop the promotion anytime.
Ways to increase your job posting outreach
You can optimize and make your job post reach a larger number of candidates without having to spend a buck and
Get creative with Post
Candidates scroll the feed and don't spend more than few seconds until and unless it is interesting.
How to live in your candidates' heads rent-free?
To make your prospective talent stop and engage with your post, it must be infused with novelty. How would you do that?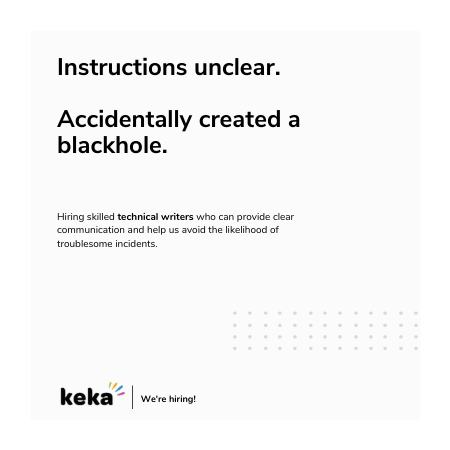 There are so many ways you can go about it. One is to add some eye-grabbing one-liners. It'll stop them and motivate the candidate to interact with other content of your company page. Doing this would help your company stand out from the competition and reserve a special spot in your candidate's mind.
Build network
The ideal goal of any post is to reach large number of target audiences.
From the comprehensive outreach, the critical set of viewers are your connections. I'll tell you why it is essential.
People say 'content is the king'. Obviously, it is the king, but it falls flat when the promotion or sharing isn't done right. Your primary connections are the ones who engage and share your content. If they aren't there, no matter how good your job post is, it won't get that deserving reach.
When you connect with people, don't go for months without any interaction. Greet and appreciate their work as soon as they accept the request and content wholeheartedly. It sends positive signals to them, and they shall reciprocate with your content by liking, commenting, and sharing. This interaction is notified to their connections which further motivates them to engage with your post, and the chain reaction continues for a certain period. The results are affected by various factors like geographical location, industry, and sector.
Join groups and share your job
Finding and joining relevant groups is a shortcut to reach a wide range of audience.
Here's where it gets tricky.
Even though you've joined appropriate groups, you can't derive desirable results—the primary reason is the group's poor moderation. The resources and posts shared inside the group will be messy, so group names are deceiving. Rather than directly joining the group just by their names and descriptions, a deeper look is necessary.
LinkedIn is an excellent platform for both job seekers and employers. When effectively utilized, it not only helps you find suitable candidates but also delivers business value. Post jobs directly to social networks and track the performance of each with Keka Hire. Learn how Keka helps in streamlining recruitment processes and improving the employer brand.