If you work, then every day you spend some time at meetings. Meetings can be of different types, such as group meetings, meetings to plan meetings, team meetings, and more. Perhaps, the most misunderstood out of all is a one on one meeting.  
Why? 
Because managers think that 1 to 1 meetings are a platform to speak, whereas the employees believe they only have to listen. One way communication leads to these meetings being a failure. 
And hell NO… Managers are not always responsible for meetings going wrong. They are human too. They have a lot of work on their plate, and their team is forever growing. There, employees need to check in on their managers and play their part in making one on one meetings a success. 
However, nobody wants that. So, this detailed guide will help you understand everything about the purpose of one on one meetings.  
What is a 1:1 meeting?
A 1 to 1 meeting is a check-in between two people (mostly, a manager and an employee) in the organization. The purpose is to give feedback, keep everyone in the loop and create an action plan to solve existing challenges. 
Trust is the backbone of this kind of meeting because it focuses on productivity and work relationships. 
A one on one meeting with manager also helps in managing employee performance through regular conversation before the actual appraisal process happens. 
One on One meeting Benefits
Let's check out the benefits for each stakeholder that's involved in the meeting. 
Benefits for Managers
A manager one on one meeting allows you to help your team members resolve issues quickly and improve retention. 
To increase engagement, you must spend time with each individual separately. Building a real connection and going from 'I and You' to 'We' takes time. When your team members start trusting you, they'll openly talk about challenges at work. So, you can contribute towards solving them at a pace. Result – Happy you, happy employee. 
Benefits for Employees
The purpose of an employee one on one meeting is to get employees the desired constructive feedback and help from their managers. This feedback and bond are vital to advance in your career.  
Also, you're clear on where you stand based on regular feedback from the manager. There is a direction to every step you take at work. If there are issues, your manager is there to help. This assurance allows you to be creative every day.  
Lastly, when things go wrong, you can bring this up in front of your manager without overthinking.  
Benefits for Organizations
All organizations want profits, and these are driven by top performers who focus on outputs. For this to happen, managers and employees need to work together. A healthy 1:1 meeting culture is a driving force behind an organization's success.  
Why? 
Because here, all employees are more focused on collective success, rather than individual success. More engagement means employees feel they're contributing towards the bigger picture in the company. Employees are happy when they feel heard. They're more likely to stay and perform well in the future too. 
One on One Meeting Checklist
One-on-ones foster better employee feedback and regular coaching to drive your employees forward towards a common purpose.  But they aren't like ordinary meetings, where you can go in without any preparation. 
Here's a set of tips that should be on your checklist before going into a 1 on 1 meeting: 
Focus on what matters

 

Be open to ideas

 

Talk less to accomplish more

 

Set relevant agenda

 

Understand your employees

 

Speak proactively and listen fully

 

Follow-up because it is the key to results

 

Check the progress of goals

 

Make it a two-way conversation

 

Provide constructive feedback

 

Take notes and create action plans

 
If you want to learn more about 1 to 1 meeting with manager, please check out the ultimate checklist for one on one meetings.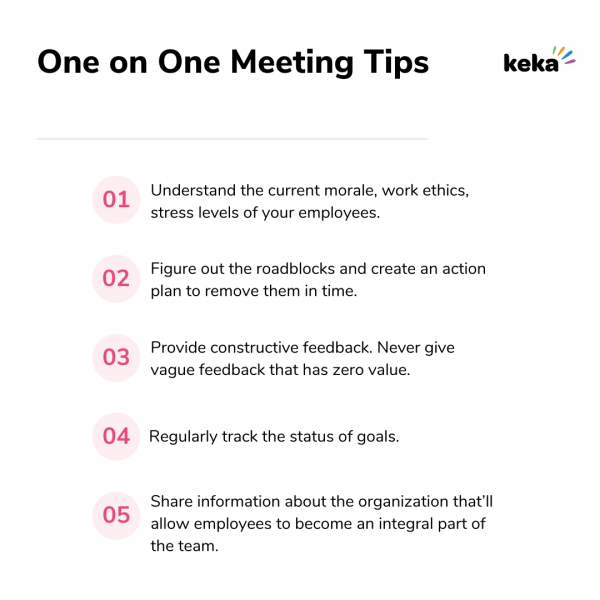 1 on 1 Meetings Agenda
A lot of one on one sessions feel dead. Let's just be honest on the 'why' part. 
No agenda

No flexibility
Micromanagement
Long discussions without an action plan

 
The list could go on… 
No wonder many people come out of a one on one employee meeting feeling worse than before.   
Here's a start to improve that at your organization, so people feel motivated and come with concrete agendas in the meetings: 
Discuss what matters to both the manager and the employee.

 

Focus on impact and outputs. Be flexible on how those goals can be achieved in a performance cycle.
Ensure the workload employees have is actually doable, and if not, go back and set things right.
Promote healthy culture.
Empower each other by providing autonomy, delegating authority, and removing micromanagement.
Develop employees with coaching, feedback, and growth opportunities.

 
So next time you go for a meeting, have a solid one to one meeting agenda and take steps in that direction. 
One on One Meeting Templates
1 on 1's work if you constantly exchange feedback with each other. As for employees, prepare a list of one on one meeting questions to ask managers and take action on things discussed during the conversation.   
Here's a one on one meeting template for your first 1to1: 
Talking Points:  
Ask more

 '

Getting to know you' questions. 

 

Understand how the employee feels about work. 

 
Sample Questions:  
What do you like outside of your everyday work? 

 

What inspired you about this job? 

 

What's your favorite thing about this job? 

 

How often would you like these meetings? 

 

What do you feel about the culture of our team? 

 

Going forward, how would you like to communicate with the team? 

 

What kind of feedback do you prefer: private or public? 

 

How can I support you to achieve your goals quickly? 

 

What feedback do you have for me?

 
You see, it all starts with defining what matters for all the participants involved in the process. Different situations require different one on one meeting questions and templates. Here's a link to 11+ one to one templates that'll help you build a better relationship with your managers and peers. 
Conclusion… 
If you have high engagement ambitions, you need to combine technology and human touch. 
To create that balance, Keka will help you. With customizable templates, timely reminders, and more, Keka's One on One meeting tool will help you engage employees from anywhere and anytime.