Today, it's quite astonishing to witness how effectively businesses have managed to adapt and survive in this Covid-19 tussle. Organizations have gone remote and have successfully transitioned their most operations to digital. Although digital transformation boomed, there are potential concerns and repercussions in some areas that still make companies uncomfortable. One of them being onboarding candidates as the current scenario demands to communicate and carry out all the processes related to candidates digitally.  
As soon as the offer letter is rolled out, there's no guarantee that a candidate will join your company. Even though he/she has entered, there's still no assurance that they will stick with you for the defined period in the contract. The case is the same whether you hire them in-person or virtually.  
So, what's the fix here? 
While you can't control all the things, you can still make your candidates stick with you by leveraging the pre-boarding and onboarding processes. 
Why do you need 
these checklists?
HR teams unintentionally overlook some activities and tasks during the pre-boarding and onboarding processes that gradually erode the candidate experience. Having a checklist will help you stay organized and tick off the necessary formalities while ensuring a personalized experience.   
Here are a few activities you can check off for remote pre-boarding and onboarding to engage your candidates and perfect that top–notch candidate experience.   
Remote pre-boarding checklist 
Here's a checklist of things you will need to do with your employees and candidates during the pre–boarding phase.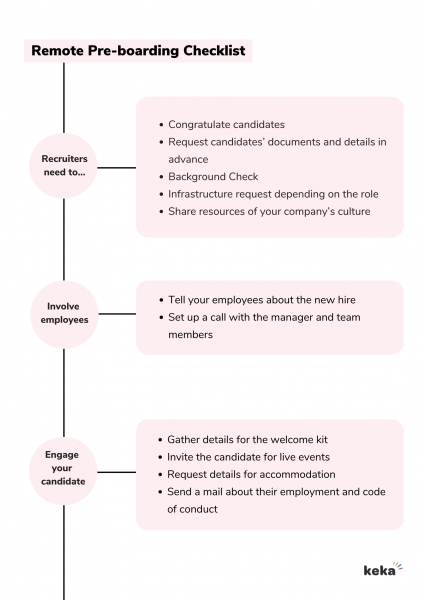 For 
you (
recruiters
)
Congratulate them 
Send an appreciation mail to the candidate once the offer letter is rolled out.   
Congratulating the candidate is the first step to engagement in the pre-boarding process. Request your hiring manager, candidate's future team members and manager to chip in and drop personalized messages. Doing so would incrementally increase the chances of offer letter acceptance, candidate experience, and building early relationships.  
Request candidates' documents and details in advance 
Ask candidates to share the necessary documents (educational, employment, identity and address) and their mobile number. Send the NDA, employment and other compliance agreements to your candidates and get the signed copy. 
When you are scaling your hiring process, notifying and following up with the number of candidates to share their documents can be mundane. Businesses opt for ATS to streamline the documentation process and stores the documents at a centralized location for easy access. 
Background Check 
Verify and validate candidate's educational, employment, criminal history, financial records and converse with their references.  
Infrastructure request 
depending on the role
Decide the work equipment required for the candidate according to their job role and notify departments to get ready to issue assets. If the candidates are experienced, ask if they have any specific requirements in terms of hardware or software tools supporting their work style.  
Waiting till the first day of your new employee and then raising requests to the departments would invite delay owing to the approval process and logistics – that impedes your new employee's initial excitement to perform well at work. It is always advisable to plan things ahead to have enough buffer time to prevent or at least reduce the delay in shipping the assets to the candidate's location.  
Share resources of your company's culture 
Create and share the links of videos, articles, and presentations on your company's history, workplace, people, cultural events etc.  
Involve your
 employees
Tell your employees about the new hire
Draft a mail informing your employees about the new hire. Mention the candidate's social media links (needs candidate's consent) in the mail.  
Involving your employees would play a crucial role in engaging your candidate. It helps in breaking the ice and awkwardness the next time when the candidate works with different individuals.  
Set up a call with the manager and team members 
Send an e-mail to the manager and team members requesting a date in advance to connect with the candidate through video conference. Invite the candidate for a virtual conversation when the date is finalized.  
Calls like these would make the candidate aware of his/her's teammates roles and responsibilities so that the candidate knows whom to reach out to when he/she is working on future projects. 
Engage your candidate
Gather details for the welcome kit 
Share an online form with the candidates to select their preferable sizes and color for their company-branded apparel and goodies. Request for candidate's location to where the kit is to be delivered.  
Giving your candidates the flexibility of personalization in clothing or their e-mail id shows your efforts in prioritizing candidate experience above all. A welcome kit can include a variety of goodies ranging from a cute mug to sturdy headphones. Also, let your candidates know the estimated delivery date or keep it a secret to surprise them.  
 Invite the candidate for live events 
Ask the candidate if he/she is interested in joining the upcoming company's virtual cultural event. Send invitation along with joining link.  
Virtual events are great scenarios to expose the candidate to company's culture and facilitate conversations with existing employees.   
Request details for accommodation 
Send an e-mail to the relocating candidates asking for details to arrange a stay or issue compensation.  
Increasing accommodation arrangement costs might concern your budgeting plan. ATS provides an easy and transparent budgeting process that fosters collaboration so that you can plan right. 
Send a mail about their employment and code of conduct
Communicate job details to the candidate such as designation, reporting manager, location, working hours, dress code, and other important information. 
Remote onboarding checklist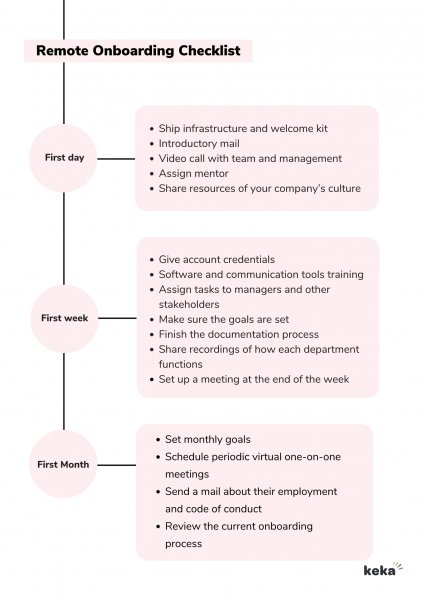 First Day 
Ship infrastructure and welcome kit 

 
Ensure that work equipment and the branded welcome kit have reached the candidate on or before their first day.  
Ask the candidate to introduce themselves to the organization by sending a mail and assure them of support when required  
Video call with team and management 

 
Plan a video call with the manager and the leadership to help the new hire understand company's vision and how they can contribute to company's growth while excelling in their career.  
Discuss with the manager and assign a mentor (team member) to the candidate   
First week 
Set up the new employee's mail and other software accounts. Share logins and group passwords to access work tools.  
Software and communication tools training 

 
Schedule a call with the IT person to help the new hire understand communication and software collaboration tools.  
Assign tasks to managers and other stakeholders 

 
Allocate tasks and responsibilities to the respective stakeholders regarding the new employee.  
Make sure the goals are set 

 
Request the manager to create a list of tasks for the new employee for the week.  
Finish the documentation process 

 
Communicate if the new hire has to submit any other documents or e-sign on the forms.  
Share recordings of how each department functions 

 
Send online recordings of how organization's departments and team function.  
Set up a meeting at the end of the week 

 
Review the new employee's progress and ask if they're facing any difficulties and need help.  
First month 
Give a clear picture of expectations and long-term goals for the new hire in the organization.  
Create goals for the new hire for the first month along with his/her manager.  
Schedule periodic virtual one-on-one meetings 

 
Schedule recurring weekly check-ins to understand the new employee's performance and learn feedback.  
Involve the new employee in collaborative meetings 

 
Make sure to involve the new hire in the ongoing stakeholders' meetings to help them become familiar when they work closely.  
Review the current onboarding process 
Take feedback from the new hire on the onboarding process and learn the suggestions to tune the current quarter's onboarding journey. 
Organizations with better onboarding processes experience lower early employee churn rates. To design a smooth and effective onboarding process, having a checklist in place is one way and could be a lifesaver many a time.  
Every organization is unique, and so are its onboarding processes. Hopefully, the above list would be your guide to rectify and streamlining existing processes or at least creating remote onboarding checklists compatible with your organization. Keka's recruitment management software helps you to be on track with pre-boarding and on-boarding stages of the candidates and with customizable hiring flows you can design amazing candidate journeys.