In the past two years, people have discovered new hobbies and new goals for themselves. People from all over the world had baked so much that there was a shortage of yeast. Some began taking online classes to play the guitar, learn gardening, and develop creative skills. A few even turned their hobbies into serious businesses or changed their careers altogether. When the pandemic took so much away from people, everyone started prioritizing their well-being and work-life balance. Now, the workforce prefers doing what it loves.  
What people want from their companies has been dramatically changed. They do not want to work to make a living anymore; they want to make a difference. They want to chart their courses and prioritize personal wellness over mere perks and salaries.  
With the changing attitude and behaviors, organizations may have to re-analyze their current culture and reassess how their culture aligns with their current strategies. 
What worked in the past may no longer work for the present and the future. A culture that has gone unmanaged must be used to maximize its value by first understanding how it even works. When culture is properly aligned with personal goals and needs, organizations can improve business results, retain high levels of talent, and increase their capacity.  
Is your culture attracting and retaining talent?
When an employee exits from a company, employers start fixating themselves more on retention strategies. But, on the other hand, a cultural problem might be on the mind of the employee who has left.   
We rarely pay attention to culture when things are going well. For some companies, 'culture' is a term that is discussed behind closed doors by HR leaders. But there are also companies which have understood that culture goes beyond superficial elements like ping pong tables and beer Fridays. If the culture doesn't keep people happy or help them grow and feel valued, it is most likely that their productivity and performance will drop. 
So, with the gap widening between how companies describe their culture and how employees feel about working there, how can the companies identify where they have gone wrong? And where do they even begin? 
Most organizations give their culture a secondary thought and focus primarily on high performance. Culture and strategy are viewed as two different things. Most of the world-leading companies known today were once companies that also ignored culture. As a consequence, they received negative responses from the employees, were on the brink of shutting down completely, and even failed to deliver customer service.
13 Company Culture Examples
However, these companies understood the value of culture and started adopting employee-first approaches. Since then, they have stood out for their work culture. As a result, they could attract and retain talent, close culture gaps, design detailed employee wellness programs, and even handle remote work circumstances. Read below to find out how.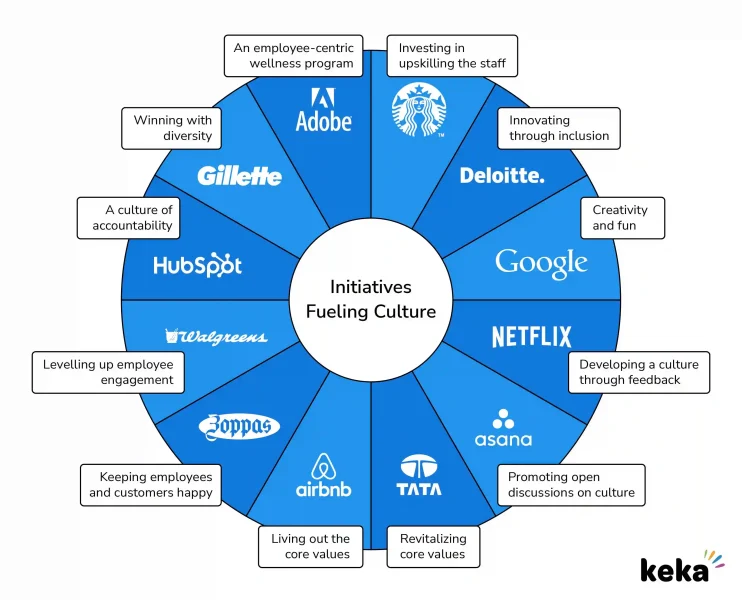 1. Tata Group – Revitalizing core values
The Tata Group known today, is India's largest conglomerate of around 100 companies covering several sectors like chemicals, engineering, energy, consumer products, etc. It was founded in 1868 with a mere capital of ₹21,000.  
For a fairly long time, the culture at Tata varied from company to company. There was not a clearly defined culture. It also lacked a systematic approach to managing innovative performance, and the employees were unaware of the group companies' innovations. They were also not particularly proud of them. So, people started saying that they had a 'cultural problem.' However, just a few years ago, the Tata Group was rated one of the world's top ten innovative businesses. What changed?  
In 1990, when Ratan Tata stepped in as the chairman of the Tata Group, he changed the winds of the Tata Group. He reinforced the core values the Group had been built upon. He and his team introduced 'Tata Innovista,' an award system that turns innovative behaviors into an organizational sport. Tata Awards attracted over 30,000 participants from over 30 countries. He also put forward TCOC (Tata Code of Conduct), and around 7,20,000 signed it, making it one of the world's most-followed codes of conduct. 
2. HubSpot – Developing a culture through feedback
HubSpot says, "We obsess over our culture just like a product. Because culture is a product." They are building two products – one for their customers and another for their employees. The team has successfully built a culture that they claim is an 'operating system' that powers HubSpot. Their 128-page Culture Code has been viewed around 6 million times. This is one of the top reasons people want to work for HubSpot. 
Just like any other company, HubSpot did not always have its culture nailed down. 
Behind the curtain are hundreds of hours spent by the co-founders interviewing and collecting employee feedback on what they love and do not love about the culture. Just like you would for a product, the co-founders began understanding the customers' needs (employees) to build the product (culture) and documenting the use cases to ensure they were happy with the product. Just like how a product is never completed, HubSpot constantly optimizes the culture according to the practical use cases of the company. 
The co-founder Dharmesh Shah's mantra is, "You should be working more on culture than you likely are right now." 
3. Starbucks – Investing in upskilling the staff
Frappuccino on your mind? Starbucks is the go-to. But when we think of the best company cultures, Starbucks may not be the first company that comes to mind. If truth be told, Starbucks was able to make that impact on the customers solely because it built a culture on the experience of being a part of Starbucks – whether customer or employee.  
There was a time when Starbucks almost disappeared because its culture had taken a backseat. It focused too much on its expansion rather than building more power experiences. In the end, it had to lay off thousands of employees and shut down about 900 stores. Starbucks struggled to keep up with the tough competition in the market, failed to promote a sense of belongingness in the employees, and steered away from providing customer service.  
Its culture had been extinguished, and the company was on the brink of shutting down completely, never to be seen again. Imagine a world without iced brown sugar oat milk shook espresso or pumpkin spice lattes. 
After a year, an ex-CEO, Howard Schultz, returned to Starbucks as the company's CEO and steered the company through the waves of difficulties. When he observed that the workers had neither teamwork nor the drive to bring the company's values to life, he shut down all the stores for around 4 hours to conduct a drill on mission and values. About 10,000 managers gathered to rediscover their sense of purpose. Then, amidst the global financial crisis, when other companies were taking cost-cutting measures, Starbucks began investing in staff training, coffee tastings, and courses. Ultimately, Howard Schultz rekindled the relationship with the employees and ensured they felt cared for. 
Now, the employees behind the counter have a common purpose and achieve great things together. Starbucks succeeded in taking an 'employee-first' approach and finally created a sense of belongingness. It reignited the culture that had been extinguished. 
4. Netflix – A culture of accountability
Netflix's culture deck prioritizes company culture and talent management, which was thought of as a little crazy by other companies. Its commonsense approach to culture, as they call it, has inspired many organizations worldwide. However, this approach transformed Netflix from a DVD shipping company into a leading streaming service provider. This was the center of conversations in HR because that approach made Netflix successful. Soon, other companies began adopting the same strategy. 
The company's chief talent officer at the time, Patty McCord, had redefined the way company cultures are built by listening to people rather than following established models. Instead of listing the company's core values like every other organization, McCord went ahead and decided to write down the things that the company valued, and what they expected from their people. For instance, if the company wanted courageous employees, they made sure employees knew what "courage" looked like and didn't look like. 
At Netflix, there is no focus on building a good company culture but a 'winning culture' that is not for everyone. It has shaped its culture upon freedom and responsibility. The CEO, Reed Hastings, has developed a culture where everyone shares information boldly and openly, which means the senior-level managers are brutally honest about performance. The employees are given the freedom to share their opinions and effectively criticize the decisions at the managerial level. All Netflixians are encouraged to be creative and make their own decisions while also being accountable.  
Netflix has developed a perfect culture for employees who value consistent excellence and seek to challenge themselves. 
5. Gillette – Winning with Diversity
Gillette is a leading male brand delivering incredible grooming experiences for men. Gillette has one of the most innovative and diverse workplaces. Despite ethnic and political differences, employees of Gillette have been able to showcase incredible teamwork. Treating everyone with equity is a part of Gillette's culture. In fact, Gillette's diversity is why the teams can deliver company's values. The company is built upon quality, innovation, and trust. 
The company's slogan for 30 years had been, "The Best a Man Can Get." However, as the definition of masculinity changes with time, it becomes pretty challenging to adapt to the changing stereotypes on men and endure them. But Gillette has continuously gotten past the stereotypes of men by advertising on trans men and men's vulnerability, and even changed its slogan to, "Is This the Best a Man Can Get?" 
6. Asana – Promoting open discussions on culture
"Culture is not beer on Fridays." says the Head of People Operations at Asana. The founders are former Google and Facebook employees who have always made culture a priority from the very beginning.  
Dustin Moskovitz and Justin Rosenstein, the founders, avoided a culture where free lunches and ping-pong tables are deemed to satisfy their employees. Since they have made culture as big a priority as the product from the first day itself, they received a rare perfect rating on Glassdoor and a spot-on Glassdoor's Top 10 Best Places to Work in 2017.  
Asana also had its own share of ordeals when it came to culture. For instance, it gave junior employees the freedom to have ownership over decisions, but senior employees were negating their decisions. Asana quickly restructured the way responsibility was viewed because it wanted to cultivate a culture of open-mindedness. They managed to achieve this by treating culture as a product. They looked at culture as something that needs to be created with the utmost thought, dedication, and team effort, just like any product. It also needs to be tested and retested, to ensure the perfect version has been achieved. 
They ensured that employees from various departments met on a regular basis to openly discuss where they are from a cultural standpoint. The feedback would then be taken into consideration and changes would be implemented on a mutual basis. Asana also actively surveyed their people on an anonymous as well as one-on-one level. This information was spread on a transparent level to one and all, and changes made after taking everyone's opinion into account. 
7. Deloitte – Innovating through inclusion
Deloitte has been focusing on inclusion for more than two decades. Their commitment has led them to attract and retain a diverse workforce. They have also won several awards for their inclusive and diverse culture. Deloitte has consistently provided guidance for both leaders and employees.  
Even during the pandemic, they guided the leaders in directing teams who were working remotely. The company even started a mental health podcast series to manage employees who were being isolated or feeling overwhelmed.  
Since Deloitte's inclusion of employees had been the backbone of its culture, it could endure the challenges of promoting a sense of belongingness during tough times. Its culture is all about collaboration, inclusion, high performance, and purpose. 
8. Adobe – An employee-centric wellness program
According to Adobe, it aims to "Put the employees first wherever they are in the world." It was recognized by Fortune magazine as one of the world's best 100 companies to work for. It is world-renowned for offering the best employee perks. Offering paid medical leave, family vacations, yoga, and cafes make up a massive part of Adobe's culture.  
By preference, Adobe stays away from financial incentives and focuses more on intrinsic motivation. The company says, "We look at our [employee] well-being program as a culture maker, not a money saver."  Adobe conducted surveys and interviewed employees to build its detailed wellness programs focusing on different groups. It was able to successfully put employees first by designing an employee-centric wellness program that focuses on mental, physical and financial health.  
9. Airbnb – Living out the core values
Airbnb is an online marketplace that helps people find short-term accommodation or those who are willing to rent their space in a specific region. It serves around 220 countries and regions. Airbnb served more than 1 billion guests in 2021. They have created an authentic and unforgettable experience for their hosts and guests for over 15 years.  
A few years ago, the CEO, Brian Chesky, released an article titled, "Don't f*ck up the culture." Airbnb was at the peak of success when it received an investment of $150M. According to the investor, one of the main reasons they had invested was the company's culture. So, Brian Chesky had to make sure they didn't break the culture, and he evidently withstood the challenge while strongly defending and developing the culture.  
Brian says that a great culture is built by upholding the core values. It's all about living out the values, from hiring to writing an email to working on a project and even when you are walking in the hall. But what is culture? Brian says, "Culture is simply a shared way of doing something with passion." He further elaborates that each employee in a company carries the weight of living out the values. Just like families or tribes don't need any processes because they trust each other, organizations, too, must frame fewer corporate processes so that everyone can be independent and autonomous. 
10. Google – Creativity and fun
Google was first started as a project to create an unconventional search engine. Today, Google is the world's most popular search engine and one of the most sought-after workplaces. Whether it came to products or culture, Google has always taken an unparalleled approach. One of the most popular things Google is known for is its 'fun' workplace. Google has everything from professional hairdressers to video games to micro kitchens. It has built a workplace where employees believe they are working for a cause and to make a difference.    
However, this is only a tiny part of what makes it a great culture. It did not turn its culture into a great one overnight – it took years to refine it and the efforts of both employers and employees. Google constantly strives to develop its environment so that employees can think creatively. It even launched various employee engagement strategies. For example, it conducted studies to determine how much paid time off new mothers needed while providing financial assistance. Additionally, Google's HR adopts a proactive approach and communicates the company's core values. 
By focusing more on an employee-engaging culture, Google was able to draw away from a formal workplace and dull meeting rooms. Its employee-to-employee learning helps peers learn professional skills. The company has managed to create a culture of robust learning and knowledge sharing. Recently, Google announced a flexible work schedule to give more freedom and bring about creative ideas. 
11. Walgreens – Leveling up employee engagement
Walgreens is America's second-largest pharmacy store chain. It specializes in health-related information, health and wellness products, filling prescriptions, etc. It is built on the culture of caring and helping others no matter where they are. 
The CEO of Walgreens, Rosalind Brewer, constantly creates opportunities for employees to interact in the organization at least once a week. Brewer doesn't want the employees to get too detached from the company's culture, especially in a hybrid working model. The decisions continuously align with Walgreens' culture, mission, and values. The company is on a mission to elevate the level of employee engagement and follow a "bottom-up" approach for employees to provide input into operations. Walgreens' values are being bold, honest, and decisive. It aims to treat all its employees and applicants with dignity and respect.  
12. Zappos – Keeping employees and customers happy
The employees in Zappos are known for dressing as fuzzy animals in meetings. It has always tried to live by its foundational value of delivering happiness to customers, employees, and vendors. Ensuring these three elements automatically took care of profits.  
Since its inception, their ten core values have been treated as assets. Recruitment is also done on the basis of cultural fit rather than a job fit. People are hired based on how well they relate to these values and how much they mean to them. The cultural fit interview carries half the weight of whether the candidate is hired. Cultural fit is given as much importance as the qualifications and experience of the candidate. New employees are in fact offered $4000 to quit after the first week of training if they realize or decide the job is not for them.  
Promotions and employee raises come from building capacities and skills. Every employee has to pass a skill test for any pay raise. Performance evaluation also happens on the basis of adherence to core values. One manager, employee or office politics is not the basis for raises. Portions of budgets are kept aside for team building efforts and employee development. 
13. Keka – Employee flexibility is the key
Initially, Keka was bootstrapped for nearly 7 years. With time, it grew in number from both employee and customer perspectives. Throughout the years, the company has constantly fostered a culture of accountability. Keka avoids a typical corporate culture and focuses more on flexibility and employee engagement. It has taken various initiatives to promote the same.  
It initiated sports tournaments, book clubs, workplace parties, training, flexible work hours, and many more. Keka made sure that employees not only came to the office for work but also to engage. Employees aren't bound by corporate processes but come together with a drive to reach new heights. Thus, it has built a culture of flexibility and accountability over the years.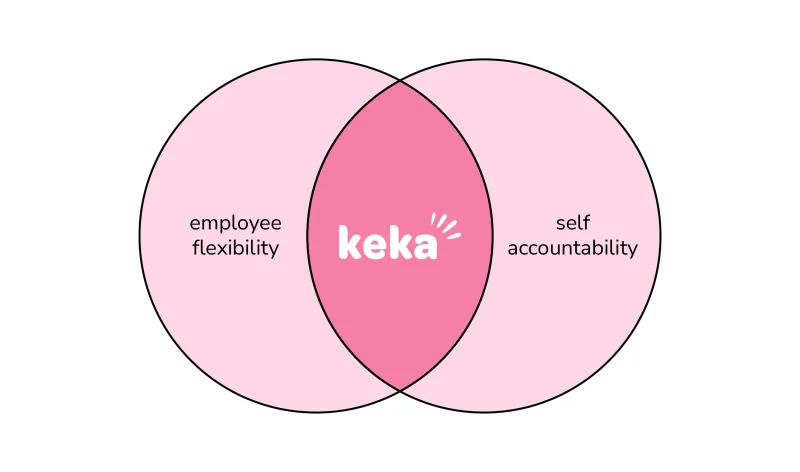 Ready to take the leap? 
As you can see, it takes months, and sometimes even years, to build a culture that lasts. You do not transform a culture into a great one overnight. Moreover, it takes hundreds of hours to collect feedback from the employees on whether they are happy with the culture. While it might be overwhelming when you are unsure where to start, you can take small steps by ensuring your team members and peers feel valued and their opinions counted.