By the end of 2022, 25% of the global knowledge workforce will choose their home as the primary workplace, and 45% of the workforce will be working from home two to three days every week. Some employees are thrilled at the idea. Others, not so much. 
What does this say about your future plans as an employer? While embarking on the journey of new normal, which hybrid work best practices can you implement to make this model successful for you and more so, for your employees? 
What's the update on HWM?
For years, flexible work arrangements have been on the agenda of several companies, but little has actually changed. However, the pandemic turned everything upside down.  
The new arrangements brought uncertainty and experimental phases. How will employees work in a hybrid work model? How will I manage them remotely? Will the same level of monitoring be possible? Without human interaction, will employees still remain motivated and happy? – Some of the many questions employers found asking themselves.  
When thinking about jobs and tasks in the future, start by understanding the key drivers of productivity.  Energy, coordination, cooperation, and focus are the primary ones. Next, consider how these drivers will be affected by changes in working arrangements along the axes of time and place. 
How can we make it successful?
But to tackle the challenges of hybrid work model, the first step is to realize that it is a boon rather than a bane. We have listed ways to ensure this new working landscape becomes successful for both employers and employees alike.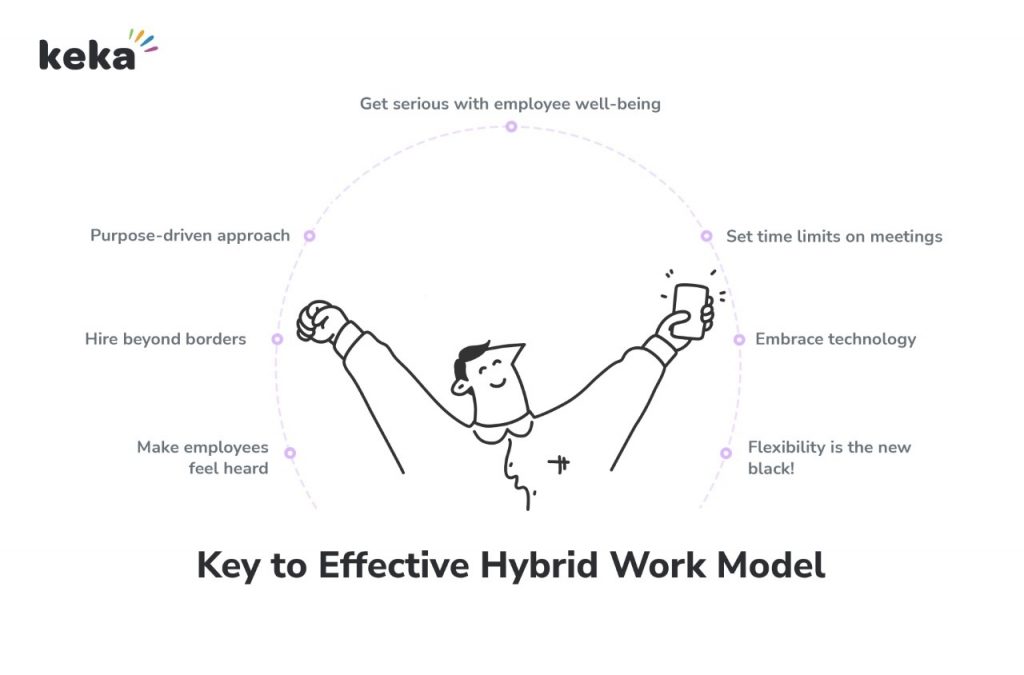 Give your employees a sense of purpose
People give their best when their work gets aligned with a bigger picture. This is where "purpose" as a productivity driver comes into play. Irrespective of where the employees are working from, you need to give them a clear connection to something bigger, something beyond their individual roles and goals. Take pharmaceutical industries and healthcare workers during the pandemic for instance. The people working in these domains knew their contributions could change lives. It is not just about taking a hefty pay check home anymore. Purpose counts more than you think it does.  
Recruit beyond geographical limitations
If the pandemic has opened the gates of anything beneficial, then it has to be hiring beyond borders. Finding local talent that best suits your company's requirements was difficult earlier. Hybrid work bridges this gap by allowing you to recruit people from anywhere in the world and attract the talent and skill to scale your business. 
Time constrained to time unconstrained
By allowing team members to set their own work hours and workplace- be it their home, their favourite café, or even under the Eiffel Tower- you give them flexibility. For employees with childcare or eldercare duties, being online at all times is not easy. Leaders who recognize that work is not everything but just one part of an employee's life are the ones who are unaffected by 'The Great Resignation'. 
Set limits on meetings
Endless meetings are no one's cup of tea (Maybe of that manager who loves to talk for hours while his direct reports try not to doze off). Ensure every meeting, irrespective of its frequency, is as short and to-the-point as possible (30 mins to 45 mins at most, for instance). Discussions should be healthy, regular and clear. Talk to your employees and ask about their availability. Ordering around won't work anymore. 
Get set, go with Digital Transformation
During the pandemic, companies panicked as they struggled to connect their scattered employees. Those who had already embraced digitalization found it easier to get back on track. Remote workers need tools to communicate, collaborate as teams, and share resources and this is only possible through digital transformation.  
Focus on employee well-being
A lot has been said, very little done. Employee well-being is a concept, priority, and responsibility- not just a term to attract potential employees. As hybrid set-up would require workers to come to the office on certain days in a week, ensure they feel safe to do so. This could mean regular sanitization of the premises, disposable masks on request, doctor on call and other such steps. More importantly, focus on appreciating, recognizing and caring for your employees. 
Prioritize empathetic communication and listening
Regular healthy communication is crucial for any relationship to survive. An employer-employee, or rather a manager-employee bond has a similar tale to tell. As a leader, inform your workers about decisions or matters that affect them. Let them be an active part of the discussion and listen to their problems with the intention of solving them. Employees who feel heard and valued are more likely to stay with their organization.  
Conclusion
Don't act like 2020 never happened. Demanding everyone to come back to the office like it is still 2019 will not work. Going forward, employee productivity should matter more than the place they work from. Embark on a work-life shift with the right tools that support this change. An efficient HRMS like Keka makes it easier for employers to keep track of employee attendance and shifts, manage performance, streamline payroll processes, and do so much more all at the click of a button.  
Book for a free demo to experience the Keka difference!