In this week's webinar, Sanjay Devudu and Anjali Desai have discussed on the goals during the pandemic.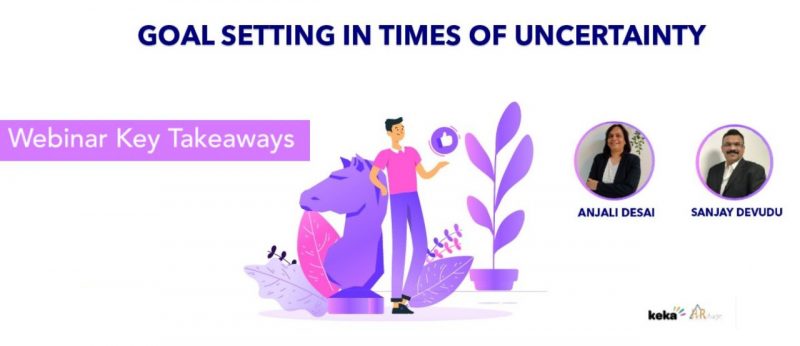 Ever since the outbreak of Corona Virus took place, almost every sector has come to a stall except for a few essential businesses. This forced companies to open the doors for new paradigms of work. One of these key paradigms is enabling virtual work for the employees.
However, on the other side, there's a challenge that keeps popping up is 'Goals'. The times that are prevailing now are volatile and so are the goals. This is a serious challenge for leaders to assimilate the anatomy of the situation and respond with a solution.
Nearly 72% of the organizations around the world are worried about the goals being set for the last few months. So, the question arises, how do organizations set goals, matching the pace of uncertainties?
FUNDAMENTAL CHANGES
Anjali said that organizations which are quick to understand and adopt new ways of managing people and business are the ones that will sail smoothly during these times.
"Virtual work is one of the huge adaptions," adds Sanjay. Businesses have to rethink work and develop the mindset to accept and act upon changes for not only now but also in the future. Goals are not fixed, and so, one has to work on mindset towards goal setting rather than fixating on goals, either at the individual or organizational level.
WHAT'S NEXT FOR BUSINESSES AND LEADERS?
Poll: Has your organization planned its goals for the next 3-6 months post lockdown?

Regarding the poll results, Sanjay talks about the key differences between the organizations that have and haven't planned on goals. He puts out two reasons for businesses being able to retain clarity in terms of goals. The first reason is that a particular company should have been an essential service provider. Secondly, leaders are willing to take risks and decisive action for their business.
On the other side, due to the lack of clarity, companies are cautious about how their business would run. Elaborating on this, Sanjay gives the example of the Restaurant Industry. Post lockdown it's unsure whether people are going to come back to restaurants or not. Some would be coming back straightaway while others would be extra cautious and take time till things turn normal.
Deciding on decisions for now and later will be easy at an individual level but tough in a business landscape. There are numerous challenges that will put friction on business such as hiring, people management, salary processing, etc. Anjali said that while this is being handled, it's necessary that leaders manage people's expectations, especially in these stressful times.
ACTIONS THAT WORK THE BEST
Sanjay suggests that organizations should communicate more and think on alternative plans to answer arising questions such as 'What to do if the planned goals are going to be affected in the coming 3 or 6 months?', 'Is the organization nimble enough to re-plan and adapt to new goals?' and such.
Involve more people
The answer never lies in a discussion between two people. The logical solution for a problem can be found more easily when multiple key stakeholders of other departments are involved in your discussion
Set Short Term Goals
Businesses should have a short-term goal plan for the coming months. Once they are achieved, planning for the next few months is encouraged. The timeframe varies from one company to another.
Empowering Right People
Whether it's people of a particular department or sub-department, granting them flexibility or resources is encouraged. It should be made sure that health and finance aspects are covered for the employees whose presence is needed in the organization. The key is to identify certain teams and plan on how to empower them.
Doing What is Right, Not Popular
What works for one company is unlikely to work for the other. The practices and methods that one organization follows should be well-thought in terms of their standards and compatibility kept in mind.
For further and better understanding, please watch the recording below. Also, view our survey results conducted to understand how mid-sized companies are coping with COVID-19 focusing on goal setting.