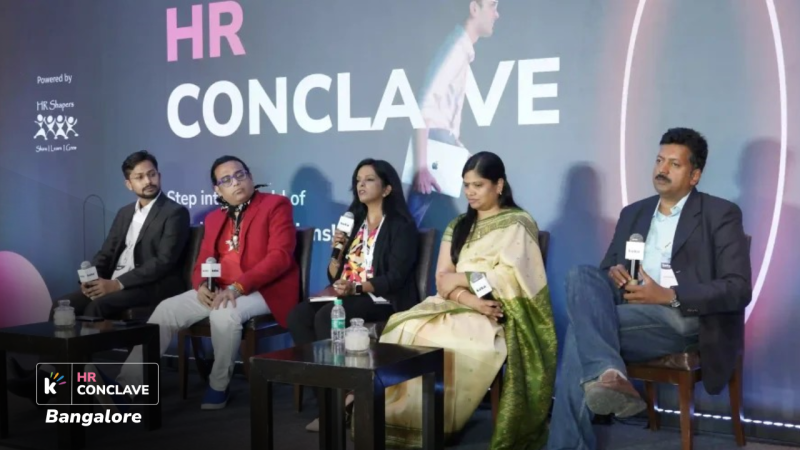 Technology. The enabler, liberator and provider. Yet its tentacles are wriggling into areas we – humans – thought were ours only to claim. A virtue is turning into a specter for employees. Fear is gripping them: of losing jobs, being rendered irrelevant.  
Why not look at things differently? asks Ben Horowitz in 'The Hard Thing about Hard Things'. The simple existence of an alternative, plausible scenario is often all that's needed to keep hope alive among a worried workforce, he writes.  
Similarly, Vishwanadh Raju, Head of India Talent at Dun & Bradstreet, took a unique view at the Keka Conclave: "People who don't use technology to do their job will be replaced by those who do." 
More than 200 human resource executives took part in the HR conclave organized by Keka HR, a payroll and HR management software firm, in Bengaluru.  The day-long event, which is travelling to 12 Indian cities, brings together the best minds in the sector. Besides the panel discussion, the gathering features a knowledge hub where attendees get a chance to enhance their HR management knowledge through books, case studies and use-cases.   
Tech needs human minds
Speaking on "HR Strategies for 2023", Mr. Raju explained: "Technology with human intelligence is the future, not both of them separately." He further linked incubation of relevant technologies to becoming an efficient manager. "Future of management lies in how technology is adopted." 
Going forward, he explained, employee experience had an emerging aspect. "It's no more about the experience of the individual only, but also about how we are dealing with it."  
Harnessing data for evidence-based decisions is essential now, especially in view of the 'Great Resignation. "Analytics is the vaccine for fuzzy thinking," remarked Kshitiz Sachan, Lead Process Strategist, Keka HR. "With people analytics, you can monitor an organization's health effectively."  
In addition, furnishing data into analytics could give you a story that you can act on, he pointed out. As educator Peter Drucker says – You can't improve what you don't measure.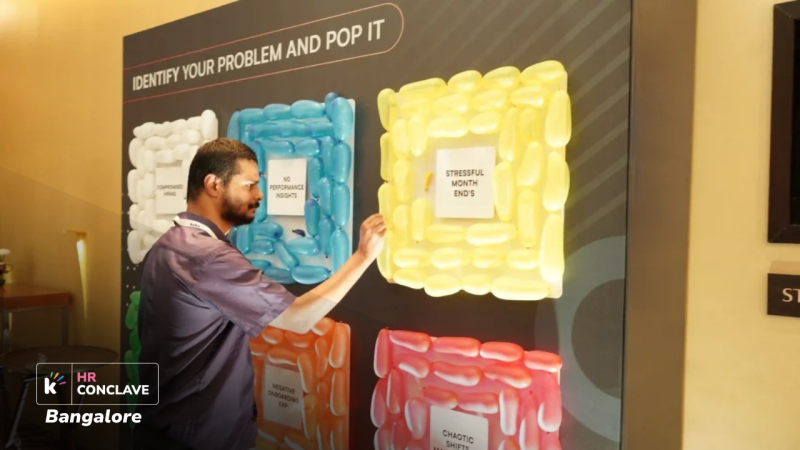 Pick data wisely
To implement human resource analytics, organizations must first set the metrics and key performance indicators. "Identify what matters for the firm and individual employees," advised Mr. Sachan. Next, set up your data sources which track activities on a daily basis, and activate them. "The technology should be user-friendly and efficient. You should know when to and how to use it. And this involves training the stakeholders." 
Further, implement quality check systems to do away with discrepancies. As Ashish Gakrey, founder of HR shapers, the moderator, cautioned: "There is your data, my data and actual data. Pick the data you want to work on." 
And, visualize data to make sense of it. "This is about dashboarding and drafting cyclic reports on which decisions could be taken," Mr. Sachan explained. And finally, identify the actionable items.  
Gamify activities to pique interest 
"Why do people play games irrespective of age?" Mr. Raju asked the audience at Taj Yeshwantpur. "Games are interesting," he quipped. Nearly 32% of product tech companies, from Accenture to TATA, have used gamification in learning and development. Even onboarding is now done through gamification. 
For gamification – using game elements in newer areas -, understand the learning styles of people and use them for engagement. "The learnings employees acquire should be demonstrated in the workplace," said Mr. Raju. At the conclave, gamification came in the form of a question-and-answer session. 
"There is your data, my data and actual data. Pick the data you want to work on." 

– Ashish Gakrey, founder, HR shapers 
Highlighting the application and scope of gamification, Sonali Sahani, AGM HR at the Bangalore International Airport Ltd, said they grappled with the employees not reading policies, a common HR pain point. So, to drive curiosity, the airport has begun a series of policy summaries along with quizzes that are posted regularly for employees. The first five answers get rewarded weekly.  
Using game elements has also aided employees in learning about zero-tolerance policies. Lata Chemudupati, Lead HR and People Practices, NetConnect, said animating material on the Sexual Harassment of Women at Workplace (Prevention, Prohibition and Redressal) Act, 2013 with real life scenarios and quizzes had helped. "This has generated a lot of awareness."  
Let employees speak up
On being asked by Mr. Gakrey if mental health of employees affected productivity, Ms. Sahani highlighted a report which pointed to a recent 25% increase in anxiety levels. "Many are from India owing to the nature of work and high employer expectations," she claimed, adding that the pandemic had impacted the 3 W's: workplace, work and workers. "We're dealing with a new environment. There is no one-size-fit-all model now." 
Illustrating how the airport dealt with workplace stress, Ms. Sahani mentioned the 'Mytime' policy. "We allocate few hours in a month to employees when they don't have to attend any calls or meetings." The airport has also set up wellness zones. "These initiatives were not that popular earlier." 
"Well-being is not just about providing people with what they need, but also preparing them for what is coming," Mr. Sachan stressed. "They should be allowed to express themselves". The cyclic exercise of aligning people's objectives with organizational aspirations will be critical in 2023, he said.   
Further, he claimed the layoffs were hinting at the need for upskilling employees. "The HR now has the responsibility for inculcating acumen in people." 
Meanwhile, Keka marketing head Barun Mallick pointed out: "HR will not be on the business table, HR will be the business table." Yet, challenges linger.  
"Which model works the best for employees?" wondered Ms. Chemudupati. For instance, the hybrid model can entail lower number of interactions and thus lesser collaboration opportunities. Earlier, people sought work-from-home, but after the pandemic they wished to rejoin office. "The challenge is to find a way to get back on the productivity track in the midst of such rapid changes."  
In addition, the HR fraternity has a moral responsibility to bring in well-rounded professionals into society. "That is a selfless project we need to work on to improve the quality of the resources," Ms. Chemudupati implored.  
Innovation is key
On the impact areas using innovative practices, Mr. Raju mentioned the chat box which learnt through machine learning. "Human intelligence when integrated with this technology can do wonders." 
Also, 'Computer Vision' can gauge the mood of employees through biometrics. The technology takes photographs of employees at various points, interprets their emotions and notifies managers to take action in case of signs of stress, explains Mr. Raju.  
"Well-being is not just about providing people with what they need, but also preparing them for what is coming"

– Kshitiz Sachan, Lead Process Strategist, Keka HR 
Exhorting HR executives to go back to the basics, Ms. Sahani said the airport took employees to the sites of stakeholders. "It's about knowing your own ecosystem to identify strengths and challenges. This enables synergy to enhance experience," she said.  
Demonstrating the need to innovate continuously, Mr. Raju has implemented a mechanism for enabling recruitment candidates to secure feedback of employees before joining the firm. "This has improved the joining ratio. Treating candidates with respect is important," he cautioned.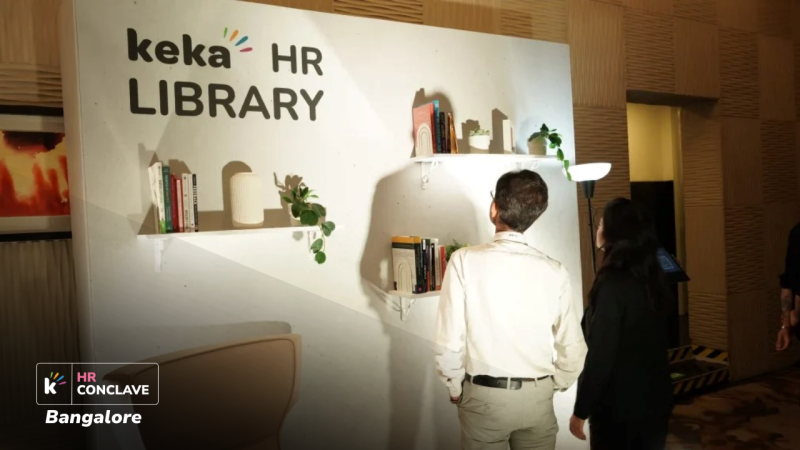 Keka HR, as a future-ready and contemporary HR platform, has incorporated analytics too. It has descriptive, predictive and diagnostic analytical tools to aid informed decision-making, highlights Mr. Sachan. "There is prebuilt analytics in the system. You don't have to suffer from complicated formulae," he explained. Keka ensures the right kind of people with the right dashboards take the right decisions.  
Further, gamification is integrated into the platform. "Widgets such as the team leave calendar and the article-sharing module drive engagement. The attendance sheet with emojis spurs curiosity in the user," he explained. And the platform allows employees to express themselves on a wall.  
Get first book free!
In a bid to encourage reading, a mobile library at the conclave offers the first book free to attendees. Upon sharing a summary of the book on a QR code, the readers are eligible for a 50% discount on the retail price of the next book, deliverable at the doorstep.  
On February 23, New Delhi will be the fourth destination to host the event and feature a discussion on 'Impact of Digital HR on HR-business alignment'.  
Kickstart your HR transformation journey.  
Come, join us by registering here.