Human Resources Head/Director Job Description Template
Human Resources Head/Director Job Description Template
Summary:
We are looking to hire a human resources head who will lead our human resources team and ensure that all human resources-related activities are carried out smoothly and effectively. As an HR Head, you will work closely with the senior management to develop policies and strategies related to human resources. You will also need to ensure the successful implementation of the policies and strategies throughout the organization. You will be responsible to ensure that all HR needs of the company are aligned with the company's objectives.
You must have deep knowledge of HR-related market trends and laws. You should advise the board and senior management on all related subjects. You should display strong leadership qualities on a number of fronts, including demonstrating a high level of professional ethics, nurturing team talent, and championing our corporate initiatives.
Location:_____
Pay:______
Work Hours:______
Duties and Responsibilities: 
The Job Responsibilities of an HR Director include:
Develop plans and policies for matters such as employee compensation, benefits, health, and safety, etc.
Develop and implement strategies for performance evaluation, staffing, training, and development, etc.
Supervise HR personnel and provide expert guidance.
Oversee all the HR activities, initiatives, systems, and tactics.
Act as a point of contact for employee relations and communicate with labor unions.
Ensure compliance with all the legal aspects applicable.
Maintain and coordinate all activities within the HR department.
Ensure compliance with all internal policies and standards.
Ensure grievance redressal and invoke disciplinary actions when required.
Analyze data and report to the board and senior managers using HR Metrics.
Participate in executive, management, and company staff meetings and attend other meetings and seminars.
Communicate with external services providers such as housing, transport, insurance, etc.
Strategize programs and policies to enhance employee growth and satisfaction.
Develop policies to curb absenteeism and employee turnover.
Requirements:
Master's Degree in Human Resources from an institution of repute or its equivalent
Minimum X years relevant experience
Sound knowledge of human resources and labour law
Sufficient knowledge of MS Office and SAP.
Exceptional communication and leadership skills.
Additional understanding and knowledge of human behavior will be appreciated.
Demonstrated ability to establish key relationships with business leaders.
Experience with interfacing with international audiences.
Ability to work against tight deadlines
About Us:
Brief description of your company.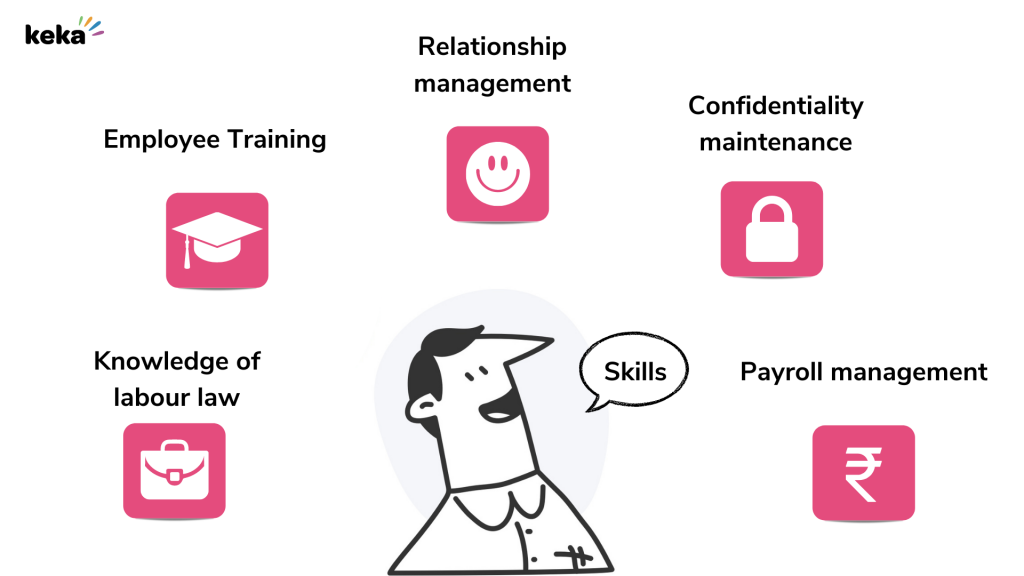 Sample JD's
#1 KPMG
KPMG is proud to be a global network of professional services firms committed to converting understanding of information, industries, and business trends into value. Delivering on this commitment requires recruiting the finest talent available to help lead and shape our firm. When Direct Entry Partners and Managing Directors join KPMG, we provide them with a comprehensive, cross-functional, and consistent integration process. Our team establishes a foundation of trust and reliability through a vested professional and personal interest in the success of each newcomer.
Your Legacy. Inspired.
Joining us in an executive role can provide an opportunity to create lasting change in industries or disciplines that inspire you. At KPMG, our culture of innovation is leading the industry in new and exciting ways. And our size and strength make us much more agile and responsive to changing trends.
We are committed to attracting, retaining, and rewarding motivated, high-performing leaders. We seek growth-oriented executives who have made their mark in the business world and are inspired and driven to build upon their success.
EXECUTIVES WHO EXCEL HERE SHARE SEVERAL LEADERSHIP TRAITS AND PERSONAL CHARACTERISTICS:
Personify a high level of ethics, integrity, and professionalism.
Demonstrate professional excellence and technical knowledge/expertise.
Possess exceptional business/relationship development skills and experience.
Have the determination to champion our corporate responsibility initiatives.
Are committed to advancing our business and the KPMG brand through personal and professional growth.
Your first 180 days
Successful assimilation into the firm is our highest priority, and we have a clear process in place to facilitate your integration in the first six months. This includes access to Integration Stakeholders, whose responsibility is to support the transition of all of our new Direct Entry Partners (DEPs) and Managing Directors (MDs). Each of these professionals has a different role to perform, as well as a vested interest in the success of our newcomers.
You also will be provided the opportunity to participate in our Direct Entry Induction Program and Career Forum. The Direct Entry Induction Program is a function-specific program focused on structure and organization, strategy, market development, operations, and risk management. Career Forum is an annual two-day program that provides senior firm leadership the opportunity to share strategic priorities, vision, and current programming/projects being undertaken in Market Development, Innovation and Enterprise Solutions, Governance, Technology, Risk Management, Partnership/Employer of Choice, and Global Initiatives with our newest Direct Entry Partners and Managing Directors. It provides unparalleled learning and networking opportunity.
Senior Talent Acquisition
KPMG IS COMMITTED TO YOUR SUCCESS
As a Partner/Principal or Managing Director with KPMG, you will provide subject matter expertise to Fortune 500 executives seeking strategic approaches for success in today's heavily regulated, ever-changing business climate. You'll also work to foster the leadership skills of your team through coaching, counseling, performance development, and mentoring. In return, you'll gain access to unlimited opportunities for success.
Source: kpmg.com
#2 ZS
ZS is a professional services firm that works side by side with companies to help develop and deliver products that drive customer value and company results. From R&D to portfolio strategy, customer insights, marketing, and sales strategy, operations, and technology, we leverage our deep industry expertise and leading-edge analytics to create solutions that work in the real world. Our most valuable asset is our people—a fact that's reflected in our values-driven organization in which new perspectives are integral and new ideas are celebrated. ZSers are passionately committed to helping companies and their customers thrive in industries ranging from healthcare and life sciences, high-tech, financial services, travel and transportation, and beyond.
ZS's Corporate Support teams operate the firm's core internal enterprise functions. Our global teams comprise team-oriented, pragmatic, and results-driven people who thrive in a challenging work environment. Our people come from diverse backgrounds, but share a passion for quality customer service and dedication – whether our customer is a client or another ZS employee.
The Human Resources team develops and executes successful recruiting programs, learning and expertise-development initiatives, strategic staffing assignments, effective reporting and analytics, performance management processes, and work-life benefits and operations.
HUMAN RESOURCES BUSINESS PARTNER (HRBP)
The HRBP is responsible for collaborating with key business leaders and the broader HR team to align people strategy to business objectives for designated stakeholders.  The HRBP will act as a trusted partner to business leaders on all people matters.  The HRBP anticipates and assesses people's priorities through the business/people planning process, needs assessment, and action planning in collaboration with business leaders.  The position successfully navigates and collaborates with the broader HR team to provide expertise-based recommendations and value-add solutions. The HRBP maintains a high level of business acumen through a strong understanding of firm and stakeholder priorities (clients, business strategy, financials, practice areas, etc.).
Responsibilities:
Advisory Role
Serves as the strategic partner for assigned business leaders to support people strategy and initiatives across varied HR domains for various business line (office, client, practice area, etc.) in close consultation/collaboration with the broader HR team
Provides insights and advice, not just data, to support decision making and leads change when necessary
Collaborates across a broader network of HR experts (engagement, performance, learning, etc.) to provide well-rounded advice and comprehensive solutions and/or deliverables
Influences decisions by building strong stakeholder relationships and partnerships
Participates and contributes in leadership, financial, and business planning meetings
Workforce Management
Understands business landscape and capacity (supply/demand) to serve as an advisor in relation to utilization and headcount planning through close collaboration with the HR deployment team
Provides information and insights to relevant stakeholders around managing effective utilization, ensuring the right team structures and right distribution of skills to support growth
Supports team sizing, alignment, and succession planning
Maintains an understanding of business pipeline through a strong connection with business leaders, HR deployment, and finance team
Provides recommendations on team structure and hiring needs to be based on headcount imbalances
Supports business unit Manager alignment and succession planning
Serves as a champion for the EVOLVE (career planning) Program
Is a resource for the HR deployment team on large scale staffing dilemmas and intervenes on utilization outliers
Keeps HR deployment team aware of important account strategy initiatives or impending large scale account changes
Consulted on employee transfer cases (domestic & international)
Learning
Partners and advises on content for learning as specifically required to support stakeholder in close collaboration with the Learning team
Performance & Coaching
Provides expertise and partners with the business leaders and performance management team to validate performance information, promotion recommendations, and coaching activities
Supports leadership sessions and communications about performance and promotions
Is a sounding board/expert for stakeholders on coaching needs that derive from the annual planning and performance management processes
May lead performance management follow-ups for Managers and junior team members
Is a champion to create a culture of ongoing feedback and high performance
Professional Development Coaching & Mentorship
Advises and supports business leaders and broader HR team on selection, on-boarding, and training of Coaches and Mentors
Engagement & Culture
Keeps a tab on the pulse of the people by leveraging various sources (HealthCheck, pulse surveys, exit interviews, etc.) and drives effective programs that continue to improve engagement and the ZS 'people experience'
Advises leaders on ways to reinforce and strengthen culture, community, and engagement
Partners with business leaders on issue identification, action planning, and office engagement initiatives
Participates in and supports recognition programs and communications
Serves as a culture ambassador
Oversees employee relation issues which may include:  intake, investigations, conflict resolution session(s), and actioning any next steps
HR Team and Processes
Liaises across HR or Enterprise teams to support stakeholders with specific issue areas (mobility, reporting, orientation, people guidelines, etc.)
Develops and communicates people guidelines, policies, and procedures
Works with other HRBPs and cross hub teams to create and maintain best practices that drive shared outcomes and deliver strong impact/ positive customer experience
Participates in and contributes to HR team meetings
Provides mentorship, coaching, and guidance to the broader HR team
Serves as a change management agent/champion
Qualifications:
Bachelor's degree required (Master's degree preferred)
8 to 10 years relevant work experience, multinational/global professional services required
Demonstrated ability to establish key relationships with business leaders and develop strong credibility
Sound analytical acumen and ability to interpret business metrics
Experience working in a fast-paced and changing environment
Strong mental agility and problem-solving skills
Ability to proactively and continually collaborate with the business and broader HR team to bring the 'best' to your 'client'
Experience in interfacing with international audiences and cross-office teams
Strong project management and communication skills; ability to effectively communicate and work across all levels of the organization
Ability to maintain a high level of confidentiality and work with highly sensitive data and information
Excellent organizational skills and ability to multitask while working against tight timelines
Attention to detail and commitment to get things done, and getting them done well
Sense of humour appreciated!
ZS is a global consulting firm; fluency in English and the local language of the office is required, additional fluency in European or Asian languages is desirable. Candidates must possess work authorization for their intended country of employment. An online application and full transcript/set of marks (official or unofficial) are required to be considered. ZS offers a competitive compensation package with salary and bonus incentives, plus an attractive benefits package.  We are an Equality Directives employer and an Equality Act employer.
Source: zs.com
#3 Uber
HR Business Partner
People, People & Places
in Amsterdam, Netherlands
About the Role
We're looking for an HR Business Partner who will align business goals with employees and management for our Community Operations (CEOs) teams across EMEA, primarily in our key sites in Ireland, Poland, Egypt, Portugal, UK, France, and The Netherlands. You are effectively a consultant to management on business issues and a guide to managers and employees.
A newly created position, this role provides a huge opportunity to shape and deliver the people strategy for the EMEA COEs, and enrich the support structure for management. You will partner with the Head of the COEs and the regional leadership team to identify and execute key HR initiatives and to drive excellence within this business. You will ensure that all HR processes and programs are seamlessly executed to the highest of standards and delivered with the appropriate business lens. You are hands-on – not afraid to roll up your sleeves and get projects done – and approach your work with a people focus and a data-driven, analytical mindset.
Reporting to our HR Director EMEA, you will collaborate closely with regional peers from across the organization as well as global HR colleagues from the Community Operations team.
What You'll Do
Partner with your clients to roll out all key people processes (performance management, compensation, benefits, development programs, etc)
Consult with managers and provide guidance and input on all people related challenges/scenarios
Be knowledgeable about our business, and consult on strategic plans and initiatives to support fast-moving changes to our business model (e.g external regulatory requirements, new product launches)
Participate as a senior member of the Global Community Operations HR Team; provide input, lead and advise on major global rollouts or strategic changes
Provide input on new policies and programs, ensuring central HR functions develop policies/programs that will support and help grow our organization
Provide guidance and input on team planning, succession planning, compensation, benchmarking, etc
Identify training needs for business units and individual executive guidance needs
Maintain in-depth knowledge of legal requirements related to day-to-day management of employees, reducing legal risks, and ensuring regulatory compliance.
What You'll Need
Minimum 7+ years of relevant HR experience, ideally including working across multiple client groups
Excellent understanding of HR programs including compensation, performance management, and leadership development
Understanding of various employment laws across Europe / EMEA and their impact on HR matters
Demonstrated experience in providing HR consultation to senior leadership on strategic initiatives
Demonstrated ability to partner within and outside of HR
Unquestioned integrity; resolve, presence, and sureness
Excellent influencing skills at all levels in the organization and flexibility to be proactive in a fast-paced, ever-changing environment. Proficiency in making timely, effective, ethics-based decisions
Tenacity and the ability to create from scratch are imperative
Outstanding written and verbal communication skills; must be an articulate and persuasive communicator including excellent presentation skills; analytical and problem-solving abilities
Bachelor's degree required; Master's degree preferred
About the Team
Our HR Business Partners work with our client groups to align people strategies with business goals and help drive the greatest business impact through people. We drive seamless execution of HR processes and programs, prepare the talent of today for the business needs of tomorrow, and champion our culture.
HRBPs strive to find the most optimal, fair, and Uber solutions and opportunities to enable employees (and their teams) to grow and develop into amazing employees and managers. HRBPs are ultimately partners to the business, so we consult and help to guide you to a recommended solution.
At Uber, we ignite opportunity by setting the world in motion. We take on big problems to help drivers, riders, delivery partners, and eaters get moving in more than 600 cities around the world.
We welcome people from all backgrounds who seek the opportunity to help build a future where everyone and everything can move independently. If you have the curiosity, passion, and collaborative spirit, work with us and let's move the world forward, together.
Source: uber.com