It's tricky to find talent that suits your requirements, skillset, and also is a great fit for your company. 
If you are still stuck with manual processes, you will be spending more time sifting through resumes instead of analyzing them.  
When you're dealing with a tough job of recruiting the right talent, the hiring tools can be of great assistance to ease you into hiring the required candidates for the job.  
Hiring tools will be of huge assistance to help you find the right talent even if you are finding it difficult to fill a particular position. 
What are hiring tools?
Hiring tools can help in different aspects of the process, from organizing applicant information to promoting openings to tracking the recruiting statistics.  
The following are some software or applications that exist to make the recruitment process easier.  
These are established and tested systems to ensure optimal results as they assist the employers to get the right applicants. 
6 different types of hiring tools
Job Aggregators: These tools are highly popular, as there are many options available in this space, such as job listing sites. 
Testing & Assessment: The applicant's ability and skills are assessed using these tools, to gauge the aptitude, skill, personality, and other such attributes  
AI & Automation: AI-based recruitment tools can screen applicants, analyze information, use chatbots, and other such administrative functions that automate your process while helping you save time and effort. 
Application tracking system: This is helpful due to its function as a database for employers in the hiring process. Great to use as a repository for future recruitment needs. 
Recruitment CRM: CRMs are relationship building and maintaining tools. HR departments can use these to communicate with the candidates and build relations. 
Video Interviewing: It helps to connect with distant candidates, yet still has the in-person experience of the hiring process to assess the applicant in the best way possible.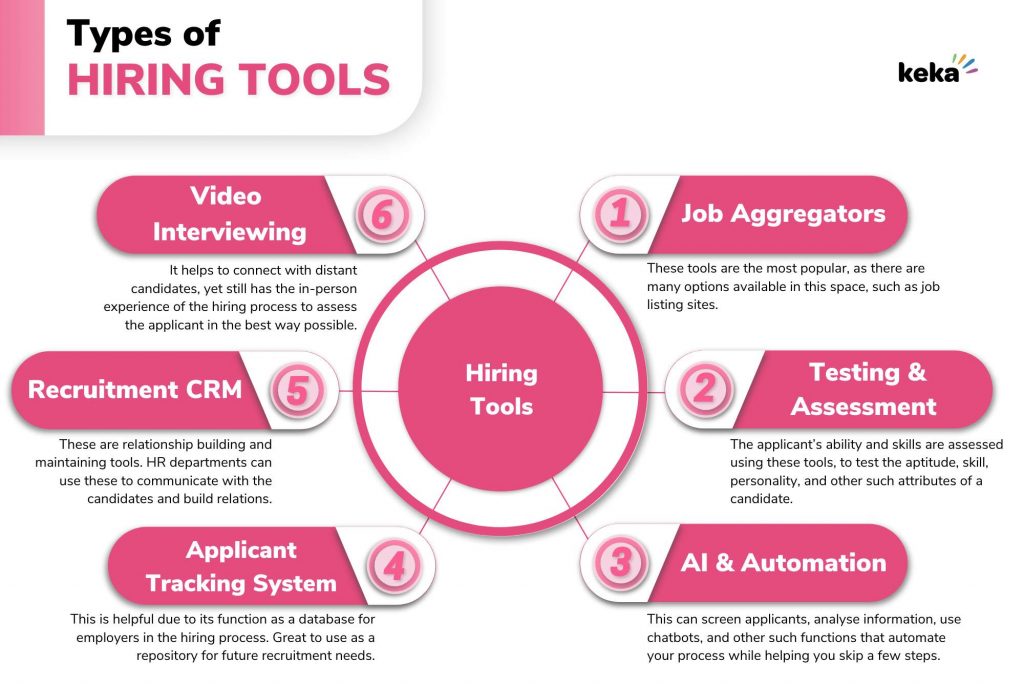 Why use Hiring tools?
With hundreds of resumes pouring in through different channels, recruiters have long since dropped the manual screening of each file. Hiring tools work as great assistants to the HR teams, by simplifying and automating the process and making it easy for employers to advertise and fill job vacancies. They save time and are cost effective. 
The 4 major impacts hiring tools have created
Eliminating unnecessary steps: With the right hiring tool in place, we are automating the whole process of recruitment. With fewer manual steps involved, a lot of unnecessary steps are eliminated as the tools take care of most of it. 
Increased Speed: With fewer steps involved, and most of the manual work eliminated, the process becomes much quicker.  
Increased Speed also helps with ease in scaling up when there is need for a larger number of people. 
Transparency: They provide transparency for both the job seeker and employer.  
For the job seeker: as they are able to track the progress and status of their application throughout all the stages of the process. 
For the employer: as they can receive and verify all the required documents from the candidate without any hindrances. 
Maximum optimization with minimum resources: Businesses are constantly looking to make the maximum optimization of resources while minimizing them. Hiring tools help HR teams in making better utilization of their financial resources through automation.  
Advantages of hiring Tools
Hiring tools function as personal assistants to recruiters as they simplify and automate the entire process. Recruiters who use such tools could advertise job vacancies more effectively, saving time and costs. The following are some of the major advantages of using automation-driven hiring tools.  
Hiring tools effortlessly gather data and help you obtain actionable insights. 

 

This data can also be used to build a talent pipeline that automates and regulates your process and can be accessed at any point by your recruiters.

 

The data gathered by these tools will also help in building employee profiles and analyzing the candidates in a much more effective way.

 

Recruiters have more time on their hands to connect with candidates on a personal level, reflecting positively on the employer brand.

 

With recruitment automation tools in places that help you source and screen candidates more effectively, you have a better quality of talent pool leading to more suited and qualified hires.

 

With so many steps involved in the hiring process, it is easy to lose a resume, forget to send an email, or schedule an interview at the wrong time, with the right tool in place, lesser items slip through these gaps.

 

A robust applicant tracking system such as

Keka Hire

can help you easily scale your hiring process up or down. Whether you are recruiting for one or multiple roles; you can easily adjust and keep things streamlined without having to burden your team. 

 

They protect you from data duplication and help you share or obtain data in a much more simplified way. 

 

Candidates would find it easier to apply for application forms that are integrated with hiring tools as they will require less effort on their part. 

 

Hiring biases are an unfair practice and becomes an obstacle when trying to build a diverse workforce. Using a screening tool eliminates biases and helps you obtain a diverse set of candidates based on their merit and suitability.

 
It is important that your organization chooses the right hiring tool that fulfills your requirements and goes hand-in-hand with best practices, so that you would not have to worry about creating a new challenge while attempting to solve an existing one.  
Conclusion
Hiring tools help recruiters save time, costs, and resources and most importantly, enable them to connect with candidates on a personal level. When it comes to winning the ongoing talent war, they are the most invaluable weapons in your arsenal.  
It is important to identify and zero in on tools that are well within your budget, suit your requirements, and make it easy for your team to collaborate. Their impact on the entire hiring process would multiply your recruitment speed multifold and maximize your hiring ROI.  
If you are unsure about how to go about selecting a hiring tool, feel free to connect with our experts.