Form I-9
Form I-9
Form I-9, or Employment Eligibility Verification, is a legal document that verifies a person's eligibility to work in the United States. Employers must utilize Form I-9 to verify that employees are who they say they are and qualified for employment, according to the Immigration Reform and Control Act.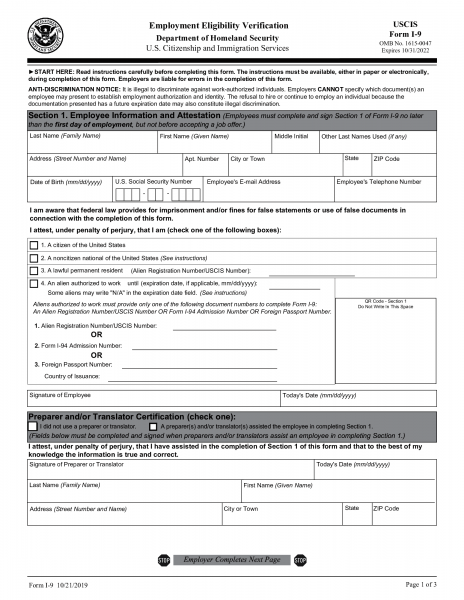 Who needs to fill out Form I-9?
New hires and employers must fill out a Form I-9 before being authorized to work. Each new hire is required to produce identification and job eligibility paperwork. Furthermore, each employer should examine and certify the legitimacy of these documents. New workers are asked to complete and submit their form, as well as any required documentation, on their first day of work.
Do Employees Have to Fill out a New Form I-9 Every year?
Employees do not need to complete a new I-9 form each year. Only those employees, whose employment authorization document(s) has(have) expired are required to reverify their form. This re-verification should take place no later than the work authorization's expiration date.
What Do Employers Do with a Form I-9?
Employers must complete and sign Section 2 of the Form I-9 within three business days of the new hire's first day of work after employees submit it. Employers are required by law to inspect the given document(s) to ensure that they match the form's requirements and are valid.
Does a Form I-9 Expire?
Even though these papers have no formal expiration dates, companies are obligated to keep Form I-9 for at least three years from the date of hire or one year after the employee has left the company (whichever is later).
What Happens If you Lie on a Form I-9?
Lying on a Form I-9 is a civil as well as a criminal offence. Employers who give incorrect information may face the following penalties:
Fines or Penalties

Court orders

Exclusion from government contracts
What is the penalty for Not Having a Form I-9?
Employees who do not submit their Form I-9 may be fired. Employers who fail to produce a Form I-9 may face fines ranging from $230 to $2,292. Those that hire and continue to employ people who do not fill out the form are subject to fines ranging from $573 to $20,130 per infringement.
Can Form I-9 Be stored Electronically?
To make Form I-9 available for review by government personnel, it can be stored electronically, or E-Verified. E-Verify is a web-based system that enables enrolled employers to verify their prospective workers' identity and employment eligibility. It electronically compares the information on Form I-9 to records held by the Social Security Administration and the Department of Homeland Security (DHS).
Employers must ensure that these forms are electronically available for examination by government officials within three business days of the day the forms were first requested.
Can You E-Verify without a social Security Number?
Without an employee's Social Security number, employers can't use E-Verify (SSN). The employer must write this on the Form I-9 and set it aside if the employee has applied for but has not yet obtained their Social Security number. The employee should be allowed to work throughout this period. The employer can begin the E-Verify process once their SSN is accessible.