The 'Performance Review Guide' we are about to show you will win you a better performance from your employees, a lifetime of happiness, and a really good review culture.
Maybe. Who's to say. But it'll definitely make you a better manager.
If you are new to performance reviews, then let's have a look at what exactly is an employee performance review?
Performance evaluation is a formal assessment of an employee's performance during a given period of time. Managers identify the strengths and weaknesses of their employees and offer feedback along with a set of actions that sometimes involves the future of a particular employee at the company. It's vital to identify who we need to give a review, how frequently, and who all are going to see that review. 
Also, do not confuse performance reviews with performance appraisal. The former is focused on progress during a cycle, while the latter is about results. Areas of growth or progress, therefore, are to be discussed early on in the review process. 
Managers have mixed feelings about being responsible for performance reviews. But, we guarantee that if you follow the below steps, you will be able to write better performance reviews without breaking the morale of your team. 
Before we start, we know that not knowing some sample phrases before writing performance reviews can be painful, especially if you are short on time.
We understand the situation, so here's a list of 86+ employee feedback examples for you.
Let's do this.
Make Feedback Continuous
It all starts here. Simply doing one performance review in the entire year is way worse than doing no performance review at all. So, set your process right. Make it regular and set a cadence. However, we understand that this is the toughest part. 
Why? 
Because most people are afraid of writing and having their thoughts read. That's why it is better to make feedback constant and an ongoing conversation because you are not going to remember everything that happened during the last day of the deadline.
You don't want to make employees feel like they're being judged just this one day. You certainly don't want to come across as someone who is simply criticizing now (although your purpose may be to point out areas of improvement) to reduce the financial appraisal. 
Spend time on KRAs. Setting up all metrics includes broader level monthly tasks, end goals, future goals, daily tasks, and more actions, and for that, you need to have a constant conversation with your people. 
Support with regular check-ins
When things aren't going right, your team might try to get away by saying that they didn't have clarity about the weekly agendas or goals. You need to take control of the situation through regular One on One meetings with your team. Round-the-clock 1 on 1's are a tool where the person can't just come and say he/she wasn't aware of the goals. 
Depending on whether you are doing quarterly(every 3 months) or annual(every 12 months) review, take whatever time you have during the week/month to set up conversations with your team. We aren't talking about group meetings, rather individual setups because it allows your employees to talk about things that they otherwise won't.
Motion creates emotion. Accept that it's hard to start writing reviews consistently, but do it anyway.  Use 1:1 meetings to remove the awkwardness and create a healthy bond within your team. 
Be honest and be clear
As a manager, you need to master the art of listening. That's one trait that'll help your team member to explain the situation as it is. Remember, no one is perfect. Not even your top-performing employee, as there will always be scope for improvement.
Because all your employees will have some issues, you need to identify them by keeping a clear line of communication. Positive or negative, discuss it with the employee & keep your mode of writing simple and crisp.
When writing feedback, a general rule is to keep paragraphs around 2-4 sentences. Even the most complex feedback can be simplified.
Choose your words with care
The more we go deep into this topic, the more we want to show you that it's about what you write than about how much you write. Although there isn't a perfect performance review template, it's necessary to pick your words with caution, or you're going to catch fire. 
First, explain 'What exactly is the problem' rather than saying 'there is a problem.' Second, use action words instead of generic words.
Third, keep a record of each employee's skills and qualifications in a skills matrix layout. It is helpful to know exactly which skills, competencies, expertise, etc your team members possess. It allows you to Identify critical tasks and requirements for the present and future.
Here's an image of some keywords you can use for writing reviews: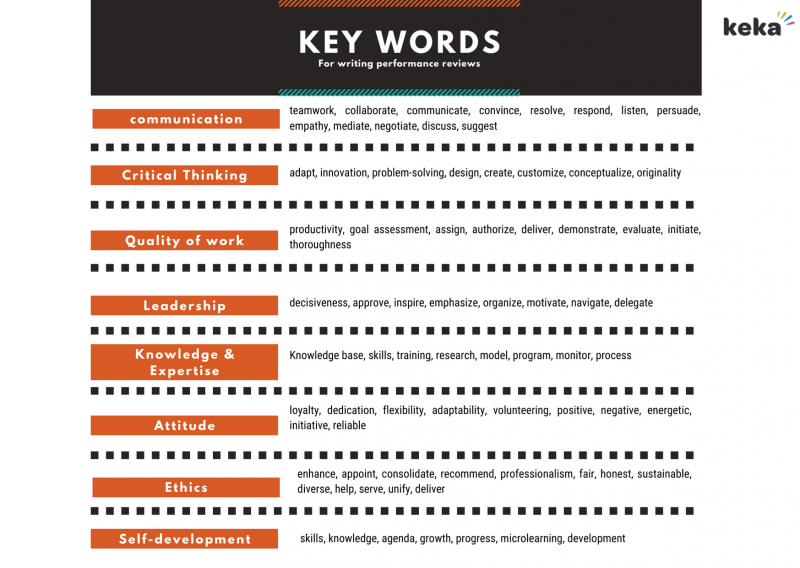 Give constructive and actionable feedback
Every manager talks about 'what to do.' The problem is that most people are aware of it. Be the better manager by telling your employees 'how to do it.'
Showcase your team members not only where they were lacking in the past but also help them out with a roadmap to be ready for the future.
Still don't get it?
For a bad performer (for example, let's assume Raj at your content team isn't performing well), don't just write 'Your work isn't good and you aren't focused', instead describe the issue without burning the personal bridges.
Focusing on important tasks will help Raj eliminate distractions and complete the project on a set deadline. It will help if both of us can have a quick catch up every morning.
You see, this not only helps Raj understand where to improve but also shows positive signs of improvement in his relationship with you (his boss).
Your people want to be top performers, trust in them, and instead of writing vague lines, try to explain the problem with clearly written feedback that is actionable. This is the kind of real feedback everyone deserves, and it's your responsibility to provide it.
Remove the Bias
Not every employee has to work 12+ hrs/workday, not every employee has to accomplish the same amount of work, and not every employee has to be reviewed in the same manner. Every employee has a distinct role and set of goals that they are trying to achieve.
In case that doesn't happen, you need to sit with them and figure out what went wrong. It'd be great if you can do this weekly/monthly as you'll be able to review problems instantly and solve them instead of having a page full of issues on the last day of the year. 
It's best to include self-assessment and peer feedback. For example, In a 360-degree review, you will look at the knowledge, skills, competencies, abilities, and attributes, but also consult peers of the person you're going to review. To avoid any missing links, allow your people to rate themselves so that there is no bias on the final day.
Sandwich criticism between praise
Even the worst of employees do something right when it comes to their work. Kindness, a good team member, Punctual, Organized, etc are some of the traits any of your team members could have despite not having good overall performance.
Bashing only the negatives isn't the right way. Think of feedback like building your favorite cheeseburger. The criticism part should be the patty wrapped around the positives as the bun.
That's right. Be considerate, because every word counts. Nothing more, nothing less.
Alignment of Goals
As your organization grows, the culture becomes extremely important. Every team member counts, and so does the efforts each one of them puts in towards the greater good of the organization. Appreciate your team, as roughly 93% workforce have a desire for employee recognition.
Showcase the importance of every team member and also work on aligning the three goals (individual goals, team goals, and organizational goals). Create a strengths-based culture.
How Keka helps your feedback process
Employee performance reviews are difficult for both managers and employees, especially if there isn't an existing feedback system that gives great results. To help, we suggest you have a performance management system like Keka as your buddy.
Why? Because your employees are tired of yearly reviews. They want instant and continuous feedback. We understand you are stuck with loads of work, so why not let the performance management system handle the manual scheduling tasks and focus on writing suitable reviews for your team.
Ok. That's all…now go write a performance review for your team!