With Tax 2020 Season Coming In, Everyone Is Busy Figuring Out Ways That Will Help Them To File Tax Easily.
People often consider it as the most complex function,whether it's computation of income tax, claiming deductions or filing returns. 
There must be a number of questions running overyour mind like where to invest your money, how much to invest, how to save your secondary income, are educational funds exempted, what is the maximum limit, etc.Finding solutions to all these problems at one place is very difficult but not impossible.Thisis when Keka comes to your rescue with a one stop solution for all your HR problems. 
With an extensive range of features and user-friendly interface, Keka makes it easy for the employees as well as the employers to manage their tax efficiently. It plays a key role to help you save your tax and also reduce the rigorous task of tax calculations and form filling.
Known for it's self-service feature, the income tax tab in Keka is pretty self-explanatory.All you need to do is update the required information. It seamlessly integrates with the payroll system which enables the employeesto have access to their payroll related information and income tax at one place. 
Here is the brief overview of the features that make tax filing and tax saving easy with Keka:
Seamless Integration With Payroll System:
Keka's payroll system not just enables the employers to process payroll efficiently but also serves as a database where they can store information securely.Hence, you don't need to re-enter your salary details for the computation of income tax liable. 
Manage All Your Investments At One Go!
All your investments can be declared here. Kekaallows you to claim all the deductions applicable under various sections in the Declaration tab. All you need to do is, enter the amount, submit the proof of the investment and your good to go!
Here is the brief over view of the deductions under the Declaration tab: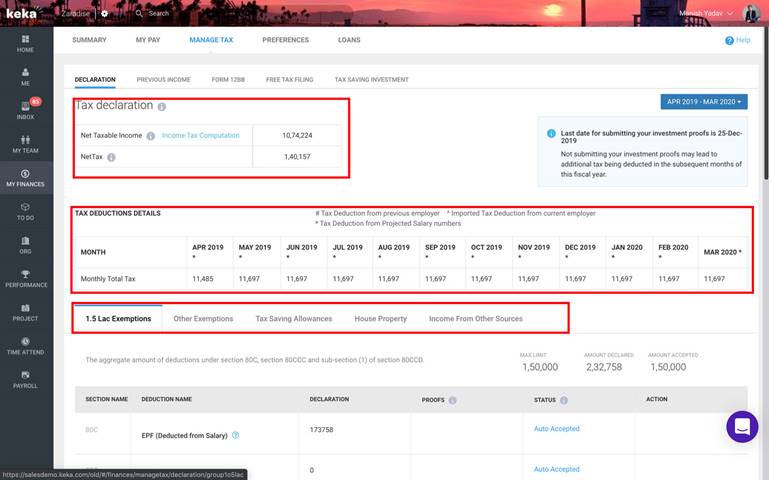 1. Tax Declaration:
You can view your "Net Taxable Income" and the "Net Tax" to be paid, under this section. 
2. Tax Deduction Details:
This section in Keka allows you to have clear picture about your monthly tax deduction details.
In order, to obtain the above values, you need to declare your deductions as per the sections listed below: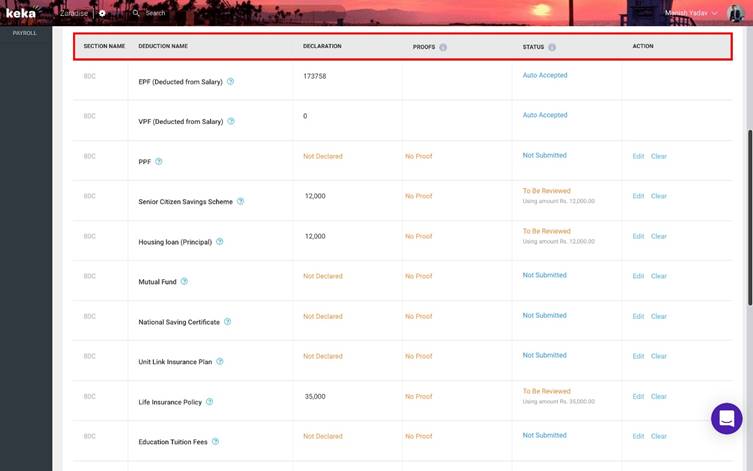 1.5 Lakh Exemptions: 

You can claim all the deductions under section 80C, 80CCC and sub-section

(1)

 of section

80CCD

 here like, 

PPF, mutual funds, LIC, and so on. 

Other Exemptions: 

This tab enables you to 

claim your investments that fall under chapter 

VI(A) fr

om

 section 

80CCD1(B) to 80U. 

Tax Saving Allowances: 

All the other tax allowances 

like LTA

(

Leave

 Travel Allowance

), HRA

(House Rent Allowance)

,

etc.

House Property: 

Along w

ith 

your

 curre

nt residential address, 

also add the other related residences owned by you.

Income 

f

rom Other Sources: 

The income earned from sources other than the salary like 

income earned through profit or gains in the business, income from lotteries

, 

income earned through 

Family Pension Scheme, etc.
This will not just ease the process of tax filing but also help you to plan your investments better, as Keka provides you with the projected tax deductions for the year based on your investments declared. 
Tax Computation Made Effortless!
You can sit back and relax as you no longer need to manually list down your investments, figure out the deductions you can claim and finally compute the tax that you are liable to pay. Keka enables you to effortlessly calculate your income tax with just a few clicks. 
Asper the information updated in the Declaration tab, it automatically calculates the Net Tax Payable by considering the deductions and exemptions claimed in the respective tab. You will be able to access this information under the Income tab under My Pay.
The Income Tax tab provides you a holistic view of your salary and the income tax computation. Itis basically divided into different sections as mentioned below:
1. Gross Earnings from Employment – An overview of your salary breakup.

2. Taxable Income from All Heads – All the tax deductions and exemptions you have made, including standard deduction, will be considered to give you the Net Taxable Amount. 


3. Tax Calculation – Now comes the most significant step, which is the computation of Net Tax Payable. This section allows you to view the tax slabs along with the amount you will be taxed.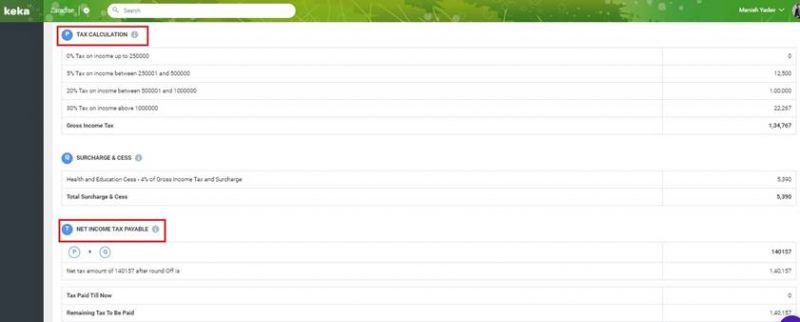 4. Tax Deduction Details – It is the summary of your total tax deductions per month. 

Form 12BB Just A Click Away
Every salaried employee is liable to submit Form 12BB to his/her employer, in order to be able to claim tax benefits on the investments made. Just to give you a brief, Form 12BB is nothing but a statement of claims declared by the employee regarding his/her investments for the respective year.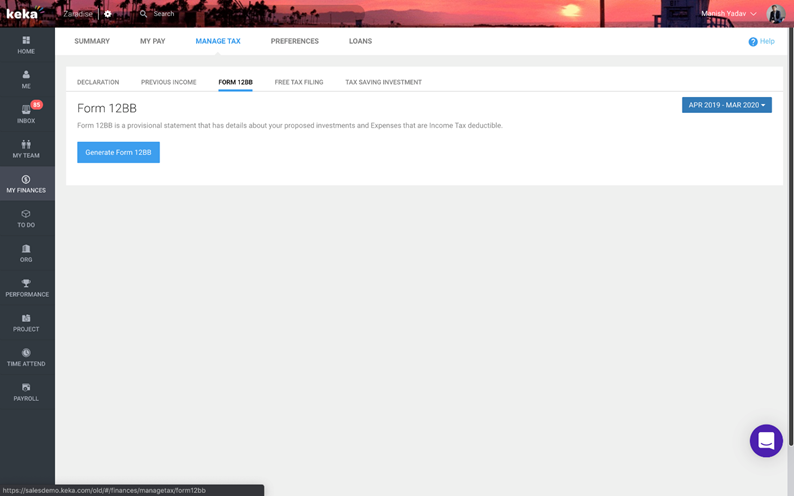 Hence, we made sure that it is readily available for you! All you need to do is click on Form 12BB tab under Manage Tax click on "Generate Form 12 BB". You are done!  
Yes, We Offer Free Tax Filing Too!
Now, filing returns is what we all look forward to eagerly. There are many ways to do it, one of which involves paying a set of amounts as a fee, in order to file tax on your behalf. 
However, Keka provides you to file your returns by yourself, just with a click. In the Free Tax Filing tab under Manage Tax, once you click on "Free Tax Filing" and upload your Form-16 PDF.  
 Keka is a one-stop solution for challenges incurred by employees related to declaration and filing for income tax.