Performance reviews bring more anxiety than joy. Especially during a self-appraisal process. An employee's mind is full of things like: 
Should I only talk about achievements?

 

Am I bragging too much?

 

Am I being self-critical?

 

and more…

 
It's difficult to know what exactly should you write in your assessment about your work.
In this guide, you will see why self-evaluation is important for your career growth.
What comments for self-appraisal you can use, and how can you write a review during your self-appraisal process. 
What is Self-Appraisal
Love it or hate it, we are always at the receiving end of some form of judgment.
At work, our boss and colleagues provide their fair share of feedback.
However, sometimes we do not agree with that feedback and want to put forward our side of the story.
It is where self-appraisal meaning comes into play.
It is the process where the employees review their performance.
Organizations want to listen to the employees. 
They even want to reflect on their productivity from the past performance cycle. 
It helps in figuring out the areas of improvement and what results can actually be used during the appraisal process. 
Recommended Read:– Performance Review and Performance Appraisal
Why Self Appraisal
Are most employees scared of the process?  
Yes, they are, at least according to this study.
While the process may be considered dreadful, the process can do so much good if implemented in the right way. 
Here are a few reasons why the self-appraisal process is important and why your organization should have it too. 
Promotes Accountability 
It helps employees take ownership of work.
Now, the employees can't leave the assessment part to only their bosses.
They have to actively track the impact of their work and show it during the self-appraisal cycle conversations.
Plus, their opinions are valued. 
Better work relationships
When all parties are involved, it leads to stronger relationships in the workplace.
Self-appraisals are a platform to engage in continuous conversation between employees and managers.
As employees have their voices, it reduces the chances of bias and conflict. 
Two-way communication
Two-way communication involves active listening.
Generally, managers talk during the appraisal process and do that a lot.
However, self-evaluation meaning normalizes the interaction for every employee.
They can talk about strengths and weaknesses.
They have done the work themselves, so they highlight their outputs better than anyone else.
It provides deeper insights and a clear picture of what happened during the performance cycle.
Rewards go to those who deserve them. 
Motivated workforce
Employees feel empowered when they are offered trust. 
Self-assessment is a way of telling an employee that 'we trust your judgment on your work.'
Each employee participates actively in the process.
It is a time to identify motivated employees according to the quality of goals they set and how they were met and assessed.
Eventually, it leads to better output and more employee engagement. 
Career growth
When employees assess themselves, they get a clear understanding of their strengths and shortcomings.
All employees have career aspirations.
To reach a certain path, they need improvements and the ability to learn new things. 
Here is an example of self-evaluation for performance review: 
Training needs are identified along with future preferences.
Self-appraisal is a time where employees can tell their bosses about what they want going forward.  
How to write Self Appraisal
There is no specific format for self-appraisal. 
This part is specifically for employees who will assess themselves during the process.
Focus on positives and keeping the process straightforward for all stakeholders.
The STAR method is effective when writing self-appraisal.
It involves situation (S), task (T), the action (A) you took, and the results (R) you achieved.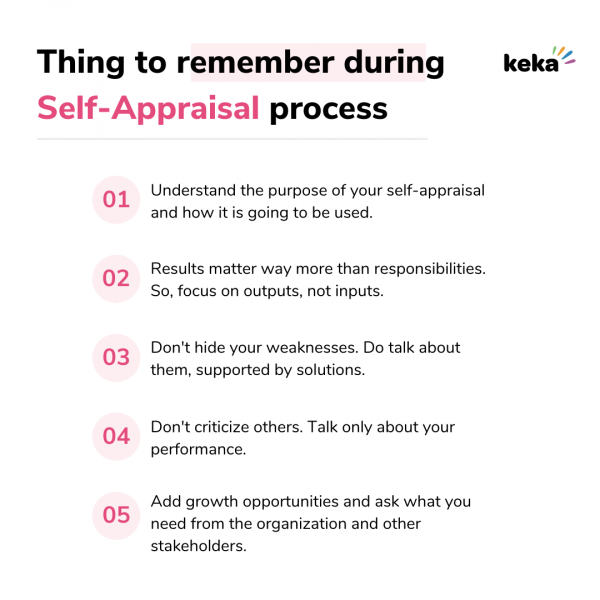 Try the following suggestions: 
If you don't advocate for yourself, no one else will.

State everything objectively and clearly.

Do not, but focus on the results you achieved.

 

Talk about where you need improvement.

No employee does everything right.

Be humble and specific about areas of development.

 

Talk about what you've learned during the journey and how that's helped your career.

 

If you're talking about weaknesses, please add solutions to show that you feel responsible and want to solve challenges.

 

Pick your words wisely. Include numbers, measurable objectives, and show results.

Nobody wants to listen about responsibilities. People want to see outputs. 

 
Recommended Read:– How to Prepare for Your Self-Review
Self-appraisal Examples
Three years in a row, Roshan Singh*, a senior marketer at an MNC, didn't achieve the goals he set for himself.
"I was optimistic and set challenging goals for myself," he says.
His performance evaluation took place against the goals he set, and he struggled.
"Most people just talk about their achievements, but I wanted to talk about the shortcomings too," he adds. 
After evaluation, he listed out each goal, explaining which ones weren't met along with the reason.
Roshan also added goals that were achieved and extra work that he did during the year.
It was risky but integrity mattered more to the guy than anything else.  
His boss and department head reviewed the self-appraisal form and felt surprised.
"They were happy that I mentioned my failures along with an improvement plan. 
Plus, I had a decent list of achievements as well," he explains.  
Roshan's calculated yet truthful approach paid off and left a good impression on the stakeholders. 
51 Useful Self-appraisal Comments 
We have a list of 51 self-appraisal comments to help you out. These self-appraisal samples can be tweaked as per requirements. 
Communication
I communicate my expectations clearly to all stakeholders. 

I maintain contact with department heads and stay an active part of team meetings.

I provide constructive feedback and focus on solving challenges with communication. 

I present my ideas in a skillful, effective, and professional manner. 

I share relevant information with my team members, so everyone stays on the same page.

I proactively communicate changes with stakeholders the moment they happen.

I provide appreciation publicly for the awesome work my team members do.
Job Performance
I love my job and value performing well every day.

I frequently work on solving problems that are not included in job responsibilities but are affecting the team.

I focus on promoting teamwork.

I have exceeded my performance goal (mention goal) by (mention a number in percentage).

I work without bias.

I work on improving my performance every day.

I am always open to questions and helping out my peers.
Reliability
I don't commit more than I can handle at work. And I follow through on whatever I commit to others.

I have met all my major deadlines with tremendous results.

I prioritize my work and focus on the important tasks first.

I keep a check on my team and customers' needs and plan my schedule accordingly.

I'm punctual and stay active during work hours.

I take guidance whenever necessary to solve problems.

I keep prompt communication involving customers and peers.
Customer Success
I effectively handle customer queries.

I use the 'listen first, suggest later' approach to better understand our customer's pain points.

I go above and beyond to help customers get the information or solution they're looking for. 

(mention a number) % customers have given a maximum rating on my customer satisfaction survey.

 

I continuously strive hard to improve our customers' experiences.

I always try to understand our customers' perspectives and give solutions that suit their needs.
Innovation and Creativity
I regularly try to find ways to improve our work processes.

I can quickly adapt to newer situations and surroundings.

I approach each challenge with a 'get this solved' thinking.

I love to collaborate with others for ideas.

I focus on solutions.

I keep myself in others' shoes and try to find a solution that suits everyone in the team.

I seek out opportunities to connect and learn from everyone around me.
Growth and Development
I set goals that help me grow professionally and personally.

I take care of my development path by upgrading my skills.

I am a self-learner and pick up new skills from people around me.

I find opportunities to connect and learn from other amazing folks in my field.

I have a clear vision for my career and take steps to achieve it.

I learn quickly, and that's why I adapt to change without any trouble.

I love learning new things. Recently I learned (mention details).
Performance improvement
I have realized that I need to be more transparent with my team members going forward.

I'm good at customer support, but I can improve during follow-ups.

I shy away from difficult conversations as I try to be positive all the time.

My communication with larger groups or projects which involved multiple departments needs improvement.

I follow traditional methods am not always open to new ways of thinking.

I don't always share ideas during conversations, and it leads to more passive team talks.

I do focus on my teams' needs. However, I sometimes take leave without informing others on time.

It's hard to approach me during work hours.

I don't always ask for help. It sometimes leads to more problems than before.

Although I finish projects on time, I don't update my skills. Upgrading my knowledge is something I need to do.
Recommended Read:- 120+ Performance Appraisal Comments to Convey the Right Feedback
Self-appraisal Template
Here is an example of a template: 
"Over the past year (or mention any other period), I have been able to accomplish the following goals (Mention numbers and results). These achievements have impacted my work in the following way [provide details). Lastly, there is always scope for improvement (mentions areas of improvement and some solutions you have in mind)." 
Recommended Read:- Appraisal Letter Format and How to Write
Conclusion
Writing self-evaluations can be difficult. However, with a clear and honest approach, you can do it well and even impress your boss.  
To learn more about the role of feedback in modern organizations, book a free consultation today.