Human resource reports play a crucial role in management decisions. Traditional data collection and storage techniques often result in the deposition of vast volumes of paper in filing cabinets. It will be relatively simple to locate files pertaining to individual staff. Finding patterns in this web of information, on the other hand, would be virtually impossible.
The best approach to the problem is digital HR reporting software. In real-time, you can input and extract relevant data, filtering and sorting it to generate valuable results. Furthermore, frequent reporting through HR analytics software assists businesses in upholding their corporate culture, attracting and retaining employees, and providing them with valuable expertise while ensuring the astute opportunity to perform at their best.
The smart application of data analytics by automated, HR-focused BI dashboards is part of becoming an efficient, data-driven enterprise in today's hyper-connected digital environment. Companies can continually and constantly develop their HR capabilities by using HR KPIs (key performance indicators), which are metrics that allow firms to monitor very precise aspects of human resources-related data.
Employee reports for managers as well as team members are an essential part of any business that wishes to gain a strategic edge in our cutthroat environment, regardless of scale.
That being said, in this blog, we'll take a glance at how Keka helps you generate various employee reports at the ease of your fingertips and how technical dashboards will help us understand the importance of employee reports in the modern era. Not only can you gain a thorough understanding of the employee work trends through these reports, but you will also gain a greater understanding of HR data-driven dashboards in the business.
So let's dive straight into it. To begin with, let us first list down the categories of Employee Reports:
Employee Info
Right from your employee documents to their job details, get all the employee information you need through these reports.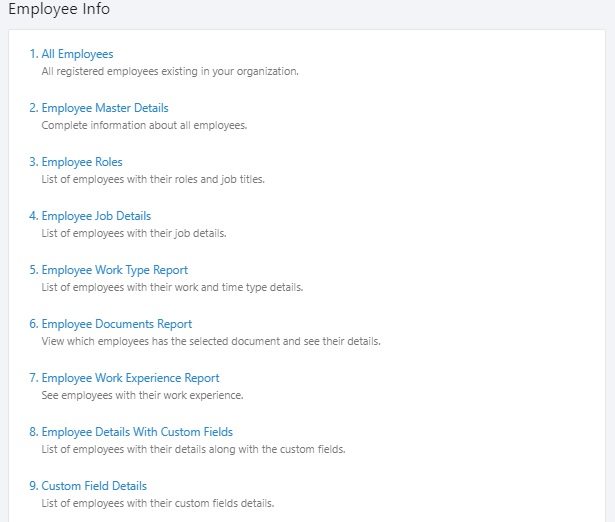 For instance, if you need the list of employees with their job titles, you can instantly pull an Employee Roles report. All you need to do is select the desired parameters and run as shown below
Invites and Registrations
Finding it hard to check if your employees have received the invites and registered themselves? These reports are your ultimate solution. Track the status of all the employees at once by using these custom-made reports.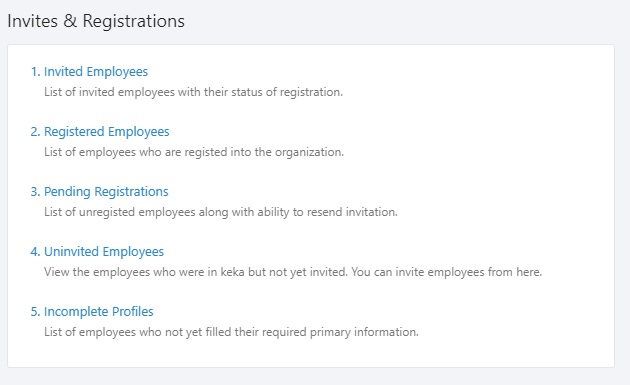 New Joins and Exits
Generate various reports on probation status, employee exits, and more with just a click through Keka's insightful HR software.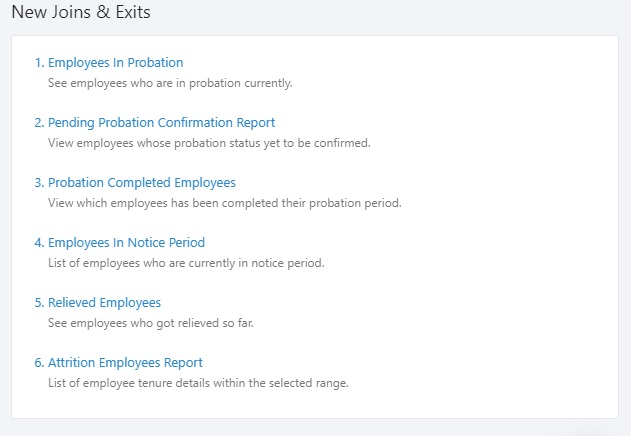 Onboarding Dashboard
Streamline your onboarding flow through this simple, easy-to-use onboarding dashboard that enables you to seamlessly create onboarding flows based on the level of new joiners so that you do not set it up each time a candidate joins!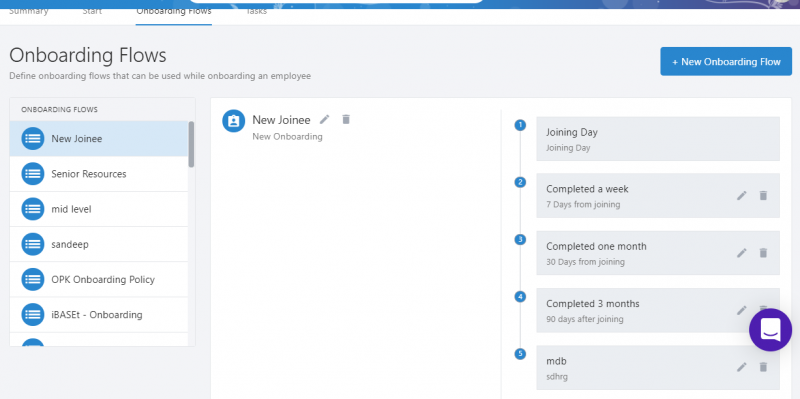 Right from kick-starting their onboarding process to assigning the tasks, you have it all!
Logins
Keep track of employee account setup and logins with the help of these reports that ensure you foresee the challenges and develop strategies to overcome those!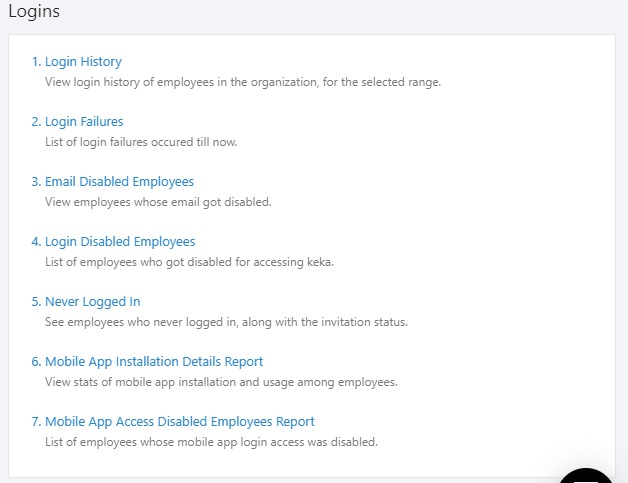 Employee Policies and Others
Sort and get information about the tracking policies, salary revisions, leave plans, and shift details through this set of reports.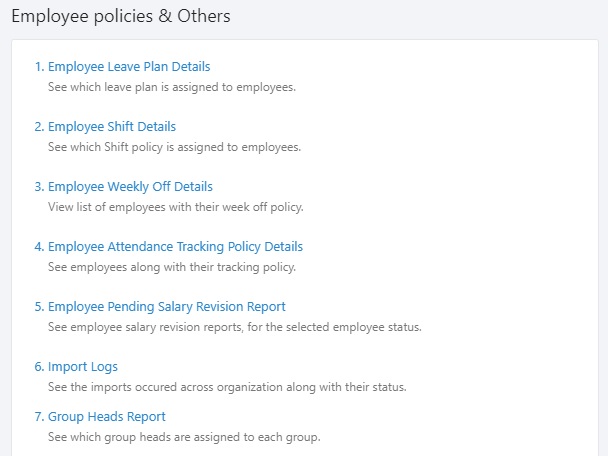 Employee Aggregates
Avoid spending hours sorting employees based on different attributes just to get an aggregate count! These reports will help you with providing an aggregate of employees offering you various options to sort from.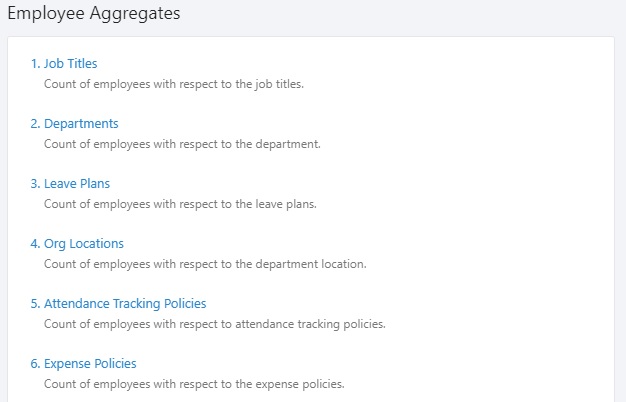 Employee Demography
As the name suggests, you can instantly get all the demographic details of your employees by using these reports.
Pulse Surveys and Reports
One of the newest additions, which is also known to be the most intuitive and non-intrusive medium of gaining insight into how your employees are actually feeling in your organization!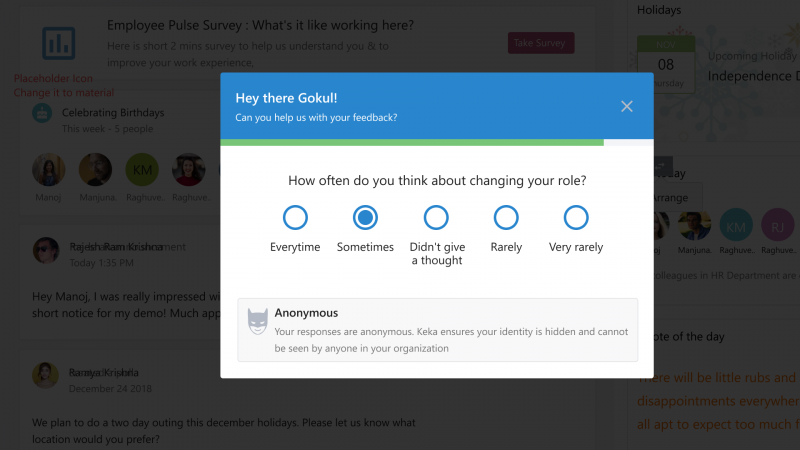 Moreover, the Analytics will actionable data and insights which you can leverage to identify the gaps and improve employee engagement in your organization.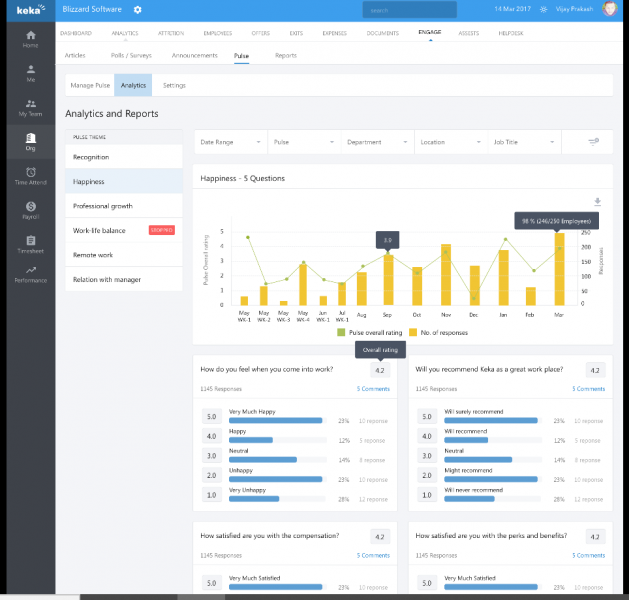 Negligence Dashboard and Reports
Negligence dashboard enables you to have a glance into various employee shift aspects such as average hours worked/day, number of late arrivals, number of frequent breaks, etc for the last 14, 30, 45 days or based on the custom date range selected by you.

And in case if you want to analyze it in detail, we also offer you a set of reports that will help you gain more insights into these trends.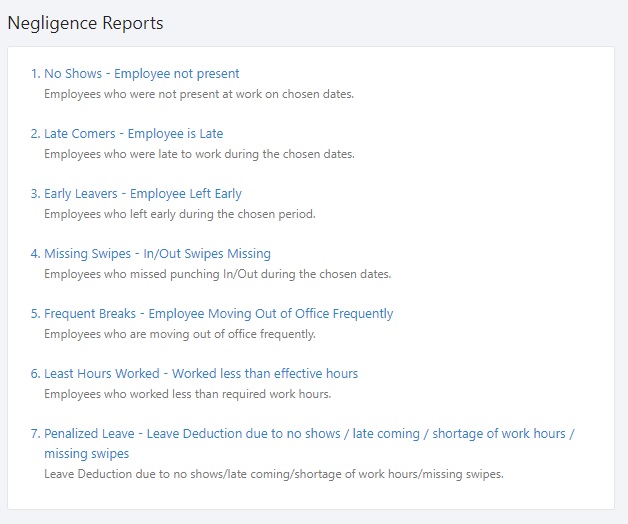 Let me walk you through the process of pulling the report. Like any other report in Keka, these negligence reports too have the same steps: Select->Click->Run! Just as shown below for the Late Comers report.
Attendance Dashboard and Reports
Attendance is not just about employees punching in and out. We truly understand that and hence offer you a comprehensive view of all the details right from attendance approvals and OT requests to shift approvals and punctuality trends!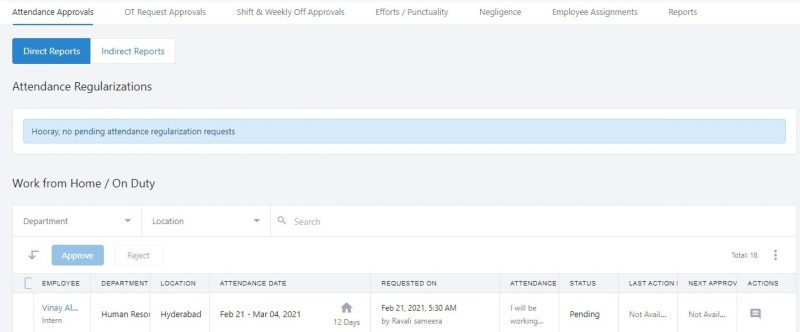 And to empower you with more data, here's a list of attendance reports that enhances your attendance tracking process on the whole.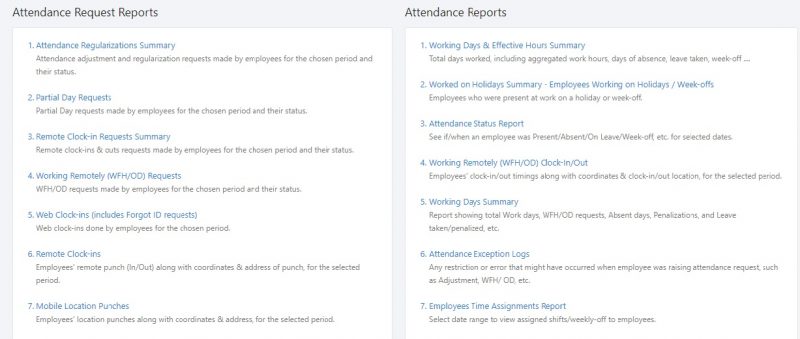 Leaves Dashboards and Reports
Another most essential aspect managing leaves for your workforce. It is very important that your HRs and managers have an overview of the leave consumption trends of your workforce/team. And the various kinds of reports we offer will ensure that you capture every employee leave-related data with just a few clicks!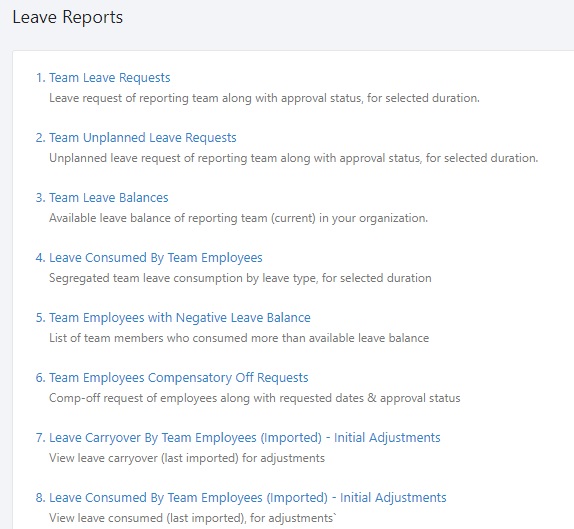 Time and Attendance Dashboard
Your managers will be intrigued to see the total leave and attendance stats of their teams through these informative dashboards.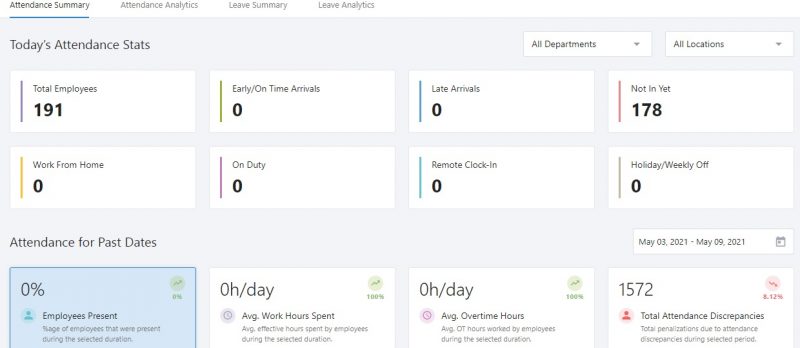 You can also sort and see the trends based on the department and locations you select from the dropdown when you wish to analyze it as per your requirements.

Helpdesk Reports
As they say, a good Helpdesk is the one that not just enables quick ticket resolutions but also empowers you with meaningful insights via data visualization and reports! And Keka is known to offer an awesome experience, has curated the dashboard to ensure you keep a close eye on your tickets and get all the data you need through a well-defined set of reports.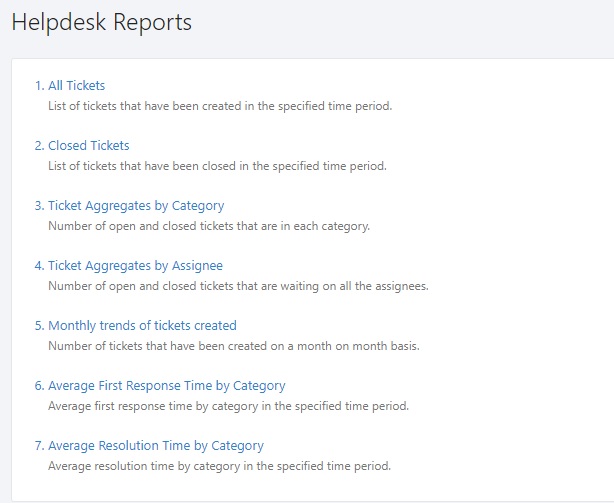 Keka offers powerful HR reporting and analytics tools that can transform the business. It's a secure framework that improves HR departments' competitiveness. Your HR leader will be able to produce reports that explicitly describe the organization's shortcomings, promote future preparation, and monitor employee success efficiently.