In these unprecedented times, that all of us are experiencing there are a range of emotions that individuals are going through.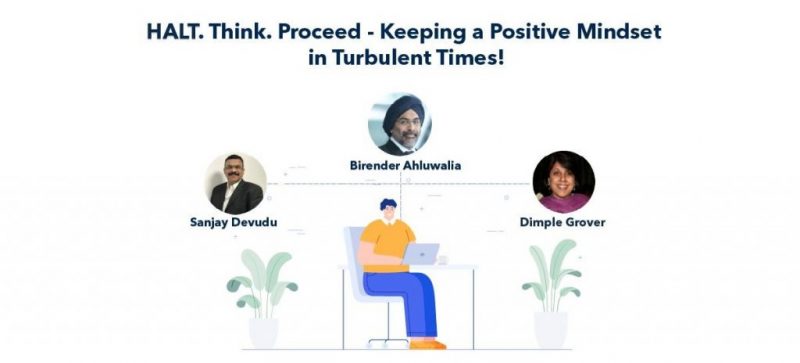 There has been a tectonic shift towards new paradigms and times that have changed drastically due to which the instability sneaked into individual's lives in terms of work and wellbeing. 
Birender Ahluwalia, Dimple Grover, and Sanjay Devudu have come together to address those emotional feelings that people are going through, their thoughts and concerns, whether these are pertaining to these times now or what the future has to bring. To talk about how we can find happiness and bring stability in us in current times. 
DISSECTING THE CRISIS
Today, we live in a world of Interconnectedness (through technology) that brought the world together even closer and gave a new perspective towards the way we work. Every individual in their life follows certain patterns that include how we live, communicate, respond on a daily or monthly basis, be it at an individual or organizational level. In simple terms, these patterns are our habits due to which we are stable in life.  
At times like this where we witness a huge change, our patterns tend to change. This changed lifestyle brings new challenges where we try to find solutions that are not a part of our lives altogether. Ultimately this brings in stress.  
Here one feels the need to take care of their emotional well-being and look into the responses of fight or flight. A crisis can be defined as a challenge that we are looking at on a daily basis.  
But how do we cope up when there are a challenge and no response? 
At an individual level, we feel traumatic and need to take up challenges in an optimistic fashion and leaders have to emerge and come down to inculcate emotional agility. 
Things are changing at a rapid pace and what worked previously is unlikely to work in the future. We are in a constant hunt for new solutions to overcome challenges and during this process, we have to keep up our emotional balance. This is where the whole idea of positivity comes in! 
"Because now I think the survival of the organizations would not only be on terms technological agility but it would also depend more on the emotional agility" – Dimple Grover 
OPTIMISM AND PESSIMISM
There's a general misconception that optimism is good and being pessimistic is bad. Actually, there's nothing good or bad about being optimistic or pessimistic, both are situational. What distinguishes them are these 4 characteristics, 
Internal
 Vs External
When you are optimistic your thought process would be inward and would be exterior for pessimism. For example, when we are facing a crisis, we think whether it's going to impact my family or am I doing enough for them and you would go overboard as a response to protect your family.
That's pessimistic. When you are an optimistic person you point it outwards and think the situation is from the external environment and has nothing to do with your adequacy and further take steps to overcome it. Both work in the circumstances we are in and depends on how we execute our thought process. 
Negativity
 Focus
Our focus can be of two perspectives either we can be unsatisfied by the number of resources available with us (pessimistic) or utilize the available resources to serve our own needs (optimistic).
Permanence
 & Temporary
 Pessimistic people allow thoughts that say there is a dead-end ahead and nothing can be done about it. While on the other hand, optimistic people can think beyond the negativity and consequences because they understand that time changes so does the current scenario.
Specific
 Vs Global
Being specific when it comes to changing a few aspects of your life in contrast to thinking that everything is being a problem is what differentiates optimists and pessimists. 
So it can be said that optimism is the golden mean of all these aspects. It's no wrong if one is on the other side of it. It entirely depends on the scenarios and circumstances to choose what's best for one's conscience. 
HAPPINESS IS DYNAMIC
We always wish for happiness which we assume to be long-lasting. Science says otherwise as we react to things that make us happy that eventually become normal. 
A research was carried out by scientists on jackpot winners to know whether happiness would be long-lasting. Interestingly enough after around 9 months, their happiness graph has come down.
Another research was carried out on cancer patient whom the doctors told he would be cancer-free soon. His happiness peaked and has come down to normal state over the next few days of time. This is when scientists discovered 'Post-Traumatic Stress Growth' in other words 'Resilience'. 
All through our lives, we have been said that when we work hard and achieve success, we will be happy. But now the equation has been changed, the positive people work harder and are therefore more productive and happier. 
"One mistake that we are making is to call the current situation as new normal because there is no new normal, what you choose to do on a particular day would be irrelevant over the next few days. We have to train our brain to foresee the challenges, it will start enjoying that" – Birender Ahluwalia 
The top 5-10% of the employees in the organization who were on the frontline before the crisis are shining even brighter now with their proactiveness and taking ownership and leading initiatives. People who are pessimistic about their job continue to be in the same state as they were before.
The key to happiness lies in our hands. The key to bouncing back and happiness is in our hands and therefore able to navigate ourselves during this crisis is also in our hands. 
UNDERSTANDING STRESS
We conducted a poll on how much stress did the attendees have experienced in the last week on a scale of 1-10? 
It can be seen that people experienced it differently. It is that people who dealt with less stress are those who maximized the effective usage of available resources, whereas others became less enthusiastic and got engulfed by stress. That's what distinguishes the positive deviants from others. 
This is where Optimism and Pessimism come into the picture. 
There are different thoughts that come to people's minds say like how their future looks like, their salaries, worrying about the family and all these lead to mixed feelings of confusion, being alone, distrust. In order to fight back, people make bad choices such as overeating, overspending time on the internet, not exercising which will make it a negative lifestyle. 
Whereas on the other hand optimistic people will think through the situation with a positive mind and develop positive feelings such as hope, and inspiration. Further, the design steps to develop and connect and engage with others.
How are HR leaders being on the frontline and helping the business? 
Currently, HR leaders are following a 3 – Pronged Strategy, 
Reaching
 Out To 
Network
 HR professionals have been communicating with each other to know what are the best practices followed to implement in their organizations. It is happening through different mediums such as HR groups on social media platforms, Forums, sending their queries out to have them answered by others.
Finding
 Positive Deviants
 They are finding and bringing the top performers under the spotlight and spreading the positivity to all others to up their game.
Bringing
 Sense of Calm & Stability
 When leaders interact with employees, they are being empathetic towards them. Being well-wishers and assuring them with psychological safety they need the most during this time. 
Stress is perceived as a bad thing and however, it exists in us at some point in time. It becomes harmful when it feels against your will, isolates you from others, you feel inadequate to reality of life.  
On the flip side, stress can be embraced too. When it is giving you the opportunity to learn and grow, rise to the challenge, acting as a catalyst for courage, connection, and compassion. Because of how it enables you to push yourself towards your goals and achievements, it yields you an enjoyable success. 
We suggest you watching the video where Birender has talked in-depth about stress, how to cope up with it, exercises to get instant relief, and practices to follow to keep a positive mind amid the crisis.