Data, when used right, is a darn good thing. – said every modern organization that is leveraging it to their advantage.  
Imagine that you, along with other stakeholders, are working on a crucial project for the company. You want to spend your time making business decisions, but all you do is track project hours, resource utilization and individually reach out to everyone for project updates. This scenario fits any organization that doesn't use modern timesheet software. Tracking time, project hours, and resource utilization are things that a timesheet software does. But only a few are good at playing gathering, analyzing, and reporting data. 
What does that even mean? 
It's simple. If a software only collects data without actually presenting it in a way that anyone will understand its impact on business, then it's not worth it. But if a timesheet software can churn out reports that show a clear business impact, that'll be helpful. For example, any software that automatically tracks project updates is good. But it'll be great if it can analyze a project under different parameters and gives us a report on the success status at a particular time. Data-driven reports, especially when the project is at risk, will help too. 
The bottom line is that no CEOs, leaders, managers want to spend time analyzing data. They want to spend time with the already analyzed data and make decisions that would remove roadblocks.  
It is why at Keka, we are building a powerful reports mechanism for all our modules. And yes, it includes the timesheet software. In real-time, you can input and extract relevant data, filtering and sorting it to generate valuable results. The generated reports will help organizations: 
Make better and quick decisions that support the business.

 

Reduce loss of resources in real-time.

 

Automate processes to reduce project completion time.

 
Here's a list of reports you'll find on Keka's new timesheet software: 
Project 
Status
 Dashboard
This dashboard will give you a summary of all the ongoing projects and their health status: 
Projects at risk/need attention will show the list that needs immediate attention, or you'll 

lose

 money and resources.

 

Projects that are doing good will help you focus on your 

revenue

 targets.
Based on the health, you can view details and take direct actions from the dashboard itself. 
Summary of tasks and hours (billable/non-billable).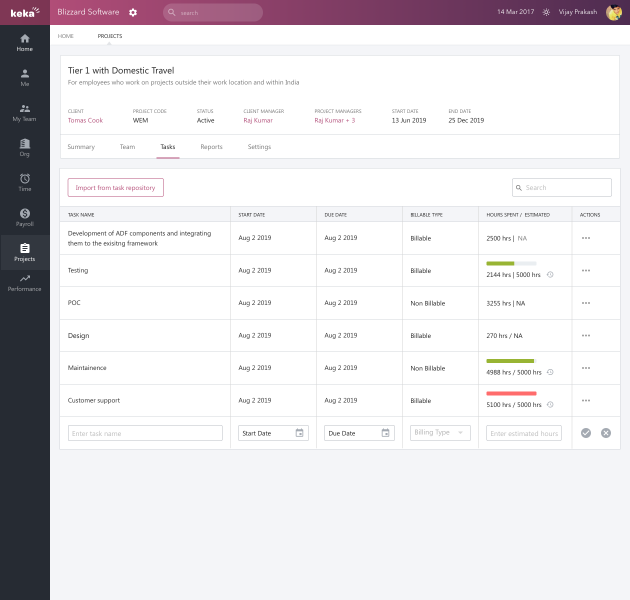 Overall timesheet summary.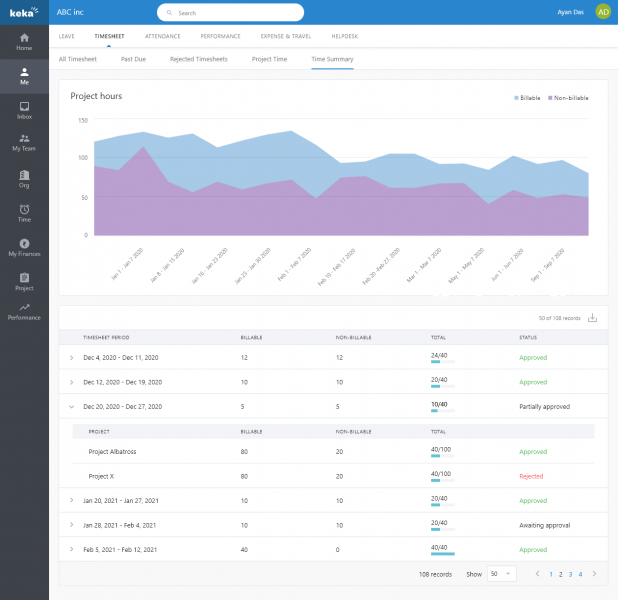 Kanban View.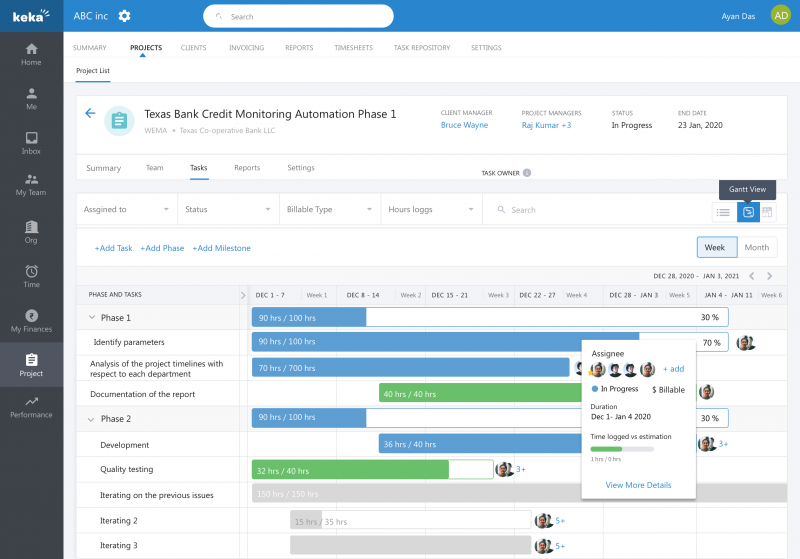 Summary of resource allocation vs utilization to give you a clear picture of proceedings. It will help you allocated unutilized resources on projects that need assistance.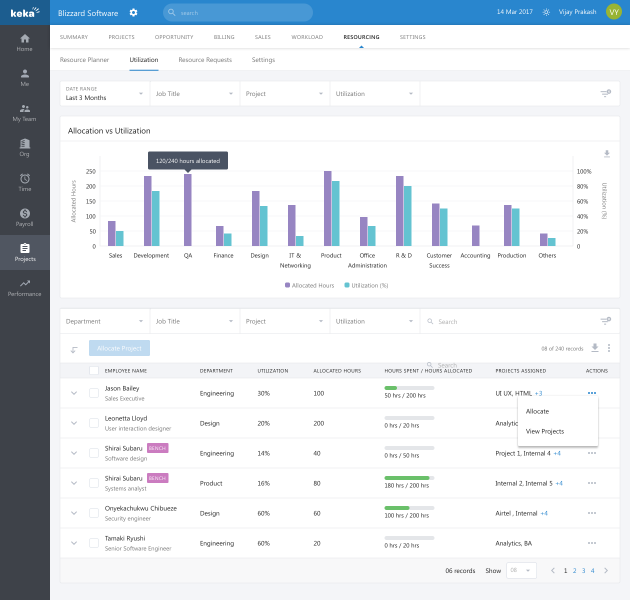 Quick reports for work hours spent on every task in the project.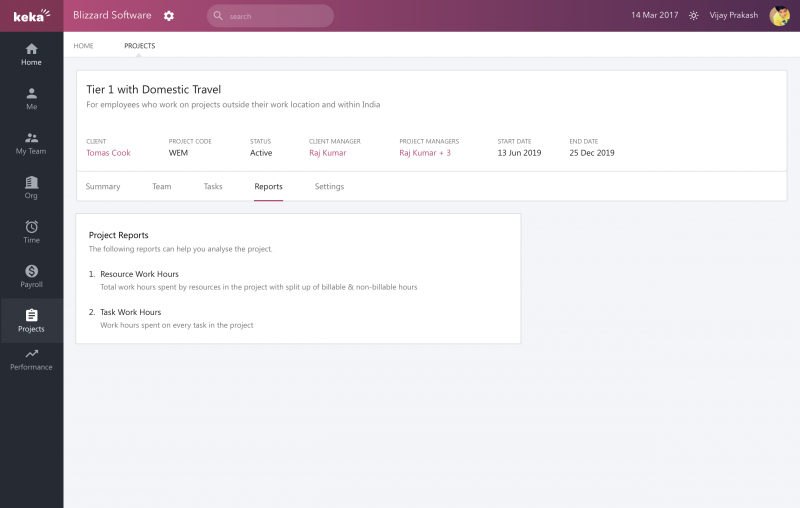 Revenue Dashboard
A clean and easy to understand dashboard providing you the following information:  
Overall hourly progress.

 

Total generated revenue. 

 

Pending submissions, approvals, etc. 

 

Total time left for the completion of projects. 

 

Department-wise budget and resource utilization.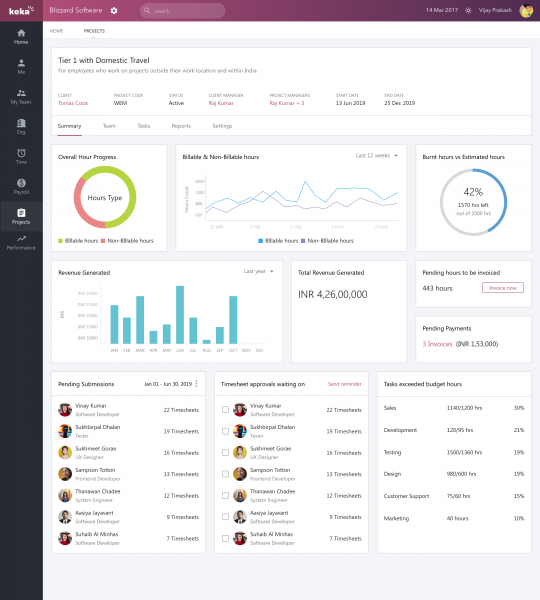 Resource Planner
This dashboard will give you a summary of all the ongoing tasks and their progress: 
Add new tasks for different projects. 

Check the overall progress of tasks on a centralized dashboard. 
Check resource allocation for different projects.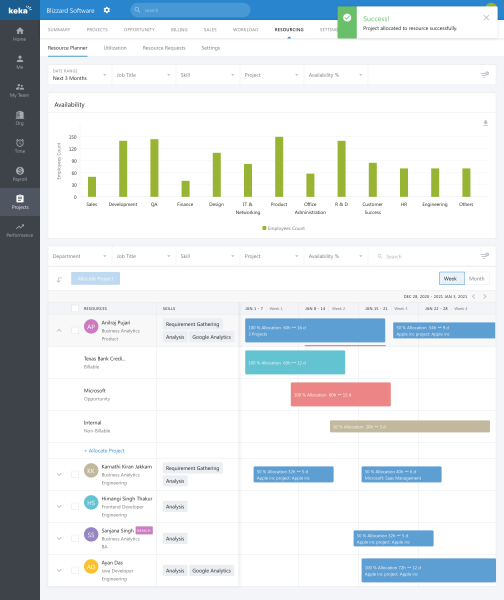 Other Reports Dashboard
A host of other reports to make the decision-making process easier for you and your organization:  
Client reports with regular updates on task status.

 

Project resource allocation summary and list of unassigned resources.

 

Billing details along with invoices.

 

Department-wise tracking of hours, resource utilization, and project updates.

 

Daily time entries and task summary.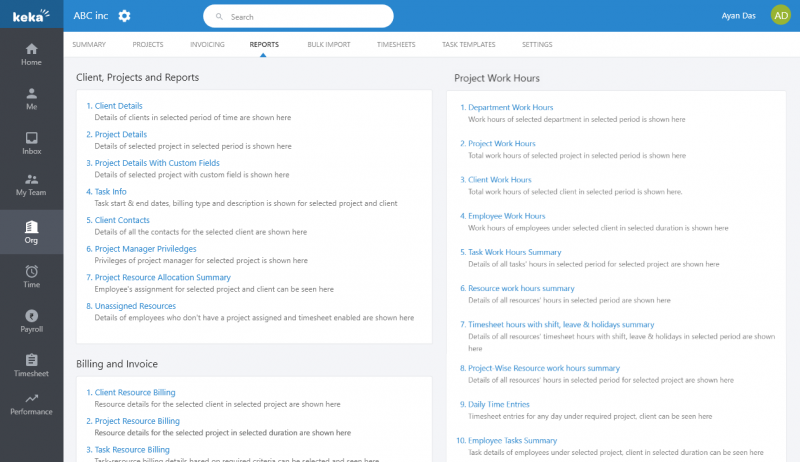 To end… 
Business needs are evolving rapidly. To make revenue-focused decisions, you need accurate and lots of it. Keka's timesheet software with its robust reporting system will help you do that with ease.