If you manage a team or a large number of employees, whether in-office, hybrid, or remote, it can be hard to track employee attendance and schedule. 
Obviously, no manager grew up dreaming about manually creating and updating spreadsheets. Everyone wants to spend valuable time on the strategic aspects of the business. Managers work on estimates in a business. Billing of projects is done in different ways, such as billable and contractual. How a project should be billed (hourly/daily/weekly/monthly/per feature/per project) is also a key element. For organizations, this is a roadblock that's quite overwhelming and exhausting. 
It is why Keka initially built its timesheet software so anyone could track time and resource utilization in their services business. Recently, we've added a more functional Product Services Automation (PSA) mechanism to our timesheet software and the new super-fast timesheet software has been buffed and polished to the point that it pretty much sparkles now.   
We built this solution after figuring out certain problems in the market. Problems like: 
Leaders

 

not getting updates/ status from my project manager on various aspects of any project.  

 

Leaders

 not being able to know if there is any risk and what is the plan of action against the risk.  

 

Leaders

 not being able to know how the project is performing over a while.

 

Project Manager not receiving updates from the Delivery director / CEO on the Project health status. 

 
And more… The understanding of problems has given us some excellent foundations on which to continue building high-quality, high-performance, robust, user-friendly software. 
Let's first quickly understand PSA.  
What is PSA?
Professional services automation (PSA) software helps organizations in managing back-office and front-office activities. 
The aim is to deliver: 
Improve Business processes 

 

Portfolio Management 

 

I

mprove efficiency 

 

Productivity 

 

profitability 

 
For example, The CEO assigns projects to different departments and won't have the time to manually check the progress of previous or ongoing projects. Project health will give an overview of how things are ongoing. 
PSA is super helpful for the following industries or stakeholders:
Professional IT services 

 

Management Consultants 

 

Law Firms 

 

Architects Firms 

 

Marketing account managers 

 
The Solutions
Here's the gist of functionalities and how everything works in Keka's Project Health. 
Normally, a project manager sends an email every month after recording data in excel sheets. The problem is that all this pile up, and the lack of a data-driven approach results in mismanagement. Now, directly come here, and you'll see the overall progress of a particular project. Reports like project completion, project budget, project health, etc.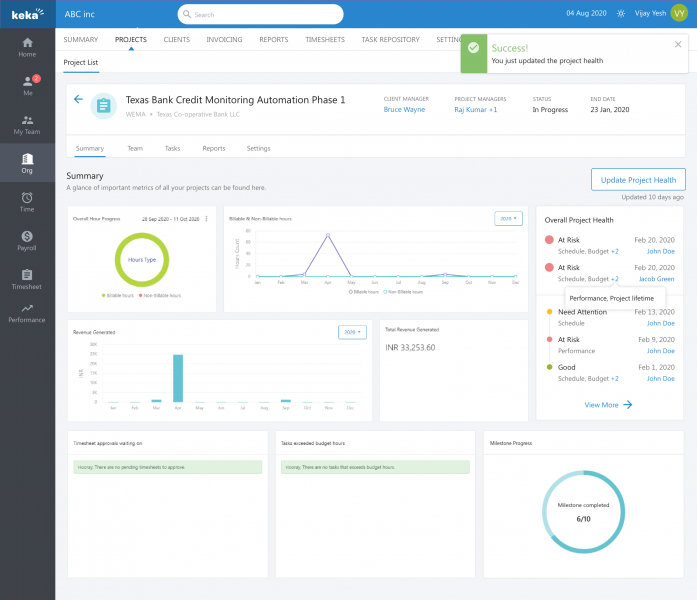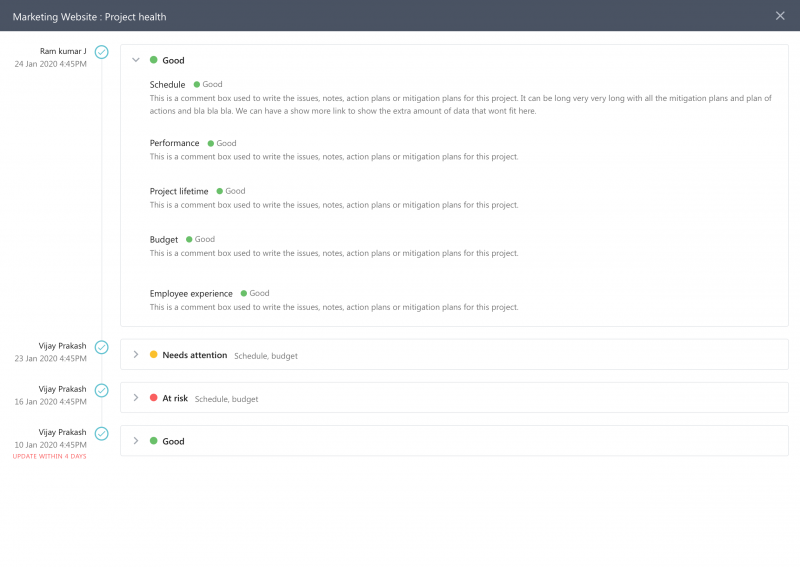 Both overall status and detailed individual status are available for a given set of projects. A quick summary can be given to the CEO by the project manager.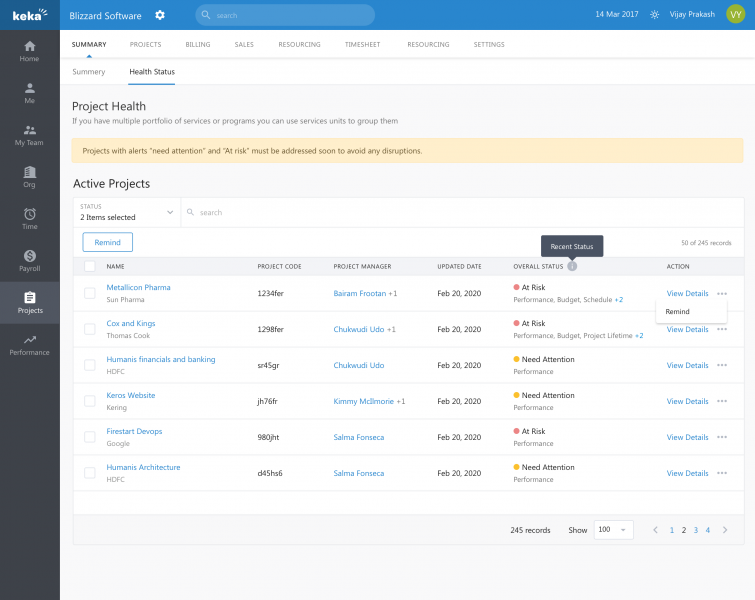 Set tasks, milestones for a project and push your team forward to achieve them in time.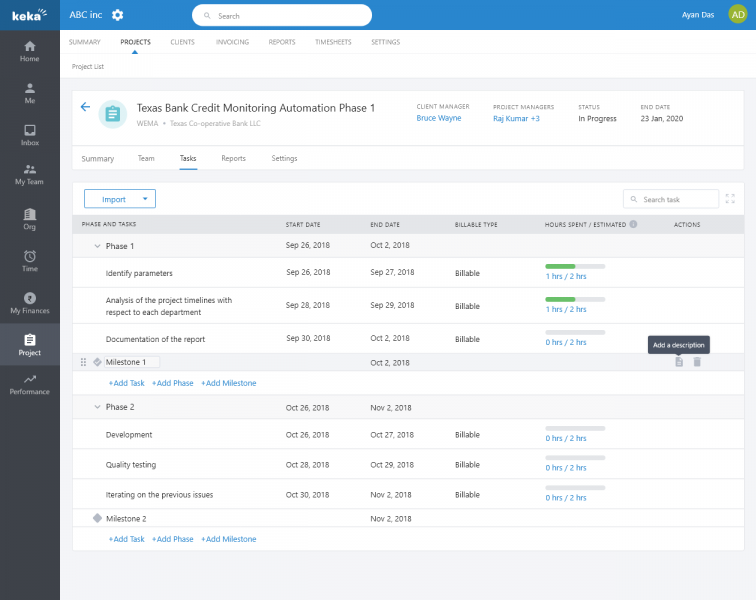 Instant Project Health Reminders.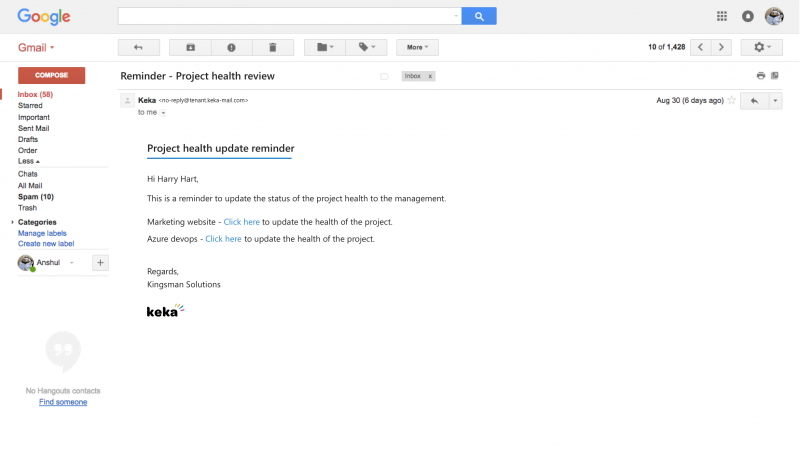 One can manage all the clients in a single place.
The Rate cards are based on the client, you define the billing rate based on the client.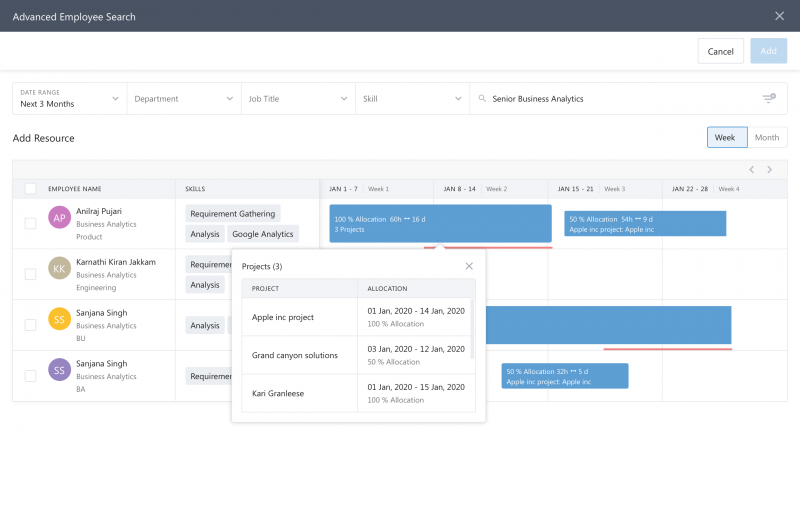 A manager would be able to approve or reject a pending timesheet request. If there is no approval, then it will become auto-approval.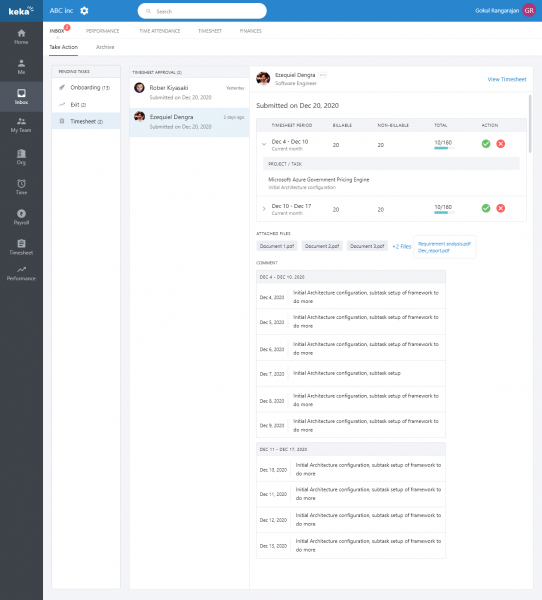 Track invoices to keep a check on the expenses. 
Finally, Keka does have some customized templates. There is zero setup time and it's ready to use from minute one. 
We understand you have questions. Our list of FAQs will surely help you out. Solving customer problems is why we exist. 
Note: Have more questions? feel free to reach out. 
FAQs
Q. Is this a paid feature?
Yes, this is a paid feature. 
Q. Can I check who has submitted and who hasn't?
Yes, in the dashboard we can see who's been updating regularly, who hasn't done that for a long time, and all other related information regarding project health. It'll be in summary as part of health status.
Q. Ideal fit for what size of organizations?
It's a fit for all sizes of organizations. 
Q. Billing rules for temporary employees?
We are building something for employees who're working on contract or temporarily. 
To end…  
With Keka's new and improved Public Services Automation software, deliver more profitable services by streamlining project execution and improving collaboration.