Over the previous decade, the B2B buying process has undergone an extensive change. The growth of social media and its broad reach has been one reason, and the other is the rapidly changing customer expectations, which has greatly influenced the whole buying journey. Many organizations adopt software, implement it, but get fed up with it within a year and start looking for its replacement. Has this ever happened to you? We often hear such painful stories of companies struggling with bad product experiences on top of non-responsive customer support.
The well-established business has been using on-premises software for a long time. For them, switching to a cloud platform appears risky. Whereas comparatively new organizations see on-prem as complex, costly, and prefer cloud. Based on your business needs, you need to make decisions but be well informed before making any buying decision.
"A Gartner survey showcases that 27% of buying time is dedicated to online research."
Modern B2B buying process
Social media is flooding with more quality information than ever. Buyers require additional in-depth research to narrow down the vendor list and select the correct software. The evaluation process contributes more people to the buying group. Whereas persuading all the decision-makers to come to a joint decision makes the process elongated.
"77% of buyers state that their recent purchase was complex and difficult."
The buyers' journey has seen some additional stages, even though 50% of the buying decision is made before reaching out to a sales representative.

"60% of buyers now are millennials, who prefer to spend more time doing online research before buying a product."
The attractive advertisements and posters showcasing the all-in-one solution for all the problems trap the customer. But the consumer has to make sure that they are not making an impulsive purchase. Therefore, contemplate more on What do you need? What will you actually use? And are the additional features worth paying for?
SAAS is the future
Access to the solution right from the internet has changed how software offers services. Cloud is the new default. The higher frequency of technology up-gradation making the solution more promising. As a result, the SaaS market space is accelerating with more products and better service offerings, providing optimum cloud fitment percentage around 80% whereas, on-premise/custom software struggle to provide fitment percentages of about 60%.
As the work culture is changing, organizations are welcoming remote and hybrid work styles. Internet is available to everyone making the cloud solution most acknowledged, as it stores data on servers and is accessible from anywhere. No dedicated storage space or maintenance is required.
Cloud platforms reduce your Infrastructural barriers, reduces your IT team's burden. Cloud platforms make it easy for organizations to move towards automation and tech-savvy solutions to streamline their business management process, refine pricing, promotion, customer support, employee experience, and generate more revenue. In addition, the ability to integrate with other platforms is making SaaS dominant in all the service sectors.
"According to a recent McKinsey & Company report, technology industry analysts predict further growth in the SaaS market and expect to see the market for SaaS products near $200 billion by 2024."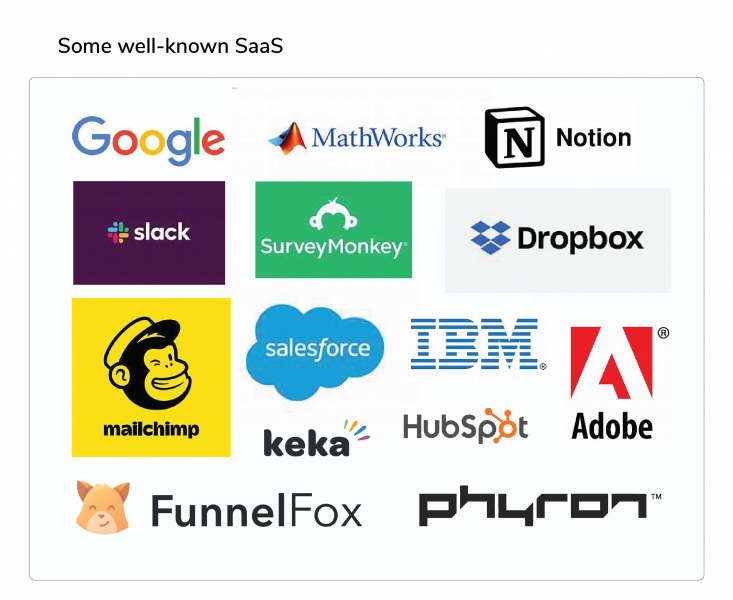 Google
Salesforce
Adobe
IBM
Hubspot
SurveyMonkey
Mathworks
Slack
Keka
Dropbox
Salesforce
Mailchimp
Phyron
Notion
Funnelfox
What to keep in mind while evaluating SaaS?
The most important aspect of an evaluation process is to make sure your actual requirements are and stick to them. In most scenarios, buyers get involved in the vendor's promises and sometimes overlook a few requirements. 'During the evaluation phase, a buyer cannot afford to overlook any pain point.'
To ensure that your requirements are always on top priority, make sure to go through this checklist.
Does the solution offer real solutions to your pain point?
Will the solution make your processes easy or offer automation blended with complex processes?
Is the UI making you comfortable with the platform, or is it too confusing?
Is your data really safe with the software? Make sure it is.
How often the software gets updated?
Are they always available with a solution or a workaround for you?
Make sure the software has a promising future. This will ensure your requirements will get fulfilled.
Make sure their support is available in need.
The software present in the market varies from each other based on their functionalities, offerings, billing, deployment time or any other factors, but make sure to be knowledgeable enough to distinguish and make a decision in your favour.
Few basic questions that you must consider seeking answers to while analyzing any software.
What are the potentials of the software?
What is included in each subscription package?
How secured is your data?
What is their privacy policy?
How easy is the implementation and setup process?
How easy are the navigation and UI?
How is the customer support?
Possibilities of customizations and integrations?
What will happen with your data once you leave the software?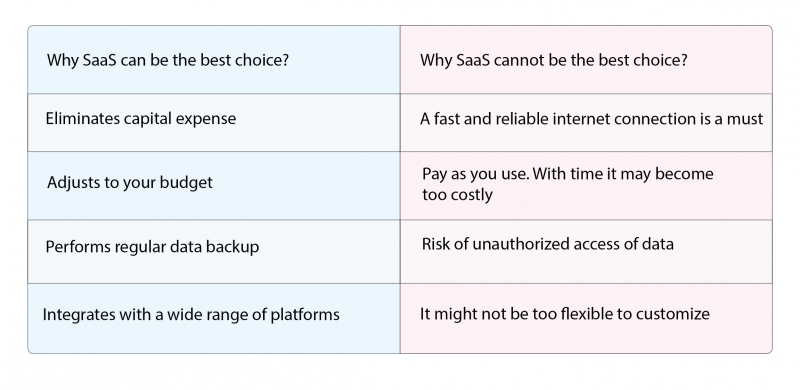 How does SaaS function?
SaaS provider hosts the application on the cloud and makes them available to the buyers. The application will be accessible to any device with an internet connection. From a web browser, you can easily access the application.
To understand SaaS functionalities better, let us go back to our college days. Universities offer many courses. All the students enrolled under one course will get the same question paper. Yet, the marks and results are different. Once the syllabus changes, it is done throughout the university for all the students who opted for that course.
Similar is the case with SaaS. SaaS provider will offer the buyer a copy of the application based on the service-level agreement. There would be several such copies of the applications available to other users. Yet, all their data are separately stored. Once an update is issued, it is rolled out to all the customers at the same time. The SaaS infrastructure is common for all the subscribers, just like the typical university.
This architecture of SaaS offers clients more frequent updates, better access to applications while monitoring the data used without the requirement of any extensive hardware.
SaaS is built on industry best practices and have a product roadmap defined for a year or two. The features or requirements added into the roadmap makes their place after extensive market research and industry requirements. The reason being the feature built will be available to all the tenants. SaaS cannot customize a product just for a client.
With technology up-gradation, there are software that builds custom features, but it is always time-consuming to get a feature request approved and rolled out. But at the same time, as you are subscribed to the product, you will benefit from all the new feature updates.
Common misconceptions about SaaS – you should not fall for
SaaS providers offer application and network protection along with disaster recovery features. In addition, as SaaS follows a multi-tenant structure, strict security features are provided to all the tenants and automatically updated.
User loses control of data in SaaS
Your data is only stored on the cloud, and it does not belong to the cloud service provider. You can anytime access your data, ask for backup or download it. Service Level Agreement ensures this.
SaaS offers fewer features
SaaS does not have limitations for features. It varies based on products. But, at the same time, it offers integrations with other platforms to make the user access more features and services.
SaaS is for small businesses only
Most large companies use SaaS, and it is just that they don't implement SaaS throughout their organization. Instead, they use it in small teams and then upgrade it to the whole organization.
SaaS is not cost-effective
SaaS reduces your cost in both the aspects of money and resources. It reduces the additional expenses for software up-gradation, support, troubleshooting and reduces the burden on your IT team. It also improves the overall productivity of your employees.
How will SaaS benefit you in the long run?
SaaS is the future, and we are not far from the day when all the companies would be running entirely on SaaS. SaaS is built on industry best practices, auto approvals of security parameters, compliances, legal and other new paradigms of thoughts.
The scalable and flexible pricing model makes it affordable for the consumer to pay as they use it. Moreover, SaaS providers put effort into customer retention. For making customers stay, their top priority is to make customers feel valued and happy. Product experts provide Solutioning, support is always available for customer queries and resolving it.
Pros of SaaS
Lower setup cost
Data is very secure and backed up
Easy to scale up and down
Lower or zero maintenance and support cost
Automated functional and technical updates
Cons of SaaS
Lower functionality match
Operations cost is higher
Customized UI or layouts are not possible
Feature prioritization is not in control for an individual tenant
Evaluation and Due diligence are more challenging in choosing the right cloud platform
Comparison between SaaS and On-premise platforms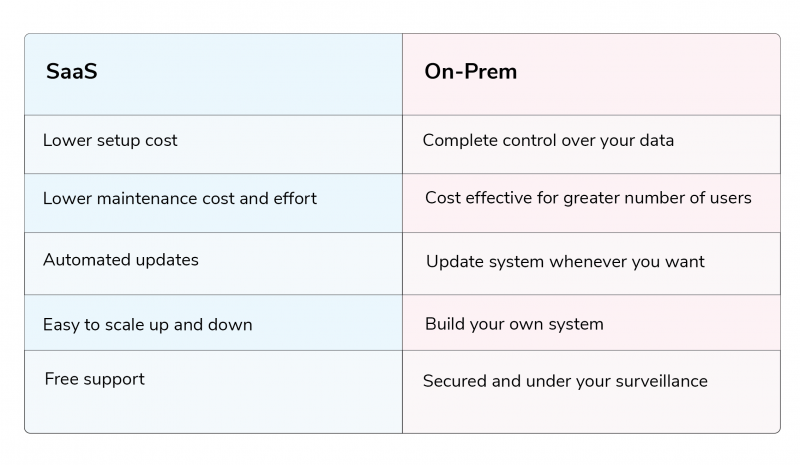 Conclusion
No doubt SaaS has taken over the market and will rule it in days to come. The subscription-based model and effortless access to the platform from anywhere makes it most favourable. If you are new to SaaS, consider yourself becoming future-ready with a SaaS subscription.
Simply SaaSify!