Learning and Development Manager Job Description Template
Learning and Development Manager Job Description Template
We are looking to hire Learning and Development (L & D) Managers to help employees advance their skills and knowledge. For this role, you need to be passionate about helping people to hone their skills and increase their knowledge.
The Learning and Development Manager will be in charge of developing and evaluating training methods and initiatives and measuring their effectiveness, also bringing forth recommendations for further training. In addition, he/she will need to track training attendance, prepare reports and constantly review and update the existing training modules.
Work Profile
One of the primary responsibilities of this company is to manage the development of our people which will, in turn, support our business priorities. In this regard, we are looking to hire experienced Learning and Development Managers to help us in our journey to creating a successful brand name by empowering our employees to bring forth their potential. The L & D Manager will be responsible for developing a learning strategy that will support professional development and build capabilities across the company within the given budget.
The L & D manager will need to design learning journeys that are a mix of classroom training, fieldwork, digital learning, on the job coaching and mentoring. The L & D team would need to work closely with the leaders of the respective units of our organisation in order to assess the needs of each team. The L & D Manager should be open to changes that appear in the course of designing new methods/concepts for training and possess excellent communication and networking skills.
Responsibilities
Plan and execute training programs that are aligned with the objectives of the organisation
Evaluate organisation and individual development needs
Work within the allocated budget to design pertinent training programs for all employees
Implement various learning methods such as e-learning, workshops, etc
Assess the success of the training programs
Support enhancement of the learning system and processes
Stay on top of new ideas and trends in the industry so as to deliver better services
Requirements
__________ years experience as an L & D Manager
Bachelor's degree in Human Resources/Psychology/Education
Confident in written and spoken communication and the ability to present to large audiences
Organisational skills
Management, development and talent training
Proven ability to pinpoint, analyze and assess training needs within the organisation and the ability to translate those needs into actionable training initiatives
Should have a strong sense of personal accountability
Should be able to work effectively, independently as well as in a group
Must possess a passion for continuous learning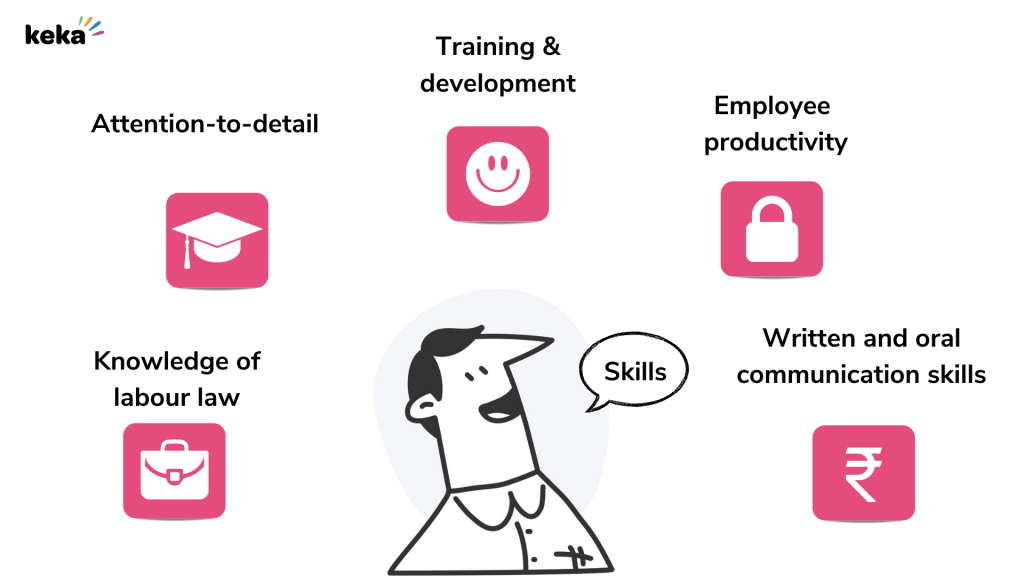 Sample Job Descriptions from Other Companies
#1 DFS Singapore
The Manager will work collaboratively with both HR and the business to identify learning needs and create sustainable learning methodologies. The role encompasses training coordination, design, delivery, consultation, performance management education and coaching and is responsible for ensuring alignment with business priorities, practices and policies.
Key Responsibilities:
Establish strong partnership with business clients/internal customers to continuously remain aligned with current business issues and opportunities, as related to learning and development.
Actively assist in the communication, alignment and implementation of learning and development related initiatives across the Division, in support of DFS business goals and strategic objectives.
Assess Division development needs and conduct training in areas ranging from supervisory/management skills to selling and service, as required to fill identified needs.
Review and revise course materials to remain current with operating processes, procedures and systems.
Serve as consultant to Division on development and execution of training ensuring highest quality of instructional design and delivery.
Ensure delivery of an effective induction on-boarding program to support retention of new talent and encourage a smooth transition into the business.
Provide Customer Service, and Product Knowledge training as required.
Coordinate orientation schedule for all new managers.
Serve as Master Trainer for Global programs, training others to conduct programs as required and delivering training for Supervisory and Management programs.
Manage co-ordination and effective delivery of Company training programs in support of strategic objectives. This includes incorporating language and behaviors of Apprentice to Master program as business operational excellence.
Identify individual coaching and developmental needs of Interns, Management Trainees, and Division Team in conjunction with Individual Development Plan (IDP) and LVMH Talent. Implement strategy and tools to address those needs.
Provide support and education on performance management for line management
Educate and support managers to implement effective development plans for their team members.
Work closely with line management and HR team to identify and manage language and product knowledge training needs.
Sales floor coaching and modeling.
Evaluate current training vendors for continued suitability, initiate and maintain relationships with all required vendors to meet region/company training needs.
Track and monitor training hours for Division staff for year-end reporting.
Conduct ad-hoc training and refresher training as requested.
Assist with other HR activities, including HR Generalist duties.
Special projects as assigned.
Travel to between Singapore locations, other Division and Group locations as needed.
Key Requirements:
Degree or an equivalent combination of education and experience sufficient to successfully perform the essential functions
5+ years, preferably including program management, instructional design or training management with relevant L&D technical experience
Experience working with best-in-class organizations known for excellence HR, talent development and/or learning and talent management
Source: dfs.com
#2 Amazon
The TRON team is an initiative that partners with the Amazon Robotics team to remotely handle exceptions in the Amazon Robotic Fulfillment Centers in North America. The TRON technology enables the human supervisory control of automated tasks. In the TRON system, a remote associate provides supervisory control when automated tasks fail for any reason.
This allows us to avoid falling into the 90/10 trap where a task can be 90% automated but requires 90% of the time for the last 10% of functionality. Our strategy is to employ a human-as-sensor model and allow humans to perform just those portions of a task that require higher-order cognitive ability.
The TRON team is looking for a Learning and Development Manager.
The Learning and Development Manager will manage multiple learning programs for employees and leaders. This includes leading needs analysis activities, setting program strategy and direction, working with instructional designers and subject matter experts to develop or modify content, managing external stakeholder relationships, organizing and overseeing the development of facilitators, handling system administration and course logistics, and providing course evaluation/impact statistics and analysis.
Courses cover a broad range of leadership and professional development topics, and are executed on a global scale, requiring planning and coordination across regions. There is a high volume of activity at various points throughout the year, so strong organization skills and a bias for action and automation are critical.
Building strong working relationships across key stakeholder groups, the Learning and Development Manager will continually dive deep to understand the learning needs, using data and insights into the business to build or adapt learning methods, materials or technology that will support the learners.
The programs involve a high degree of engagement with executive sponsors and subject matter experts, as well as facilitators, so the ability to identify and balance multiple demands and interests from stakeholders is key. Demonstrating strong curiosity and a high degree of capability with gathering and organizing the data involved in learning programs is critical, as the responsibilities involve continuous inspection for effectiveness and identification of opportunities to simplify and scale.
As TRON continues to build and expand across regions, the Learning and Development Manager will play a central role in reinventing learning models, systems and delivery methods. The use of more blended, virtual, self-directed and experiential learning models will be emphasized over traditional classroom delivery, so adaptability and creativity will be important. While the Learning and Development Manager will be able to consult and work with instructional designers on significant redesign efforts, a basic amount of design work will be done periodically within programs in order to keep the content and delivery aligned with learning needs.
Primary responsibilities include:
Collaborate with business leaders at all levels to build and manage a variety of learning and development programs and offerings
Develop and experiment with new learning solutions and creating intellectual property that advances the impact for learners; developing programmatic solutions with multiple connection points across offerings
Build a comprehensive set of analytics to measure learning effectiveness and impact; managing evaluation for assigned programs
Align and develop resources to deliver on strategy (subject matter experts, L&D teams, program budgets, technologies, etc.); leading learning projects that require significant ingenuity and innovation to deploy.
Manage general logistics and administration for assigned individual learning programs
Lead the development and delivery of learning programs; partnering with instructional design to build or adapt programs
Periodic facilitation of program content
Communicate and guide access to programs; ensures key stakeholder understanding of the investment and impact of learning programs
Ensure high quality, consistent and innovative approaches for delivering programs in a rapidly growing and changing organization
Basic Qualifications
Master's degree in business or related field
5+ years experience in the management of learning and training programs
Ability to apply sound learning principles, agile methods, learning technology and program management skills together in the design, development and maintenance of learning programs
Strong coaching, consulting, facilitation, and presentation skills with the ability to influence senior leaders in a global, highly matrixed environment
Systems thinking; able to recognize patterns and trends in data, content and customer needs which will drive program design and delivery
Preferred Qualifications
Experience working with learning support technology, such as eLearning software, virtual classroom technology, 3rd party learning applications, etc.
Instructional design skills; familiarity with adult learning principles
Global program administration and coordination
Strong project management and change management skills
Strong business and team relationship builder, establishing a network of experts and resources to support programs
Excellent written and verbal communication skills
Creative problem solver; naturally curious and can quickly research issues
Comfortable working with a variety of systems, from MS Office, to HR and learning systems; adept at organizing and presenting data; experience working with corporate-scale learning management systems
Can successfully deal with a fast-paced environment with competing priorities across multiple stakeholder
Source: amazon.jobs
#3 The Execu Search Group
ABOUT THE OPPORTUNITY
A services company in New York City is currently seeking a new Learning & Development Manager for a promising position with their growing staff. In this role, the Learning & Development Manager will be responsible for creating and implementing strategic training and sales development programs that scale across the company's high-growth, fast-paced, global growth organization. Apply today!
COMPANY DESCRIPTION
Services Company
JOB DESCRIPTION
The Learning & Development Manager will:
Collaborate with Business Systems, Product, Tech, and Sales Operations teams to create, update, and deliver training programs and materials that are effective and scalable and designed to improve the overall productivity of the sales force
Partner strategically with Growth stakeholders to understand key business objectives, quarterly roadmaps, and incremental project launches and consistently translate these into tactical training materials
Own, maintain, and socialize the Growth training and development roadmap to ensure that it aligns with all quarterly project initiatives and deliverables
Develop ongoing training programs that enable sales users to effectively leverage sales intelligence platforms, sales prospecting tools, and integrated activity management apps
Schedule, manage logistics, and socialize training sessions from end-to-end, including post-training follow up and evaluation to ensure content is understood and retained
Implement processes to identify and analyze sales performance gaps and develop training initiatives and programs to help drive results
Continually seek and support new approaches, practices, and processes to improve the efficiency and effectiveness of training programs, platforms, and materials
Perform ongoing needs assessments and recommend appropriate delivery methods for all training requests to drive Salesforce adoption and keep sales users updated, engaged, and motivated
Organize and facilitate training sessions using clear, creative, and engaging instructional materials for in-person, virtual, and self-study training
Handle other duties, as needed
REQUIRED SKILLS
5+ years of experience leading Sales Training and/or Learning & Development
Bachelor's and/or Master's Degree in a related field
Strong knowledge of Salesforce and leading Sales & Marketing tools
Experience using Zoom for online meetings and trainings
Experience using Confluence, Mindtickle, and leading LMS solutions and platforms
Microsoft Office/Suite proficient
Great interpersonal skills
Excellent communication skills (written and verbal)
Strong attention to detail
Highly organized
Source: execu-search.com