Human Resource Management has witnessed enormous growth in the last few years. Traditionally, HR has become one of the most human-centric aspects of an organization, and it has been challenging for practitioners to assess and evaluate performance clearly, as in the sales department, for instance.
HR Analytics has transformed this paradigm and brought a data-driven approach to leaders, VPs, and HR experts based on contemporary human management systems to create sustainable business growth through engaging HR KPIs. 
Through measuring recruitment costs, identifying workforce attrition rates, finding training resources to enhance employee performance, and addressing even more data-enabled questions, HR personnel can improve their game and provide constructive advice and, as a result, minimize HR-related costs. 
That said, in this blog, we will discuss the core foundations of HR by drawing attention to the significance of analytics, describing why you should embrace HR analytics within the company, and presenting a rundown of the most important benefits.  
What is HR analytics?
HR Analytics is a concept used to describe processes in the HR department that are based on capturing, tracking, and evaluating human resource (HR) data in order to produce actionable insights and enhance the efficiency of the company's workforce, resources, and/or business development. 
Whereas, people analytics, also referred to as talent analytics, attempts to consolidate data from various people management touchpoints in order to help managers and executives make more conscious, data-driven choices about their talent acquisition and management processes.
Organizations use these kinds of analytics to make proactive and better talent choices, including tracking talent engagement, ranking structures, recruiting statistics, etc. using new technologies and tools such as specialized HR analytics software. 
Workforce Analytics is not based on organizations majorly, as it's associated with HR departments or statistics on recruiting or maintaining talent, but requires data collection mechanisms that extend to worker-related data such as internal mobility, part-time employees, gender ratio, etc. Terms such as people analytics, HR, and workforce analysis are frequently used interchangeably, however, make sure to establish some clear boundaries between the terms based on various implementation choices. 
Why do you need HR analytics?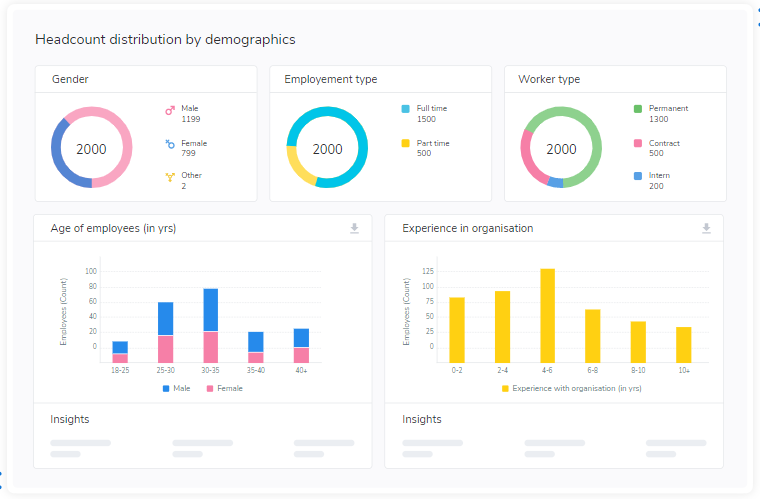 Here, we will be emphasizing how analytics transforms HR and the business-boosting benefits that companies will enjoy by using data to make better and more efficient decisions. As with any analytical process, it can get complicated but, as mentioned earlier, new tools and software can definitely support and ease the process so that practitioners can concentrate on what really matters: the human aspect of HR. Here are some of the most noticeable benefits of HR analytics: 
Data visualization 
Countless spreadsheets, numbers, rows, columns, and manual calculations are no longer required. Many HR professionals do their job because of the human aspect of the industry, and they do not want to rely on figures alone. Thanks to data visualization, each element in human resource analysis can be easily visualized and dealt with. 
The well-oiled HR department will concentrate on the data itself, ask additional questions when they emerge, and, at the same time, provide simple graphics through powerful charts and graphs that will allow them to create a data narrative, discover secret trends and, as a result, help the organization move forward. In addition, online data visualization ensures accessibility from everywhere, at any moment, allowing professionals to access their data on-the-go.  
Improved Hiring Process
Searching and recruiting the best candidate/s can be a grueling task, but this can be optimized with the aid of human resource analytics. You simply have to gather data from past recruiting events and take these insights into upcoming ones. Analytics can help you assess how effective the organization is in acquiring an "ideal" workforce with the help of tracking measures such as vacancy filling time, hiring costs, etc. 
In addition to this, you can identify if the applicants are suitable for the organization by comparing the features in their profile. If, for example, 6 out of 10 candidates show characteristics that prove not to be a cultural fit for your company, you can possibly use this information to save time and focus on other potential candidates in the talent pool.  
E
nhanced employee experience
Building a better work culture, ensuring that employees have the best tools to do their work in the most efficient manner, providing flexible work hours and a work-life balance may be established with the aid of human resources analytics. By evaluating data such as absenteeism, overtime, training expenses, and employee productivity, organizations have the ability to enhance overall employee experience, stimulate productivity and eventually reduce business costs.
By keeping employees engaged, happy and fostering a sense of belonging, companies would also prosper from it, create a healthier working atmosphere and enhance the culture of the organization. And in the recruiting process, if you can save time and make it faster, then future new hires would appreciate it, as they don't have to wait weeks or months to see if they're hired. In the end, it would increase the value of your brand name and give you a competitive advantage.  
How does it help in managing your workforce?
The HR data analytics need not be challenging. With the help of modern software and resources, every one person in the industry can produce useful insights, regardless of the degree of analytical or technological expertise. In this section, we will demonstrate how analytics will aid some specific HR functions: 
Optimized recruitment funnel
Due to new HR data analytics tools, every step of the recruitment process can be tracked. It's one of the crucial components of HR as recruiting the right talent is getting more and more daunting. Competition is fierce and businesses need to keep up in order to acquire talent and provide improved organizational culture as compared to the competitors. 
In this situation, HR practitioners have an intimidating job, and good data analysis for HR will help enormously. Evaluating the recruitment funnel would assure that the hiring strategy progresses to the best you can attract for your company.  
Performance Analysis
Monitoring employees' performance and evaluating their efficiency will tell you whether they are motivated, in stress, or need more training to do better. Collecting data on the performance of employees is an entirely critical function in HR. Although comparing employees to one another is embedded in a conventional HR performance management process, a general analysis can be oriented on the wider picture as performance varies over time and relies on multiple factors.   
Workforce Analysis
Workforce Analytics is another key aspect of a successful HR department. Having a better picture of the entire workforce of the organization as a whole will help all HR managers or practitioners and c-level executives. This is very critical for them as they need to deliver competitive efficiency in their planning and HR initiatives to maintain a safe workplace atmosphere, which also aids in saving time and cost.  
Employee analytics and turnover rate
As discussed earlier, attracting and retaining the right candidates is a challenge for any HR professional or leader. High turnover rates and low levels of employee satisfaction strongly show that the firm is not performing well with its general and departmental management, and thus risks financial bottlenecks that may inflict significant business harm. 
Uncompetitive pay, excessive micromanagement, lack of appreciation, overwork, are just some of the factors that could create conflicts within the company. That's why it's important to have a close eye on the degree of satisfaction and prevent excessive turnover to keep the business steady and safe. 
Through incorporating data analytics in HR, businesses will extract insights that have been buried in the data gathered and create a working atmosphere that can feed these data into significant improvements.  
Bottom Line
A great employee experience will surely lead to better business outcomes. As a result, executive and line managers are searching for solutions that can have a comprehensive and thorough understanding of what's going on and provide an overview regarding what triggers what to happen in the organization.  
With the ability to consolidate enormous data sources that you need, an elegant interface that does not require specialized analytical or technological skills, Keka will help you become more data-driven and base your decisions on unbiased facts, as well as ensure that all your data is up-to-date with the help of powerful automation. We also offer a free trial so you can check it out yourself and explore the treasurable insights you can derive through it!