35+ Best HR Books to Read in 2023
-To help you transition from transactional to transformational HR
We have carefully curated a list of must-read HR books based on reviews by HR management. This list will help HRs to upgrade their knowledge throughout their career journey.
A Visual Guide to The Best Books for Human Resources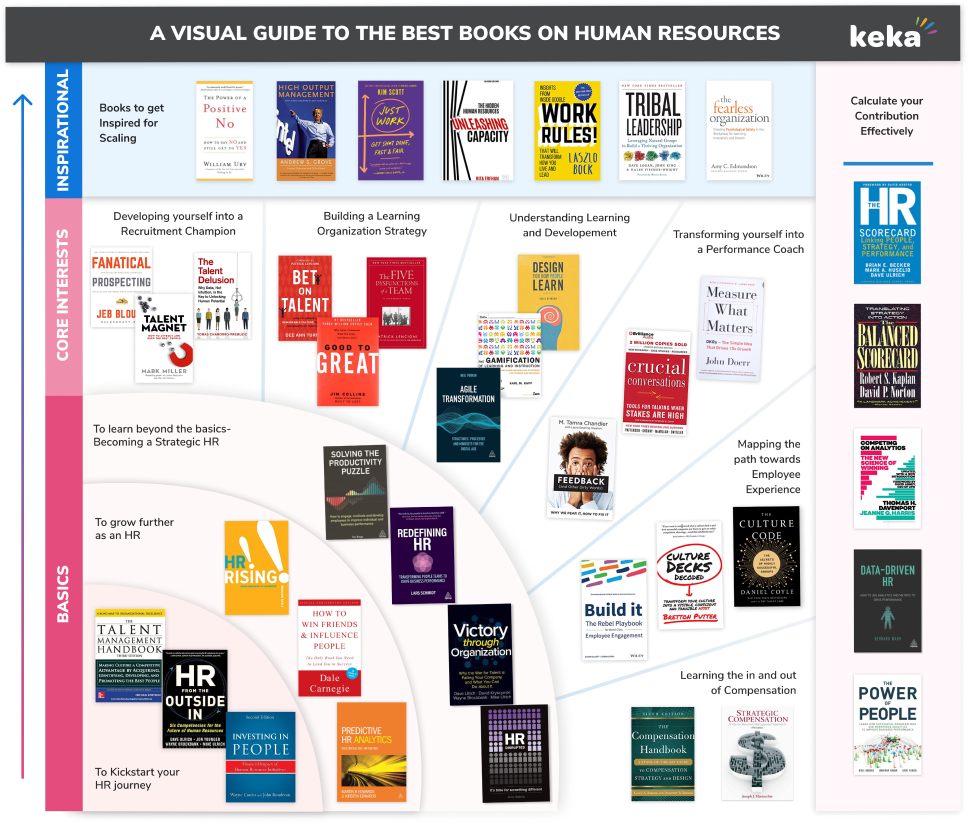 HR Books for Beginners


About to kick off your HR voyage? These are a few of the books to familiarize you with HR basics, and you can't skip these: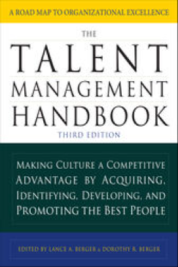 Talent Management Handbook
By Lance A. Berger and Dorothy R. Berger
Lance A. Berger, the CEO, and Dorothy R. Berger are partners at Lance A. Berger & Associates, Ltd. Being at the top for once is easy but staying at the top in the business world is difficult. The book "Talent Management Handbook" describes the most innovative ideas, latest tools, and technologies available to help HRs. It will help them to launch a fully functioning talent management program that will power them and their workforce to boost their performance. This book is found helpful to CEOs and Business Executives. It features the best practices and contributions from experts at leading HR consultancies. It comprises key insights from renowned HR thought leaders and CEOs.
Their "Talent Management Handbook" is geared toward CEOs and other corporate executives.
HR from the Outside In: Six Competencies for the Future of Human Resources
By Dave Ulrich, Jon Younger, Wayne Brockbank, Mike Ulrich
This book enables HR teams to act as business executives to make the most of their role. Dave Ulrich and his team have produced the most comprehensive set of HR competencies in their book, "HR from the Outside In". It provides tools and ideas that help HR leaders and entrepreneurs to act as business executives and seize unique opportunities. HR professionals can make a significant impact with this comprehensive guide. This book also delivers real-life examples, new thought-provoking insights, and case studies.
Investing in People: Financial Impact of Human Resource Initiatives
By Wayne Cascio, John Boudreau
The main thing that runs the business is Human Resources. HRs in an organization are undervalued, rarely recognized, and appreciated. They are the base of any firm to gain success in the business. Human Resource Management is the expertise of Wayne Cascio and John Boudreau is known for his breakthrough research on the bridge between talent, superior capital, and competitive advantage. Their collaborative work "Investing in People" have explained a logical, proven framework for evaluating the economic value of HR Investments and analyzing the HR 'Black box'. This book gives the best practice techniques for evaluating the value of Talent Management, and employee engagement for HR executives and HR leaders.
HR Books to Grow as an HR Professional

Once you have got a grasp of the fundamentals, it's time to penetrate further into the domain. Let's get started with these books:
HR Rising: From ownership to leadership
By Steve Browne
Steve Browne, the author of the book is an HR thought leader. The book "HR Rising: From ownership to leadership" is a much-anticipated follow-up to the SHRM best-seller HR on Purpose. The work of an HR in an organization goes unnoticed. He mainly addresses HR leaders in this book. In the book, he delivers fresh insights for fostering collaboration, building relationships, and trust in the workplace. The book makes the practitioners inspect the improvements that the HRs are making in an organization.
How to Win Friends and Influence People
By Dale Carnegie
"How to Win Friends and Influence People" is one of the classic works of Dale Carnegie which has touched millions of readers' hearts. Effective teamwork begins and ends with communication. One of the duties of HR Managers is to maintain relationships with the staff and people, which isn't that easy. The principles Carnegie laid out in this book, originally written as a practical, working manual on human relations, remain relevant today. It helps HR Managers to handle people positively, to gain people's favor, to make people like them, and reciprocate. Dale Carnegie's advice persists for generations because it addresses timeless questions about interpersonal relationships.
Predictive HR Analytics: Mastering the HR Metric
By Martin R. Edwards, Kristen Edwards
The HR of an organization deals with the employee's engagement, motivation, and well-being. It is often overlooked. It requires a lot of skill and measurement. Martin R and Kirsten Edward's "Predictive HR Analytics" demonstrates how to analyze employee involvement, performance, and turnover data using the statistical package SPSS (with R syntax included). To keep up with the competition, businesses need this book. The book provides the metrics that business executives can use to make sound business decisions, helping businesses to deliver credible and reliable service. Using the results, readers can develop effective evidence-based HR strategies.
HR Books to Help You Transition into a Strategic HR Professional


HR is a function not restricted to people management, but they must play an active role in building strategy. For example, they create frameworks and link people management with long-term business goals. For making realistic plans, HR should have a stronghold on business.
HR Books to Convert Yourself into a Recruitment Champion


To get expertise in your respective HR field, read these books and obtain specialization in these areas:
Fanatical Prospecting: The Ultimate Guide to Opening Sales Conversations and Filling the Pipeline by Leveraging Social Selling, Telephone, Email, Text, and Cold Calling
By Jeb Blount
Jeb Blount is a Sales Acceleration Specialist who has been recognized as one of the World's Top Social Selling Influencers by Forbes. He has helped leading businesses with reaching their peak performance fast in sales by training, leadership, and optimizing talent. This book claims that a Fanatical Prospector is more successful than a Master Closer. "Fanatical Prospecting" is the best guide for salespeople and entrepreneurs who have lost their shine in the field of sales and prospecting. By reading this, one can gain their footing in sales prospecting by handling objections and resistance from customers, gaining more appointments, starting more sales conversations, and closing more sales.
Talent Magnet: How to Attract and Keep the Best People
By Mark Miller
"Talent Magnet" discusses the whole struggle to win the talent war which is shown from the perspective of a CEO. This situation is further worsened as employees no longer want high salaries but work in a culture that facilitates learning and growth. Mark, who has 20 years of experience in serving leaders across various organizations, also sheds light on the other side of the spectrum, highlighting the horrors of ad hoc recruitment processes of a few organizations. As the Vice President of High-Performance leadership at Chick-Fil-A, he also draws a parallel between the ones seeking jobs and the ones offering jobs while offering tips to bridge the gap between them.
The Talent Delusion
By Tomas Chamorro-Premuzic
Thomas is an organizational psychologist and is currently a professor of business psychology at University College London. The author implies that talent is a social construction created to make a future prediction about an individual's performance on a task, job, or role. He states four basic principles which can be used to classify talent across any domain of work, career, and occupation: The Rule of the Vital Few (80-20 rule), The Rule of Maximum Performance (consistent performers), The Rule of Effortless Performance (recognize effortless performers), The Rule of Personality in the Right Place (strive in the natural habitat).
HR Books on Building Organization Strategy


Once you have got a grasp of the fundamentals, it's time to penetrate further into the domain. Let's get started with these books:
Bet on Talent: How to Create a Remarkable Culture That Wins the Hearts of Customers
By Dee Ann Turner
Just selecting talent is not enough, retaining talent gives you a competitive advantage. Dee, a veteran at Chick-fill-A and the Vice President of Talent, shares the principles she learned, practiced, and taught about creating and growing a remarkable culture. This book introduces the HRs, leaders, and entrepreneurs to the secret to building a great talent system. She states that changes in any culture begin at the top of the organization. This book also gives the recipe for building a remarkable organizational culture: Why (Purpose)+What (Mission)+How (Values and guiding principles). Integrity and the freedom to commit mistakes are to be added to your value system to build the best culture.
Good to Great: Why Some Companies Make the Leap...And Others Don't
By Jim C. Kollin
Jim, a researcher, speaker, and consultant advocates the motto, "Good is the enemy of Great." This book captures the journey of a company from being good to becoming great. To build something World class, "Good to Great" gives a set of well-defined strategies and practices. Every company needs to find its Hedgehog concept, adopt new technologies and confront uncomfortable truths. A hedgehog concept is something unique to your organization. Try adopting new technologies only when it helps the company grow. These points would help you steer past your competitors and build a great company.
The Five Dysfunctions of a Team: A Leadership Fable
By Patrick Lencioni
Patrick presents the concept of efficient teamwork through the lens of a struggling Silicon Valley which has a promising team with the best investors and well-qualified executives but lacks teamwork. As a thought leader and the architect of the concept of organizational health, this book advocates the concept of efficient teamwork as the key to building a great company. The book teaches HRs a few invaluable lessons to build a great functional team. It speaks about discussing uncomfortable topics openly and accepting common organizational goals.
HR Books on Learning and Development


Let's understand what businesses can do to encourage professional development among their employees:
Agile Transformation: Structures, Processes and Mindsets for the Digital Age
By Neil Perkin
The book is built around the simple principle, "think big, start small and scale fast." Neil, the founder of Only Dead Fish, which is a digital and media consultancy, shows how to transform an organization into a new type of business to survive and become more innovative in the present and last in the future. The book helps leaders and managers create the right agile transformation by being active, responsive, and continuous learners. It creates a universe woven around theories, insights, practical examples, and case studies to transform an organization.
Design for How People Learn
By Julie Dirksen
The training activities in today's organizations are ineffective, boring, and have a flawed sense of purpose. Julie, an independent consultant and instructional designer with 15+ years of experience, helped many tech startups create a highly interactive e-learning experience. The book dives deeper into a learner's journey from the perspective of both a learner and an instructional designer. She simplifies the learning experience by dividing the learning process into nine different steps. "Design For How People Learn" helps trainers and HRs in developing a learning-centric approach by bridging the gap between the instructor and learners. Adopting a problem-centric approach and developing a better understanding of the learner's difficulties will hook the learners to your content.
The Gamification of Learning and Instruction: Ideas into Practice
By Karl M. Kapp
In an organizational workplace, most HRs often struggle with making learning and training more engaging for the employees. These learning procedures and work activities can be turned into something the employees look forward to. Karl, who is a learning expert and a designer of instructional games, explains that this can be achieved by adopting a game system. In this book, there are detailed steps and worksheets an HR can implement to design games for: employee onboarding, training employees, and forming teams, to remove boredom. HR practitioners and leaders can also set leaderboards and reward systems like badges and scores to increase team performance.
Best Performance Coaching Books


To guide and develop action plans for your employees to move ahead in their career with appropriate upskilling advice, you must prepare yourself first, with these books:
Measure What Matters
By John E. Doerr
John E. Doerr is a venture capitalist and discovered OKRs as an engineer at Intel. He introduced OKRs to the founders of Google, who had no business plan, and the startup's total share value exceeded $600 billion. In "Measure What Matters" John Doerr encourages the top hierarchy and managers to set ambitious goals and subsequently tying them with key results to measure their progress. This book also introduces a performance management technique to increase creativity and retention called CFRs (Conversations, Feedback, and Recognition) by transforming work culture. It also suggests proven techniques for team management. This book perfectly intertwines ideas, goals, and ambitions with execution, tracking, and growth.
Feedback
By M. Tamra Chandler, Laura Grealish
The word 'feedback' can make anyone break out in a cold sweat, especially if heard from a manager. It is mostly associated with self-doubt and self-criticism. The book "Feedback" challenges the traditional performance review process by addressing current organizational challenges and providing research-backed lessons from real work experiences. Tamra and Laura, who work for PeopleFirm and have expertise in talent management and management consultation, undeniably deliver the value of this book. They acquaint the readers with strategies for developing workplace relationships and put forward various conversation models. This is a valuable source for organizational leaders and HR managers who are ready to change the way feedback is sought.
Crucial Conversations: Tools for Talking When Stakes Are High
By Kerry Patterson, Joseph Grenny, Ron McMillan, Al Switzler, Stephen R. Covey
"Crucial Conversations" is a book that talks about the high-stakes conversations with your boss, supervisor, or a co-worker that can many times lead to a negative impact regardless of the intent and can occasionally make matters worse. The authors who work for VitalSmarts, a training and management consulting firm, help managers, leaders, and employees with people management and interpersonal skills. To avoid saying things that we might regret, especially when hurt or in a fit of anger, this book teaches about fixing goals and how negotiation works.
Additionally, it offers applicable ideas, basic principles, and practices that can be followed in crucial conversations.
HRM Books on Employee Experience


Employee experience is more than what it looks on the surface. Creating a meaningful, collaborative and supportive work culture is not enough. These books will guide you to understand the depth of the process:
The Culture Code
By Daniel Coyle
Even the most talented and creative team can be the most underperforming. To tackle this, Daniel introduces the principle of belongingness. He works as a special advisor to Cleveland Guardians and has worked as a special advisor to many businesses including Google and Microsoft. "The Culture Code" is enriched with information about team cohesion and draws a connection between organizational culture and team performance. The book is an excellent resource for managers and entrepreneurs as it provides a step-by-step guide to building a high performing team. It also lays out effective principles, which when implemented, can make an organization's culture the primary driver of results in a business.
Build it: The Rebel Playbook for World-Class Employee Engagement
By Glenn Elliott, Debra Corey
HRs are commonly believed to be associated with overseeing administrative tasks related to recruitment and firing while also managing company policies. However, there have been companies like Apple, Southwest Airlines, and many more that have always disrupted the market and outperformed other companies. "Build It" introduces an Engagement Bridge™ model that helps managers and leaders examine the areas where they need to build a highly engaged culture. As global reward experts and someone who has been assisting McDonalds and KMPG with employee engagement, the authors also help in designing reward strategies. With their book, an organization can break the rules of the traditional HR system and rebel against the status quo.
Culture Decks Decoded
By Bretton Putter
Bretton Putter founded CultureGene, a consultancy services business, to aid companies in designing and building strong, functional cultures. Since HRs are the intermediary between employees and top management, they can turn an organizational culture into a powerful strategic asset. "Culture Decks Decoded" can also be referred to as a useful tool to learn about how other companies have created their own unique culture and the environment they have established for their employees. This book will help entrepreneurs and managers in creating their own culture deck which can be shared online when recruiting or attracting talent. A culture deck can be created by helping the HRs understand their own culture to retain talent, enhance job satisfaction, and gain actionable insights.
Best HR Books on Compensation Management


Compensation plays an important role in employee retention and talent management. Setting up the right compensation planning for the employees is an art, and these books are the artists in the field:
The Compensation Handbook: A State-Of-The-Art Guide to Compensation Strategy and Design
By Lance A. Berger, Dorothy R. Berger
One of the main aspects HR deals with is compensation management and employee benefits. In this fast-growing economy where retaining highly qualified employees is a challenge, "The Compensation Handbook" contains tools and methods for the above predicament. The step-by-step solutions will enable any compensation professional or HR to create a defined compensation strategy. This handbook provides suggestions to design strategies for rewards, employee-pay, and attracting talent. The authors are compensation and talent management consultants who also give helpful advice on designing team-based incentives and appraisal programs.
Strategic Compensation: A Human Resource Management Approach
By Joseph J. Martocchio
"Strategic Compensation" is useful for HR practitioners as it provides compensation practices that can be used to design employee benefits and pay. It also talks about retaining employees by developing a compensation system that can attract potential employees. Joseph, who undertook various projects on strategic HR issues for the campus, suggests compensation strategies via support course material and action-based activities that can support business strategies. As a professor of HRM, he also advises on how an HR can fit compensation function into their department.
Best Inspirational HR books for HRM Professionals


Once you have acquired all the industry-specific knowledge, it's time to focus on scaling up:
HR Books to Measure your Contribution in an Organization


This complete journey of you as an HR has been associated with learning and implementing new strategies and inspiring and improving business growth and people processes. Let's associate and access the contributions created so far:
HR Books and Beyond..
With the changing workforce, HRs will have to continuously evolve themselves to adapt to the modern workforce. The books listed above are a perfect starting point for beginners as well as for professionals who want to stay on top of their game. They equip the readers with actionable insights, frameworks, and tips. If you need more insights into the current and evolving HR terminology, you can refer to the HR Glossary that has 500+ key terms! We also have a vast collection of interview questions, email templates, job descriptions, and many more in our HR Toolkit.