35+ Best HR Books to Read in 2022
-To help you transition from transactional to transformational HR
We have carefully curated a list of must-read HR books based on reviews by HR management. This list will help HRs to upgrade their knowledge throughout their career journey.
A Visual Guide to The Best Books for Human Resources
HR Books for Beginners

Best Performance Coaching Books

HR Books to Grow as an HR Professional

HRM Books on Employee Experience

HR Books to Help You Transition into a Strategic HR Professional

Best HR Books on Compensation Management

HR Books to Convert Yourself into a Recruitment Champion

Best Inspirational HR books for HRM Professionals

HR Books on Building Organization Strategy

HR Books to Measure your Contribution in an Organization

HR Books on Learning and Development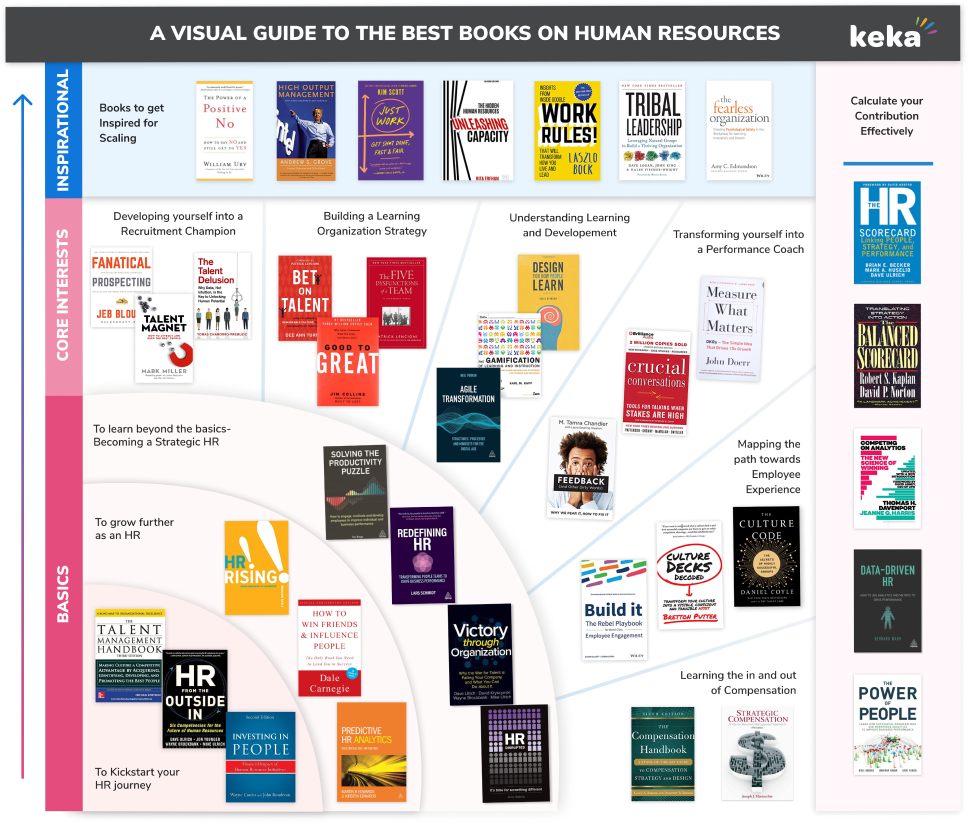 HR Books for Beginners


About to kick off your HR voyage? These are a few of the books to familiarize you with HR basics, and you can't skip these: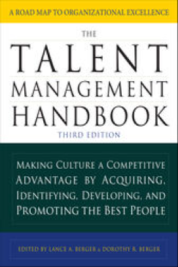 Talent Management Handbook
Dorothy Berger
The go-to resource for HR professionals, CEOs, and business leaders who want to lead in building a diverse, talented, and motivated workforce. Each section of this book offers state-of-the-art processes, step-by-step practical management tools and techniques, and up-to-the-minute resources that will equip you to:
HR from the Inside In: Six Competencies for the Future of Human Resources
David Ulrich, Jon Younger, Wayne Brockbank, Mike Ulrich
They are packed with facts, evidence, and prescriptive advice. It is about being a business leader first and an HR professional second. Powerful, relevant and timely! Pragmatically defines new HR. This book is a must for leaders and HR folks who seek to create sustainable competitive advantage.
Investing in People: Financial Impact of Human Resource Initiatives
Wayne F. Cascio, John W. Boudreau
It provides powerful logic and proven financial techniques for looking inside and analyzing the HR 'black box'. This includes techniques for tracking the effectiveness of talent policies and HR practices, demonstrating the logical connections to financial and business operations. How HR metrics can be utilized for effective decision making.
HR Books to Grow as an HR Professional

Once you have got a grasp of the fundamentals, it's time to penetrate further into the domain. Let's get started with these books:
HR Rising: From ownership to leadership
Steve Browne
Featuring fresh insights on fostering collaboration, developing credibility, and building trust, the bestselling author of HR on Purpose!! It shows us what a powerful global force the HR profession can be for bringing about meaningful change in the workplace and challenges practitioners to examine what HR is doing to improve our organizations, our people, and ourselves.
How to Win Friends and Influence People
Dale Carnegie
Dale Carnegie's first book is a timeless bestseller, packed with rock-solid advice that has carried thousands of now-famous people up the ladder of success in their business and personal lives.As relevant as ever before, Dale Carnegie's principles endure and will help you achieve your maximum potential in the complex and competitive modern age. Learn the six ways to make people like you, the twelve ways to win people to your way of thinking, and the nine ways to change people without arousing resentment.
Predictive HR Analytics: Mastering the HR Metric
Martin R. Edwards, Kristen Edwards
While other departments in an organization deal with profits, sales growth, and strategic planning, Human Resources (HR) is responsible for employee well-being, engagement, and staff motivation. Even though it may not be immediately apparent, managing these duties often requires a great deal of measurement and technical skill. Predictive HR Analytics provides a clear and accessible framework for understanding and learning to work with HR analytics at an advanced level, using examples of predictive models, such as diversity analysis, predicting turnover, evaluating interventions, and predicting performance.
HR Books to Help You Transition into a Strategic HR Professional


HR is a function not restricted to people management, but they must play an active role in building strategy. For example, they create frameworks and link people management with long-term business goals. For making realistic plans, HR should have a stronghold on business.
HR Books to Convert Yourself into a Recruitment Champion


To get expertise in your respective HR field, read these books and obtain specialization in these areas:
Fanatical Prospecting: The Ultimate Guide to Opening Sales Conversations and Filling the Pipeline by Leveraging Social Selling, Telephone, Email, Text, and Cold Calling
Jeb Blount
Fanatical Prospecting gives salespeople, sales leaders, entrepreneurs, and executives a practical, eye-opening guide that clearly explains the why and how behind the most crucial activity in sales and business development--prospecting.
Talent Magnet: How to Attract and Keep the Best People
Mark Miller
There is a long-standing truth in the world of organizations: talent wins! But how do you attract the best people? What do they want? Based on his rigorous and extensive research, Mark Miller learned that top performers look for things different from solid contributors.
In Talent Magnet, Miller uses a clever and entertaining business fable to share these findings. He tells the parallel stories of Blake Brown, a CEO struggling with winning the war for talent, and Blake's sixteen-year-old son Clint, who is trying to get his first job to raise money to buy a well for a village in Africa.
Blake reaches out to leaders in other industries and works with his team to solve the puzzle of making his organization a destination for exceptional performers. But he also learns from his son. Listening to Clint and his friends compare notes on the companies they've worked for that summer, ranging from the awful to the inspirational, Blake realizes they want the same three things out of a job as any top performer in a Fortune 500 company.
The Talent Delusion
Tomas Chamorro-Premuzic
All organizations have problems, and they nearly always concern people: how to manage them, whom to hire, fire or promote, and how to motivate, develop and retain high potential employees.
Psychology, the leading science for understanding people, should be a key tool for solving these problems - yet most companies play it by ear, and billions of dollars are wasted on futile interventions to attract and retain the right people for critical roles.
Bridging the gap between the psychological science of talent and common real-world talent practices, The Talent Delusion aims to educate HR practitioners and leaders on measuring, predicting, and managing talent. It will provide readers with a data-driven solution to the common problems around employee selection, development and engagement; how to define and evaluate talent; how to detect and inhibit toxic employee behaviours; and how to identify and harness leadership potential.
HR Books on Building Organization Strategy


Once you have got a grasp of the fundamentals, it's time to penetrate further into the domain. Let's get started with these books:
Bet on Talent: How to Create a Remarkable Culture That Wins the Hearts of Customers
Dee Ann Turner
When running a business, the most important decisions a leader makes are not about products or locations--they're about people. For the past 33 years, Dee Ann Turner has been recruiting, training, and retaining some of the best employees in the restaurant business. Now she's ready to share her secrets on building, sustaining, and growing an organizational culture that attracts world-class talent and consistently delights customers, no matter your industry.
Good to Great: Why Some Companies Make the Leap..., and Others Don't
Jim C. Kollin
The defining management study of the nineties showed how great companies triumph over time and how long-term sustained performance can be engineered into the DNA of an enterprise from the very beginning. But what about a company that is not born with great DNA? How can good, mediocre, and even bad companies achieve enduring greatness?
The Five Dysfunctions of a Team: A Leadership Fable
Patrick Lencioni
Throughout the story, Lencioni reveals the five dysfunctions that go to the heart of why teams, even the best ones, often struggle. Then, he outlines a powerful model and actionable steps that can be used to overcome these common hurdles and build a cohesive, effective team. Just as with his other books, Lencioni has written a compelling fable with a powerful yet deceptively simple message for all who strive to be exceptional team leaders.
HR Books on Learning and Development


Let's understand what businesses can do to encourage professional development among their employees:
Agile Transformation: Structures, Processes and Mindsets for the Digital Age
Neil Perkin
Traditional organizational structures and cultures are no longer fit for purpose in a digitally empowered world. The number of new and disruptive technologies is increasing, the speed of change shows no sign of slowing down, and organization development practitioners and business leaders need to act urgently to enable their companies to succeed in the digital age. Agile Transformation is the much-needed guide on how to achieve this success. It is packed full of practical advice. This book covers everything from why new operating models are needed, how to apply agile principles at scale, leverage digital-native processes and why change managers need to think big but start small.
Design for How People Learn
Julie Dirksen
In Design for How People Learn, you'll discover how to use the fundamental principles behind learning, memory, and attention to create materials that enable your audience to both gain and retain the knowledge and skills you share. Using accessible visual metaphors and concrete methods and examples, Design for How People Learn will teach you how to leverage the fundamental concepts of instructional design to improve your learning and engage your audience.
The Gamification of Learning and Instruction: Ideas into Practice
Karl M. Kapp
This Fieldbook provides a step-by-step approach to implementing the concepts from the Gamification book with examples, tips, tricks, and worksheets to help a learning professional or faculty member put the ideas into practice. In addition, the Online Workbook, mainly designed for students using the original book as a textbook, includes quizzes, worksheets and fill-in-the-blank areas that will help a student better understand the ideas, concepts and elements of incorporating gamification into learning.
Best Performance Coaching Books


To guide and develop action plans for your employees to move ahead in their career with appropriate upskilling advice, you must prepare yourself first, with these books:
Measure What Matters
John E. Doerr
In Measure What Matters, Doerr shares a broad range of first-person, behind-the-scenes case studies, with narrators including Bono and Bill Gates, to demonstrate the focus, agility, and explosive growth of OKRs spurred at so many great organizations.
This book will show you how to collect timely, relevant data to track progress - to measure what matters. It will help any organization or team aim high, move fast, and excel.
Crucial Conversations: Tools for Talking When Stakes Are High
Kerry Patterson, Joseph Grenny, Ron McMillan, Al Switzler, Stephen R. Covey
You'll learn how to Prepare for high-impact situations with a six-minute mastery technique, make it safe to talk about almost anything, be persuasive, not abrasive,Keep listening when others blow up or clam up & turn crucial conversations into the action and results you want
HRM Books on Employee Experience


Employee experience is more than what it looks on the surface. Creating a meaningful, collaborative and supportive work culture is not enough. These books will guide you to understand the depth of the process:
The Culture Code
Daniel Coyle
In The Culture Code, Daniel Coyle goes inside some of the world's most successful organizations—including the U.S. Navy's SEAL Team Six, IDEO, and the San Antonio Spurs—and reveals what makes them tick. He demystifies the culture-building process by identifying three key skills that generate cohesion and cooperation and explains how diverse groups learn to function with a single mind. Drawing on examples that range from Internet retailer Zappos to the comedy troupe Upright Citizens Brigade to a daring gang of jewel thieves, Coyle offers specific strategies that trigger learning, spark collaboration, build trust, and drive positive change.
Coyle unearths helpful stories of failure that illustrate what not to do, troubleshoots common pitfalls, and shares advice about reforming a toxic culture. Combining leading-edge science, on-the-ground insights from world-class leaders, and practical ideas for action, The Culture Code offers a roadmap for creating an environment where innovation flourishes, problems get solved, and expectations are exceeded.
Build it: The Rebel Playbook for World-Class Employee Engagement
Glenn Elliott, Debra Corey
Build It provides a comprehensive and practical approach to addressing and improving employee engagement through 'The Employee Engagement Bridge'. This bridge is a model which has been ten years in the making. In fact, the bridge is the practical plan that Reward Gateway has used to engage with its workforce and build the world's largest employee engagement technology company.
The model, information and tips/tools provided in the book speak at a level that HR professionals can easily understand and act. Build It not only contains information based on Reward Gateway's experience using the bridge but includes case studies and research from both academics and HR practitioners who have excelled in improving employee engagement through one or more sections of the bridge.
Culture Decks Decoded
Bretton Putter
Your company's culture is either a strategic asset or a potential liability, and leaders who invest in their culture do so because they understand that it is the only sustainable competitive advantage in their business that they have complete control over. In 2009 Netflix CEO Reed Hastings shared a slide deck online describing his company's culture in detail.
The Netflix company culture deck has been viewed around 18m times on Sildeshare and has had such an impact on Silicon Valley that the COO of Facebook, Sheryl Sandberg, is quoted as saying that the deck "may well be the most important document ever to come out of the Valley." Like most culture decks written and shared since its publication, Netflix's 125-page deck, helps current and potential employees answer fundamental questions about how the company operates and what success looks like.
Best HR Books on Compensation Management


Compensation plays an important role in employee retention and talent management. Setting up the right compensation planning for the employees is an art, and these books are the artists in the field:
The Compensation Handbook: A State-Of-The-Art Guide to Compensation Strategy and Design
Lance A. Berger, Dorothy R. Berger
For over thirty-five years, human resources and management professionals have been turning to a single source for the most astute and up-to-date commentary about the state of the industry-"The Compensation Handbook." Composed of one-hundred per cent brand-new material from more than sixty authorities in the field, this fully updated edition provides direct insight into the most critical issues compensation and human resources professionals face today.
Best Inspirational HR books for HRM Professionals


Once you have acquired all the industry-specific knowledge, it's time to focus on scaling up:
HR Books to Measure your Contribution in an Organization


This complete journey of you as an HR has been associated with learning and implementing new strategies and inspiring and improving business growth and people processes. Let's associate and access the contributions created so far: