Fast Growing Companies Like Google, Uber, Etc Have Popularized The OKR – Objectives And Key Results Methodology For Performance Review.
What are OKRs?
OKRs stand for Objectives and Key Results. OKR is a framework to set measurable and concrete targets within an organization. OKRs helps all employees align towards the targets of the organization. The objectives of an organization can be either short term or long term. However, to stay relevant, OKRs can be split into quarterly objectives.
The Key Results are measurable outcomes to track these objectives. KRs help the organization validate if they are proceeding in the direction of the objective.
How To Create Good OKRs?
Usually a top down approach is taken while creating OKRs for an organization. The process usually starts with the CEO or senior management deciding upon the Objectives for the company/department. These objectives can span any period of time from a few months to a few years.
Once these objectives are set, the department heads chalk out the OKRs for their respective departments, which will then further cascade down to individual employee level. Ideally each Objective is associated with 3-5 comprehensive and measurable Key results.
What Are The Best Practices To Create Good OKRs?
1. Objectives should be unambiguous: No beating around the bush when you set the goals. Keep them clear and concise. Ambiguity in goals can lead to employees shrugging off the responsibility.
2. Objectives should be team oriented and inspirational: It has been seen that when OKRs are ambitious, the overall performance is also high. Ensure that the OKRs are not partial to any person's individual goals. The aim is to move the entire team in one direction.
3. Key results should be trackable at regular intervals: The key results should be measurable and should so designed to track performance regularly.
Step By Step Process For Implementing OKRs
Defining and setting up good OKRs is only the first step in the performance management strategy. The other important steps include:
1. Writing: It is ideal for the manager and the employee sit together to write the OKRs for the employee. By taking this approach, it is ensured that neither of the parties are ambiguous about the expectations.
2. Tracking: It is highly important to keep track of the progress being done with respect to each OKR. An alert should be raised, when there is a discrepancy in the expected schedules. The progress on the OKRs should be regularly updated (Weekly/Bi-weekly).
3. Reviewing: Finally at the end of the schedule, every OKR should be reviewed to see if success has been achieved or not.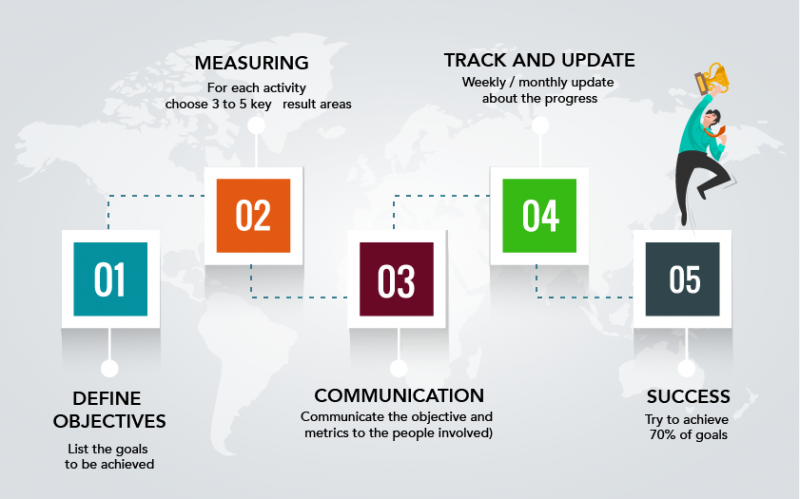 Benefits Of Using OKRs: 
When John Doerr introduced OKRs to Google, he proposed the following benefits for using OKRs.
1. Disciplines Thinking: The process of creating OKRs helps in establishing a clarity about the goals of the organization. Priorities are set properly during this process, and the most important goals are identified.
2. Communicates Accurately: Google has made all OKRs transparent to the entire organization. This means that the information about what a particular employee is working on in that quarter (or OKR duration) is available to everyone else. Transparency in OKRs helps everyone set their OKRs in line with the organizational goals.
3. Establishes Indicators for Measuring Progress: Well quantified KRs are strong indicators to show the progress done or being done towards the achievement of an objective.
4. Focuses on Effort: The best advantage of OKRs for those who focus majorly on metrics and KPIs, is a change in culture from output to outcomes.

What Do The OKRs For An HR Department Look Like?
To understand this let's first take a look at the organization structure of a typical HR Department.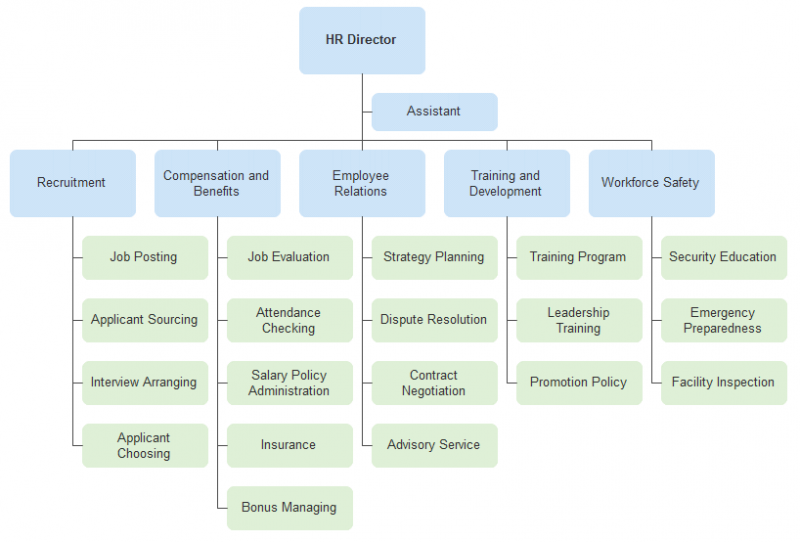 At the head of the hierarchy is the HR Director, who has an HR Assistant to help in regulating his/her tasks.
The HR Department can be further classified into various subdivisions. While every organization is at liberty to create its own subdivisions or teams, we list down the most common teams under HR.
Recruitment
Learning and Development
Finance
People and Culture
Core Operations
OKR Examples For The HR Department
Writing OKRs which are clear and measurable can be a tough task. To make it easy, the team of Keka has come up with some real examples for you to start with.
Before you start defining the goals for the team, it is important to set the Objectives for the HR department as a single unit. These goals should align with the goals of your organization. Once you have set this, all the other OKRs can be set to move in the same direction.
Let us take a sample scenario. Imagine that your organization has set the goal of establishing a new branch in the same city in the coming quarter. Some of the projects need to be moved into the new branch and a there is a requirement for more resources for each of these projects. Now let's break down the OKRs for each level of contribution going into this task.
HR Director OKR:
O: Help the company set up a new branch in the city 
KR1: Identify 3 projects which should be moved to the new branch in 2 weeks.
KR2: Recruit and Onboard (20) new resources in next 3 months.
Recruitment Manager OKR:
O: Recruit 20 new resources for 3 projects in 3 months
KR1: Identify the need for resources and classify them in 2 weeks.
KR2: Monitor recruitment process and ensure that the requirement is fulfilled 100%.
Recruitment Coordinator (Internal) OKR:
O: Recruit 5 members internally in 30 days
KR1: Create 2 compelling JDs for the two different requirements.
KR2: Screen and shortlist at least 7 candidates in 15 days.
KR3: Arrange for interviews and coordinate the end-end selection process to be completed in 30 days.
Recruitment Coordinator (External) OKR:
O: Recruit 15 members externally in 60 days
KR1: Create 5 compelling JDs for the 5 different requirements.
KR2: Conduct career fair in at least 3 college campuses.
KR3: Arrange for interviews and shortlist at least 25 candidates in 30 days.
KR4: Coordinate end-end selection process to be completed in 60 days.
(Doing background check, preparing offer letters, employees on-boarding are other steps to be done after this process is completed)
A healthy organisation is one which allows its employees to progress its own progress. Following the OKR framework is an established way to achieve this.
Employees are a company's greatest asset – they're your competitive advantage. You want to attract and retain the best; provide them with encouragement, stimulus, and make them feel that they are an integral part of the company's mission. –  Anne M. Mulcahy
While the traditional method of defining long term KPIs worked well for single service/product companies, OKRs that are defined for shorter terms are more relevant in companies that are constantly redefining themselves.