In this period of pande

mic, the whole business model of

 organizations

 has been turned upside down 

and measures were followed to flatten the curve

, 

prioritizing everyone's safety.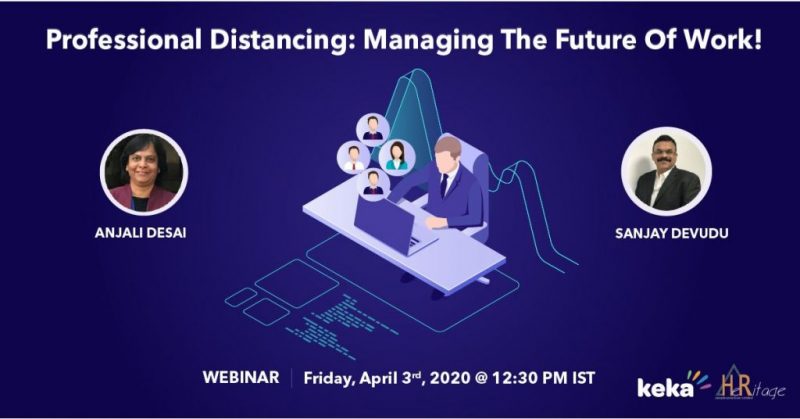 Social distancing has been the most heard and seen term everywhere around us as a way to contain the spread. So, following the government's directions businesses had to be closed for a while. It doesn't mean that organizations cannot function, as they have resorted to the remote work model to keep their employees connected and ensuring business continuity. 
The Sudden activation of remote work policy for everyone brings challenges that have to be addressed and have to be mitigated with the right practices. 
Meanwhile, there is no assurance of when the normalcy would be attained and hence businesses should churn the efficiency while employees professionally distanced themselves. It is quite important to support continued learning keeping the employees' emotional wellbeing and morale high! 
Hence in our last webinar Anjali Desai and Sanjay Devudu, the founders of HeRitage People Practices have shed light on this aspect. They introduced a concept 'CWEPT', the guidance to navigate organizations towards a productive and effective remote work model. This is so as to indicate how the outbreak of COVID-19 has totally 'swept' away from the whole paradigms of everything we took for granted and how businesses can accustom to the new normal and be productive. 
What Is This CWEPT?
It's a model of 5 pillars that are essential for managing the remote workforce that has evolved as dire consequences of the pandemic. These are the necessary elements that are to be on your checklist for your virtual teams that are dispersed geographically. 
Communication
The important things you have to consider when you are interacting with your teams especially in a time like this is to over-communicate and be authentic.  
Rumors spread faster than light and hence one needs to ensure that anything and everything you make it to reach the other end i.e. remote employees should be very clear. Goals, objectives, priorities, and concerns should be clearly stated that are to be sent out to teams so as to ensure everyone is on the same page and being aware of what they are intended to do. 
There is 'no one size fits all' communication way for all the organizations due to factors such as size, the geographical diversity of the teams, type of industry you are in, etc.  
But there are standards in the communication you could possibly do, 
1. Have a quick check–in: In the morning or whatever your business timings are, have a quick call before to make sure things are in place, everyone is available, whether everyone is okay. 
2. Set timings: Organizations can implement a routine for all the employees who work a home. Stating that they have to be available between these timings for any meeting or collaboration. They can include a lunch or refreshment break in between as per the comfort and time zones of global teams.   
Tip: A call for every 2 hours between the manager and employee even for 5 minutes can greatly help to add to a strong communication culture. 
You can introduce different ways that best suits your organization's mettle. 
Wellness
While we create our own environment it's important that we enjoy that and not necessarily be worried that we are away from the office. Distractions do happen and that's fine. All we need to do is to accept it and fine-tune ourselves to adjust to that.  
Here are the 6 dimensions that help you endure your wellbeing while you work from home.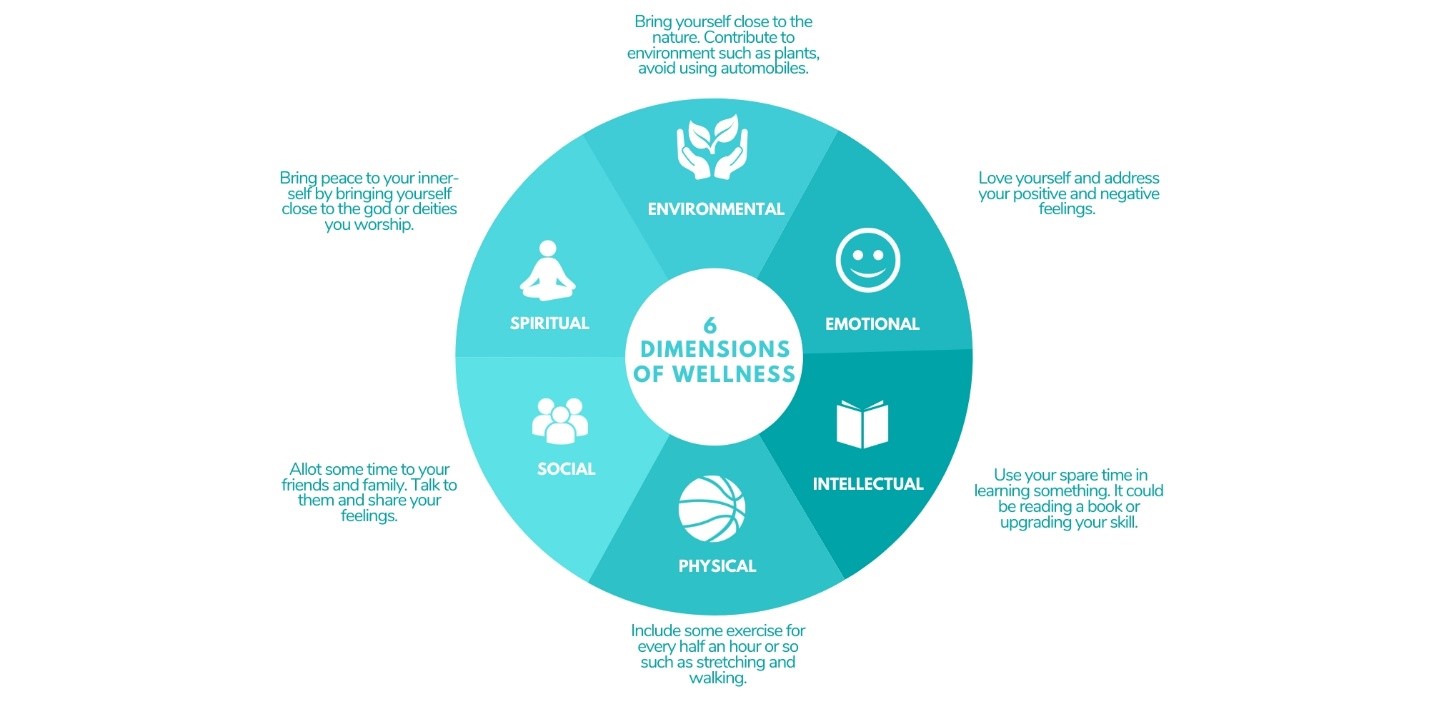 Engagement
Keeping employees engaged is one of the major concerns while implementing remote-work practices. There is no magic spell to build engagement.  
The solution is within you, recognizing their efforts, and caring for them is the key. 
Little things can go a long way to build trust and strengthen relationships and commitment. Ask them about how their family is doing, offer any help from your side before they ask, share the individual's achievements with fellow team-mates, suggest health practices, address their concerns and grievances all the time and so many other little details can have a strong impact. 
"Could you do a 5 or 10 minutes session on a topic which is of interests to some of your group members on my everyday basis. Ask them to talk about new technology, the environment in the manufacturing world, about the nature and any other topic they are interested in and in whichever way they can. This small snippets of learning involves everybody and each one gets opportunity and they can develop different skills while this goes on. This way you can make sure that they are involved and engaged"
Productivity
Amidst all of this chaos, it should be taken care that the productivity of the employees is not getting out of your vicinity. As a leader managing multiple teams it becomes a burden when you have to monitor and communicate in a recurring period.  
The key is to optimize the resources in a way that you are empowering them. 
Define The Goals
Since remote work is the new normal now, you should be able to see the end goals or objectives in a way that is achieved matching the current scenarios. Rethink to define them, possibilities to clear them, practical deadlines, etc. This way you make things more realistic and closer to the employees' vision of getting things done. 
Break-down the tasks
Divide the work into sub-tasks that can be achieved in a day or two among the teams. You have to make sure that you are not pressurizing your employees since they too are having additional things of taking care of their families. Being empathetic and supportive is what virtual employees need in this crisis.
Create Sub-Groups
Administering huge teams and monitoring their productivity is not an easy task unless you are a Super- Human. Hence this is the time to give the opportunity of leadership to the employees. Divide the big number of teams into smaller groups and assign an individual as a handler to the same.
He/she will be responsible to communicate with team members and make sure that everything is running smoothly. This way you can have a bird's eye view of all the teams and also encouraging employees to exercise their leadership skills. 
With Keka's Remote Productivity Tracker never lose the sight of your employee's productivity. Learn more to navigate your remote–work challenges hassle-free with Keka.
Technology & Tools
Organizations have resorted to buy or hire more laptops and other devices for the employees to work remotely as a development of the ongoing pandemic. Many tools are being utilized by companies to communicate among employees. Tools like Zoom, Skype, Microsoft Teams, GoToMeeting, and many more that are already existing in the market that can be used according to the type of requirement.
There is no limitation as to only use big suite communication tools, one can use personal apps such as WhatsApp, Telegram, Google Duo to interact with teams within themselves as per their comfort.  
"I think this whole situation we are experiencing right now is a very good business case to convince leadership and management team that investing in tools and technologies is not about cost but the mindset."
With all these things considered you are paving way to a strong work from home culture while making your employees happy and motivated. Every organization is unique and they come up with innovative ways  to cope with challenges during this pandemic.  
Keep an eye on our social media for updates on upcoming webinars. Watch the whole webinar below and do let us know your thoughts by reaching out to us.