There have been several rules and reforms coming in from the government and the companies must follow to avoid complications amid the lockdown.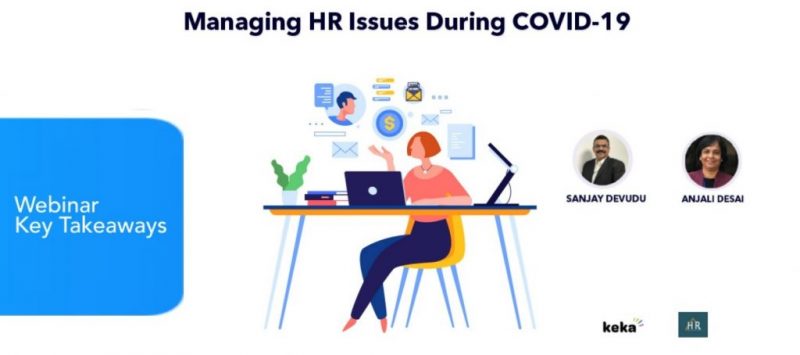 Hence to give an account of major regulations for businesses, Anjali Desai and Sanjay Devudu have come together in the webinar hosted by Keka HR and Heritage People Practices together.
Carrying great expertise in the field of HR and leadership, Sanjay Devudu has been a part of eminent organizations like General Electric, ICICI, Dell, Ashok Leyland, etc. where he managed several HR teams and leadership roles. Anjali is a Leadership Coach and Senior HR Professional who has led HR departments of renowned organizations such as Tata, Wipro, Rockwell Collins, etc.
INEVITABLE CHANGES – EXPERIENCED BY INDUSTRIES
Sanjay begins with the obvious changes that were thrust upon organizations irrespective of sectors due to the pandemic. He quotes that these changes are 'inevitable' and are the new developments considering the enablement of remote work model for the workforce.
The following are the changes that have come up,
New or enhanced welfare measures of employees
Modified employee communication practices
Compensation actions that are directly related to the outbreak
Workforce planning changes
Travel Restrictions
Work from home policies
Statutory regulation changes and adaptation to the 'new normal' certainty
COMMON GUIDING PRINCIPLES – BUSINESS CONTINUITY
To withstand calamities and ensure business continuity, certain guidelines are to adopted and followed. These will ensure business operation and continuity regardless of whether it is on premises or working virtually.
The guidelines are,
Create Standard Operating Procedures (SOPs) ensuring consistency in all activities
Protection of personnel—Workplace health and safety measures
Regular and transparent communication
Policy amendments regarding leave, attendance, working hours, work from home, health and wellness, etc.
Managing payroll issues
Adherence to operating rules of State and Central governments and WHO
Stakeholder management—Internal and External
Keeping these in consideration and inducing each into the business model can help narrow down the complexities amid lockdown for organizations.
HR PERSPECTIVE – INDUSTRIES EXEMPTED FROM LOCKDOWN
Anjali explains the important guidelines and information passed on by the government for organizations whose operation is mandatory.
The sectors such as Agricultural, Pharma, Oil Refineries, Rice Mills, Milk, and Dairy products are mandated to operate for the supply of essential goods.
It is guided that there should be 50% of the workforce available for industries such as Pharma, Food Processing, Manufacturing, all essential goods, IT/ITES companies.
Restriction was laid down to a specific number of employees per shift. Staggered shifts are introduced with a gap between those shifts.
Organizations must sanitize the workplace between the shift gaps wherever there's proximity of people.
Employees are to be given passes who are scheduled to work.
Protective clothing, masks, gloves, sanitizers are a must at the workplace to prevent direct contact.
To maintain a safe distance of employees from each other while traveling, the transportation capacity is reduced to 30-40%.
Organizations are encouraged to pay their employees with risk allowance as a good will gesture.
Sanjay adds that it's very much necessary for one to watch out for fresh guidelines that keep coming from the Governments of different states. Adhering to the new restrictions and relaxations, the guidelines change depending on the Government bodies.
HR PERSPECTIVE – LAYOFFs AND REFUSAL TO WORK
Relating to employees and employers, Anjali points out the major rules that conform to certain Industrial Acts.
Government authorities have requested companies to not terminate their employees during the lockdown. There's no discretionary guidance to specific industries but applies to all the sectors.
These guidelines relating to work shall apply under the Industrial Disputes Act/ Shops and Establishments Act.
Employee can only refuse to work when any of the guidelines mandated by the government are not met by the organization. Further, when he/she is forced to attend their duties, the individual has the right to sue the employer.
The employer can take appropriate disciplinary action on the employee who refuses to come to work (even though all the health and safety measures are covered for him/her) for the aforementioned exempted industries.
As per the Contract Labor Act, Principal Employer is liable for the payment of wages to the contractor and ensure the contractors pay his/her workers.
HR PERSPECTIVE – SALARY & WAGES
"Salaries and wages are on top of most concerns," said Anjali as she further elucidates the key considerations and guidelines laid down by the government.
Companies are directed to pay their employees during phases I and II of lockdown. For the exempted organizations, salaries are paid according to the actual attendance of the employees.
March guidelines continue to apply for the salary payments until further clarification of rules for phase II of lockdown i.e. April 2020.
Employees refusing to work in exempted organizations (where health and safety precautions are carried out) are liable for the deduction of amount from their salaries for such absence.
Paying the salaries in recurring amounts is not allowed as per G.O guidelines. However, the employer and employee can form a mutual agreement.
Employer has the right to deduct salary from the employee when he/she is not able to work even though they are provided with flexibility such as work from home.
There has been no specific guideline that prohibits employers from asking their employees to go on a forced leave that could be either paid or unpaid.
Companies can claim any Ex Gratia payment made to their employees as CSR expenditure.
HR PERSPECTIVE – STATUTORY OBLIGATIONS AND TAXATION
Sanjay runs through the new statutory commitments announced by the government.
The government has announced that it will take care of the statutory contributions PF and ESI for both employee and employer for the 3 months i.e. March, April, and May. Companies are eligible for this benefit under two conditions.
90% of employees in a particular organization should be earning up to Rs.15,000/-
The maximum employee count of the organization should be 100.
No interest or penalty shall be charged to employers if contributions are paid on or before May 15th, 2020.
The date for filing TDS returns by the employers for the financial year 2019-2020 has been extended till June 30th, 2020.
The deadline for linking of PAN and Aadhar for IT return purpose has been extended now to June 30th, 2020.
These are the broad and major guidelines from the government that might change with time. It is requested that one should seek the official resources regarding the new guidelines from the government.
Watch the whole recording of the webinar below.