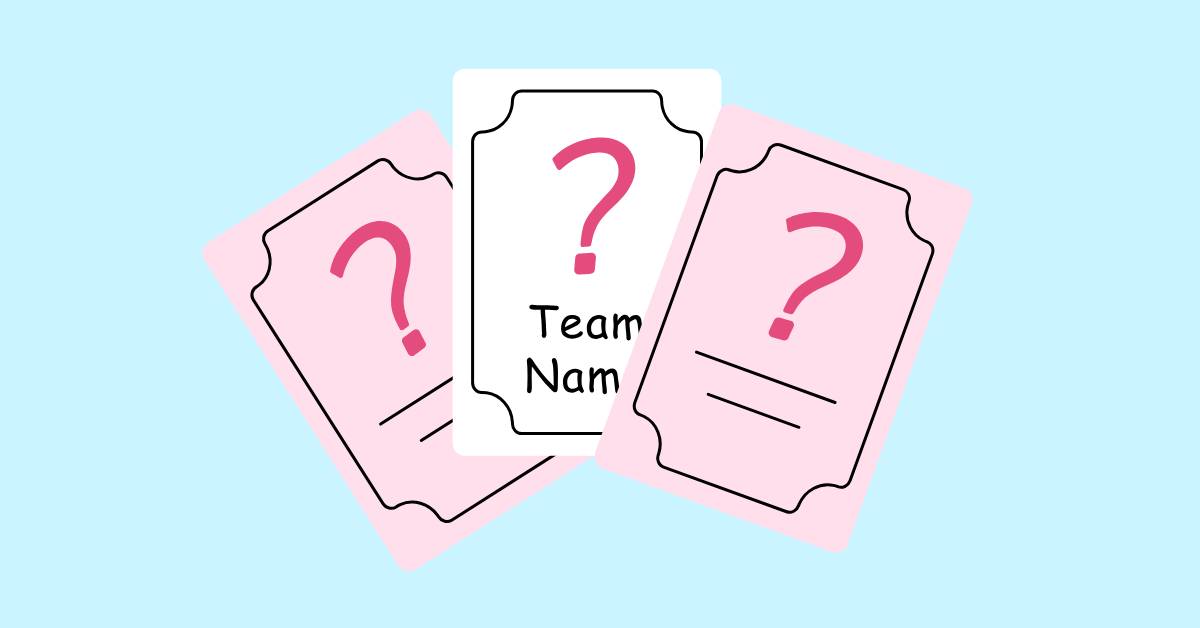 Are you looking for ways to boost your team spirit and enhance your work environment? A great team name could be the best thing you need. This helps boost morale, creates unity, and fosters teamwork and healthy competition.   
Research shows that employees who feel a sense of identity and belongingness in their workplace are more productive and satisfied. In addition, a well-crafted team name helps create a shared sense of purpose and inspires employees to work collaboratively towards a common goal.  
HR managers can use these names to leverage team morale, boost productivity and create a cohesive feeling among the employees. 
So, what are you waiting for? Use these suggestions to name your new team or rebrand the existing one! 
Why do you need team names?
HRs often undermine the impact a team can have on its employee-centric strategies. The key benefits of influential team names are: 
Morale and Motivation:

A good team name creates a sense of pride, unity, and brotherhood among team members. HR managers can utilize this to build strong emotional connections among team members.

 
Employee Engagement:

They help in creating a common identity among team members, in turn assisting in encouraging collaboration, communication, and a sense of purpose and belongingness.

 

Communication and Recognition:

A team name helps employees create a distinct identity in the organization. This allows them to associate themselves with their achievements in the workplace.

 

Collaboration and Innovation:

They help HR managers nurture a culture of creativity, innovation, and collaboration. This fosters an open environment where employees inspire each other and work together to solve complex problems.

 

Employee Retention and Satisfaction:

Employees feel connected to the organization's values and vision and are less likely to leave. This also leads to an increase in engagement levels, ultimately leading to a rise in business profitability.

 
Ingredients of Good Employee-centric Team Names
HR Managers and Team Leaders are at times confused on what an ideal team name should be, here we have compiled the list of all the essential elements in good employee-centric team names: 
Reflects company values and vision:

They should reinforce the company's vision and values as it helps employees to align their individual identity with the organizational identity.

 

Stresses inclusivity and diversity:

Team names that celebrate differences ensure maximum employees' satisfaction and ensure they feel valued and included.

 

Showcase team strength and expertise:

Emphasizing the strengths of the team helps build specialization, along with boosting employee's interest to excel in the field.

 

Encourage collaboration:

Names that reflect the team's vision to work together, find creative solutions, and drive innovation are appreciated.

 

Promote positive work environment:

Names that are light-hearted and easy-to-remember act as stress busters in the professional workspace. They also help build a fun work atmosphere.

 
How to choose the best team names?
The process assists HRs and Team Leaders create the best team names that define the team. Additionally, fostering engagement and collaboration and boosts morale. The best strategies are as follows: 
Involve all the team members in the process, so they freely share their insights and feels included.

 

Conducting surveys and brainstorming sessions to gather the best ideas and choosing the one that most resonates with the teammates.

 

Considering the team members' preferences like their hobbies, expertise, inside jokes, known pop culture references etc., can be a great way to boost the fun in the team environment.

 

Developing a clear understanding of the team's goals and objectives and aligning them to the organization's overall goals and aspirations.
Team Names to Elevate Employee Engagement
Now that clarity rests on the importance, role, best tips and process to develop team names. Here's a compiled list of team names for the HRs, for their various occasions and meetings to boost employee engagement and productivity. 
Team Names for the Productive Bunch
Check out our list of unique team names, that instill a sense of creativity and innovation in the team: 
Multiverse Voyagers – loves to explore new ideas and possibilities

 

Intellect Invigorators – values intelligence and creativity

 

Neuron Navigators – uses brain to solve complex problems

 

Supernova Squad – powerful and explosive team

 

Retro Spacecraft – efficiently combines old and new techniques

 

Insight Innovators – brings new ideas and insights to the table

 

Reality Sprinters – get things done quickly

 

Grove Tumblers – embrace change and adaptability

 

Rumble Stealers – takes risk and disrupts the status quo

 

Strategic Squadrons – plan and execute with precision

 

Dream Patrollers – turns dream into reality

 

Chaos Coordinators – thrive in chaos and complexity

 

Cosmic Proponents – interested in the big picture

 

Alpha Force – teams that lead the way

 

Delta Brigade – highly skilled and specialized

 

Vision Architects – create a vision for success

 

Storm Dashers – fights difficulties and comes out stronger

 

Velocity Pillagers – move aggressively and pursue the goals

 

Realm Invaders – bold and fearless

 

Solar Samurai – powerful and noble
Use these names to distinguish the key performers and use their expertise to find ground-breaking results. 
Team Names for Off-Work Gatherings
HRs can use this to bring together the movie-goers, binge-watchers and the off-work buddies to lighten next office parties and outings.  
Avengers Alliance

 

Captain America's Corps

 

Wakanda Warriors

 

Gotham Gurdians

 

Hogwarts Heroes

 

Brooklyn Battlers

 

Central Perksters

 

The Legen-wait-for-it-Dary Warriors

 

The Mosby Boys

 

Bazinga Brigade

 

Dundie Dynasty

 

Finer Things Club

 

The Dunphy Dozen

 

Infinity Warriors

 

S.H.I.E.L.D Squad

 

Megazord Mashers

 

Mystery Guardians

 

X- Men Xperts

 

Mario's Minions

 

Transformer Titans

 
Use these to bring all those like-minded people together to ensure a blast in your next team outings, holiday, or any off-work team gatherings. 
Team Names to Foster Departmental Excellence
If you are looking for team names that are department-specific, your search ends here!  
These specific team names define the specialization of every organ of your firm and connect them to the overall vision of the organization: 
Production Potentate – focused on production and manufacturing

 

Engineering Eagles – engineering team that soars above the rest

 

Marketing Radicals – not afraid to take risks and push boundaries

 

Quality Questers – customer success team dedicated to excellence

 

Supply Chain Shinobis – stealthy, agile, and highly efficient

 

Design Dream Team – creative and innovative design team

 

IT Incubators – team always experimenting with new IT ideas and technologies

 

Training Titans – dedicated to employee training and development

 

Legion of Leaders – management team that's leading the charge

 

Workforce Wizards – HR team dedicated to finding the best talent

 

Boardroom Bandits – team ready to take on any challenges

 

Director Defenders – supports company's leaders

 

League of Invincibles – unbeatable team

 

Phoenix Blazers – rising from ashes and ready to face new challenges

 

Sales Savants – expert sales professionals

 

Quality Researchers – dedicated to research and development

 

Project Pros – always delivering projects on time and budget

 

Legal Eagles – legal team soaring high above the rest

 

C-Suite Samurai – executives always ready for battle

 

Lions of Leadership – leading the pack with strength and confidence

 
Unleash these team names to revitalize your department's and enrich them with a new sense of vision and purpose.  
Team Names to Bring the Festive Flavor
HRs often run out of their creative juice to get the employees grooving to the festive tunes, so here's the compilation of a few occasion-specific team names, to get the festive mood on: 
Holiday Hoppers

 

Snow Dashers

 

Jingle Jugglers

 

Holly Hustlers

 

Seasonal Savages

 

Reindeer Rangers

 

Easter Egglers

 

Deck the Halls Hounds

 

Rudolph's Riders

 

Gingerbread Getters

 

Candy Crushers

 

Winter Wizards

 

Mistletoe Hunters

 

Elf Squad

 

Happiness Heroes

 

Festive Sparklers

 

Cherry Champions

 

New Year's Commandos

 

Trickster Titans

 

Dashers of Fun

 
These names will fuel the festive energy and bring all the employees together to boost their fun. 
Team Names that Tickle the Funny bone
Are you looking to inject humor into your workplace? Funny team names can be one of the best ways to do so. With that in mind, use these team names to make your employee wellness sessions more fun and happening: 
Lobster Lovers

 

The Cereal Killers

 

The Flapping Marshmallows

 

Ctrl-Alt-Defeat

 

The Meme Makers

 

The Brunch Boys

 

The Multi-Tasking Ninjas

 

The Brain Farts

 

Not Fast, Just Furious

 

Lounge Potatoes

 

Janice's Oh My God Squad

 

The Suit Up Batch

 

Schrute Farm Survivors

 

The Desk Jockeys

 

The Scrambled Legs

 

The Meeting Munchkins

 

The Spreadsheet Leaders

 

The PowerPoint Posse

 

The Mouse Destroyers

 

The Office Oldsters

 
Try these names with caution so no one is offended and enjoys a good laughter during the employee wellness sessions. 
Single-worded Team Names to Unleash Creativity
Looking for a one-word team name that can help build camaraderie, inspire healthy competition, and promote teamwork? Check out the list of one-word team names: 
All-Getters

 

Superfreaks

 

Radiants

 

Spartans

 

Jokesters

 

Invaders

 

The Simpsons

 

Dundies

 

Wreckers

 

Ghostsnips

 

Lumens

 

Momentum

 

Ellipse

 

Pioneer

 

Impactors

 

Famers

 

Mavericks

 

Titans

 

Harmony

 

Vision

 
Let the employees use them every day to define their goals and aspirations and ensure maximum organizational profitability. 
Building the Best Team Culture
An employee-centric team name gives the HRs a wide window of opportunities to enhance culture, build team activities and develop a positive team synergy. Effectively implementing them also helps you track the impact of employee engagement activities and create a thriving work environment. 
Choose the one that reflects your team's personality, goals, and values.  
Happy Team Building!