A webinar on navigating the Work From Home challenges for the first time organizations.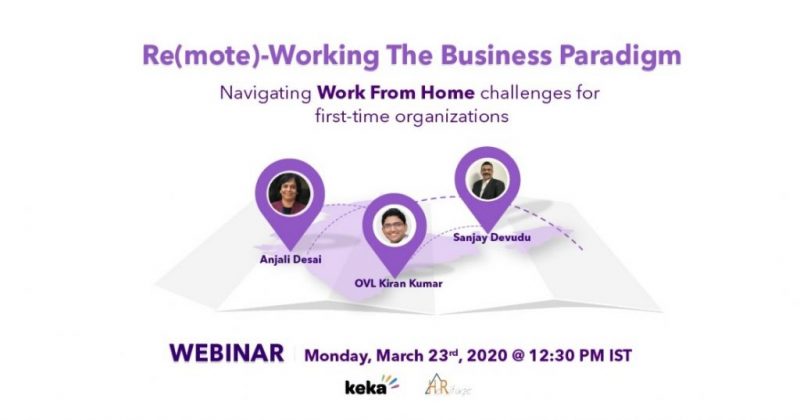 In the wake of the COVID-19 outbreak, the world has been witnessing chaos and panic. It's affecting every sector and is puncturing the economy in a bad way. The organizations are clearly on the employee side and have asked them to work from home for their safety.
While some organizations are pulling it off, it's a big challenge for those organizations who are facing this situation for the first time and finding it hard to enable remote working culture.
In order to help these organizations Keka along with Heritage People Practices have put forth a webinar which is "Workplace Culture Redefined". The session was hosted by Anjali Bhole Desai, Sanjay Devudu (founders of HeRitage People Practices), and OVL Kiran Kumar who are hailing with great expertise in the field of HR.
In the webinar, they have discussed key things that address the needs of the organization and employees to ensure business continuity and productivity. HR leaders posed their questions and queries and have got them answered while making it more interactive and engaging.
Here are some key points from the webinar,
Take Care Of Your People
This requires empathy and flexibility in helping your people, be it employees or colleagues through this crisis. Introduce changes to employee policies and work manuals. Supporting your people in times of crisis will build a tremendous social capital and make a significant positive impact on business productivity, employee loyalty and retention in the long run.
"Retail sector is one of the sectors where the lockdown or curfew is not applicable because people have to be present there. At the same time the challenge is not with the infrastructure but with the people themselves. You can't have too many along with the customer and staff which can make it a large congregation. So, the retail organizations have resorted to optimizing their staff numbers and rotating shifts. They reduce the staff working for a particular day and double the responsibilities. At the same they need to take care of their health so they take a break after a 24- or 36-hour shift and then new staff comes in their place. This way maintaining the quorum in terms of number but not necessarily the people is one way through which they are coping. Of Course there are other factors which come into play in terms of their health and hygiene."
Communicate
Clearly, Confidently and Consistently: Uncertainty creates confusion and nothing works like timely and transparent communication with your people at multiple levels. Developing a crisis-communication program about the crisis, the possible risks, and the steps being taken to address them is critical.
Draw up a set of FAQs that will allay unnecessary fears and stem rumors. A key step is to have continual engagement with the employees regularly, ie. through Online meets, one to one communication, etc. This will go a long way in boosting employee morale.
Tools That You Can Use
Google Hangouts, Skype, Zoom, Cisco WebEx, GoToMeeting, Microsoft Teams, Group Chat, document sharing, and more. Drive education and adoptions of these tools for communicating and business reporting
" A leader or HR person actually being a cheerleader is important when something like this is being implemented on the ground. While we talk about leaders and HRs being a bouncing board to the people to return when we have issues. I think as leaders and as HR professionals we need to ensure that we are addressing the anxieties and concerns of the employees and being there almost all the time. I have seen few of my good friends actually working 18 hours to 20 hours during the last 15 days. Not missing out on simple things such like appreciation and reward especially in a time like this. I think that's very critical which is the basics being taken care of "
Flex Your Work Culture
Go ahead and explore all options of allowing employees to work remotely/ with limited time. Invest in people as much as you investing in technology. New ways of working require a culture change – Drive change by sharing best practices, devising policies and support systems, providing learning sessions on effectively leveraging technology to deliver expected results.
Stay Safe On Security
Implementing remote working practices comes with huge potential for risks. Review organizational and data safety by installing cutting edge tools and related processes to monitor and avoid/ stop the breach of security. Evaluate, educate, and implement safe remote-working systems, protocols, threat-identification, and swift escalation procedures.
"When it comes to monitoring the productivity or keeping up the tempo with remote teams, there are certain good practices in the technology space that can be applied in other areas also. Say for example, a cadence in terms of calls that you have is extremely important if you are working from home. With all the organizations I work we have a practice of having a call in the morning and another one sometime in the late afternoon just to make sure we all are on the same page. Whenever we have activities which are extremely important and urgent to get done on the same day, we would have a series of follow-ups that need to take place. There are HRMS softwares like Keka HR that provide you the capability of knowing whether your team mates are working right now or not. With remote attendance being the norm you atleast know whether are present or not and whether you should be pinging them and checking whether work is going to get done or not"
Stay focused on customers:
Amid the frantic activity to ensure business continuity, it's easy to lose track of customers and business productivity. Devise new ways of engaging the customers.
Watch the full webinar from here: