At Keka, we've redesigned the surveying mechanism for our customers. This may or may not surprise you, but the existing poll/surveys are simply not good enough. That's why we decided to build a pulse survey feature from scratch to help other organizations and our own.  
Why aren't regular surveys any good? Because they happen once a year and nobody bothers to answer them. Problems get solved in the moment, not months after they occur.   
And how long must employees wait? Wait for their organizations to listen to their challenges and how many 'surveys' must happen before things start changing for good.   
The Problem 
Going into the depths of things, we realized that the problem is time. Time is something most organizations do not have, especially when most of their employees feel disengaged and it's impacting the hell of the overall results. Every day lost in understanding employee issues without reaching the bottom line is a big loss.   
64% of organizations only measure employee engagement annually. While nearly one in five employees report that their companies don't formally measure engagement at all.   
That is a lot of time and resources lost, a wasted opportunity to finish the unfinished business. First organizations onboard employees, yet cannot get beyond the first stage of engagement.   
Some organizations don't even start.      
That's why we built this feature because regular polls are long and time-consuming. Most employees don't even care to answer them. To give organizations a sense of how their employees feel at work and how it's impacting the growth of the organization.   
Employees who don't feel needed during the whole year feel worse when they are asked questions in the form of a big survey at the end of the year. They struggle to talk about the issues that happened months ago.   
Most CEOs face trouble figuring out the mood of their employees and realize that a frequent and quick form of engagement is needed instead of regular surveys.    
Building from Scratch:  
Here's the gist of functionalities and how everything works in Keka's pulse surveys.  
Short, quick, and frequent check-ins make pulse surveys an effective employee engagement tool compared to regular polls. 
"We want employees and organizations to discuss problems when they happen, not after a year of happening."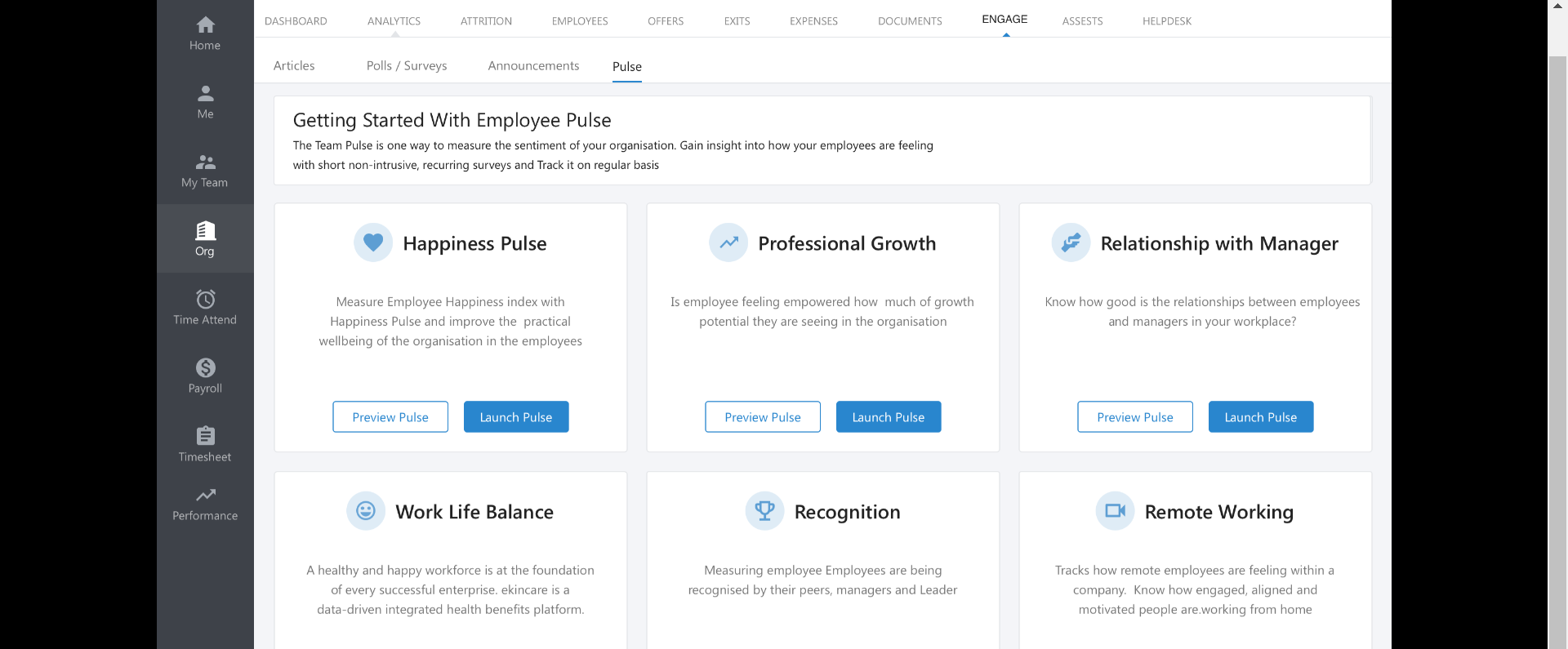 To make things simpler, there's a wall that provides all the information to employees.  
"It's not the amount of data, it's the fact that everything is available on a single screen that makes things simple."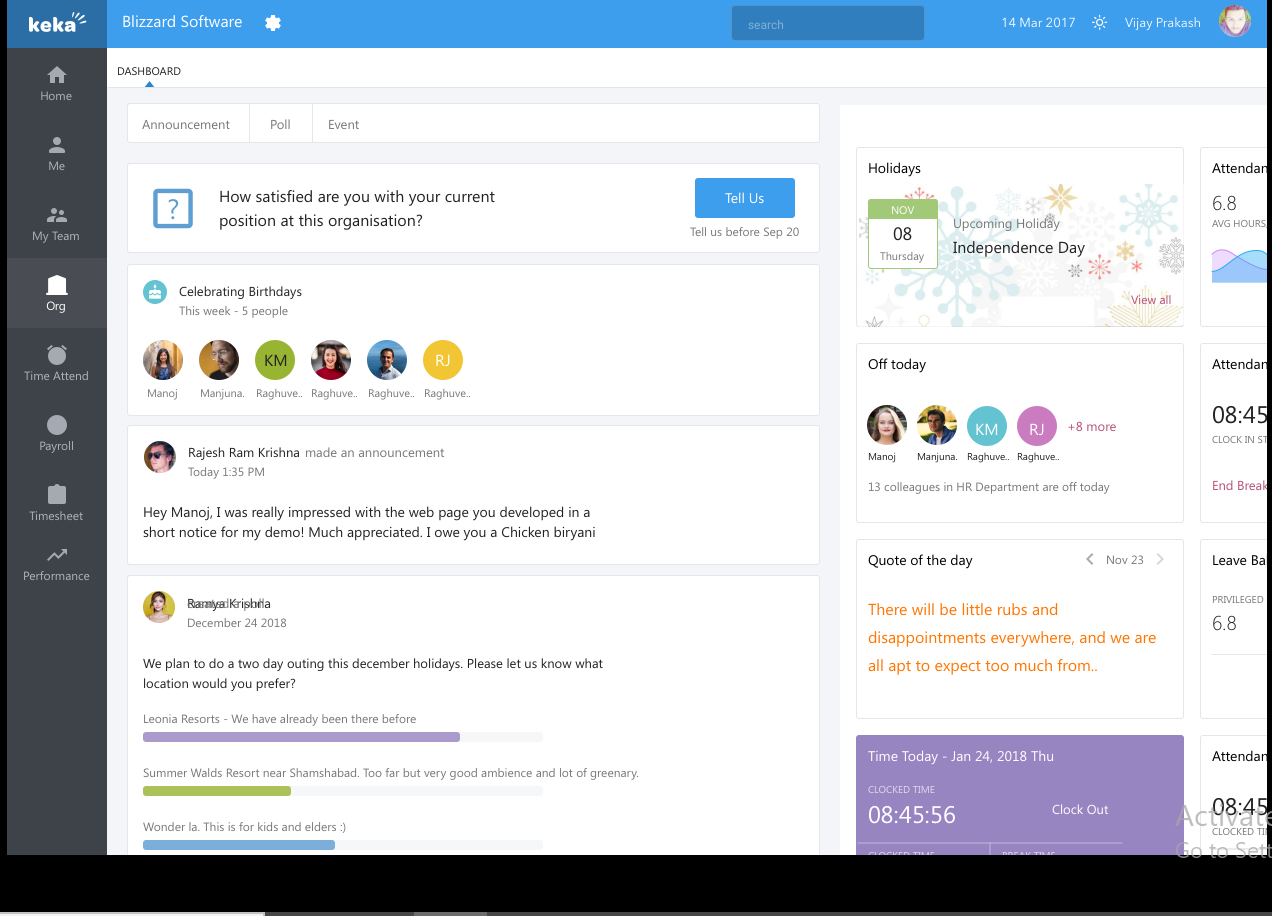 The number of questions is fixed at 5. The templates are pre-loaded which makes them ready to implement out-of-the-box. Questions like 'How do you feel when you come to work?' will be asked through a pop-up in case you are an active user of the Keka platform. 
Questions will appear as a pop-up full of emojis to keep things real and calmer. Pop-ups will enhance the experience and also HRs don't have to do anything to set things up. 
"Questions not only focus on What is the problem? But what are the things that will help you work better?"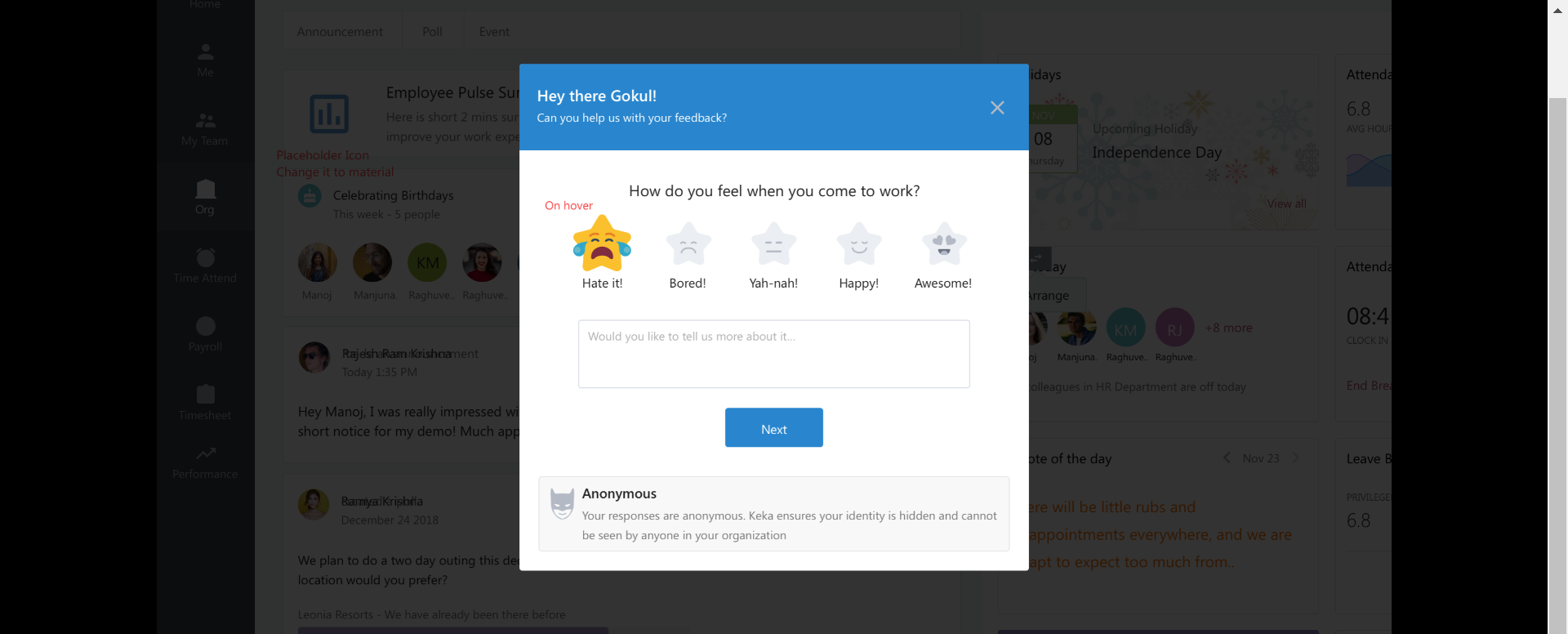 The frequency of conducting pulse surveys is totally up to you. You can roll out a pulse on a monthly/weekly basis and also remove certain departments wherever required. 
"You have the tool. Use it wisely."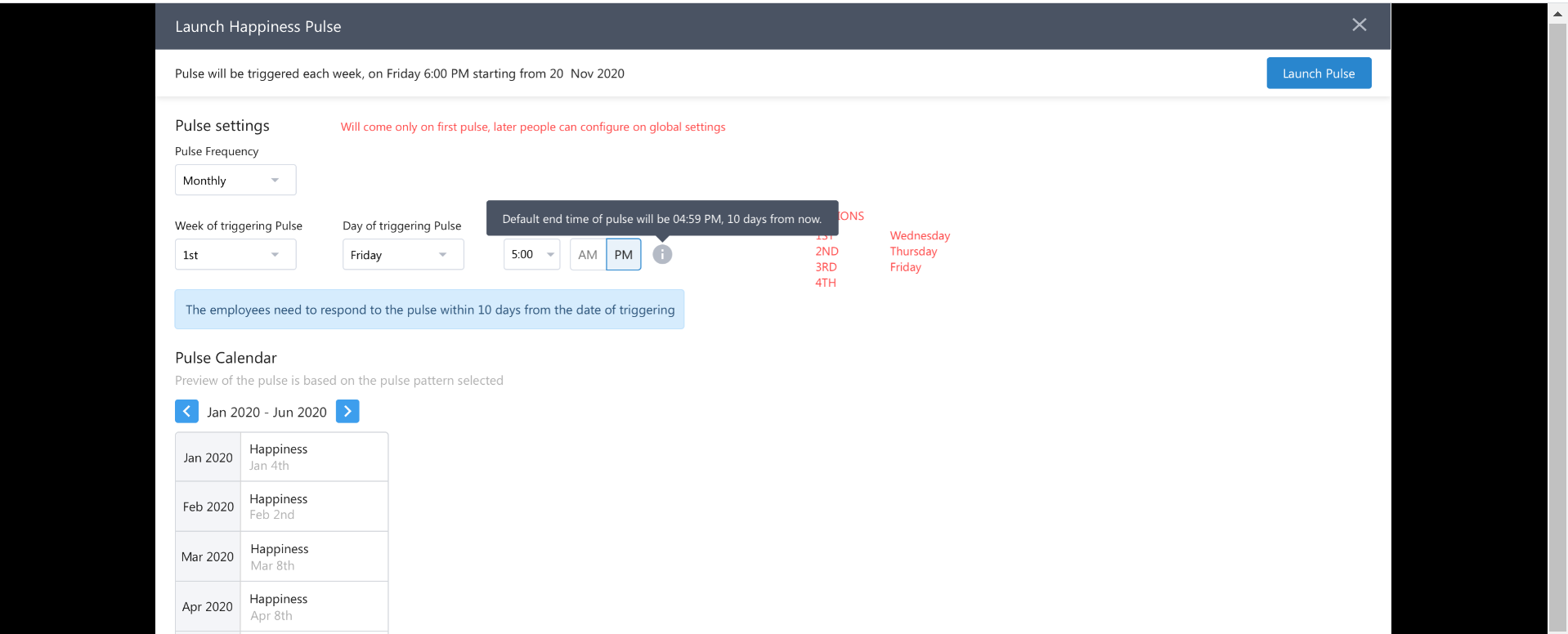 The focus is on identifying how people are feeling for different parameters. Also, employees have the option to rate their experience. The anonymity of the responders will be maintained at all times. However, managers can enable the option of department-wise reports to see which department has a certain issue that needs to be solved. 
"Solving a problem in a department is more important than identifying the person who mentioned it."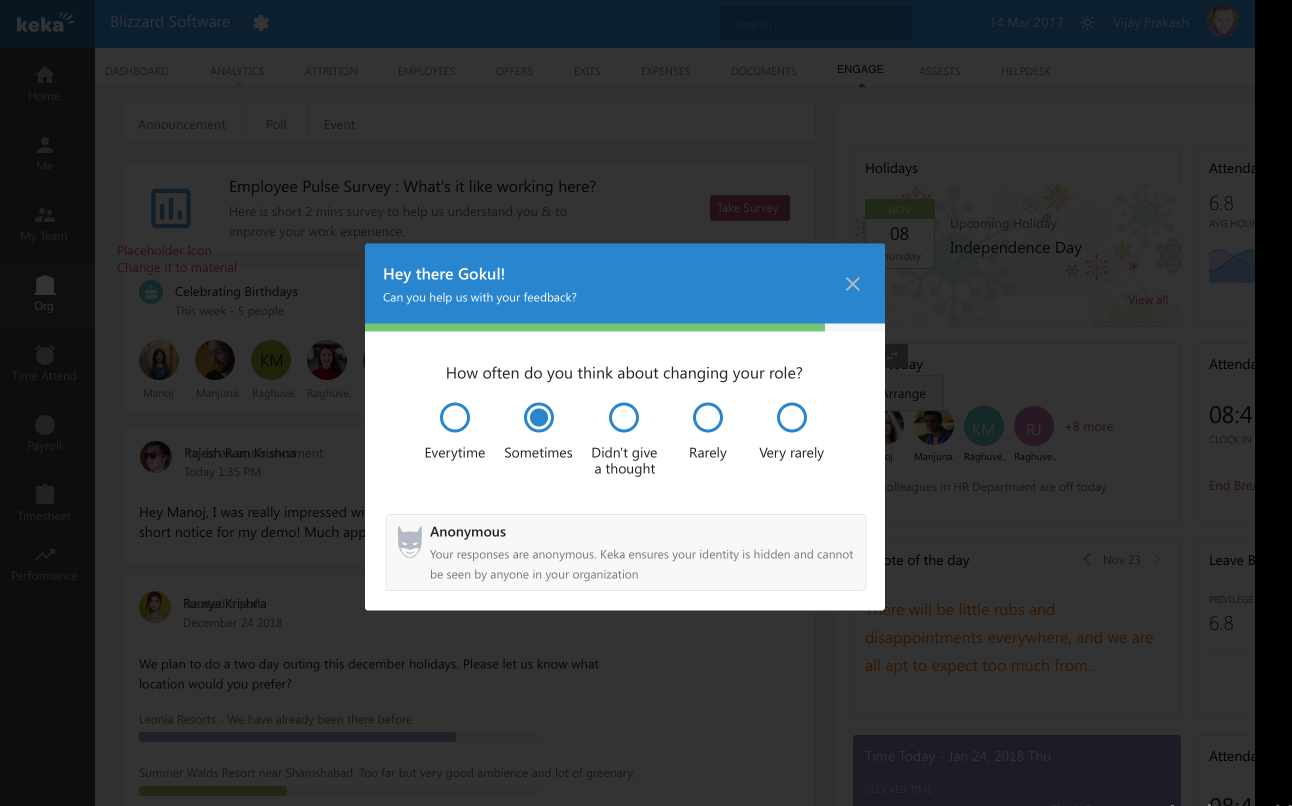 Employee engagement has 2 parts. First is how do you reach out to employees and engage them. The second is what do you with the data. Happiness, work-life balance, etc. are directly related to the attrition rate. Less engagement, motivation, satisfaction, etc. leads to a higher attrition rate and more people leaving the organization in a small amount of time. 
HR analytics will help you with actionable data and insights. Use them to solve issues that the employees are facing and not only improve employee engagement, but also the organizational culture. 
"Once you onboard new folks, it's important that you help them stay."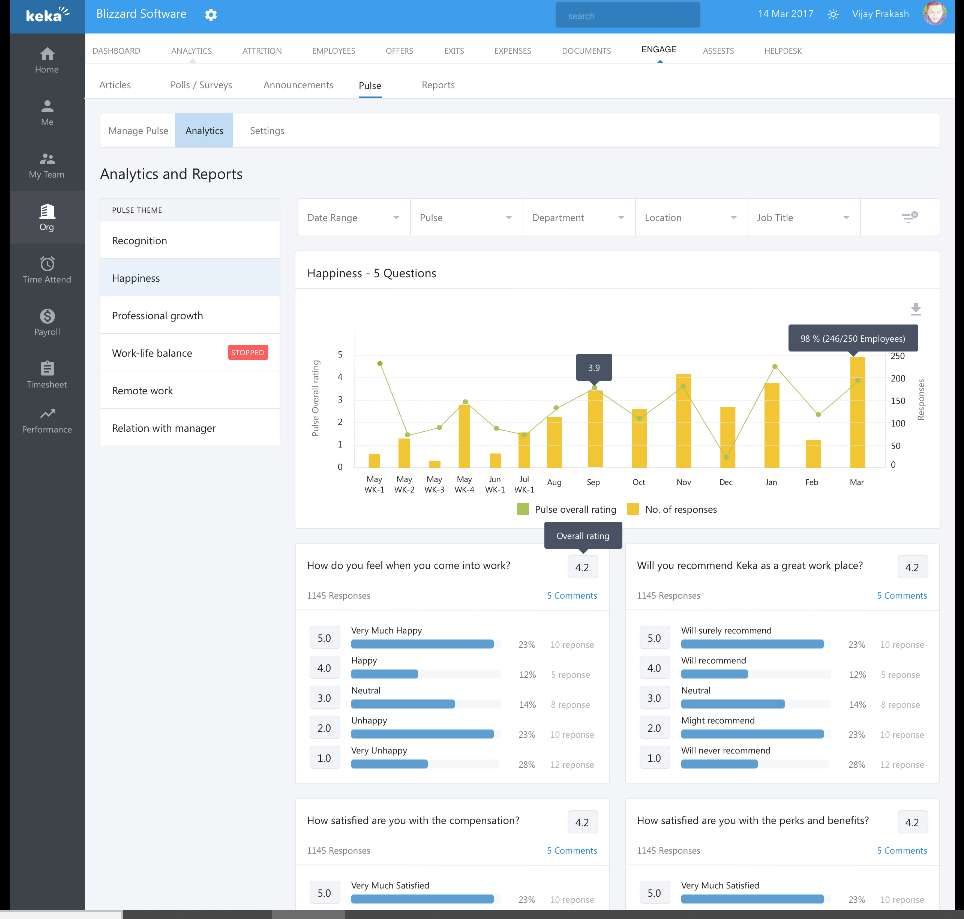 Lastly, all the information is available on a single dashboard. Info like what are the trends, decisions made and the impact on employees. We all care about business impact and this data gives you a clear picture of that. 
"A good ending is only possible with a clear view of things."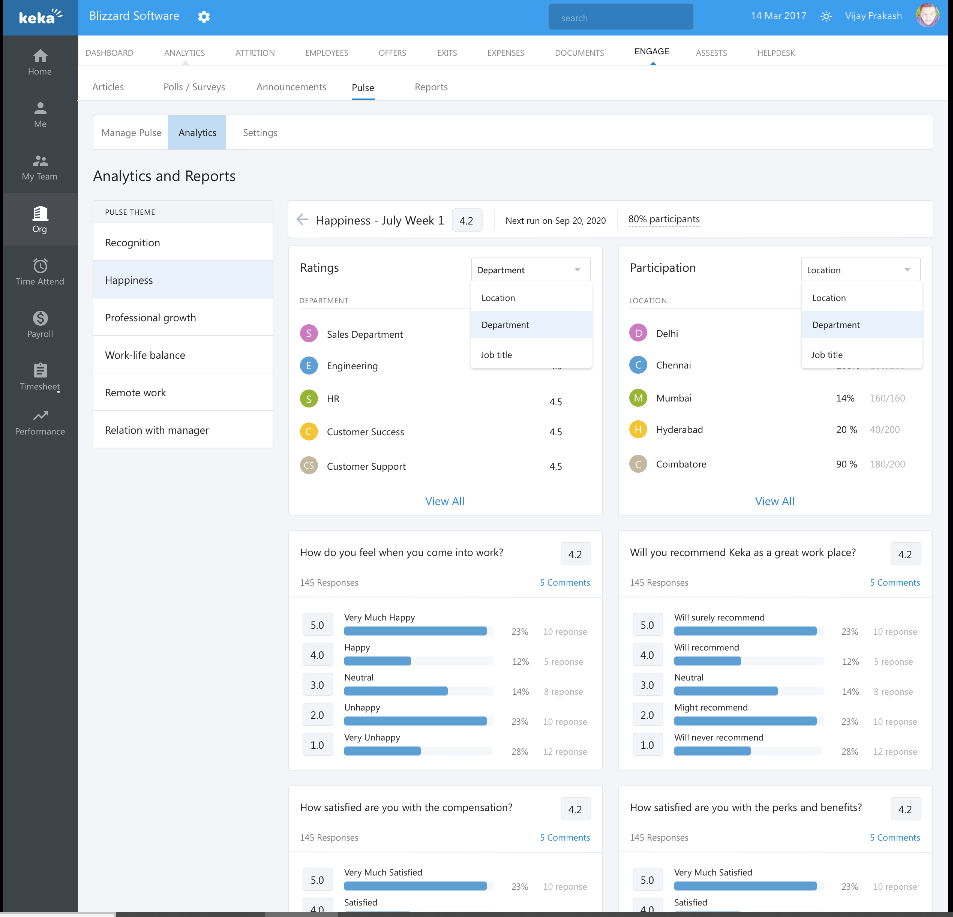 If you've reached this far, we understand you are full of questions.  
It's a pleasure to answer queries. After all, solving customer problems is why we exist. Here are some of the questions (and their answers) concerning pulse surveys that we believe are going through your mind right now. 
Note: Just in case you have more questions, feel free to contact and we will love to answer those for you. 
FAQs
How easy is the setup process? 
It's so easy to set up a pulse survey on Keka that it literally takes less than 10 minutes. The best part is that you're likely to receive a 90% response rate by doing quick surveys.' It's like the shortest form of employee engagement that actually works.  
While answering pulse surveys, can employees resume from where they left off? 
Yes, it picks up from where an employee left off before closing the window.  
Is it mandatorily anonymous? 
No, it's not. You can set it up according to requirements.  
In analytics, can we see department-wise data even if it is anonymous? 
It won't reveal employee details but will give info on the department and that's what matters for a manager when it comes to feedback and engagement.  
For pulse, can questions and emoji be customized? 
No, you can't do that. Why? Because pulse surveys are all about speed. You come here, quickly launch them and get things done.  
Full surveys that'll be customizable will be launched separately.
Is it possible to see the participation rates and comparison between two different pulse? 
Yes, most information is available on the dashboard. Sending out staff pulse surveys is not a one-time activity. HRs can use reports to derive specific results based on different pulse.  
Any other important information that's available? 
A lot of common words will be used over time by employees to answer these questions.  Using this data, we will build a keyword cloud in the future.  
Does it work on all platforms? 
It's currently available only on the web. But will soon be available on mobile too. 
To end… 
Only the people at the top level in an organization mostly receive visibility, with the voice and well-being of the rest lost somewhere in the name of rapid organizational growth. 
We're often told to engage our employees and keep them happy. But where do we even start? 
Well, the question does have an answer now. It's called pulse surveys. While they will give you info on how employees are feeling and their issues, they won't take action on your behalf. 
As a leader, you need to take those actions. Take care of your people and they will take care of you.