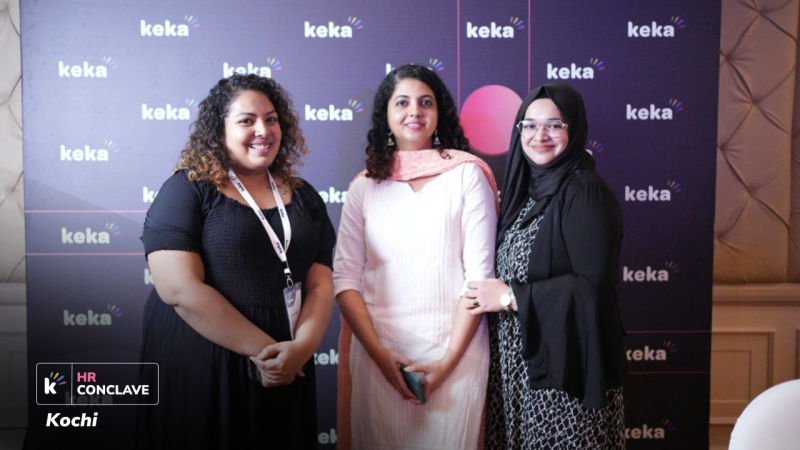 Engaging minds: Participants at the Keka SME HR Tech Conclave in Kochi.
Building an institutional culture was a challenge in the newer formats of working such as work-from-home and outsourcing, a speaker said at Keka SME HR Tech Conclave in Kochi.  
"For people in the early stages of their careers, work-from-home is not advisable. It prevents them from becoming part of the institutional culture and the bigger picture," explained Nishad Kareem, vice president, SFO Technologies, who was speaking on 'Employee engagement and challenges'. 
Keka HR, an SME HR technology leader, organized the conclave at Taj Malabar Resort & Spa in Kochi. The day-long event, which is traveling to 13 Indian cities, brings together the best minds in the sector.  This was the seventh edition of the conclave. 
The gathering also included a knowledge hub where attendees were given access to practical HR use cases, case studies and books on HR management. 
In a departure from usual conference formats, the Kochi conclave invited the attendees to participate in round-table discussions. They were allotted a topic each to discuss challenges and solutions thereof. Later, one representative from each table shared them with the audience. 
Take feedback from employees especially the gen-Z as they see and feel things differently. 

–  Nishad Kareem, vice president, SFO Technologies
Explaining employee engagement, Mr. Kareem stressed the alignment of employees to the company vision, mission and vision without compulsion. "The shelf life of knowledge is too short, so companies must first redefine their objectives and goals. They have to be communicated to employees regularly. Also, companies must gauge new trends," he added. 
Spotlight mission champions
In a bid to reinforce desirable behavior, Mr. Kareem suggested recognition for those contributing to the company mission. Further, he exhorted participants to focus on upskilling and reskilling employees so that they could help the company grow.  
In addition, taking feedback is essential. "Especially from the gen-Z because they see and feel things differently," Mr. Kareem emphasized. 
At another table, Jobin Thomas, Deputy General Manager – HR at Popular Vehicles & Services Ltd., identified a lack of clarity on the organizational goals among employees. "They need to be defined and communicated to all," he suggested.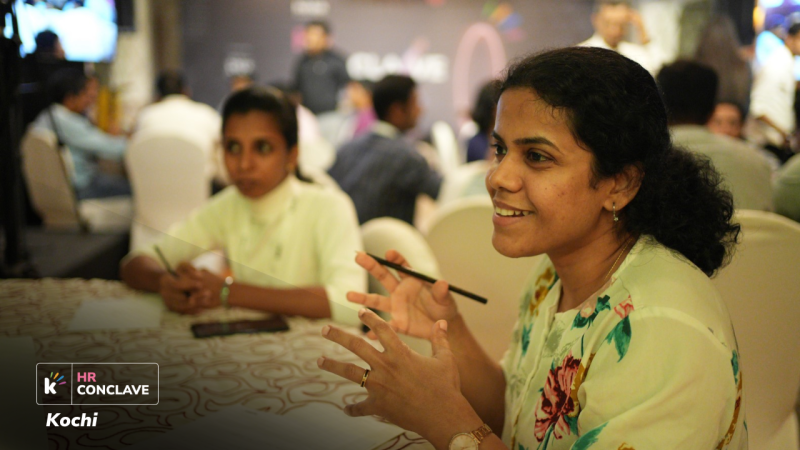 Thought-provoking: A participant taking part in a round-table discussion at the Keka HR Tech Conclave in Kochi.
It was essential to document what was expected from employees, he stressed. "Duplication of responsibilities, including dual reporting, should be avoided," he pointed out. The group discussed 'Lack of clarity in performance expectations."
Another speaker from the group suggested monthly performance evaluations. "It is not fair to judge performance after a year only," she added. 
Do you work or perform?
In a bid to provoke thought in the audience, HR Shapers founder Ashish Gakrey, who moderated the session, asked: "Do you work or perform? There is a difference. There are people who come to work and others who are forced to perform, probably for a promotion or meeting goals."
In addition, Keka HR Lead Process Strategist Kshitiz Sachan referred to a survey to point out that 70-80% employees across the globe felt that if they were explained their job expectations, they could perform better. 
Another group discussed – 'How to simplify employee documents' management'. A speaker suggested automation as the solution.  
"But how should we maintain access to automation," asked Pragya Shruti, Sr. Talent Specialist at Sciometrix. "For instance, if we want employees to upload documents on a portal, why should HRs take every step? Why can't the access be given to employees?"
Among the challenges, the group discussed migration of data to a recently-introduced platform, retrieving documents when needed and space crunch to store documents. 
At a table which discussed 'How to measure employee satisfaction', a speaker pointed to the challenge of getting employees to participate in employee engagement activities, especially in remote work. And employees' participation in decision-making. 
As for 'effective employee onboarding', a group stressed providing role clarity to candidates especially during mass hiring. "This can be dealt with by creating manuals on job and department functions, as documents or video clips," a speaker said. 
Get first book free! 
In a bid to encourage reading, a mobile library at the conclave offers the first book free to attendees. Upon sharing a summary of the book on a QR code, the readers are eligible for a 50% discount on the retail price of the next book, deliverable at their doorstep. Further, the next edition of the conclave will be organized in Chennai on May 18.