As the number of employees in the company keep increasing, the challenge of managing this large workforce becomes difficult and frustrating. Sensitive workforce records lie scattered across various folders and documents, making integration and data management more of a manual operation.
This can also adversely impact the HR process efficiency and cause delay in execution of basic HR functions that ultimately hurt your employee productivity. This is when HR software comes into the picture and can act as your saviour.
An HR software streamlines and automates human resource practices in the most efficient and evolving ways. By opting for an up-to-date HRMS solution that works well for your business functions, your organisation will better leverage its talent, keep employees motivated and drive productivity. However, before jumping into detailed list of benefits it offers, let's first know the basics and understand how it functions.
What is HRMS?
The HRMS or human resources management system is a suite of automated tools used to manage basic HR functions and related processes throughout the employee life-cycle. HRMS helps an organisation to completely understand its employees while complying with the evolving tax and statutory laws. It makes the management of basic HR functions much smoother, preventing HRs from relying on pen and paper or spread-sheet-based workflow, in order to enhance organizational performance and productivity.
HRMS has modernized the conventional workplace frame as employees can now handle and have access to their payroll, leave and attendance, personal records, compensation and benefits, etc. on their own.
In the beginning, HRs used to be overwhelmed by employee concerns, but now employees can raise their issues through the employee self-service portal using the HRMS software, and these issues can be directly assigned to the department concerned. With great user interface and applications being cloud-based, HRMS now allows off-site workforce to record their attendance from anywhere via the HRMS mobile app.
This tool has completely revolutionized the way an organization functions with its cloud-based infrastructure as a secured solution for any company.
A Hire to retire solution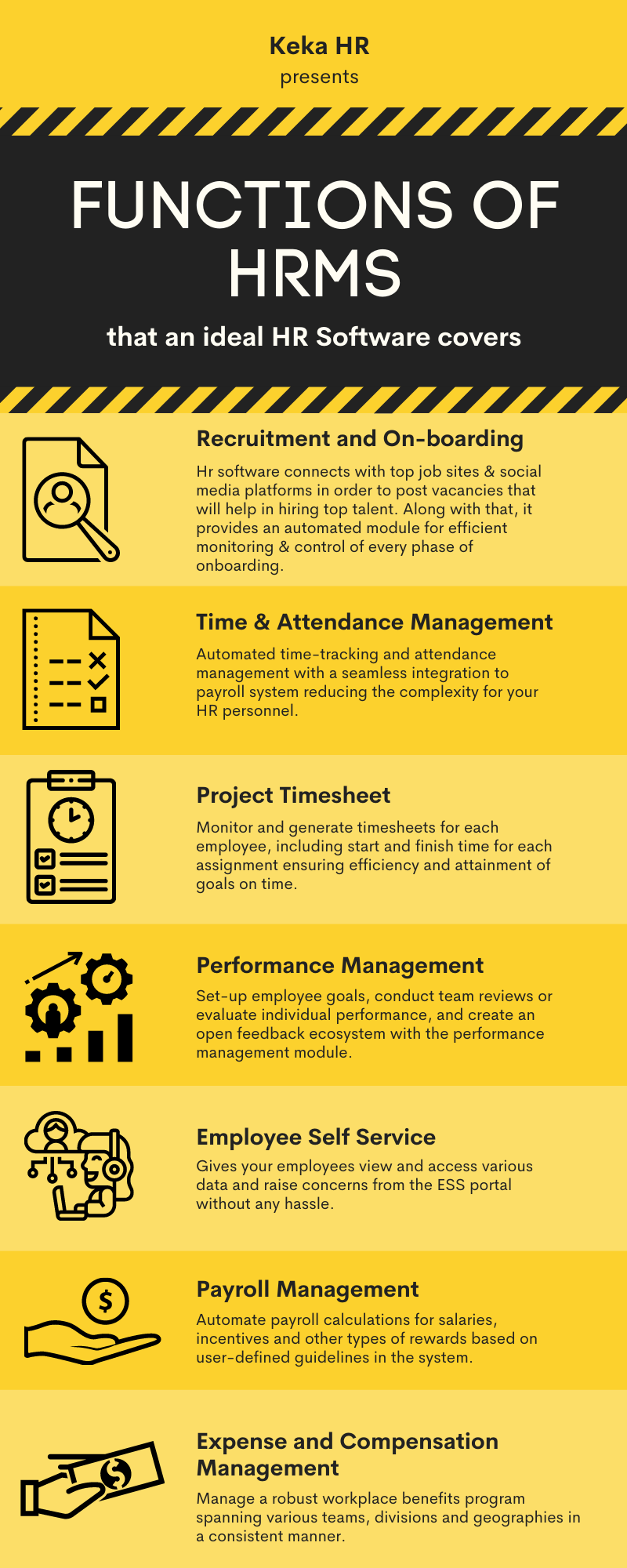 An ideal HR software is one that covers every function of the employee life-cycle in the organization. Here are some of the most critical functions of HRMS software:
Recruitment and On-boarding
Recruitment is growing to be increasingly employee-centric and digital, so using HR tools while recruiting will aid you with hiring the top talent. HR software also allows you to connect with top job sites and social media platforms in order to post vacancies, so the best employees are more likely to find them. It can also help you with developing a proper onboarding program for your new hires to ensure more structured hiring.
It is the on-boarding procedure that defines the level of engagement of new employees and how long they will stay with the new role. The fact that an HRMS software provides an automated module for efficient monitoring and control of every phase of the on-boarding process means that it can be conveniently used for the on-boarding of new recruits, even though everyone involved is remotely associated. Hence, you no longer have to worry about setting up reminders to execute the onboarding process efficiently.
Recommended Read:- 35+ Best HR Books to Read in 2022
Time and Attendance Management
The organizations nowadays are giving more emphasis on employee time monitoring, which is also very significant for HR department while calculating payroll for the employees. Apart from using this information for the processing of payrolls, organisations will also need to produce a variety of regulatory records based on the Attendance data, which can result a lot of ambiguity and errors when it's done manually.
But with a Human Resource Management System, you do not have to spend your time searching for employee records as all your information will be stored safely in the system which can be accessed whenever required. Your time and attendance data will be perfectly streamlined and can be integrated seamlessly with payroll to ensure the smooth functioning of the organization.
Project Timesheet
With HRMS Timesheet Management, tracking employee tasks on a calendar becomes even easier, quicker and reliable. The system is designed to monitor and generate timesheets for each employee, including start and finish time for each assignment.
HRMS Timesheet is efficient, Time Monitoring software that monitors daily working hours and payrolls, as well as overtime and off-time payments. Users might indeed have a comprehensive breakdown of the tasks as well as the expenditures accrued on each project.
Employee timesheets, both for in-house workforce and employees posted to client locations, can be produced on the fly. This will ensure easy project management for your managers enabling them to achieve their targets before deadlines, whether they are working in a virtual environment or at the workplace.
Performance Management
The HRMS Performance Assessment Module helps you to coordinate your employees with business goals and track relevant accomplishments or essential employee performance measures over the year. HRMS Performance Management Modules provide the most effective tools for streamlining, optimising and automating the entire performance management process.
It plays a vital role in setting the employee's strategy-driven goals and competencies to measure employee performance against those objectives, providing constant reviews on employee performance. Managing employee evaluations and conducting employee assessments will no more be hassle as you everything will be readily available for you and your employees within the system.
Employee Self-service
HRMS Employee Self Service (ESS) delivers an array of relevant personalised support directly to Employee Dashboards. Employees can access information relating to them and handle their everyday activities from a centralised, stable web-based portal.
Keka's ESS frees HR employees from the normal HR-related questions, enabling them to concentrate on more relevant strategic initiatives. Employee related information is recorded and managed in a centralized repository that forms the basis of the solution. Your employees and management now have access to up-to-date and reliable reports on HR and business-related decisions.
In addition to this, they no longer have to run behind your managers to get their issues resolved. All they will need to do is raise a request through the portal which will be assigned to the concerned department and they will ensure that its addressed and resolved as quickly as possible.
Payroll Management
HRMS Payroll management platform is developed to meet the broad range of business payroll needs, providing reliable, quicker and more effective payroll processing. The HRMS Payroll Management module helps you to automate payroll calculations for salaries, incentives and other types of rewards based on user-defined guidelines in the system.
It helps you to configure payroll attributes such as salaries, bonuses or other forms of incentives, taxes, deductions and more. HRMS Payroll Module helps you to integrate payroll processing with your organization's policy and ensure that the payroll process is efficient, reliable and consistent.
Expense and Compensation Management
The various initiatives and assorted tools for auto-defining, administering and tailoring a broad range of employee-specific benefits in a single platform to conveniently control the eligibility or costs associated with them is a complex function.
The expense and compensation management system is designed to manage a robust workplace benefits program spanning various teams, divisions and geographies in a consistent manner. You can link compensation to performance and operational goals, and aggregate compensation data which can be accessed/edited at any time.
Why Should You Adopt HRMS?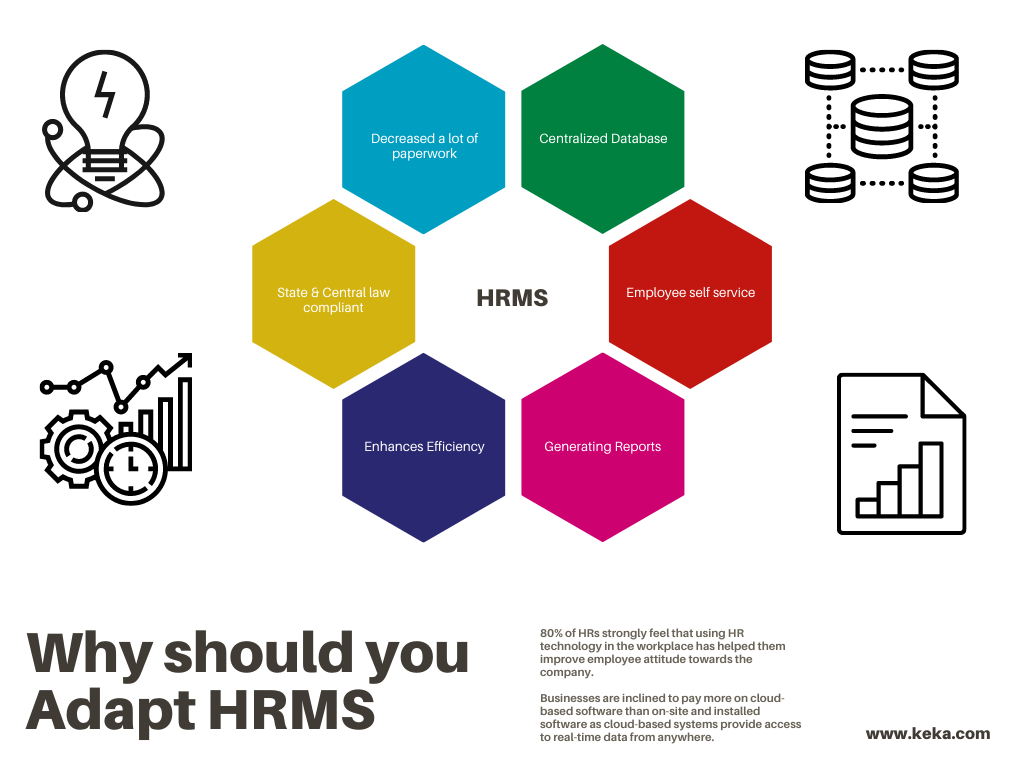 With the emergence of technology in business, organizations today are more openly embracing technology to be progressive and futuristic. In fact, 80% of HRs strongly feel that using HR technology in the workplace has helped them improve employee attitude towards the company. Businesses are inclined to pay more on cloud-based software than on-site and installed software as cloud-based systems, provide access to real-time data from anywhere instantly.
Here are some pointers that will quickly enlighten you with why do you need a Human Resource Management System:
Yes, it absolutely decreases a lot of paperwork.
Offers a centralized database to store all your information.
Promotes accountability with the Employee Self-Service(ESS) platform.
Generating reports will no more be take hours of your day.
Enhances efficiency by minimizing errors.
Compliant with state and central laws.
Easily customizable policies and process.
Bottom Line
HR software will transform the way an organisation operates from within. Ideally, HR software should blend into the culture of the organisation and continue to foster the visions that the company has been following. Thinking where will you find your ideal HR software? This is when Keka HR comes into picture!
With seamless integration and a wide range of functionalities, Keka's HRMS software ensures that your HRs can manage the operations smoothly by sharing and retrieving data through a centralized platform. It's easy-to-use interface makes it even more desirable for your employees as they can quickly access all the information they need regarding attendance, leaves, salary, payslips etc.
So what are you waiting for? Go check out this amazing product here.