Performance Management
Performance Management
Performance management is the process of managing a company's performance by ensuring that the set of tasks and activities performed are aligned with the organization's goals and whether the tasks are performed efficiently. During the process, several objectives are formed and strategies are discussed throughout the year. The communication process includes clarifying expectations, setting objectives, identifying goals, providing feedback, and reviewing results.
The objective of performance management is to create a work environment where employees can perform to their best and produce the highest-quality work most efficiently and effectively. To make sure that the performance management process is going smoothly, organizations use PMS (Performance Management System) that automates the entire processes and streamlines the communications.
Why do we need a Performance Management System?
It serves many purposes. Here are a few of the important one's: 
Strategic
It helps in aligning the overall organizational goal with team and individual goals. Each activity is linked with outcomes for the entire company. 
Administrative
It also helps during the appraisal and salary processes by measuring the deciding factor of promotion, demotion, increment, terminations, etc. It identifies top performers, but more importantly, also the non-performers. With accurate data and insights, the decision-making process becomes easier for the top management. 
Communication
PMS automates regular tasks like performance reviews, goal-setting, performance reports. Thus, everything is communicated via a centralized dashboard. Here, managers can not only check the goals, deliverables, and parameters for a particular team but also update them whenever required.  
Development
If any employee is struggling, structured methods like continuous feedback, appreciation, development plans, 1 to 1 meetings help in reducing those struggles. With the help of a performance management system, the managers can enable coaching and training for their team members to perform sharply. 
Maintaining Standards
A PMS creates a yardstick for measuring employee, team, organization's achievements and evaluates the gaps through data, tools, and monitoring. It maintains the health of the organization from behind the curtains so that everyone is performing at their best standard and peak condition. 
Automation
Most organizations cannot understand performance because they have a hard time documenting it. It's understandable that manually collecting reviews, feedback, forms, etc., for thousands of employees can be a difficult task. A performance management system automates this process so you can focus on the important part- setting up suitable measures, objectives, and frameworks for evaluation. 
Performance Management Cycle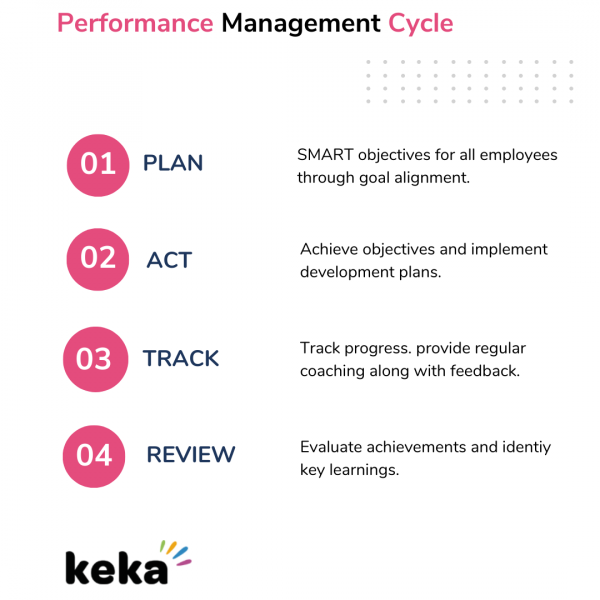 A normal cycle looks like this: 
Agree­ing on a SMART set of objectives.

 

Include per­son­al devel­op­ment plan in those objectives.

 

Make a plan depending upon the action items.

 

A Review of the employee's job require­ments, updat­ing the role pro­file where necessary.

 
In the past, companies planned for the entire year in go. However, the current business environment is agile and changing rapidly, so many organizations do it quarterly. Company goals and values play a huge role during performance planning as they help in aligning individual performances with the overall strategy of an organization. To fully achieve the set objectives, personal development initiatives should focus on developing behaviors, skills, knowledge of employees. 
Traditionally, all the focus was on reviews. Appraisal and rewards were also totally dependent on reviews. However, tracking and acting to remove hurdles are the most important stages of improving performance. Because initially, problems can come up. It's how efficiently you solve them that will affect the results achieved. Motivation is also a big factor as managers need to strive towards encouraging their team to achieve their objectives and follow up with development plans. For this to happen, managers need to regularly check in with the team. Feedback works when it's continuous, and instead of bashing an individual, the focus is on constructive criticism that allows for quick progress. When reviews are done at the end of the year, there is no time to make changes. All that is left is regret.  
Also, the stages in the performance cycle don't flow one after the other. In fact, most of them work simultaneously. Tracking and taking action are continuous processes. Reviews may happen differently for different teams and maybe re-visited anytime as per needs. Goals can change in an instant. For example, post COVID-19 lockdown, brands had to switch to work from home in a week. Due to WFH, productivity is now related to outcomes instead of the number of working hours. 
The continuous performance cycle is no more once-a-year performance appraisals. Instead, the focus is now on regular check-ins, continuous feedback, 360-degree reviews, modern goal-setting (OKRs, 4DX, etc.) 
This provides the workforce to analyze what has worked well and what hasn't worked well in a short time. The challenges faced and the process of overcoming them is now driven by the combined actions of the individual and the manager.    
Here is how the new continuous Per­for­mance Man­age­ment process works in the leading organizations: 
Goal-Setting
It all starts with setting goals the right way. They need to achievable and sensible. Employees should also understand why these goals matter and how they will help the organization on a larger scale. When employees realize that their work can impact the entire company, they're likely to engage more and perform better. 
Goal setting is collaborative. Previously, the top-down approach worked but now aligning goals upwards is the right path. A transparent system with clear objectives will put employees in the driver's seat as they'll able to develop their set of mini-goals catering to the bigger company goals. All of this leads to improved performance. 
Transparency
Employees crave transparency and zero bias. It also applies to challenges. They don't want to be kept in the dark when things aren't going right for the team or the entire organization. Real-time communication can lead to healthy relationships between employees, managers, and top management. Regular and constructive feedback is the first step towards achieving transparency. 
Employee Recognition
A modern per­for­mance man­age­ment sys­tem should focus on employee recognition and rewards. If employees don't feel valued or appreciated, they won't put in 100% effort at work. It will directly harm outcomes and revenues. So, spend time and make your employees feel wanted. 
Constructive and Continuous Reviews
Most people don't give regular feedback as they don't know what to write. For that check this piece on employee feedback examples. But because most people don't receive constructive feedback, it leads to a lack of transparency. Employees want insights into their work for better decision-making and if it doesn't happen, it leads to a dip in overall productivity. 
Employee Development
Ambitious performers want to progress in their careers. They don't want to spend months or years at a company without any skills development or promotion. Learning matters to employees. If you help them do that then good will happen for the organization through a more skilled and capable workforce. 
The Good and the Bad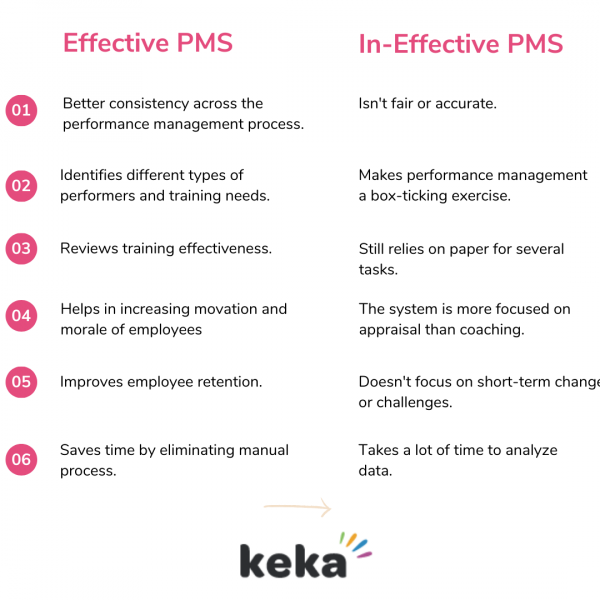 Truly effective employee performance management
Establishing a PMS can be divided into 3 simple steps: 
Deciding measures of performance

 

Calculation of employee performance

 

Calculating average performance

 
It's important to have all elements of the performance management cycle in place. However, having a system doesn't directly guarantee effective performance management or performance improvement. Plenty of other factors are in play, such as: 
Having trust from top management to implement a performance management system in the organization.

 

Ensuring that the performance cycle is continuous instead of an outdated annual process.

 

Ensuring regular and meaningful reviews are happenings instead of tick-box activities.

 

Having a flexible performance management software that gives you the output and saves resources.

 

Winning the trust of managers and employees to deliver effective management daily.

 
Performance Management System
 Features
Here's a list of features that a PMS should have in 2021 and beyond. 
Intuitive User Interface 

 

Fully automated 

 

Has a dedicated in-house consulting team for the Implementation phase 

 

Easily integrates with existing systems 

 

Scalable 

 

Easy Review process 

 

Handles OKRs and traditional goals 

 

Timely goal progress updates 

 

Reviews past data anytime and anywhere 

 

Secures the data 

 

Constantly Improves

 

Provides talking points for One-on-One meetings 

 

Easy-to-set competency mechanism 

 

Succession Planning 

 

Competency Mapping 

 

360-degree reviews