Compensation is a culture-defining term for an organization. Why? Here's the answer: "Based on how the compensation plan is designed, communicated, and managed, it can positively or negatively impact the organizational culture and performance ".  
The CEB Analytics study shows that when companies lead in HR & compensation analytics, their talent performance increases by 12 percent, leading to a 4 percent increase in the gross profit margin. Strategically leveraging compensation analytics to optimize salaries and benefits can help HR significantly impact the bottom line while simultaneously providing employees with fair compensation.  
Importance of Compensation Analytics (What & 
W
hy)
Compensation management is a method of ensuring that the employer is paying employees fairly and competitively. Compensation managers work with employment data to identify all the aspects that come into the payroll and whether or not the incentives offered by the employer match the needs of their employees.  
The goal is to make informed decisions about compensation in order to hire and retain the right talent. That is why it is so important to base these decisions on accurate and reliable data. Organizations need to analyze compensation programs to see what works and what doesn't work for them. 
Compensation management solutions help companies visualize all their compensation details at one location. HR departments are using these solutions to streamline compensation planning and monitoring. Using this data in a centralized platform also empowers leaders to view their pay practices and create fair compensation policies for their teams. 
When you're evaluating compensation management solutions, you might want to look  for an option that makes it easier for your HR to identify what competitive and fair pay looks like for your workforce. Every organization is distinct, and it is important to select a compensation management software that can link to a people analytics solution. This would help you to gain feedback into how to develop and refine your compensation program to address the needs of your people. 
And we at Keka have come up with something similar and even better than this! 
Managing Compensation, the 
Keka
 Way!
There is no shortage of people data—from your HRMS to Applicant Tracking to Payroll Management systems, the amount of data collected every day can be daunting. To be competitive in using this data for insights, it is important that you and the business leaders that you support have a way to mine insights easily and accurately so that you can make the right calls for both the company and your employees. 
Whether it's balancing candidate salary expectations, resolving employee pay issues, designing employee recruitment plans, ensuring conformity, or helping managers understand ways to distinguish top talent, data helps to make decisions based on facts—not guesswork or hypotheses.  
Let us walk you through how Keka is helping you simplify the compensation management process and offering a seamless experience to your personnel! 
T
he 
Insightful 
Analytics 
to analyze trends!
Right from the Upcoming Salaries and Revisions to Planned vs Actual Pay compensation, you will be able to view and analyze all this data here. To start with, the Last Salary Processed, Upcoming Salary, Upcoming Revisions, and Pending Revisions, as the name suggests, will give you the exact number for each header so that you do not need to sit and calculate it each time that comes up. And just with a click, you can also view the revisions for each employee.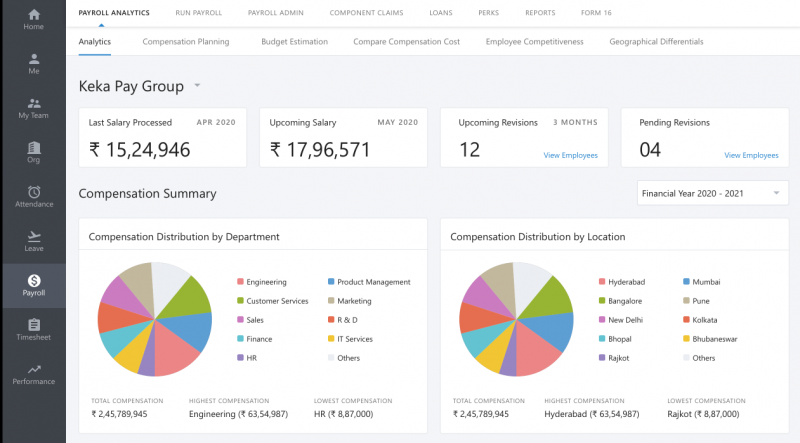 Next in the line is the Compensation Summary, which will give you the cost analysis of your workforce based on the Department and Location. Without using complex excel sheet formulae and calculations, you can instantly get the Highest and Lowest Compensation for each department or location.  
But then, how about identifying the compensation variance that sometimes pops out while actually calculating it at the end of the month? Well, we've also got this covered!  
The Planned vs Actual Compensation graph will help you clearly identify your planned cost against the actual compensation you paid for the past month along with the variance occurred.  
And we have also provided a quick alternative to get the Average Salary that can be easily sort based on the department location and the job-title. On the other hand, the Average Pay Distribution gives you insights into the various salary components of the employees.  
A 
Way to 
E
nsure a 
P
erfect Compensation Plan for the 
U
pcoming 
M
onths
Here, it's all about planning and managing your compensation costs for the upcoming months or the next financial year. All the salary components such as fixed pay, bonus, perks, and incentives can be evaluated through the graph and the impact each of it has on the total compensation cost.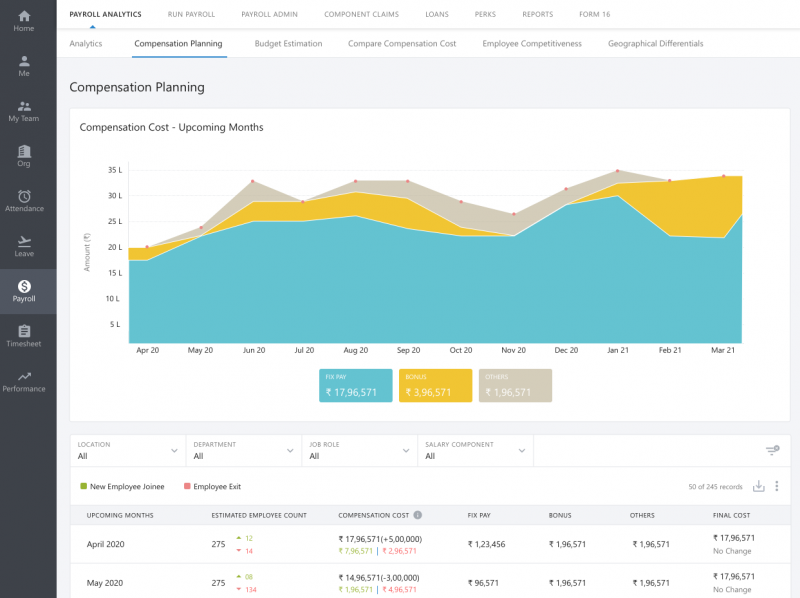 For an instance, let's consider the covid crisis that many businesses have been going through, and to keep the wheel running and see how will it impact your compensation cost, you might decide to hold off the bonus and perks for the next quarter.  
Usually for this, you would have to spend hours sorting out the data and then calculating the estimated cost based on the parameters you considered. But with Keka, the magic is at your fingertips! All you need to do is check the components you want to pay and uncheck the ones you want to exclude.  
And Ta-daaah! You have the Final Compensation Cost and the cost you saved by excluding the respective salary components. In addition to this, you will also be provided with the number of new employees joining in the respective months as well as the employees who will be exiting the organization. 
You now have a clear picture of what will the compensation cost look like for the upcoming months in this case and can make informed decisions based on this data.  
A Definitive Compensation Cost Comparison Technique
To make sure that you have access to data and trends at different levels, we have brought three parameters based on which you can compare the compensation cost. 
With Business Unit comparison, you can compare up to three units at a time for identifying various workforce/business trends such as headcount, gender distribution, cost distribution, planned vs actual cost for the financial year, variance, number of departments, and locations it is operating in. This will enable you to know the highest and lowest costing business unit at a glance! 
Similarly, Location-based comparison is capped at a maximum of three at once. Here, you can analyze all the factors based on the specific location you choose. The only difference is, instead of the number of locations, you will find the number of departments for each location! 
The Department-wise comparison offers you an in-depth analysis of cost and job roles. Here you will have access to a clear picture of cost for each department that depends on various factors such as, number of employees, number of job roles, average years of experience, number of locations they are operating in, and so on.  
New Additions? A New Approach to Make 
it
 Seamless!
Planning to hire new employees? We are sure you have been through this phase where it takes a lot of time and effort to go back and sort through documents and excel sheets in order to find the ideal budget for the specific role defined by your organization. 
What we tell you is that you can totally get rid of this hassle! Yes, we have curated a short and simple solution where you just need to update the job-role you are hiring for, the department, years of experience, and the number of openings. That's it! Based on each of these parameters defined in the system for existing employees, you will get the Estimated Budget and the Incremental Cost for the requested role or department. 
You also have the option to save these Budget Estimations as reports for future reference.  
Employee Competitiveness – To be mindful of your existing workforce!
Let's say you want to check the competitiveness of one your employees and identify the scope of increment for him/her. As Keka has every bit of your workforce data in-store, you do not have to worry about gathering the information.  
In the Employee Competitiveness tab, once you select the intended employee, it will display the particular employee profile along with the list of employees under similar roles and years of experience.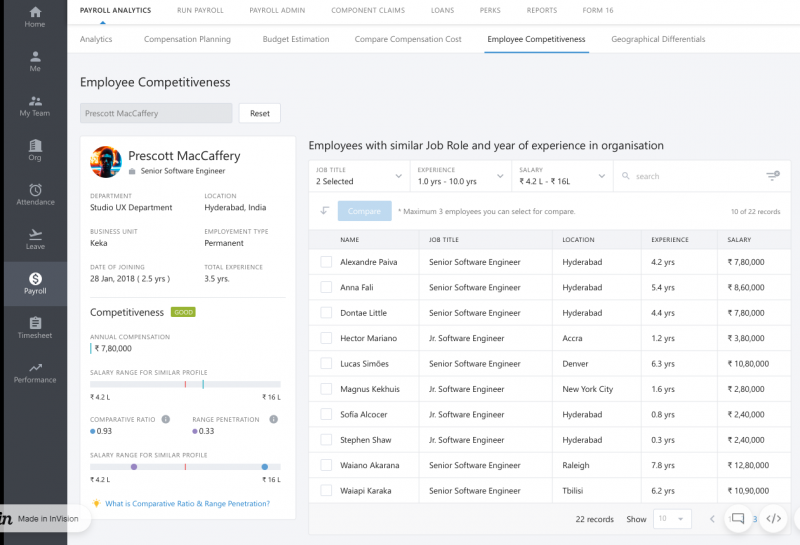 From the profile, you can see the department, location, business unit he/she belongs to, along with the years of experience. The current competitiveness of the employee can also be spotted below but then how is it defined? The parameters considered to assign competitiveness scale for an employee are annual compensation, salary range for similar profile, comparative ratio, and range penetration.  
The Comparative Ratio defines whether the employee is on the higher or lower end with respect to the mid-range. And Range Penetration allows you to identify the scope of increment for that particular employee.  
However, you can also compare the same employee with the others with similar roles, departments, and years of experience. This will help you ensure equal and fair pay for your workforce.  
Geographical Differentials – Entitled to serve you the location-based data!
This aspect provides you with all the workforce data of the location you select from the drop-down. Right from employee count, department count, and average employee experience to gender distribution, salary distribution, and total experience, you will find it all in this unified interface. In short, a one single location to access data for all your locations! 
Closing Thoughts:
From the commencement till today, we at Keka have always been committed to create an Awesome experience for our customers. With the launch of this new Compensation Analytics feature, we look forward to building many more such experiences and adding up to this ever-lasting journey!